Enermax ELC 120 Liquid CPU Cooler Review
---
---
---
Ryan Martin / 11 years ago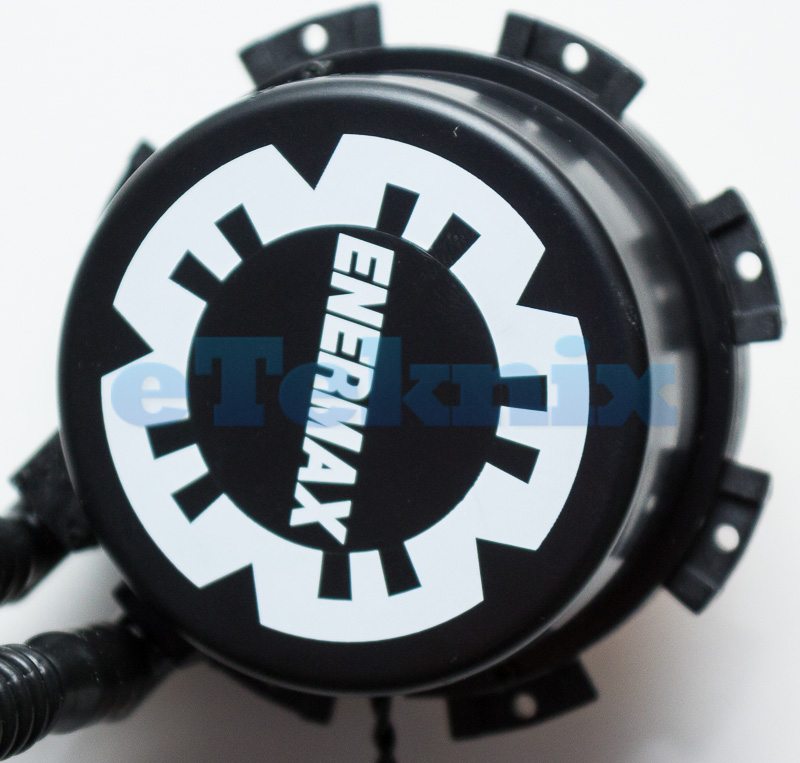 Enermax certainly isn't a name we associate with watercooling and even though any company can take an Asetek/CoolIT base unit and slap their own fans and branding on it, Enermax haven't done that. Enermax haven't officially announced who is the OEM producer of their ELC watercooling units, it is clearly not them. My educated guess, based on what I have read and seen, is that Asia Vital Components are the makers of it. It is seemingly not a CoolIT or Asetek rebrand so we should expect the performance to differ from those types of units. However, whether this is a positive or negative difference is the really important question.
You can see full detailed specifications below. For reference we have with us the ELC 120-TA but the only difference between this and the ELC 120-TB is the fans. You can see the TA model's fans are more designed towards static pressure and have Blue LEDs while the TB model's fans are more orientated towards airflow and have no LEDs. The difference in performance I suspect would be 1-2 degrees at the most between models.
Enermax's ELC 120 and 240 CPU coolers were "paper-launched" well back in mid-late 2012, nearly 4-5 months ago now. Since then the core design of the ELC series has remained the same, the only difference is that Enermax have resolved some key issues with the pump that they had on the first batch of engineering samples and is now making a real launch. However, my concern is that in those 6 months we have seen new generations of AIO liquid coolers from Asetek and CoolIT. This would suggest that, unless Enermax have produced something really excellent, we could easily see this product fall behind the newly updated competition which these Enermax coolers weren't designed to compete with six months ago. The Enermax ELC 120 was probably designed to compete with the last generation of AIO coolers such as the Corsair H60/H80, not the H60(v2), H90 and H80i it is currently priced up against.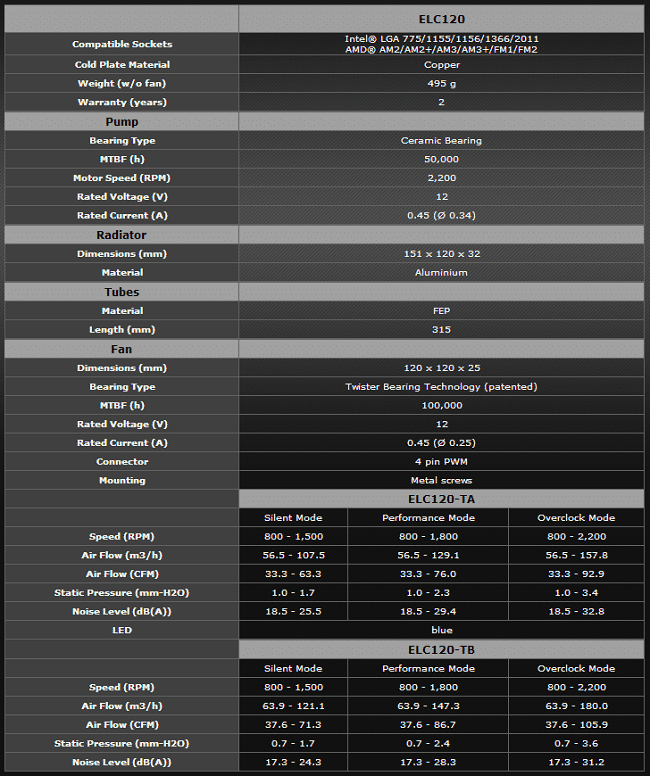 The box is decoratively designed. Enermax's ELC 120 claims to be able to support 250W TDPs and it features a "QSC tech cold plate design". Hopefully, this materialises into something that offers excellent performance versus the competition, not something which is just a marketing gimmick.
Three cooling modes are offered by the switches on the fans which have silent, performance and overclock mode settings. They each change the maximum fan RPM.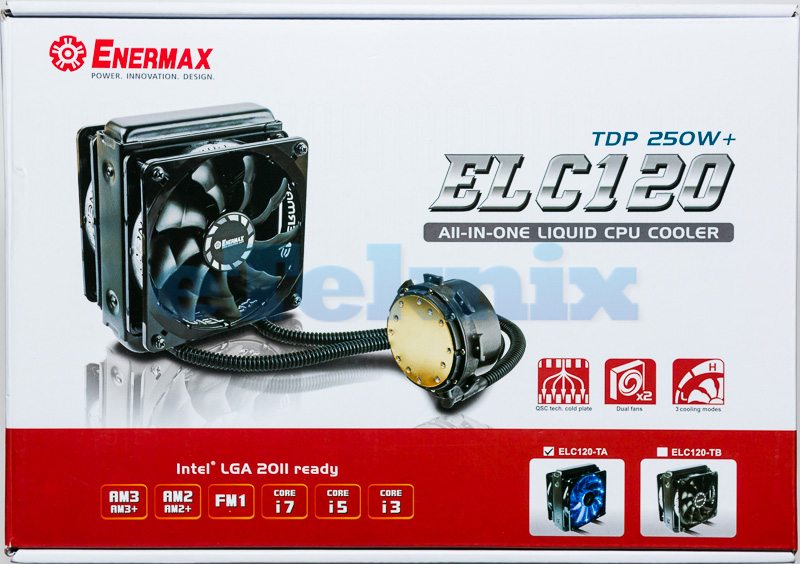 The rear of the box gives a detailed break down of the specifications and expected performance of the unit. In addition to this we can see a product diagram which shows us we have a 32mm radiator not a 27mm radiator that we find on more entry level models like the Corsair H55 and Cooler Master Seidon 120M.