EVGA Details Three Custom GeForce GTX 1080 Ti Models
---
---
---
Ron Perillo / 6 years ago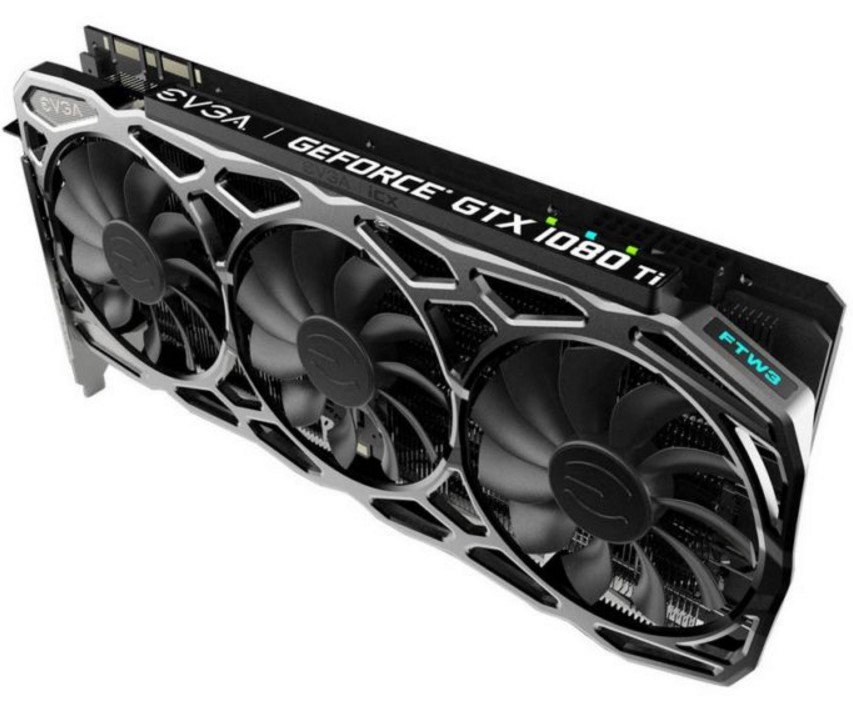 Aside from offering a regular GTX 1080 Ti Founders Edition model, EVGA is releasing three custom GTX 1080 Ti graphics cards based on the new GeForce flagship GPU. Two models will feature the latest EVGA iCX technology which has nine built-in thermal sensors integrated onboard for the most comprehensive thermal management available. At the top of the heap is the EVGA GeForce GTX 1080 Ti FTW3 GAMING (part number 11G-P4-6696-JR) which has the most robust VRM with a 10+2 phase design. EVGA has not disclosed the max power draw on this card yet but it requires two 8-pin power connectors instead of a single 8-pin plus single 6-pin as it is obviously designed for those who wish to push their GTX 1080 Ti way beyond stock. It also comes with two BIOS chips so that overclockers can recover quickly and resume pushing the performance forward. The GTX 1080 Ti FTW3 GAMING video card is also the only card in the series equipped with RGB LED lighting.
A second GTX 1080 Ti card with iCX technology is the GeForce GTX 1080 Ti SC2 GAMING (part number 11G-P4-6593-KR), which has a reference 7+1 phase VRM design and utilises a white LED colour instead of RGB. The third GTX 1080 Ti card on EVGA's stack is the GTX 1080 Ti SC Black Edition GAMING (part number 11G-P4-6393-KR) which has an iCX cooler but does not have the iCX technology sensors built-in.  It has a similar 7+1 phase VRM, white LED and standard 8-pin plus 6-pin reference GTX 1080 Ti power connector.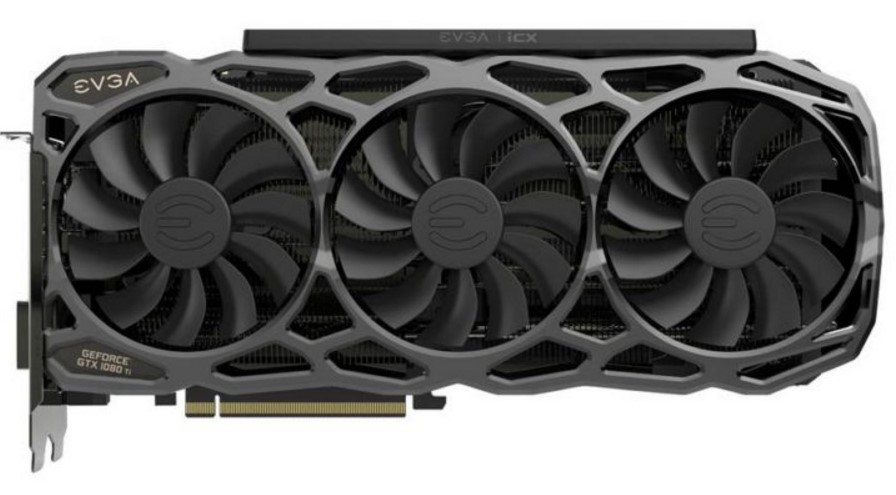 EVGA has not revealed the factory base/boost clocks for these trio yet but they will all come with a backplate and the standard 11GB of GDDR5X memory. Interestingly enough, EVGA has not made an announcement for a CLASSIFIED edition model yet which they usually reserve for their highest-end cards. They are most likely waiting to see what other manufacturers have in store and adjusting the base/boost clock for these GTX 1080 Ti trio models accordingly and delaying the release of a CLASSIFIED model if the demand is there.
EVGA

GTX 1080 Ti

Graphics Card
Part Number
Base /
Boost
(Clock)
BIOS Chips
Cooler Type
Power Type
Power Phase
Max Power Draw
LED Type
Backplate
EVGA GeForce GTX 1080 Ti FTW3 GAMING, 11G-P4-6696-KR, 11GB GDDR5X, iCX Technology – 9 Thermal Sensors & RGB LED G/P/M

11G-P4-6696

TBD /
TBD
2
iCX Technology
2x 8-Pin
10+2
TBDW
RGB
Yes
EVGA GeForce GTX 1080 Ti SC2 GAMING, 11G-P4-6593-KR, 11GB GDDR5X, iCX Technology – 9 Thermal Sensors & LED G/P/M

11G-P4-6593

TBD /
TBD
1
iCX Technology
8-Pin + 6-Pin
7+1
250W
Yes (White)
Yes
EVGA GeForce GTX 1080 Ti SC Black Edition GAMING, 11G-P4-6393-KR, 11GB GDDR5X, iCX Cooler & LED

11G-P4-6393

TBD /
TBD
1
iCX Cooler
8-Pin + 6-Pin
7+1
250W
Yes (White)
Yes
EVGA GeForce GTX 1080 Ti FOUNDERS EDITION, 11G-P4-6390, 11GB GDDR5X

11G-P4-6390

1480 /
1582
1
HSF
8-Pin + 6-Pin
7+1
250W
Yes (Green)
Yes