EVGA is Selling its Custom 3090 Ti for Under MSRP! (It's Still Expensive Though)
---
---
---
Mike Sanders / 1 year ago

Following the launch of the Nvidia 3090 Ti around 6 weeks ago, while it certainly represented a pretty solid technical upgrade on the original (and already obscenely potent) 3090, we were always of the opinion that, in the grand scheme of things, this likely wasn't going to be a GPU that would see huge amounts of demand from general consumers. – Put simply, it largely boils down to two key issues. It's a bit too potent in the wrong kind of way for gaming. And, of course, the fact that with prices starting at around $2,000, it's incredibly expensive! – Put simply, for around half the money you could get a 3080 Ti and probably be perfectly happy (if not thrilled) with that!
It seems, however, that despite only being on the market for less than 2-months, EVGA is seemingly breaking ranks by being the first major manufacturer to start selling one of their custom 3090 Ti models under its official MSRP.
YES, IT'S ONLY TAKEN NEARLY 21 YEARS, BUT A GRAPHICS CARD IS ACTUALLY AVAILABLE TO BUY RIGHT NOW FOR LESS THAN ITS MSRP! – It's just a pity that it's still a really bloody expensive one.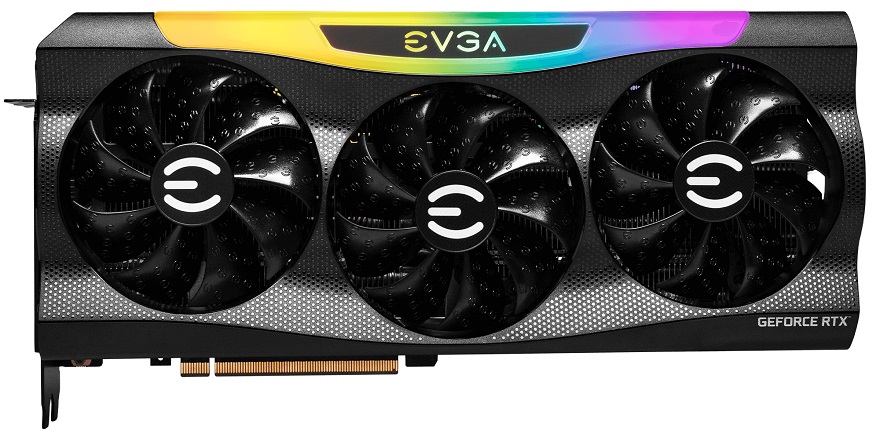 EVGA GeForce RTX 3090 Ti FTW3 BLACK GAMING
Following an update to their own storefront, EVGA is now officially including a $100 rebate for its GeForce RTX 3090 Ti FTW3 BLACK GAMING that effectively sees it as available to purchase, right now, in stock, for $1899.99. – Put simply, this is the first time, ever, that any Nvidia 30XX graphics card has been available to purchase for less than its originally stated price.
Now, admittedly, it's not much use to 95% of us that this just happens to be a discount on (consumer wise) the most expensive GPU out there. With that being said though, why has this been discounted to below MSRP? And especially so since it's so new?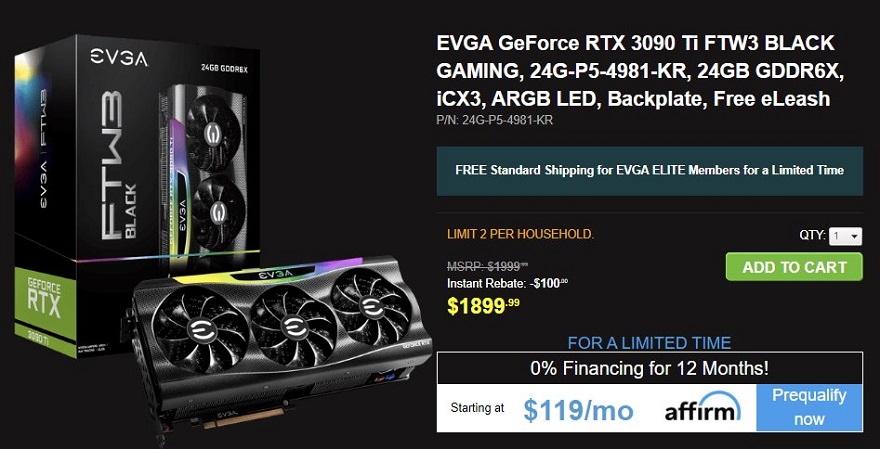 What Do We Think?
While the 3090 Ti is a truly excellent and amazing graphics card, it's hard to ignore that there are factors that will likely see this be the first Nvidia 30XX model to see significant discounts. – Firstly, as noted above, this isn't the GPU that's most in-demand. Maintaining a high price point for a limited consumer base over an extended period of time was never going to happen. Well, at the very least, it never seemed to make much business sense. It's not as if the Bitcoin mining demand is around the moment either to bolster sales.
More so though, it's likely that with this discount, EVGA is possibly more than a little accurately aware that while the 3090 Ti is currently the latest and greatest GPU (admittedly an arguable point with the AMD Radeon 6950 XT), it's not going to have a particularly long time at the top of the metaphorical performance tree. It is, after all, only 4-5 months until the Nvidia 4000 series arrives! – Put simply, the 3090 Ti isn't going to be the 'best' for very long making a purchase now a questionable given how soon its set to be superceeded.
So, with this all in mind, although EVGA may be the first to break ranks here, we fully expect to see the 3090 Ti dip in price quite notably, and quickly, over the next couple of months. The only bad news is that we do not expect to see the same for the other Nvidia 3XXX GPUs.
If you do, however, want to snag this EVGA 3090 Ti while the going is mostly good, you can check out their official website via the link here!
What do you think? – Let us know in the comments!