EVGA Supernova 750 G+ Gold Power Supply Review
---
---
---
Mike Sanders / 3 years ago
Introduction
---
EVGA Supernova 750 G+ Gold Power Supply
EVGA is without a doubt one of the best-known brands in terms of PC parts and components. With most knowing them for the Nvidia range of graphics cards, they are also one of the most popular suppliers of high-performance power supplies.
As part of their Supernova range of products, we have seen some truly excellent PSU's manufactured by EVGA. From these, we have never been disappointed in terms of performance, reliability and of course the fantastic guarantees which EVGA places on their products.
As such, we take an in-depth look at the EVGA Supernova 750 G+ power supply. Sometimes referred to as the G1+ (albeit, not on the packaging). With it being fully modular and gold rated in terms of efficiency, we again have the bar set pretty high for EVGA. Despite this level we set for them, we have never failed to be impressed in the past and before we start, we already practically know that this is also going to be good.
Features
With this being both certified as gold rated and coming with 750w of power, from that alone most users should know that they are getting something not only packing a solid amount of output but also being able to do it with high efficiency.  With the main 12v output coming through a single rail, there is also no need for any of that tricky business of balancing that can have a significant impact on performance.
On top of all that, with a 10-year guarantee, you have the peace of mind to know that EVGA has built something to last here.
80 PLUS Gold certified, with 90% (115VAC) / 92% (220VAC~240VAC) efficiency or higher under typical loads
Fully Modular to reduce clutter and improve airflow
NVIDIA SLI & AMD Crossfire Ready
Heavy-duty protections, including OVP (Over Voltage Protection), UVP (Under Voltage Protection), OCP (Over Current Protection), OPP (Over Power Protection), SCP (Short Circuit Protection), and OTP (Over Temperature Protection)
100% Japanese Capacitors ensure long-term reliability
Whisper Silent with 135mm Fluid Dynamic Bearing Fan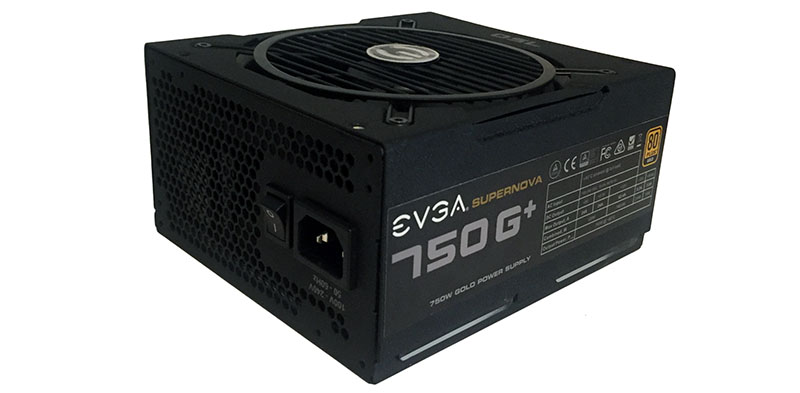 Specifications
For in-depth specifications, please visit the official EVGA Supernova 750 G3 product page here.
What EVGA Had to Say
"Since it's launch in 2013, the EVGA SuperNOVA G1 power supplies have been among the longest-lasting and best-performing power supplies on the market. Despite only a few changes over the years it's only fitting that it's time for an upgrade. Enter the G1+, the new and improved fully-modular power supply line-up from EVGA with an 80+ Gold Efficiency rating" – EVGA 
Cables
With this being a fully modular power supply there are not so many worries in terms of cables. One of the biggest issues with non-modular PSU's is knowing that you have to buy based on what is provided and nothing more. With the EVGA Supernova 750 G3 though, they have given you more than enough to hook up all of your components. Even then, you'll probably still have a fair amount left over for any future additions to your system.