Ex-Mining GPUs Get PRESSURE WASHED Ahead of Second-Hand Market Sale – Video!
---
---
---
Mike Sanders / 2 months ago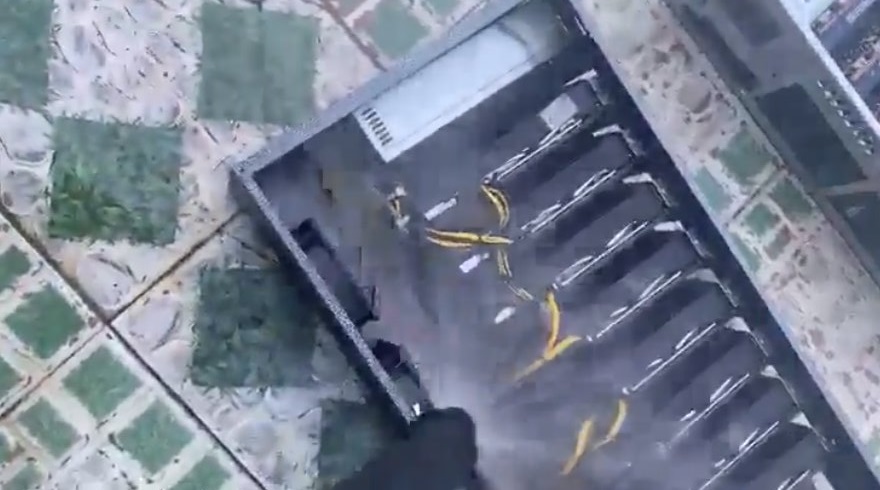 Following the transition of Ethereum to the new Proof of Stake standard earlier this month, this has effectively resulted in the near-total death of GPU cryptocurrency mining. – As such, with it well known that there are masses of huge mining operations around the world, many of these will now undoubtedly be looking to shut up shop and attempt to sell on their graphics cards while they still retain (at least in theory) a decent value. – In other words, we can likely expect to very shortly see a glut of second-hand GPUs hit the market which have been sourced from ex-mining operations.
Will these be actually worth a punt though? Surely this will see some great deals hitting reselling websites on high-end cards from both AMD and Nvidia, right? Well, following a series of videos posted by Twitter user '@I_Leak_VN', the answer seems to be (in some instances at least) a moderately terrifying no!
Why? Well, how would you like an ex-mining graphics card that has been just been cleaned with a pressure washer? – Yes the same kind of pressure washer that you might use to get the crud off your driveway!
Some Vietnamese miners have cleaned up their old graphics cards after ETH merge by bathing them with extremely high risk. It's really their cleaning season while waiting for the next GPU-minable 3rd coin. (1/3) pic.twitter.com/qnUMWxpyct

— I_Leak_VN (@I_Leak_VN) September 23, 2022
Ex-Mining GPUs Cleaned by Pressure Washer in Horror Videos!
I wish I could say that this was a fake or some kind of hoax. It seems, however, that these videos are entirely legitimate. Yes, one ex-mining operation (believed to be located in Vietnam) has started prepping its GPUs for the second-hand market by giving them an en-masse clean with a pressure washer!
Now, in some instances, cleaning a GPU in liquid isn't always a terrible idea. The liquid does, however, have to be very specifically catered towards dealing with electrical components. Distilled water, for example, is a popular and decent choice if done correctly – Some people even have entire systems submerged in it. – What you don't want to do, however, is use water from a tap which, I sadly suspect, is what's been done here!
What's wrong with tap water though? Well, how about (just as a rough guide) the fact that in many countries it contains; fluoride, chlorine, heavy metals, trace elements, and other chemicals which, typically speaking, don't react well to an electrical current, or worse, leave a residue after drying (which could potentially cause shorts).
More so though, and just in case it needed to be said, cleaning moderately sensitive electronics with a high-powered pressure washer (or even a weak one!) is a monumentally awful idea! Is it out of the question that this has completely borked a number of capacitors on the GPU PCB rendering the graphics card nothing more than a soggy paper weight? I wouldn't rule it out!
(2/3) Therefore, I recommend you to be extremely careful when buying 2nd cards. Even if they come from EBay, Xianyu or even where you live. pic.twitter.com/qdr3fNR1f4

— I_Leak_VN (@I_Leak_VN) September 23, 2022
It's Well Cleaned I Guess!
The biggest issue this will create is that with all these GPUs now heading to the second-hand market, while they'll likely look fantastically clean and shiny on the surface, this has put their actual functionality completely in doubt, and more so, the second-hand market entirely!
I sincerely hope that this is just an isolated incident, but with so many mining organisations looking to firesale their ex-mining graphics cards while they still hold a pretty solid value, don't expect them to put too much effort into making them look 'like new' through, you know, actually solid and approved cleaning methods!
Put simply, presuming the second-hand market is set for a huge influx of graphics cards, bare in mind the popular expression of 'caveat emptor'.
What do you think? – Let us know in the comments!