F1 Race Stars PC Review
---
---
---
Peter Donnell / 11 years ago

While the game is available on the Xbox 360 and the Playstation 3, we will be looking at the PC edition of the game today, lets have a quick glance at the system requirements and we'll move on from there.

Minimum requirements:
Windows Vista / 7
Intel Core 2 Duo @ 2.4Ghz / AMD Athlon X2 5400+
AMD HD2600 / Nvidia Geforce 8600
2GB RAM
5GB HDD Space
Recommended requirements:
Windows Vista / 7
AMD Bulldozer / Intel Core i7
AMD HD6000 / Nvidia GTX500 Series
4GB RAM
5GB HDD Space
Test System:
Windows 7
AMD 955 Black Edition Quad @ 3.6Ghz
Nvidia GTX 660 Ti 2GB
8GB RAM
Now this just seems completely wrong to me, I can't think of a single game on the market that needs and Intel Core i7 to run and this isn't exactly Crysis 3 in terms of required power to run, I'm running a several year old CPU that's been consistently punished it's entire life and I doubt I needed half of my CPU to run this game. The same goes for the GTX 660 Ti, which kept the game running at maximum settings and never dropped below 90FPS throughout the entire testing session.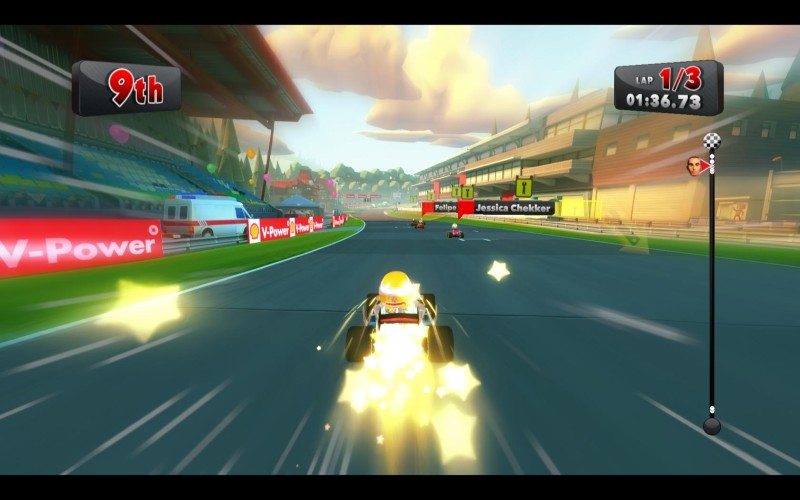 The next issue I found was all the supported resolutions in the games option menu don't feature any full 16:9 resolutions, this meant that any resolution ran the game with a 1″ black border at the top and bottom of the screen. Maybe this is a temporary issue that will be patched, or the sign of a lazy port from the console editions, I really don't know.
During gameplay the the graphics are clean and tidy, while they're not going to win you over with their dazzling display of the latest graphics technologies, they don't need to. The game borrows many visual cues from the best carting games in history (Mario 64 and Crash Team Racing), with a heavy blend of bright and simple textures and cell shading. This means the game looks very much like a cartoon and overall its rather pleasing on the eye.
As I said before though, frame rate was rock solid through out, but those black borders really shouldn't be there.