First Virtualized GPU Shown Off by AMD
---
---
---
Alexander Neil / 6 years ago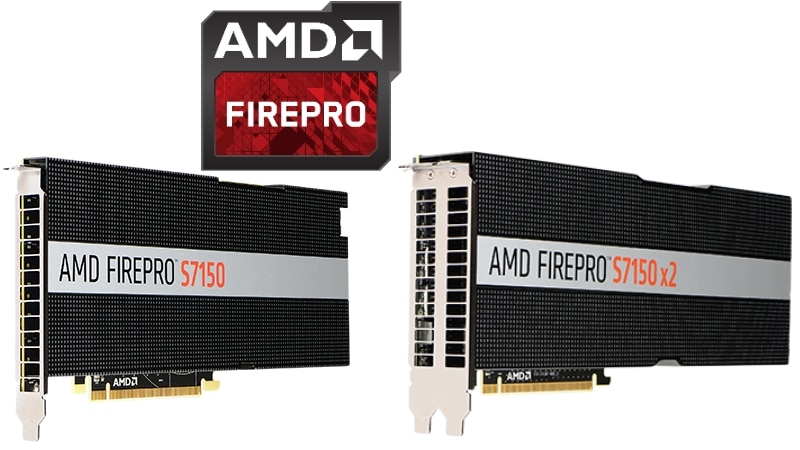 AMD have just revealed what is claimed to be the world's first hardware virtualized GPU devices, the AMD FirePro S-Series GPUs which supports Multiuser GPU (MxGPU) technology. These currently take the form of the AMD FirePro S7150 and S7150 x2, with the latter card reportedly able to handle as many as 32 concurrent users with its 16GB of onboard GDDR5 memory. The aim of these and future FirePro S-Series cards is to provide virtualized remote GPU offerings for workstations, cloud gaming, cloud computing and virtual desktop environments.
Virtualization is a very common and useful technology. Able to deliver the power of workstation PCs remotely to even weak machines it is often used to provide optimal user experiences to those requiring high amounts of processing power without every user requiring their own powerful machine. Many of the resources used by the modern computer have been virtualised so far, from CPU to memory and storage devices, but until now, the GPU has remained off the list, until now. Sean Burke, corporate vice president and general manager, Radeon Technologies Group, AMD said: "we created the innovative AMD FirePro S-series GPUs to deliver a precise, secure, high performance and enriched graphics user experience– all provided without per user licensing fees required to use AMD's virtualized solution."
Reportedly able to handle virtualized support for common graphics APIs such as OpenGL and DirectX, as well as GPU computing APIs like OpenCL, to numerous simultaneous users, while also protecting the data of each virtual machine from being shared through hardware-enforced memory isolation logic, the FirePro S-Series looks to be set to change the game in virtualized computing. Often, GPU intensive tasks like Computer Aided Design (CAD) and high-resolution image and video editing required each workstation to have its own powerful discrete GPU, virtualizing GPUs would allow greater price-per-dollar for companies routinely needing that level of graphical processing power.
Based on AMD's Graphics Core Next (GCN) architecture to optimize utilization and maximize performance, the AMD FirePro S7150 and S7150 x2 server GPUs feature:
AMD Multiuser GPU (MxGPU) technology to enable consistent, predictable and secure performance from virtualized workstations with the world's first hardware-based virtualized GPU products to enable users with workstation-class experiences matched with full ISV certifications.
GDDR5 GPU Memory to help accelerate applications and process computationally complex workflows with ease.
Error Correcting Code (ECC) Memory to ensure the accuracy of computations by correcting any single or double bit error as a result of naturally occurring background radiation.
OpenCL™ 2.0 support to help professionals tap into the parallel computing power of modern GPUs and multicore CPUs to accelerate compute-intensive tasks in leading CAD/CAM/CAE and Media & Entertainment applications that support OpenCL allowing developers to take advantage of new GPU features.
AMD PowerTune is an intelligent power management system that monitors both GPU activity and power draw. AMD PowerTune optimizes the GPU to deliver low power draw when GPU workloads do not demand full activity and delivers the optimal clock speed to ensure the highest possible performance within the GPU's power budget for high-intensity workloads.
These GPUs are expected to be available from server technology providers from as soon as the first half of 2016 and for an early taste of the power these cards provide, a Dell server has been exhibiting AMD FirePro S-Series GPU at SolidWorks World 2016 in Dallas. It is interesting to see how the ability to virtualize the GPU will change the game in the graphics marketplace, with the possibility of high-quality cloud gaming perhaps being closer than we think.