Fractal Design Define R5 Mid-Tower Chassis Review
---
---
---
Peter Donnell / 9 years ago
Introduction
---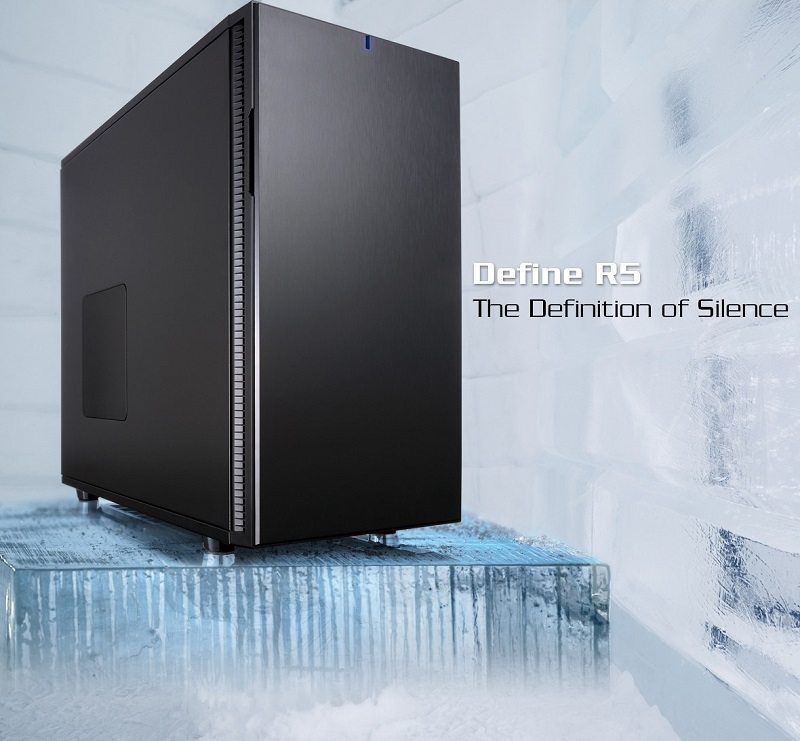 The Fractal Design Define series has been one of the corner stones of the chassis industry for years now. Fractal Design have always been known for the exceptional build quality, silent performance and bold looks; although this much is true of almost all the chassis' that Fractal Design produce. With that in mind, I'm very excited to have their latest iteration at my disposal today, the Fractal Design Define R5; the latest flag-ship chassis from the legendary Swedish manufacturer.
The Define R5 has been a long time coming, it was just over two years ago that I reviewed the Define R4. As much as I love the Define R4, two years is a long time and PC hardware has already changed a lot in that time; it will be interesting to see how Fractal Design have tweaked and improves the design to reflect that.
The Define R5 comes equipped with two 5.25″ drive bays, eight 2.5″/3.5″ bays and two 2.5″ drive mounts behind the motherboard; there's no doubt that this chassis can handle a lot of storage. You'll find room for mini-ITX, Micro ATX and most importantly, ATX motherboards. Combine this with room for graphics card of up to 310mm with the hard drive cages installed, or 440mm with them removed, up to 35mm of cable routing space, PSUs of up to 300mm and a whole lot more; the Fractal Design Define R5 is certainly capable of housing an ultra high-end system.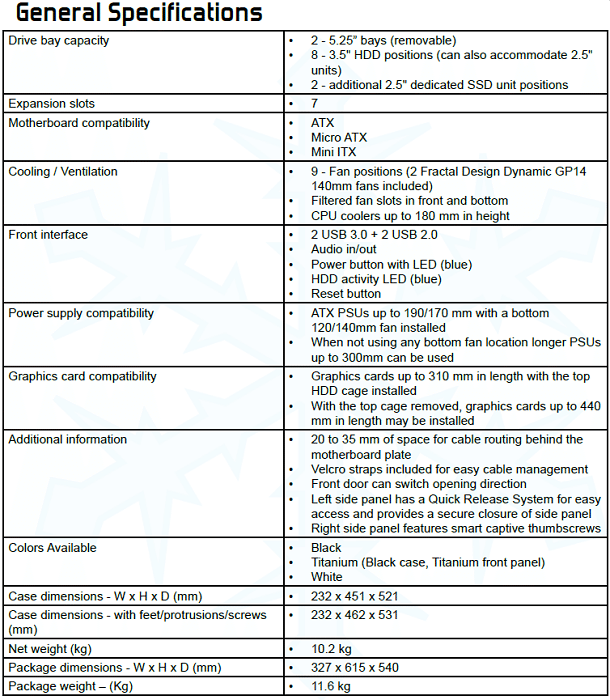 The chassis keeps the bold design that Fractal Design are known for. There are a few vents on the left side of the front panel to allow air into the chassis. The case is sealed up pretty tight to help keep any unwanted noises as muted as possible, but there's a removable side panel cover, behind which you'll find an optional side panel fan mount.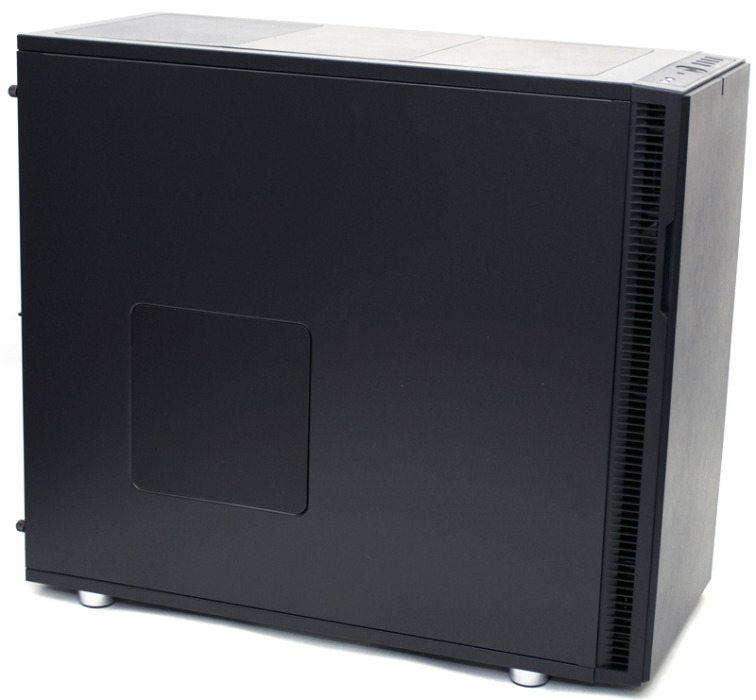 The right side panel is a blank panel, but you'll notice even more ventilation on the right edge of the front panel. Both the left and right side panels are held in place by a pair of thumb screws.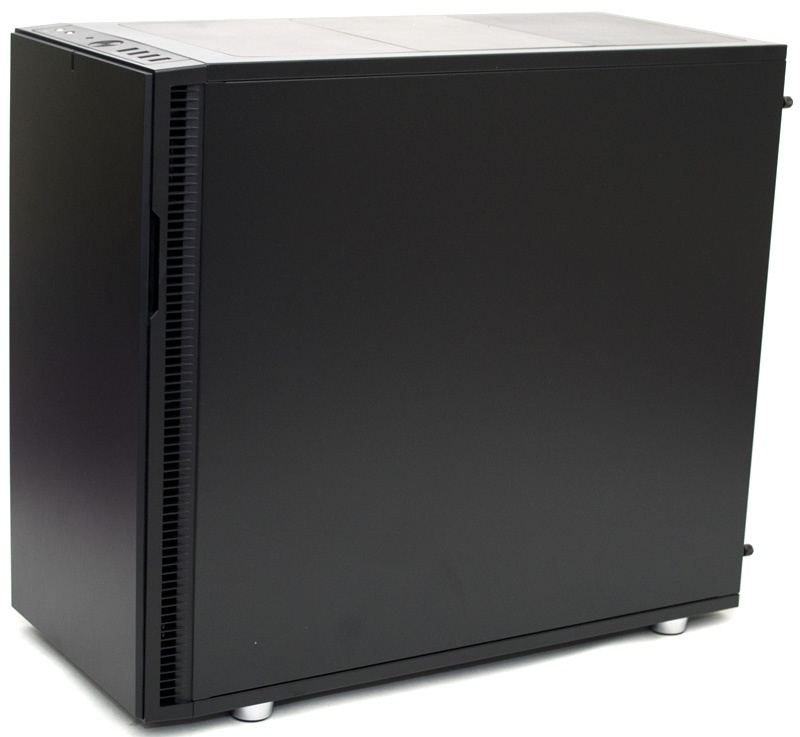 The I/O panel is really nicely designed, you've got a pair of HD audio jacks and four USB ports; so connectivity shouldn't be a problem. There's a small reset button recessed into the top, a nicely designed power button and the top of the front panel is cut away for a recessed power LED.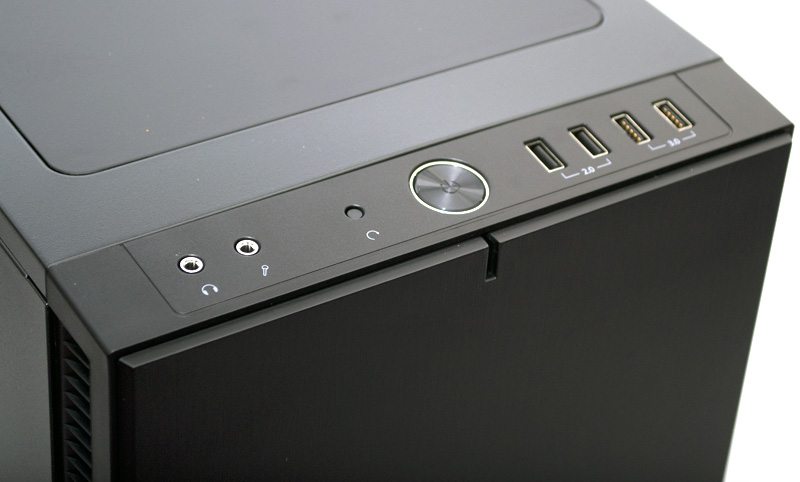 The front panel features a thick layer of high-quality sound dampening material. The front door panel has been designed with a dual hinge, allowing you to open it from either the left or the right; it's up to you.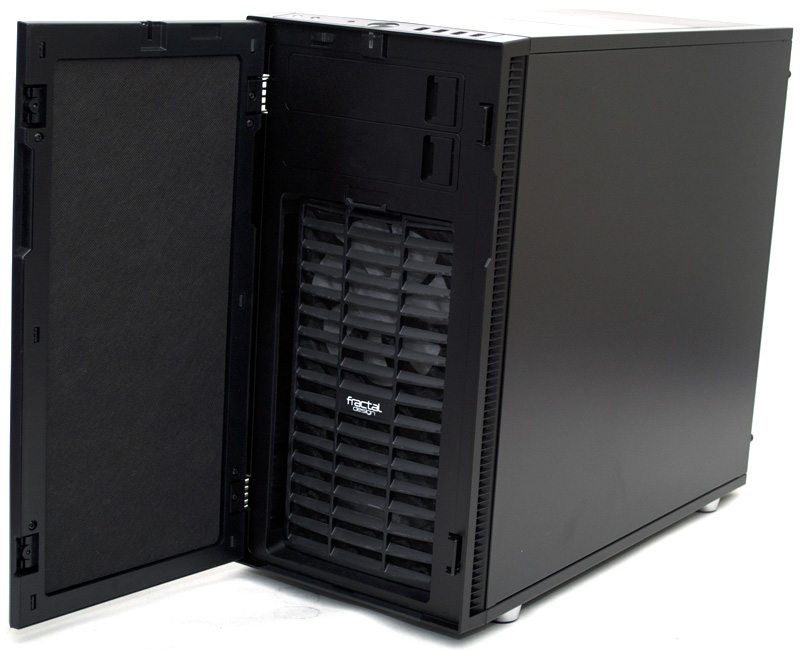 Tucked away in the top left corner you'll find a three speed fan control switch; you can connect up to three fans to this. The 5.25″ drive bay covers are removable from the front for easy access.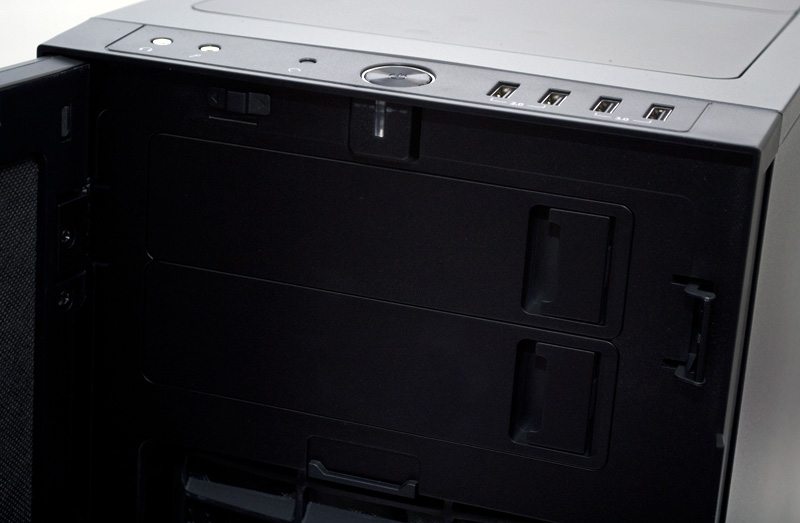 There is large high-quality dust filter in the front that can be easily removed. Behind this you'll find a high quality 140mm fan with room for an additional 140mm fan below it.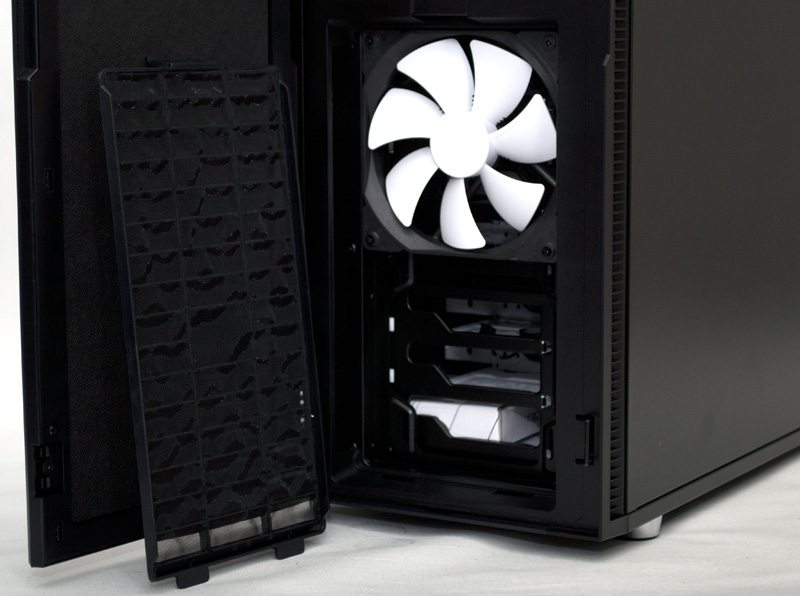 There is another 140mm installed in the back of the chassis, although you could swap this out for a 120mm fan if you wanted to. There are elongated screw holes to allow height adjustment of your fan or radiator; this is great for preventing conflicts with other components or the chassis itself. There are seven expansion slots, each fitted with a reusable and ventilated metal cover.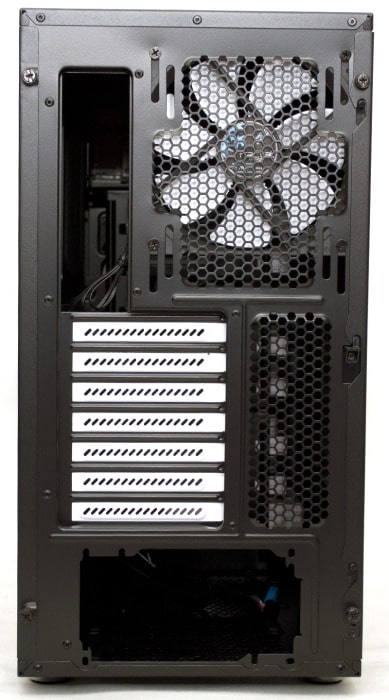 This is one of my favourite features of the Define R5. The bottom dust filter covers all the way from the back of the PSU to the front of the chassis. The thing I like most is that the filter can be slid out from the front of the chassis, meaning you don't have to pull the chassis out from under your desk to get to the filter! It's amazing how many chassis manufacturers do this the other way around.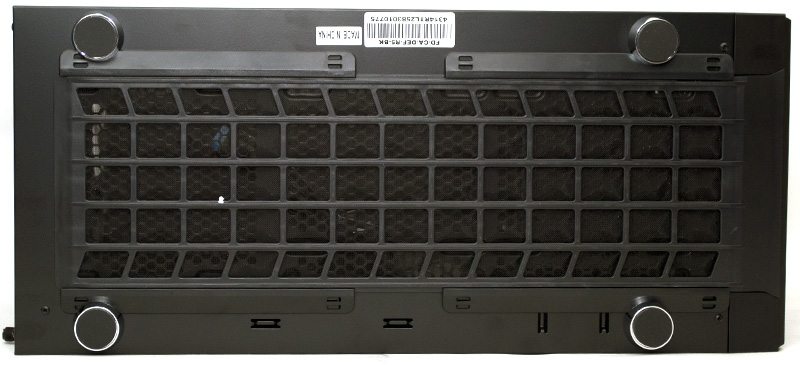 ———————–
Interior
---
The interior of the Define R5 is very neat and tidy. The chassis has the same soft black finish inside and out, giving it a nice uniform appearance. The only highlights being the white drive trays, fan blades and expansion slot covers. Behind the motherboard you'll find a huge cut-out that should help with mounting and removal of CPU coolers. There are three large cable routing grommets around the motherboard, as well as two smaller ones across the top.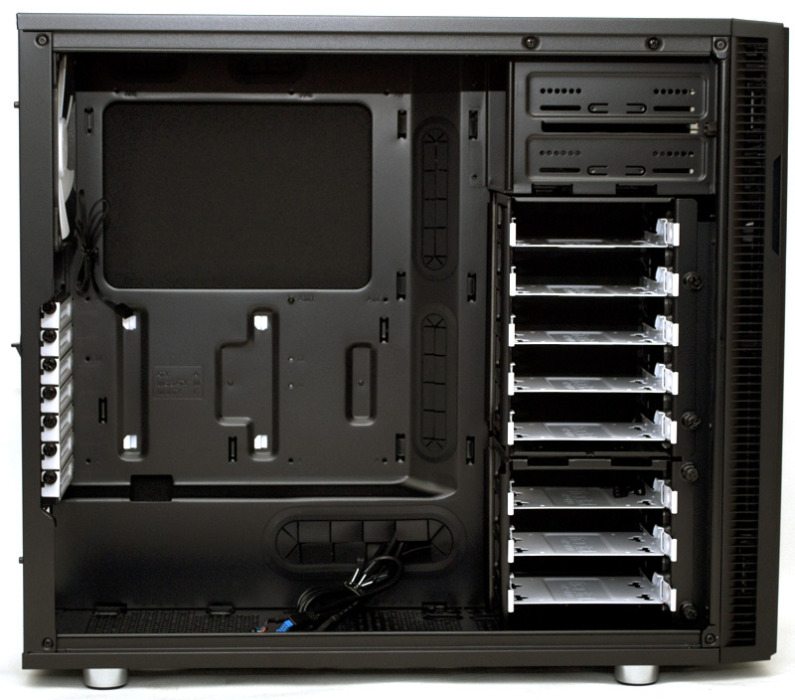 In the base of the chassis you'll find four rubber pads for the PSU mount. You can fit a pretty huge PSU in here if you need to, but keep in mind that the bigger models could conflict with the base 120/140mm fan mount. If you want more cooling in the base of the chassis, you can remove the lower hard drive cage and fit a 120/140/240mm radiator or fans here; again this also depends on the size of your PSU.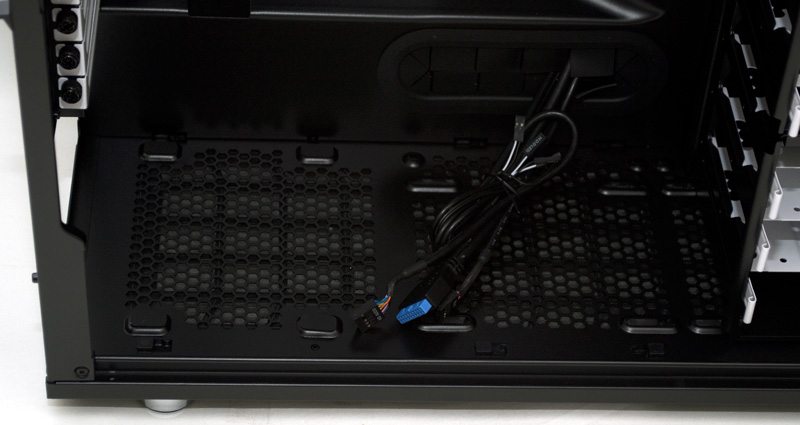 The hard drive trays are made from metal and both 3.5″ and 2.5″ drives screw into place from the bottom. Fractal Design have included a bag of rubber washers and special screws to use with each tray.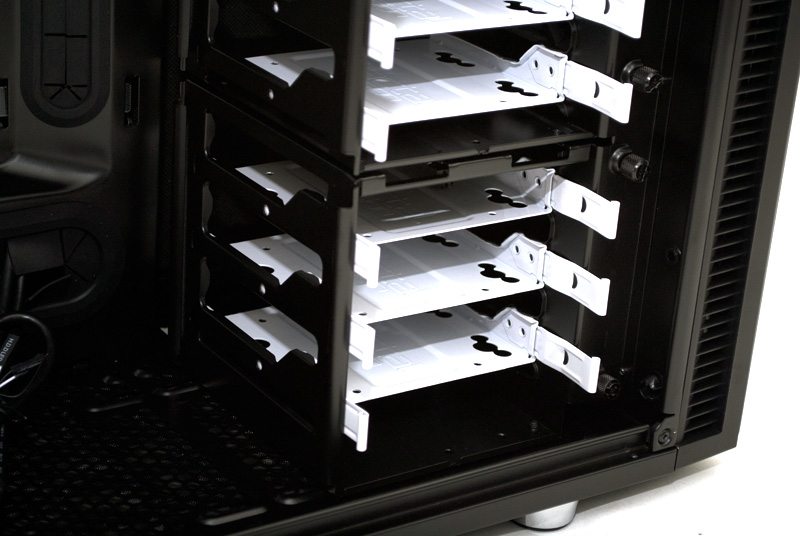 The two 5.25″ drive bays at the top, as well as the two hard drive cages, are completely removable via thumb screws. This makes maintenance a lot easier, but it also means you can strip the chassis down without the use of a Dremel; great news for chassis modders. With just the hard drive cages removed, you will find room for 120/140/240/280mm radiators. If you remove the 5.25″ drive bays, you can take that all the way up to a 360mm in the front of the chassis.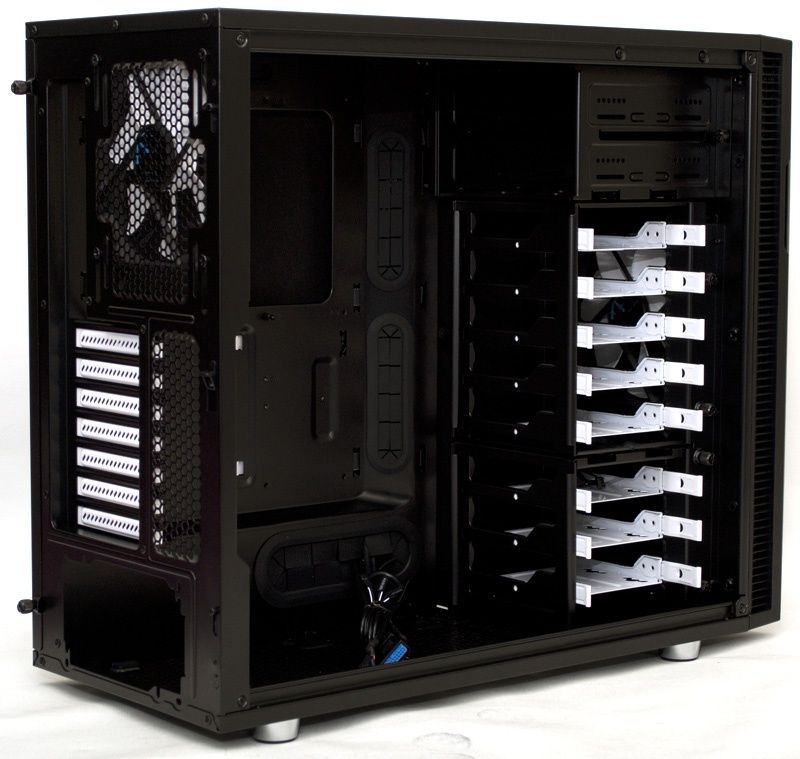 The rear fan mount can support 120/140mm fans or radiators.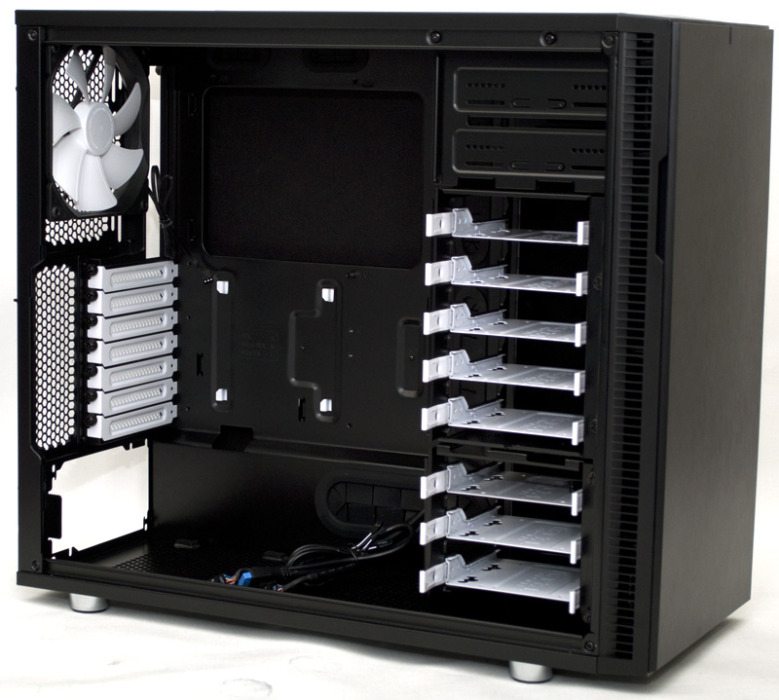 There are three pop-off covers on the top of the chassis, each coated with another layer of sound dampening material. If you remove the covers you can install 120/240/360mm thick radiators or 140/280/420mm thin radiators. Of course, you'll also have to remove the front 5.25″ drive bays to accommodate anything over 280mm long, whilst also taking into consideration the height of your front mounted radiator.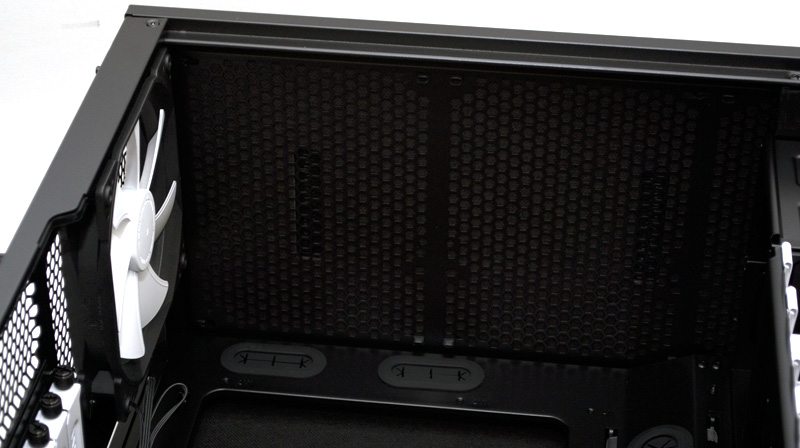 Cable ties are included in the box to help keep things extra tidy, but the main cable channel behind the motherboard comes fitted with velcro; quick and easy to work with.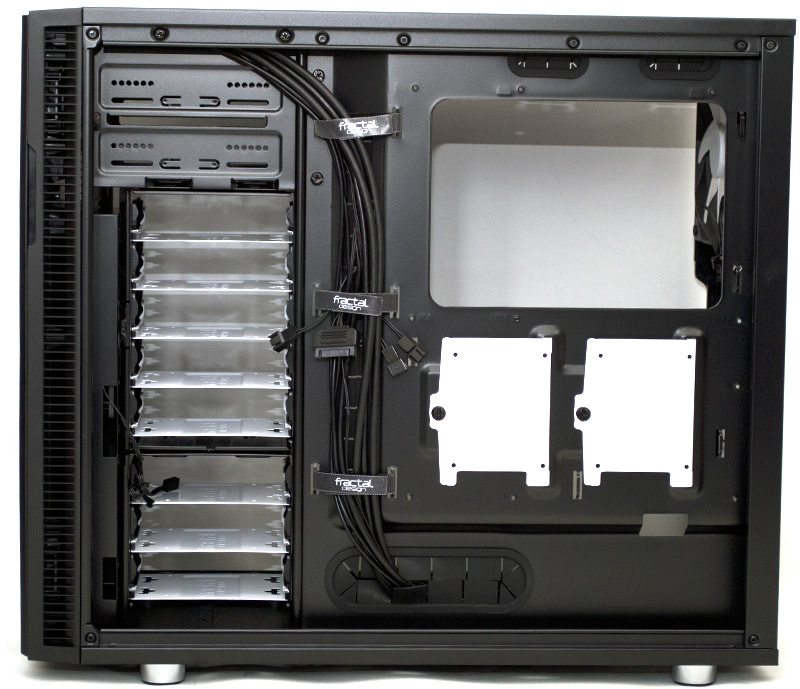 The front panel fan controller is powered by a single SATA power cable and can power up to three fans. The two 2.5″ stealth hard drive mounts are held in place by a single thumb screw and your drives screw directly to the bracket. These are very handy if you plan on removing the front bays to make room for a radiator.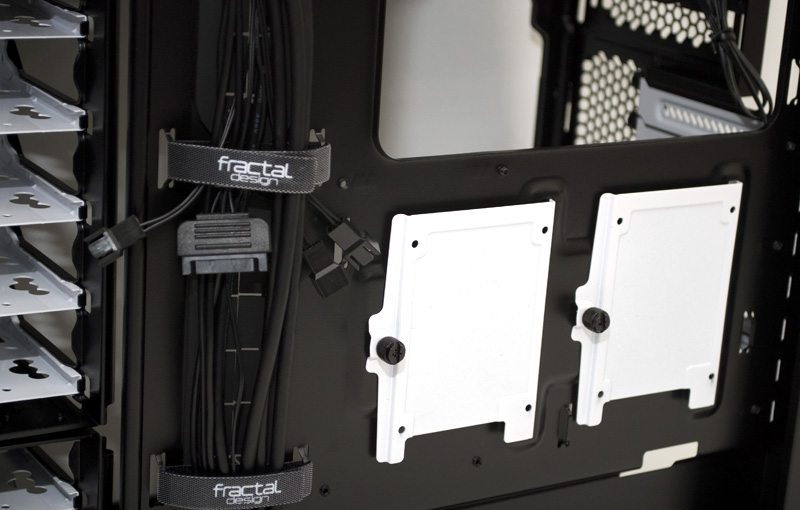 There is a vast amount of space behind the motherboard for cable routing. At its slimmest you'll still find a very manageable 20mm, although there are large recessed sections that take that up to 35mm.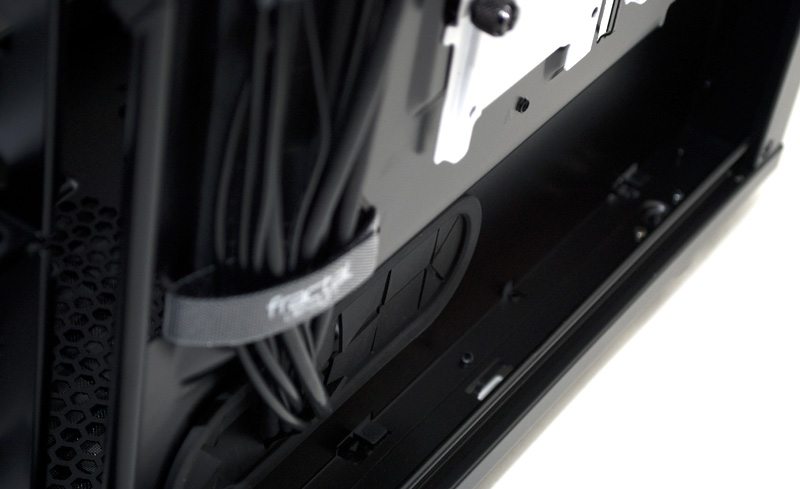 Both of the side panels are pretty heavy. Each is made from thick steel and coated with a dense layer of sound dampening material. It's excellent build quality like this why the Define R5 weighs in at 10.2KG, and that's before we've put so much as an SSD in there.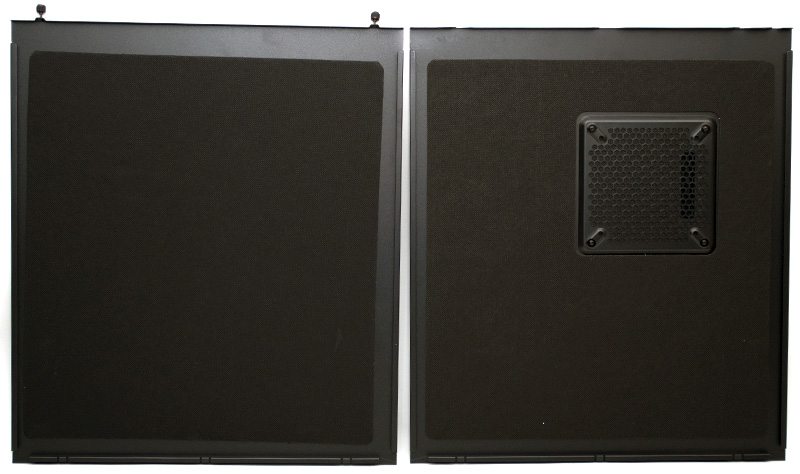 ———————–
Complete System
---
Building a system inside the Fractal Design Define R5 took me an hour, this is a pretty slow time for me personally, but this is a big and heavy case. All of the hard drives have to be screwed into place (as opposed to tool-free trays) and it's also the first time I've deployed our new Gigabyte Gaming.5 ATX motherboard. As you can see I've taken advantage of the rear 2.5″ hard drive mount for our Adata 128GB SSD.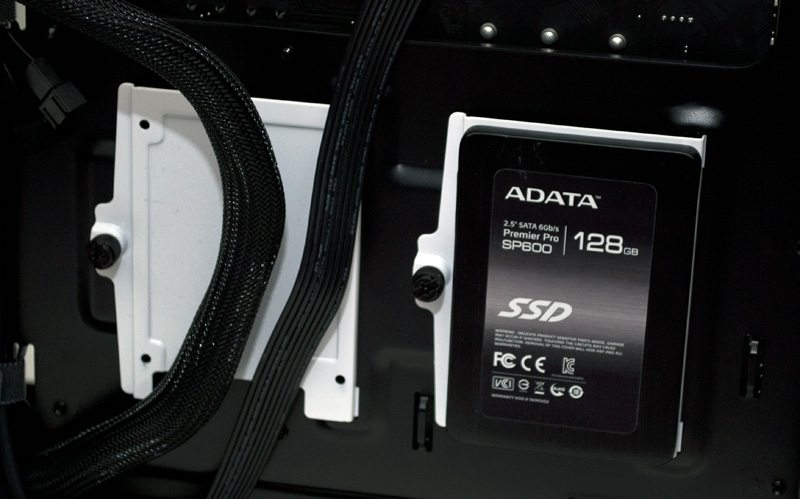 While this build may have taken me a little longer, the end results are certainly worth it. The Define R5 looks incredible on the interior and it's nothing short of a shame that we won't see it all with the side panel back in place.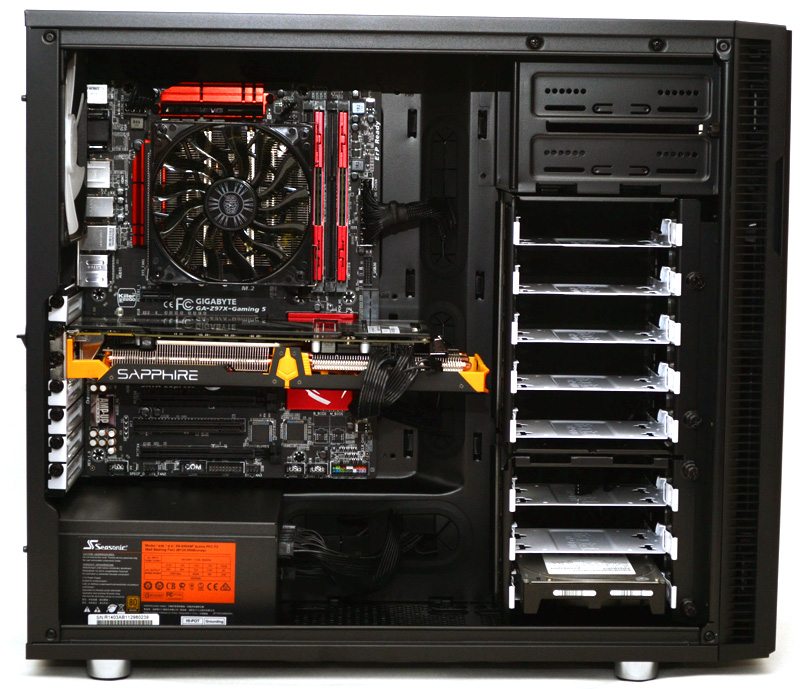 Cable routing is fantastic throughout. The rubber grommets are of a very good quality and I especially like the slightly angled grommets to the right of the motherboard.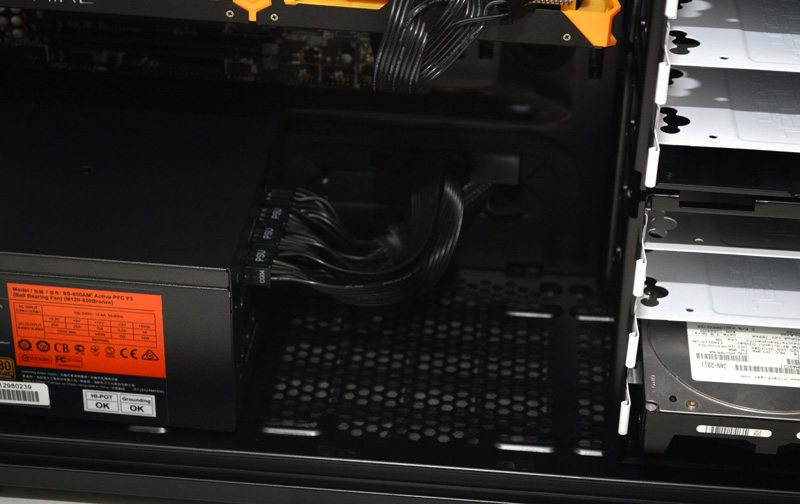 The Sapphire R9 270X graphics card is a bit of a beast and features a massive cooler that most cases struggle with. The Define R5 fits it with room to spare and I didn't even have to remove the front hard drive bays.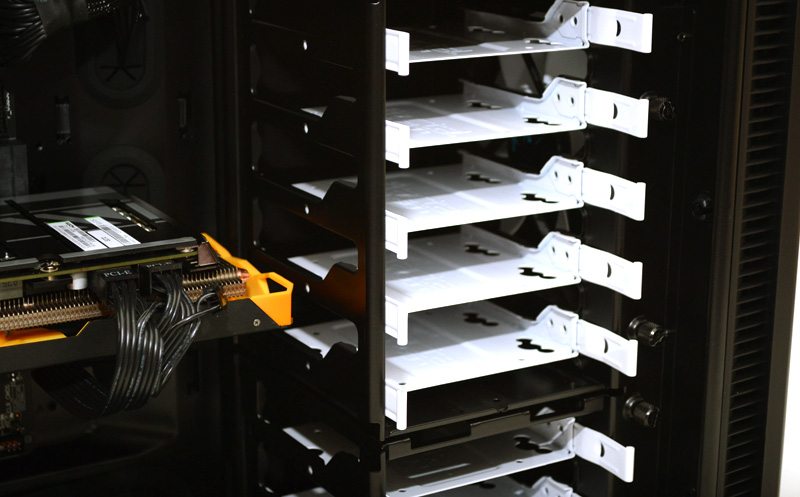 Overall, this is a great looking build and there is clean airflow throughout the chassis. There were no component conflicts and there is no doubt that this chassis can handle any of the latest and greatest components on the market.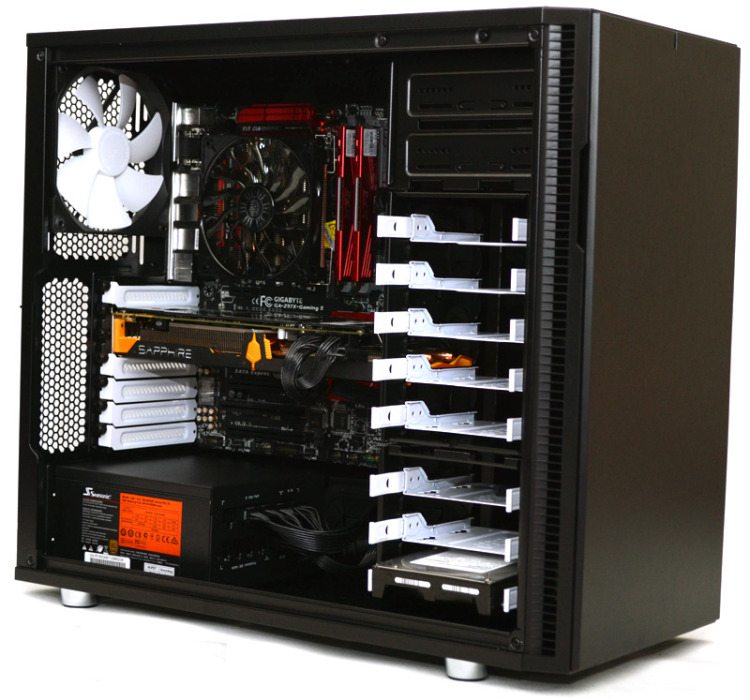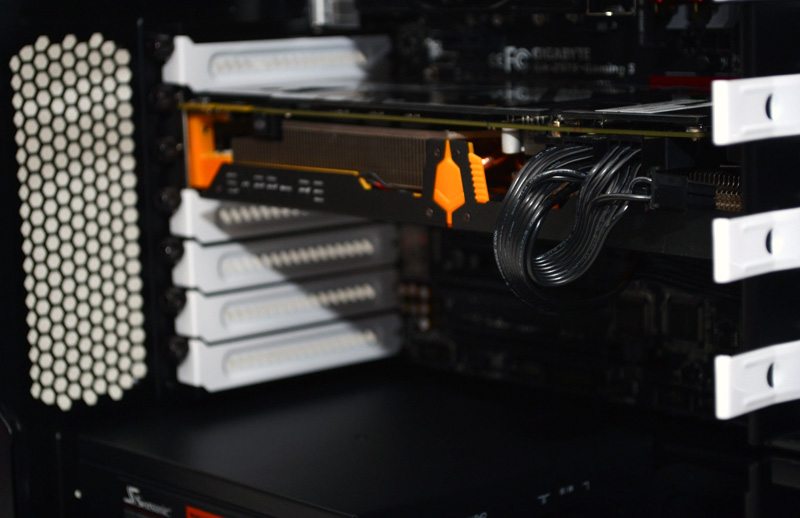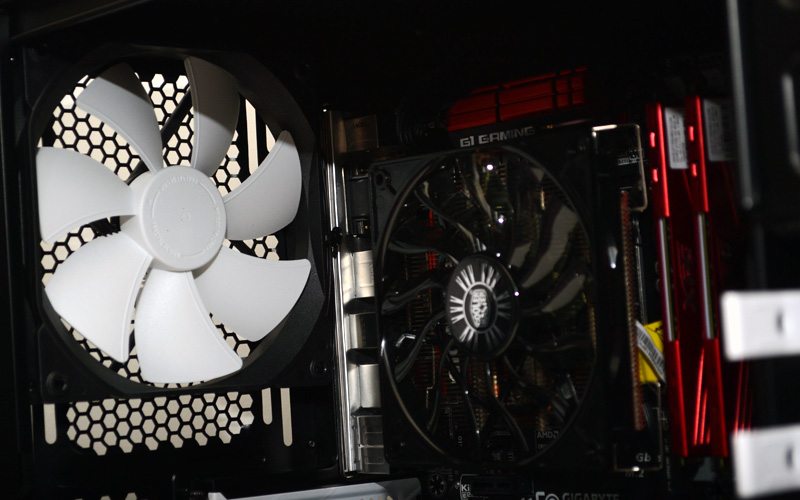 All panels back in place and the Define R5 looks just like it did when we took it out of the box.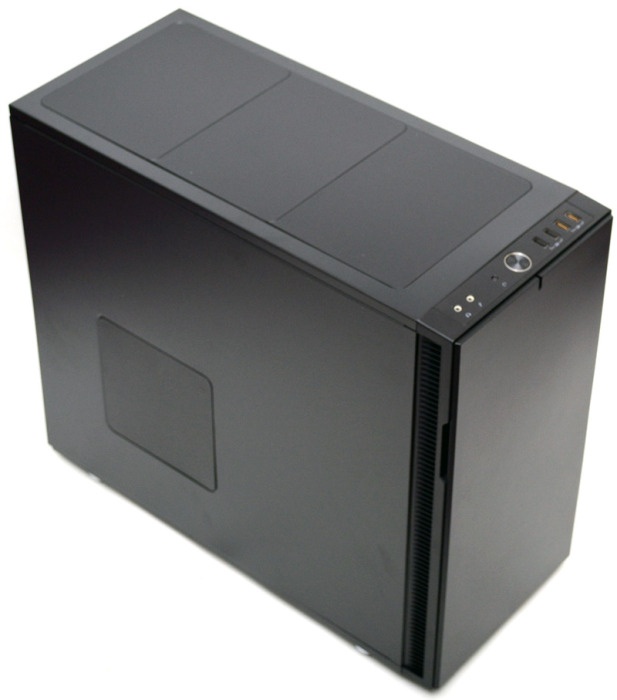 ———————–
Final Thoughts
---
Pricing
The Fractal Design Define R5 is a premium grade chassis, which means it commands a premium price tag. It will set you back £82.99/$109.99/€104.99 for the standard model, while the window equipped edition will be £89.99/$119.99/€114.99. This is fairly expensive, but given the range of features on offer, it's still very competitive.
Overview
I think Fractal Design have really outdone themselves this time. They've managed to create one of the best made chassis' on the market, that supports an incredible amount of ultra high-end hardware and they've managed to do it with a perfectly understated design. There's a big market out there for ultra high performance systems, that don't have all of the glaring lights and flashy front panels often associated with gaming rigs. Sure there's a lot of fun to be had dressing your rig in a crazy looking chassis, but the Define series is the chassis equivalent of a well-tailored suit.
The frame and panels of the chassis are incredibly strong and cut from thick steel. This is very good news for those who are packing massive graphics cards and extensive water cooling into their system, as there is no doubt that the Define will be able to handle the extra weight. The build quality is further enhanced with heavy-duty sound dampening material, which combined with the thick and heavy panels should mean that there is barely a whisper from your system.
The Define R5 comes equipped with high quality dust filters on all major intakes for clean airflow, and there are protective covers on the top and side fan mounts to help keep noise in and debris out. This is perfect for those who don't want to mount any additional cooling solutions, giving you great flexibility over your build. It's up to you to choose more extreme cooling performance or better noise reduction.
Sound dampening materials, thick panels and removable covers are just the start. Fractal Design has also included their Dynamic GP14 140mm fans, which promise high airflow and minimum noise. In addition to this you'll also benefit from the three speed fan controller, helping you further tailor the acoustic and cooling performance of your system.
Pros
Extensive air and water cooling support
Fully removable hard drive bays
Fully removable 5.25″ drive bay
2 x 2.5″ mounts behind motherboard
Vast amounts of cable routing space
Extremely durable build quality
Sound dampening material pre-installed
Washable and easily accessible dust filters
Built in fan controller
Competitive price
Reversible front panel door
Cons
"The Fractal Design Define R5 is easily one of the best chassis' on the market. It's packed full of features that make it ideal for an ultra-high end, ultra-quiet build. If you need no compromise on features and performance, combined with sleek and professional looking aesthetics – look no further than the Define R5."
Thank you Fractal Design for providing us with this sample.