Fractal Design North Case Review
---
---
---
Peter Donnell / 2 months ago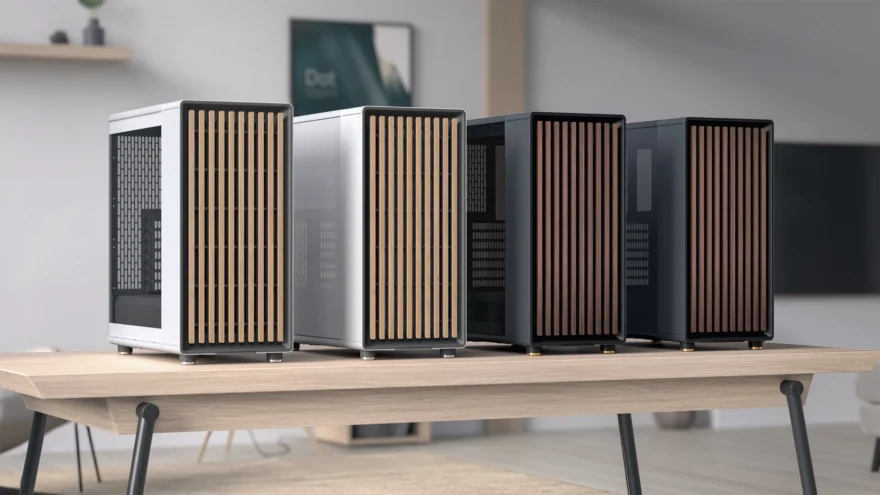 Fractal Design has been making high-end and extremely desirable PC cases for as long as I can remember. Even before I worked at eTeknix, I had one of their HTPC cases and that was a very long time ago now. They always do things a little differently, both in terms of their designs and their build quality. If anything, they're often built a little too well, over-engineered and with thicker materials than most. That's no bad thing if that's what you want, but it can often mean that Fractal cases come at a more premium price point. All of this and more is true with their latest case, the North, which looks set to stun with its mixture of white oak and walnut front panels combined with polished and textured brass or silver accents and removable faux leather pull tabs on a chalk-white or charcoal-black chassis… yup, they've gone full Scandinavian inspired on this one, which is to say, they stole some cool ideas from IKEA… not gonna lie, I have been really looking forward to this case!
Features
Sophisticated design elements accented with real walnut or oak trim on black and white versions respectively
Designed for ATX / mATX / ITX motherboards
Supports graphics cards up to 355 mm in length with included front fans, or up to 300 mm with standard thickness 360 mm front radiator
Comes with two dedicated 2.5" mounts and two 3.5"/2.5" combo mounts
Two Aspect 140 mm PWM fans included
Mounts for up to 8x 120 mm or 6x 140 mm fans in the mesh version, or 6x 120 mm / 4x 140 mm in TG versions
Designated cable management area behind motherboard wall
Front I/O features two USB 3.0, one USB Type-C, and separate headphone/mic jacks
Seven bridgeless expansion slots
What Fractal Design Had to Say
North reimagines the gaming PC, introducing natural materials and bespoke details to make gaming a stylish addition to the living space. Fusing design and airflow engineering, the open front is accentuated with real walnut (Charcoal) or oak (Chalk) panels and the side (Mesh) and top panels feature a fine-patterned mesh. Inspired by Scandinavian interior design, North includes premium design flourishes such as brass (Charcoal) or steel (Chalk) details and a faux leather tab for easy access to the top of the case. Inside, North offers an intuitive interior layout and generous compatibility.