G.SKILL Trident Z RGB DDR4 Kits Now Compatible with AMD
---
---
---
Ron Perillo / 5 years ago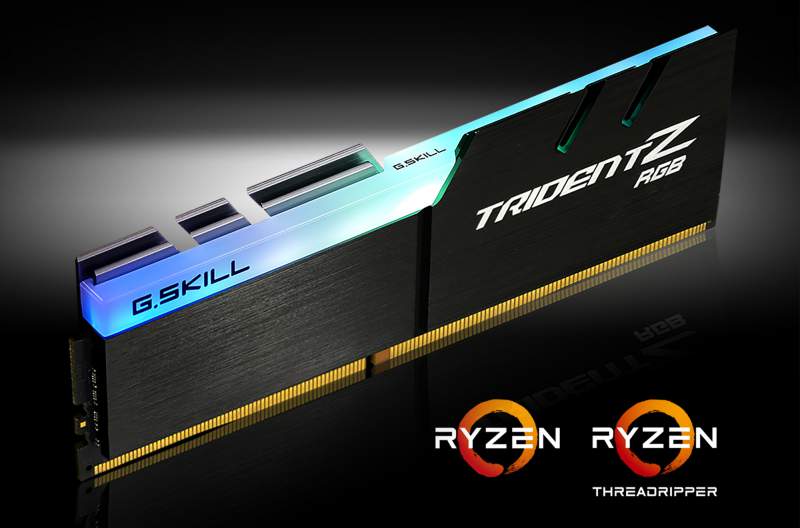 G.SKILL has some good news for AMD users. Their colorful Trident Z RGB LED DDR4 modules are finally compatible with both AMD Ryzen and Threadripper platforms. That means options for dual-channel and quad-channel modules, with higher speeds and latencies tested to work without guessing. Also, users can just simply select the guaranteed OC profile in the UEFI.
Trident Z RGB Memory Kits on AMD Platforms
G.SKILL has a different product model on the new AMD compatible kits compared to the original Trident Z RGB. This should help users find out if they have the compatible kit or not. The Intel kits have a product model number ending in TZR, for example F4-3200C14Q-32GTZR. The AMD compatible kits on the other hand, end in TZRX, as in F4-3200C14Q-32GTZRX.
The new TZRX kits are available in 2400MHz, 2933MHz and 3200MHz frequencies. However, only the 2933MHz kits are available for Threadripper. The capacities range from 16GB (2x8GB) all the way to 128GB (8x16GB).
The 2400MHz line has 15-15-15-35 timings at 1.2V. However, the 2933MHz kits are available with two timing options: 14-14-14-34 and 16-16-16-36, both at 1.35V. The 3200MHz option is clearly for enthusiasts with much tighter timings than the slower frequency kits. It is rated at 14-14-14-34 with 1.35V.