G.Skill TridentZ 3200MHz DDR4 16GB (2x8GB) Review
---
---
---
John Williamson / 7 years ago
Introduction
---
G.Skill is one of the most respected memory vendors in the technology industry and synonymous for selecting premium ICs to set world records. For example, back in August, Chi-Kui Lam overclocked G.Skill's Ripjaws 4 memory made from Samsung ICs to attain an astonishing world record of 4795.8MHz. Additionally, the data from HWBOT in August shows 7 Skylake world records were set on Ripjaws 4 memory kits. This exemplifies the overclocking potential of G.Skill modules and strict binning process. In most scenarios, consumers simply enable Intel's Extreme Memory Profile and avoid manual overclocks to maximize compatibility. Additionally, in gaming tasks, the difference between 2400MHz and higher frequencies is minimal. Nevertheless, if the price difference between 2400MHz and 3000MHz+ is small, there's no reason not to pay the extra for higher bandwidth modules out of the box.
The G.Skill TridentZ series is available in a number of configurations from 2800MHz all the way up to 4000MHz. As you can see, this is an extraordinarily high specification and designed for consumers wanting the ultimate in memory speeds. Today, we're taking a look at the 3200MHz kit which utilizes 1.35v, and 16-18-18 timings. It's quite important to note that G.Skill have conducted thorough testing on Intel's Z170 platform to check compatibility and stability with XMP. Unfortunately, our testing procedure revolves around X99, and every other DDR4 memory review has been conducted via the professional platform. Theoretically, we could have reviewed this particular memory kit on a Z170 motherboard but there wouldn't be any fair comparison to previous reviews and too many variables. This is why the X99 test bench is still being used for DDR4 reviews.
Despite this lengthy clarification, I expect the TridentZ kit to perform superbly given G.Skill's heritage and commitment to providing the fastest memory on the planet!
Specifications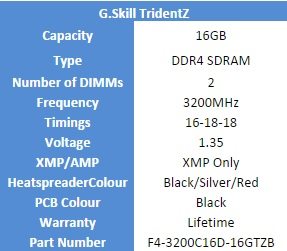 Packaging and Accessories
The memory kit comes in a visually appealing box which creates a sense of luxury and outlines the product's magnificent aesthetic design.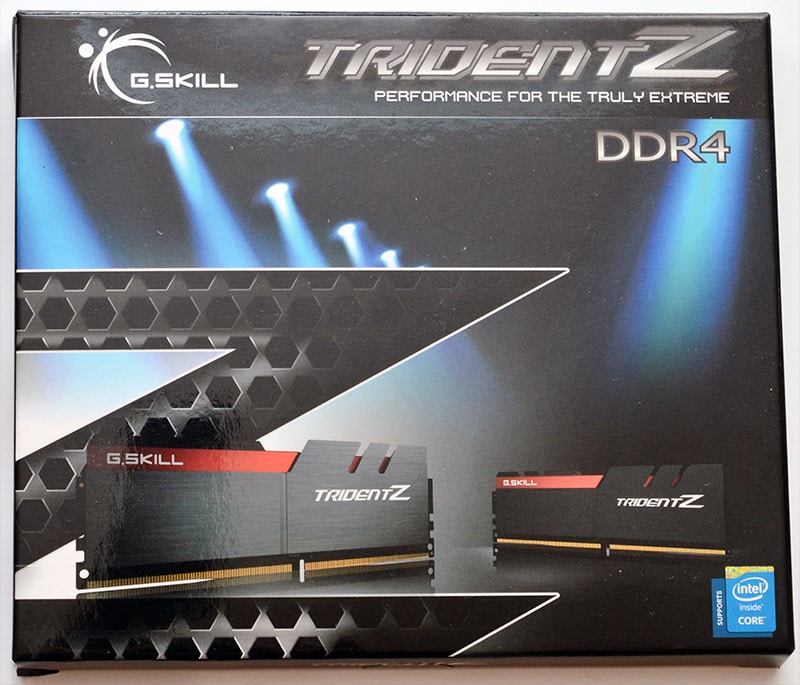 On the opposite side, there is a brief synopsis about the TridentZ series and G.Skill's lifetime support service.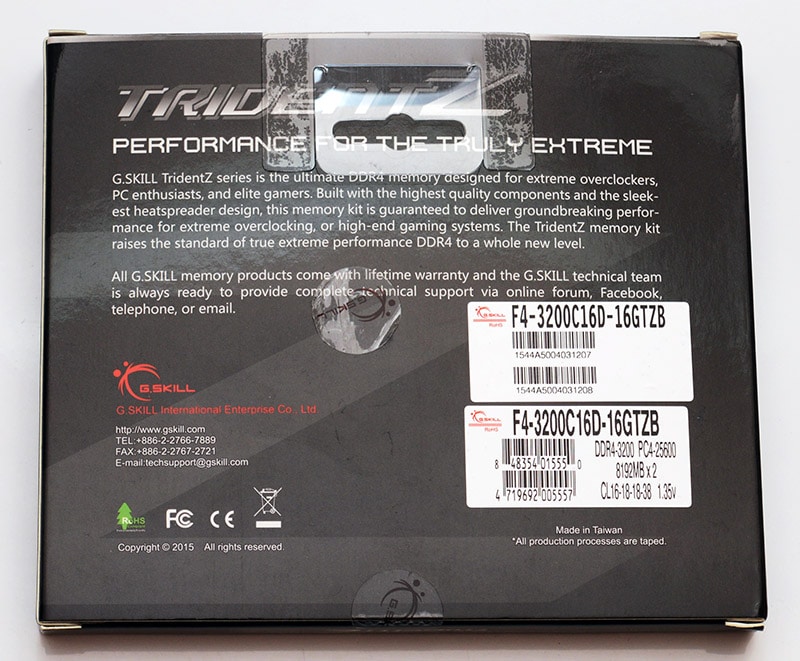 A Closer Look
Here we can see the gorgeous memory in all its glory and I honestly believe this is some of the best-looking RAM I've ever seen. The metallic silver finish, and dynamic edges contrast in a beautiful manner. Furthermore, the G.Skill and TridentZ logos are positioned perfectly and it enhances the aesthetic design without being too overbearing. Additionally, the red strip on the top looks fantastic and really stands out compared to the silver heat spreader and white lettering. On another note, the black PCB accentuates the memory's sharp, sophisticated tone.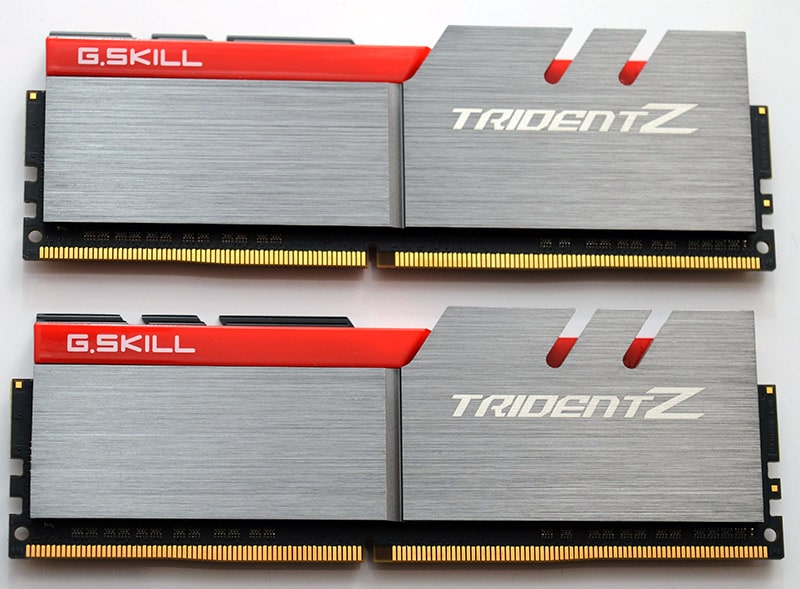 Even more astounding, G.Skill utilized a dark brushed metallic finish on the reverse side to proficiently suit red and black gaming motherboards. From this angle, it's evidently clear how much time has been taken designing the memory which makes each module look very expensive.