GamerStorm Castle 240 RGB AIO CPU Cooler Review
---
---
---
Mike Sanders / 4 years ago
Introduction
---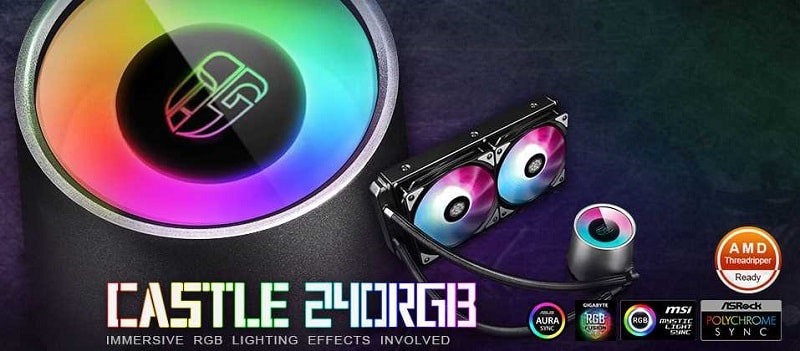 GamerStorm Castle 240 RGB
GamerStorm are one of the best known brands in terms of providing products on a reasonable budget. We have reviewed many of their components in the past and have, overall, formed an excellent opinion of them in terms of getting a lot for what you pay. Being part of the 'DeepCool' family, GamerStorm products are well-known for having some highly impressive RGB lighting effects and in this instance, their brand new Castle 240 cooler is no different.
The GamerStorm Castle 240 RGB cooler has recently gained a lot of interest by being an officially endorsed cooler for the brand new 2nd-generation of Threadripper processors by AMD. This isn't an exclusive cooler though. Every major Intel and AMD socket is covered here, but it is reassuring to know that it has been designed with such a powerful processor in mind.
Offering some impressive lighting effects, including sync capability with many major motherboard manufacturers, at the very least, this cooler should look good. Looks, however, are not everything. A cooler, while looking good, still has a very important job to do!
Let us, therefore, take a closer look at this cooler to see if this could be a fantastic option for your system!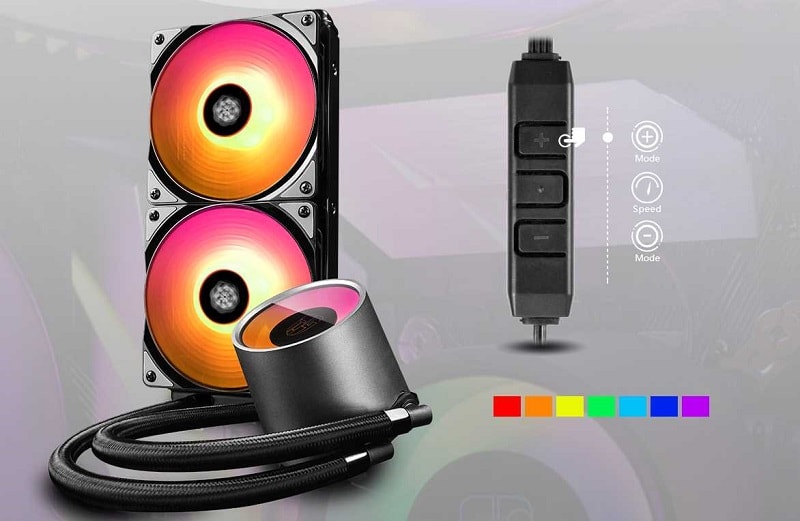 Features
Double window panes and immersive ambient lighting are designed to provide a perfect display of aesthetic illumination.
The 16.7 M true colour RGB flowing light system with 5 inbuilt effects (dynamic, static, breathing, comet, and fashion collision) has 36 interchangeable lighting modes.
Motherboards are supported with synchronized lighting control via addressable RGB function*
Ultra-large, pure copper CPU block provides effective coverage and heat dissipation for CPUs of any size.
An optimized E-shaped micro water channel is designed to effectively enhance heat circulation efficiency and to enlarge heat contact areas.
The ceramic axle bearings and axle cores guarantee an ultra-long service life.
It supports mainstream Intel and AMD socket mounting, including TR4/AM4.
*WS2812B ADD-RGB LED is applied and the below 3pin ADD-RGB Headers are compatible for the device: 5V/D/G and 5V/D/NC/G, which is used for the mainstream M/B brands like ASUS, MSI, Gigabyte.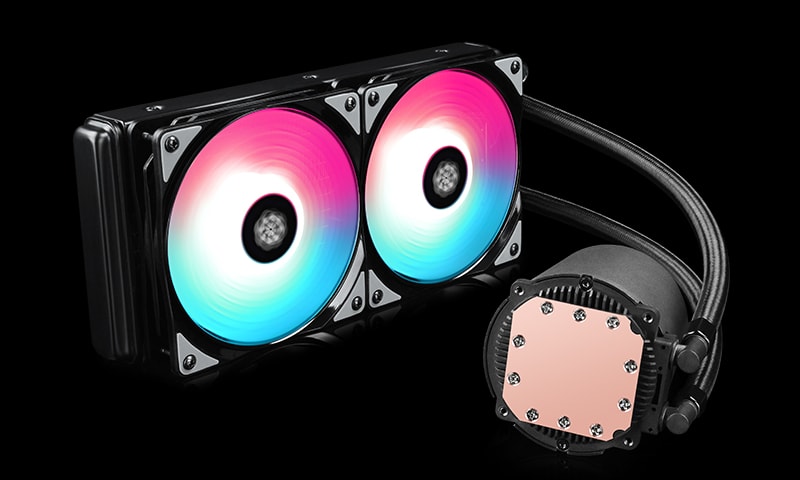 Technical Information
For more in-depth technical specification, please visit the official product page in the link here!

What DeepCool Has To Say!
"DEEPCOOL, the company that specializes in water-cooled and illuminated cases for the PC enthusiast has just introduced a brand new AIO liquid cooler- CASTLE 240RGB, suitable for Intel and AMD based systems. Its featured built-in double window panes and 16.7M true color lighting system provide a perfect display of aesthetic illumination. Its ultra-large, pure copper CPU block and its optimized E-shaped micro water channel designed to enlarge heat contact areas and effectively enhance heat circulation efficiency meet users' needs for high performance and aesthetics" – GamerStorm
Exterior Packaging
The front of the packaging is rather simple, but its bold design is rather eye-catching. It makes a prominent statement about the product by placing one large image of the pump block right in the centre. Given that this is arguably the most attractive feature of the cooler, it's a smart move.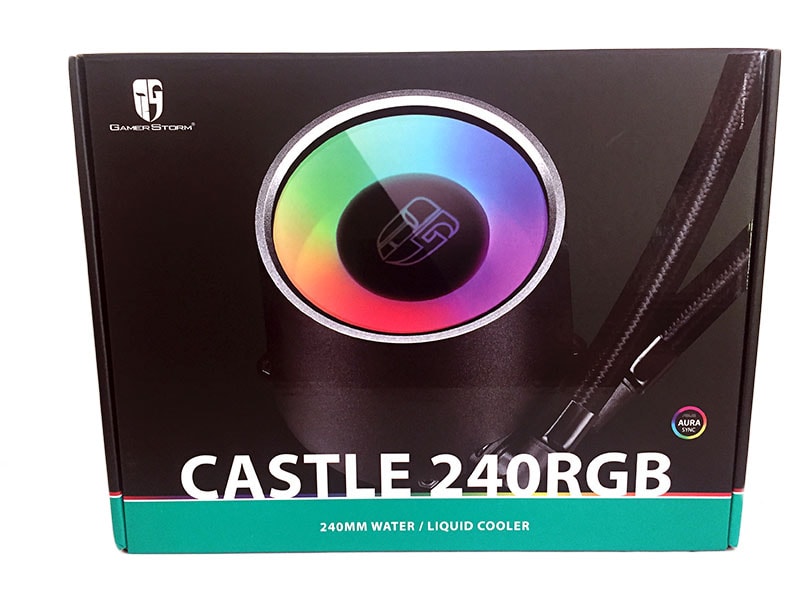 While the front is rather bold, in truth the back is rather bland. In terms of whats there though, the information provided is fantastic. You're not only given the key features, but you're also given a detailed specification including the dimensions of the cooler, fans and the radiator. It might be a bit boring, but you can't say that there's anything missing here. I just think it wouldn't have hurt to have one nice colour image of the entire product in action.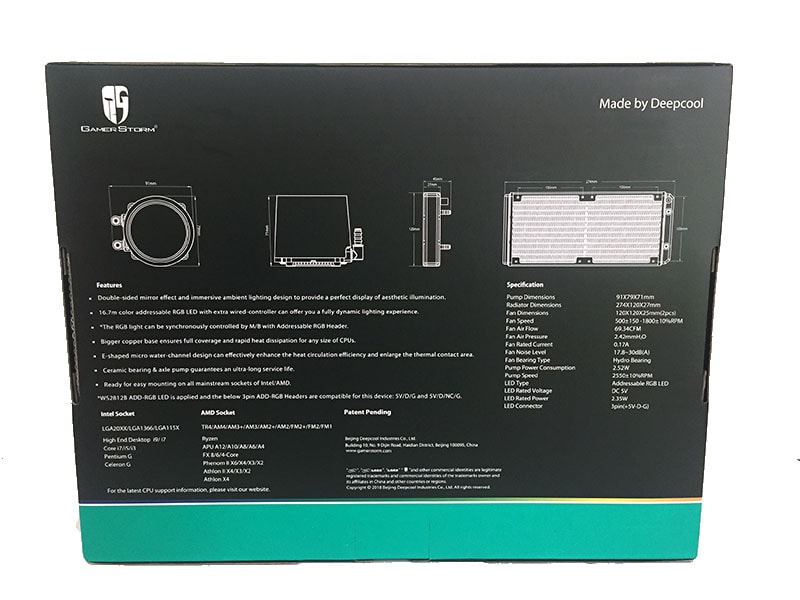 When you open up the packaging you are met by a fantastically clean design. The components fit well into the box and everything has a nice crisp look. It's a small factor as well, but the whole interior packaging contrasting against the black exterior really sets this cooler off.