GameStop Is Confirmed As Being Up For Sale
---
---
---
Mike Sanders / 5 years ago
GameStop Goes Officially Up For Sale
Although not a brand that is well known in Europe, in America, GameStop is, without doubt, one of the biggest names in terms of high street gaming stores. It seems, however, that despite the company operating for many, many years, it might be hitting a difficult period.
As such, in a report via CNET, it has been confirmed that GameStop is officially up for sale! This might, however, spell bad news for gaming retailing in the UK and Europe.
Why Are They For Sale?
It's hard to ignore the impact that the online digital download market has had on the gaming industry. It's for reasons like this that, for PC gamers especially, you practically can not find physical copies of games anywhere anymore. This does also have an effect on physical stores though who rely on game sales.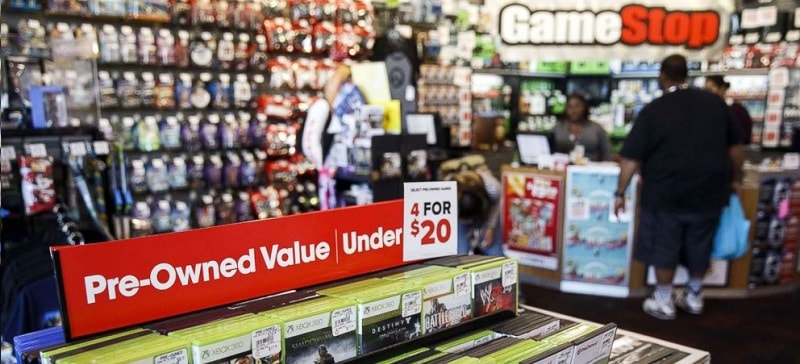 With more and more people simply buying games online, such stores are finding it harder to turn over a decent profit. As such, despite it being rather sad, GameStop being for sale shouldn't really surprise anyone. It does, however, make you wonder who will buy it and if a new owner has an idea to turn this around.
Pre-Owned Games
One of the biggest earners for gaming stores is pre-owned gaming. It fits perfectly into the ideal business category of buy low and sell high. There are, however, limits as to how far you can take this and more often than not, you see greed creeping far too much into play. For example, you can buy a brand new game for £45, or a pre-owned copy for £43. Call me affluent, but I'll spend the extra £2 on the new one thanks.
Although GameStop does not have any ownership or association with Game in the UK, I have for a long time been concerned about how much longer that store can last as well. I think Game in the UK has turned into an abhorrent shop. It's overpriced and the staff are more like used-car dealers trying to upsell you on everything. The most worrying part though is that Game has emulated much of what GameStop did. Even their new reward system has basically ripped off GameStop's approach. I would note that I choose the word 'rip-off' very deliberately.
With GameStop in the US potentially being sold or liquidated, don't be surprised to see Game follow suit.
What do you think? – Let us know in the comments!