Gelid Zentree USB Charging Station Review
---
---
---
Ashley Allen / 7 years ago
Introduction
---
As our lives increasingly revolve around portable and mobile devices – smartphones, tablets, wearables, and handheld gaming – so our homes become invaded by a tangle of accompanying cables. Thankfully, most devices – even with a proprietary connector on one end – are USB compatible, encouraging the rise of USB charging stations that can centralise the power needs of your many devices.
Unlike many other USB charging stations on the market, though, the Zentree from Gelid Solutions not only provides a single hub into which you can plug up to four devices, but also a series of nubs – the 3D Tree Array – covered by a removable green silicone rubber top, into which you can neatly stack your devices while they charge.
While the 3D Tree Array is the Zentree's most visible identifier, the station's real selling point is its Smart IC chip, which auto-negotiates the best power output for each device that is connected to it, and cuts off power to a device once its battery is full. Gelid boasts that the Zentree can charge four iPad Pros simultaneously in the same time it would take to charge one using the proprietary cable.
The Zentree has been specifically tested using Apple's iPhones, iPads, and Apple Watch, a wide range of Android smartphones and tablets, plus the Pebble smartwatch, various Bluetooth headsets, and portable power banks. The kit includes four USB-to-Micro-USB cables, but any USB cable can be plugged into the four ports.
"Zentree provides a carefully designed docking surface, 3D Tree Array, which supports multiple gadgets of different sizes: iPhones, iPads, androids, tablets, phablets, smartwatches or really any other USB device. The top is made of a soft silicone rubber, it protects your smartphones and tablets from scratches and slip-off. The Smart IC, a core part of Zentree Charger Unit, auto-negotiates the best output charging power for your gadgets and ensures truly safe multi-device charging." – Gelid.
Specifications
4 Ports
4A per Port
48W total Power Output
Active Mode Efficiency: >87%
Dimensions (l)x(w)x(h): 224mm x 159mm x 95mm
Idle Power Consumption: 0.04W
Weight: 590g
Smart IC for Safe and Efficient Charging
Smart IC Auto-negotiates Best Charging Current for Your Device
Smart IC Auto Cuts Off Power when Battery is Full
Supports iPhones, iPads, Androids, Tablets, Phablets or Really any other USB Device
Individual Surge-protection
3-Dimensional Tree Array
Non-scratching
Anti-slip
Seamless Cable Management
Eco-friendly Materials
Tested Devices
Samsung Galaxy Note 4
Samsung Galaxy Tab 10.1
PlayStation Vita
Poweradd Pilot X7 power bank
Packaging and Accessories
Our review sample of the Gelid Zentree arrived in a plain, unbranded box.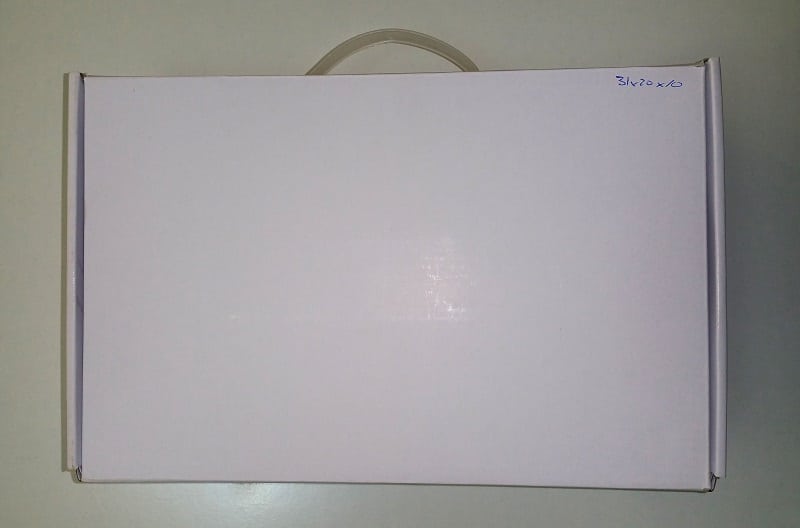 Upon opening the box – revealing the Zentree's bright green 3D Tree Array poking out of the packaging – I must admit that I was a little daunted, having no idea what the product looked like before I began the review process.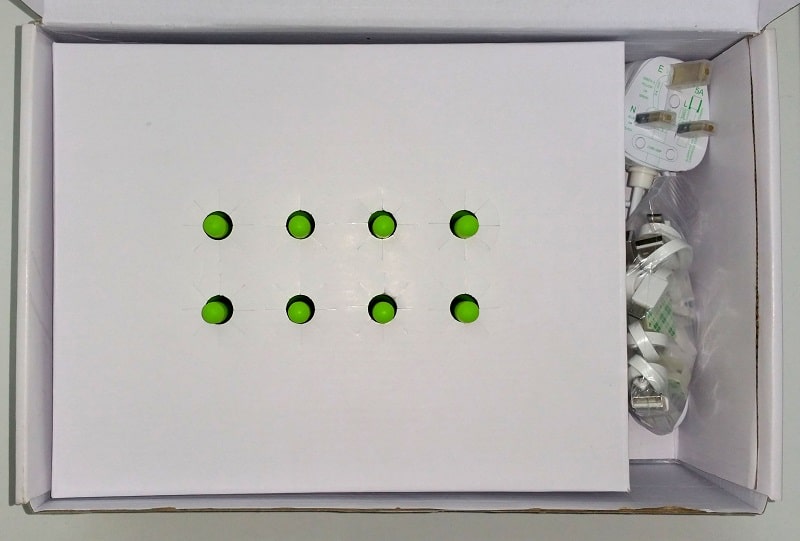 The Zentree includes an IEC C8 power cable, four USB-to-Micro USB cables, and two hooks with adhesive pads on the back. I was happy to find that the USB cables are flat, which is great for preventing tangles.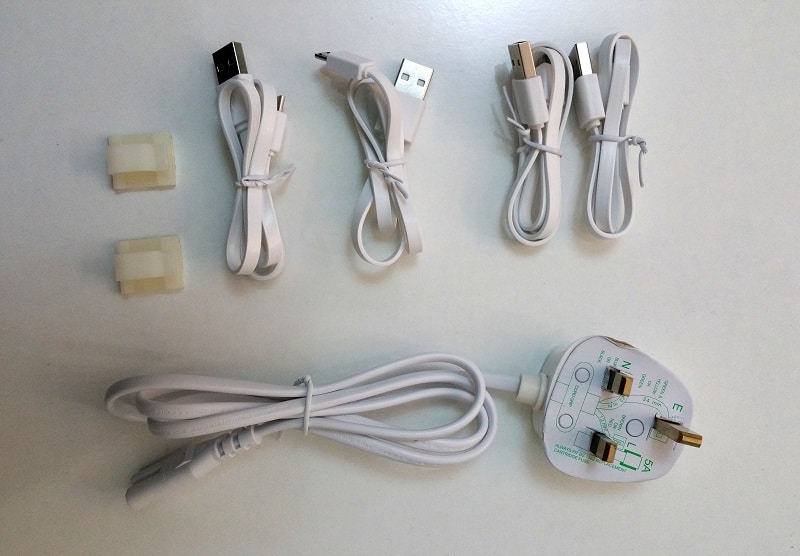 ———————–
A Closer Look
---
The Gelid Zentree arrived in two parts: the base, which contains the USB ports, and the 3D Tree Array, which holds devices that are being charged.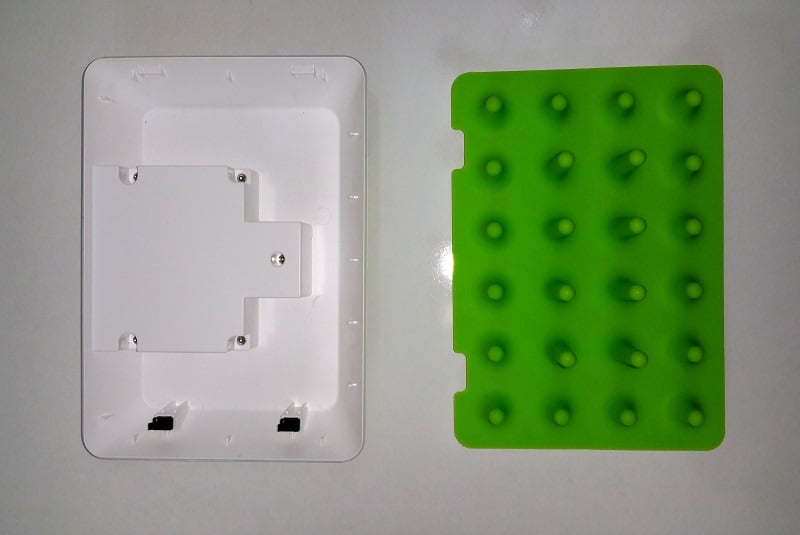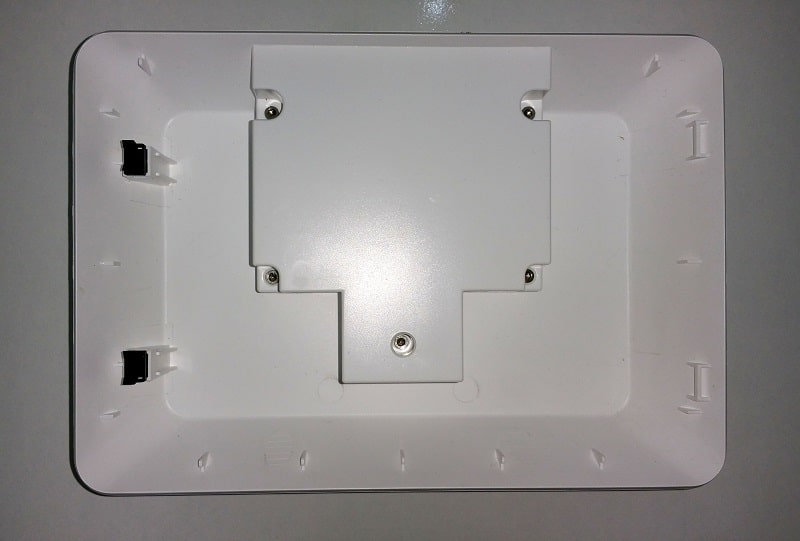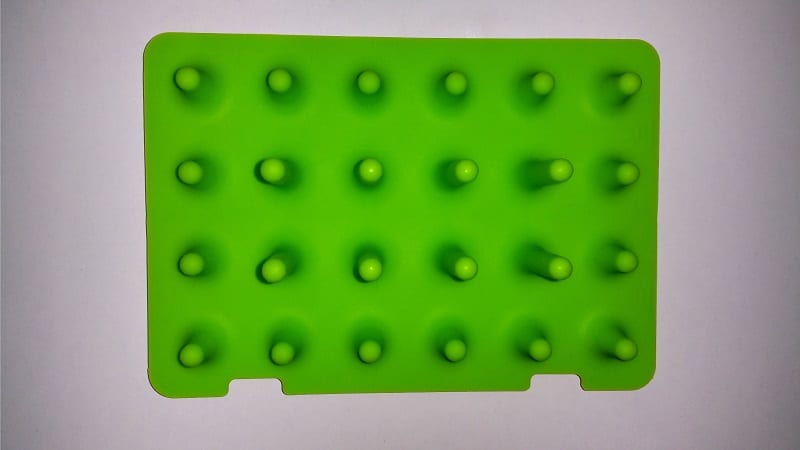 Four USB ports are housed within the white plastic base. Two on this side.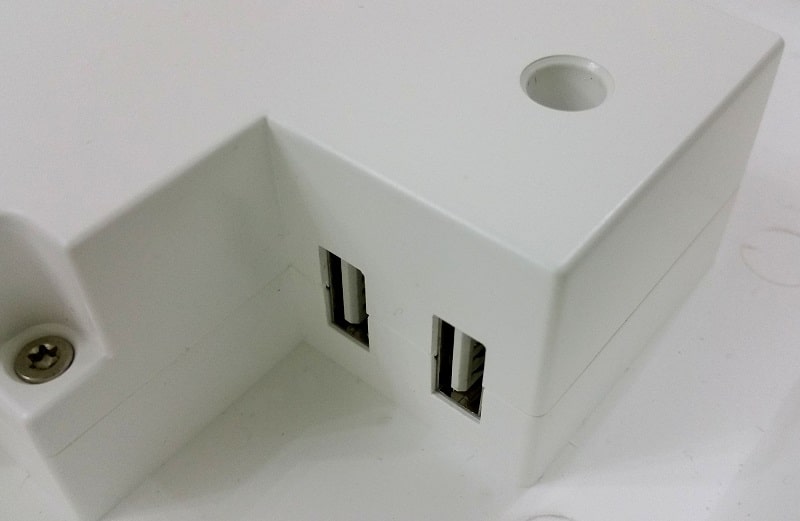 And two more here.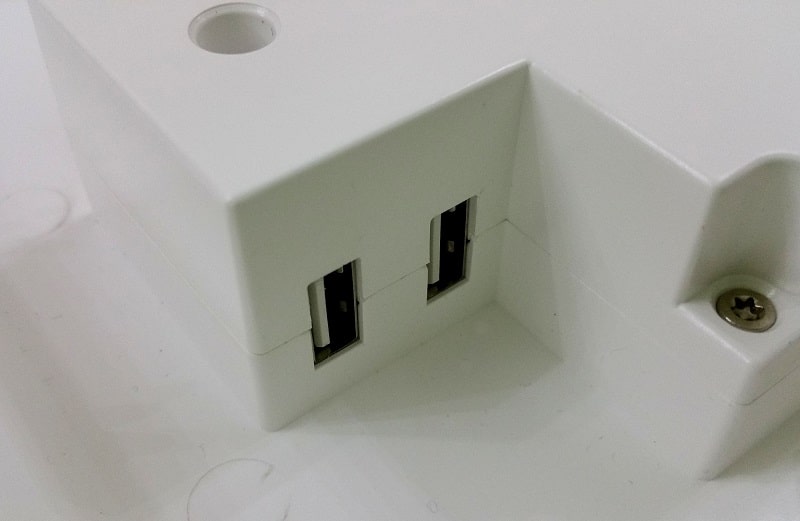 Upon piecing the Zentree together, it struck me as a tad unwieldy – it was certainly larger than I anticipated – but I soon warmed to its unique aesthetic.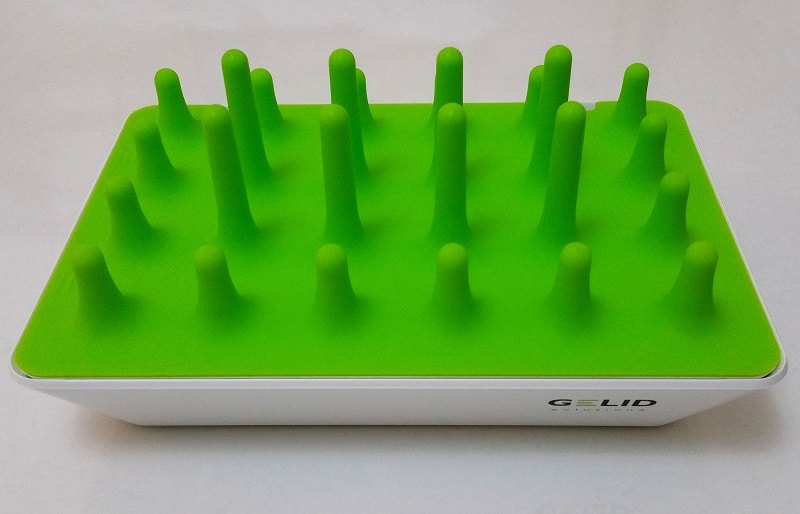 To the rear is the IEC C7 power socket.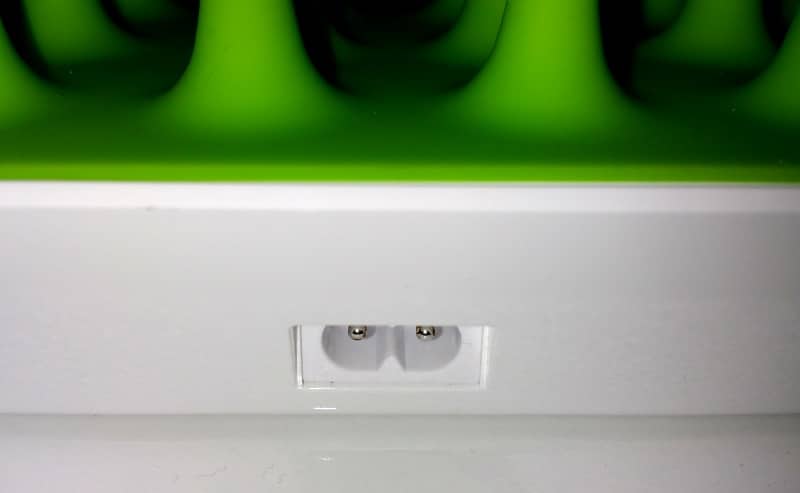 Four thin rubber feet on the base stop the unit from slipping.
The two adhesive hooks can be inserted within the white plastic base to help hold the internal USB cables in place.
Installation
---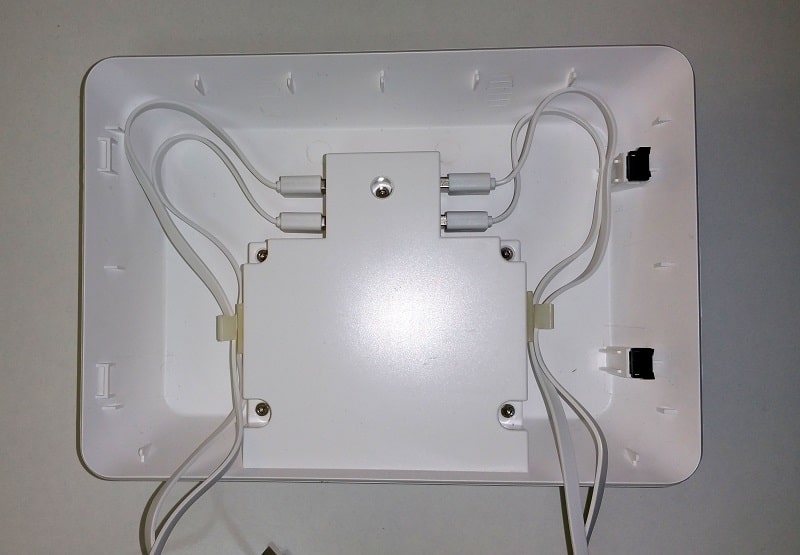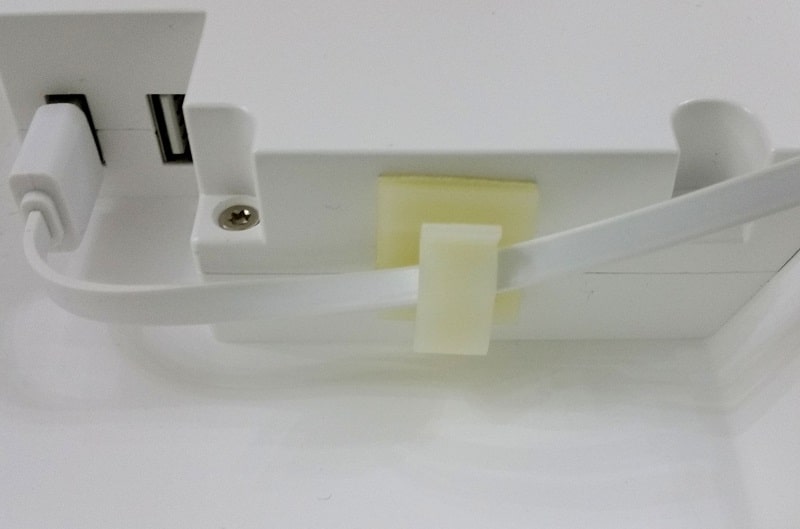 The internal USB ports will accept any USB cable, including my proprietary PS Vita USB cable, or an Apple USB-to-Lightning cable for charging an iPhone, iPad, or iPod.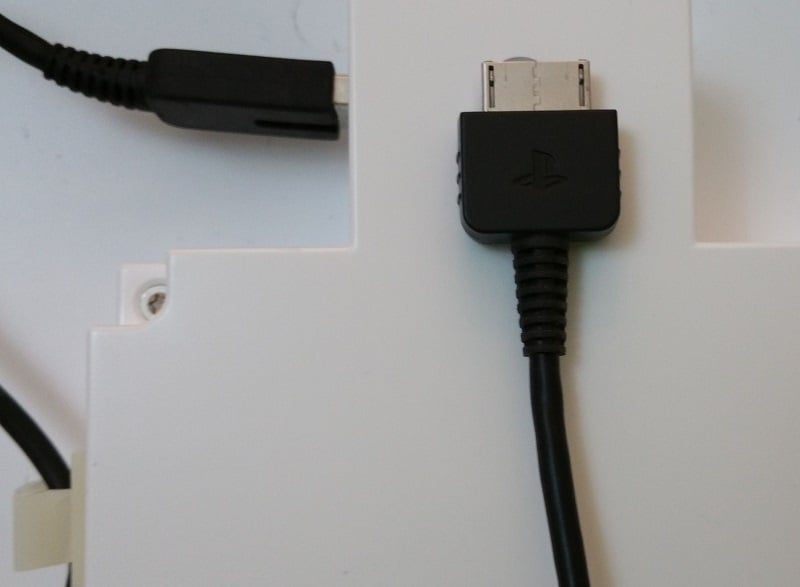 The Zentree appeared a little oversized to me, especially on my small desk, until I slotted my devices – one of which is my big Samsung Galaxy Note 4 smartphone – into the Zentree's green tress, at which point its size seemed to make more sense.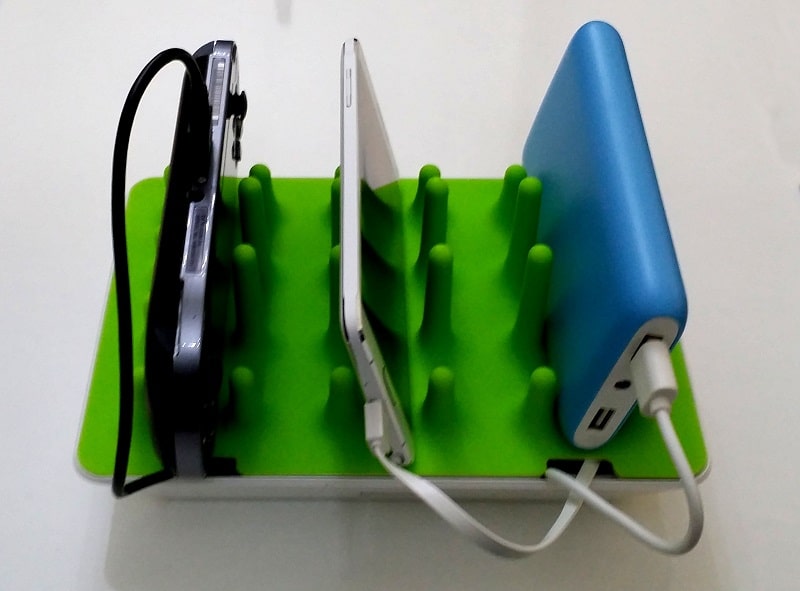 The Zentree's signature look – its 3D Tree Array of vertical spikes, covered by a layer of bright green silicone rubber – is effective at neatly supporting any devices that are plugged into it.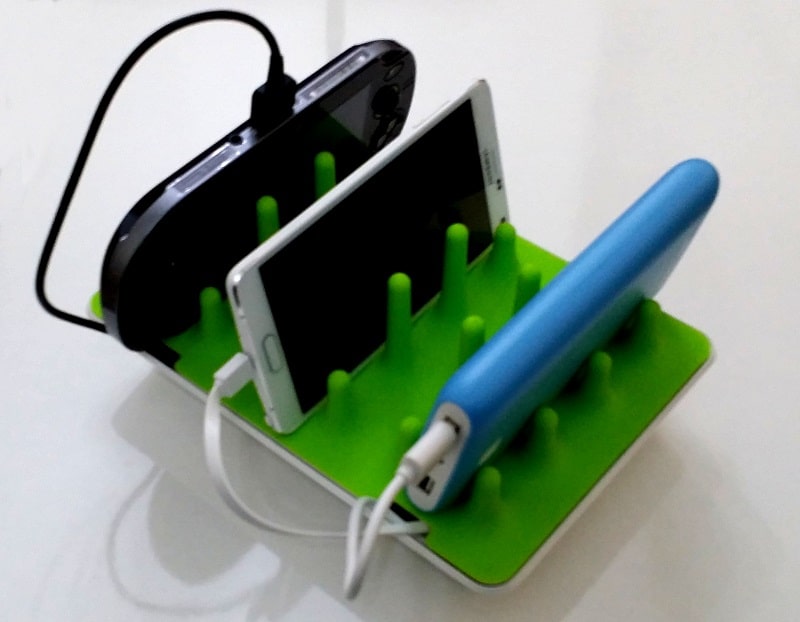 ———————–
Performance
---
The key feature of the Gelid Zentree – and the one I was most excited about trying – is its Smart IC chip that intelligently detects and sends the desired charge to each connected device.
Since I've owned all the devices I tested for a while – with the exception of the power bank – and have put their respective batteries through constant discharge and recharge, the factory-standard charging times were no longer relevant, so I began by timing how long it took to charge each one – my Samsung Galaxy Note 4, Samsung Galaxy Note 10.1, and PS Vita – using their proprietary chargers for my benchmark comparison. I couldn't find an official charging time for the Poweradd Pilot X7, and the two times I've used it, I charged it by plugging it into my laptop, so I used that as my baseline.
Sadly, I discovered that the Samsung Galaxy Note 10.1 would not charge when plugged into the Zentree, even using the proprietary Samsung cable. While I don't consider that a fault with the Zentree necessarily – it's a known issue that the Galaxy 10.1 only charges when using certain proprietary charger adapters – it was disappointing all the same.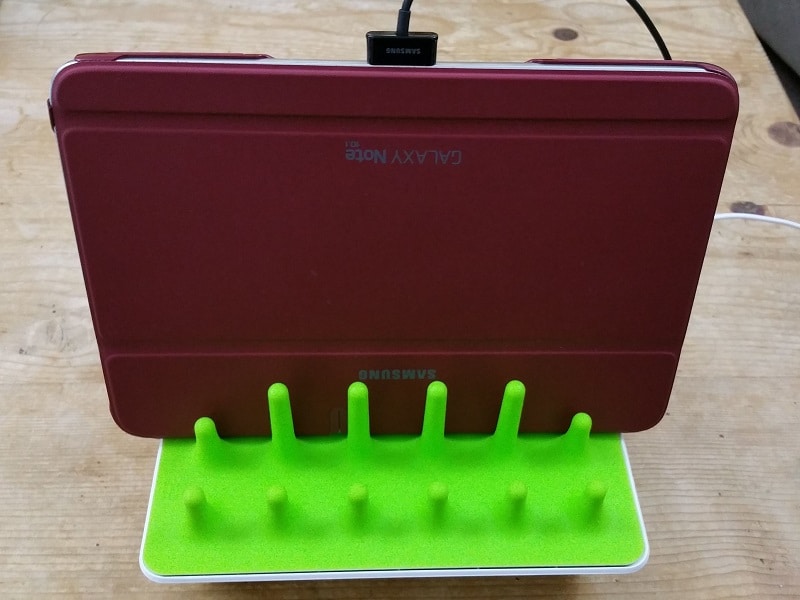 The charging times I measured using proprietary cables/chargers were:
Samsung Galaxy Note 4: 90 minutes
PS Vita: 190 minutes
Poweradd Pilot X7: 620 minutes
Since the Zentree is designed to be a multi-charger, sending power to up to four devices at once, I thought that the only proper way to put the device through its paces was to charge all three of my devices at once. In order to fully test its limits, I wanted to connect a fourth device – alongside the Note 4, PS Vita, and Poweradd – so I hooked up my TaoTronics Bluetooth speaker (which was too bulky to fit within the Zentree's 3D Tree Array). Since the speaker has no battery gauge or charging indicator, I was unable to include its charging time in my tests, but at its inclusion was just to help show me if the Zentree could handle the load of charging four devices at once.
The Samsung Galaxy Note 4, PS Vita, and Poweradd Pilot X7 all fit snuggly in-between the bright green spokes of the Zentree while they charged, and thanks to its design, which houses the connections beneath the array, there was minimal cable clutter. I left my devices to charge while I got on with my other work, checking them every few minutes to see if they were fully charged.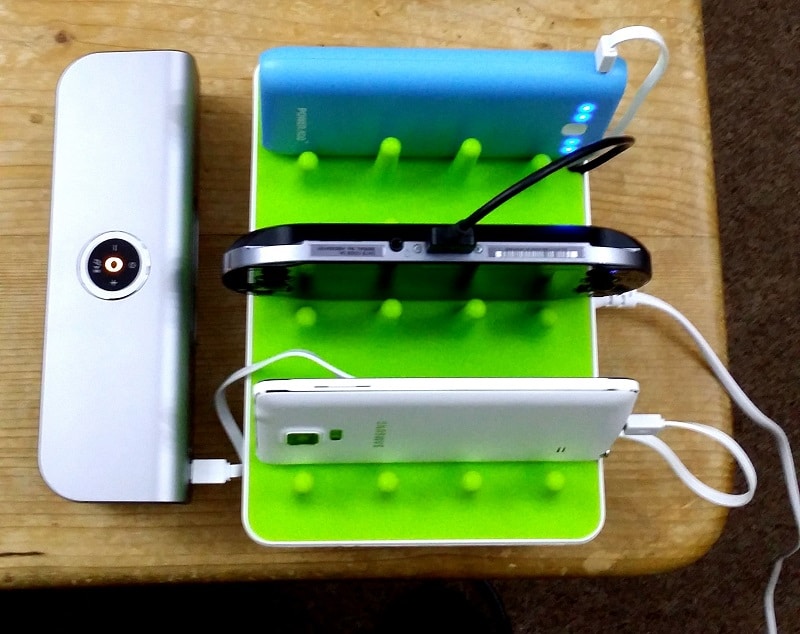 The results were as follows:
Samsung Galaxy Note 4: 110 minutes
PS Vita: 215 minutes
Poweradd Pilot X7: 420 minutes
While the charging times for the Note 4 and Vita were not as fast as using proprietary mains connections, they were still very reasonable, and the Note 4 charging time specifically compares favourably to the couple of third-party mains chargers I have tried with the phone, which take almost twice as long as the Zentree. The Poweradd, however, charged significantly faster than by any other means I've tried in the past.
The Zentree dealt well with the stress test, so I later decided to use it to charge each device separately, testing not only how each device draws power individually, but also to test the efficiency of the hub's Smart IC Chip.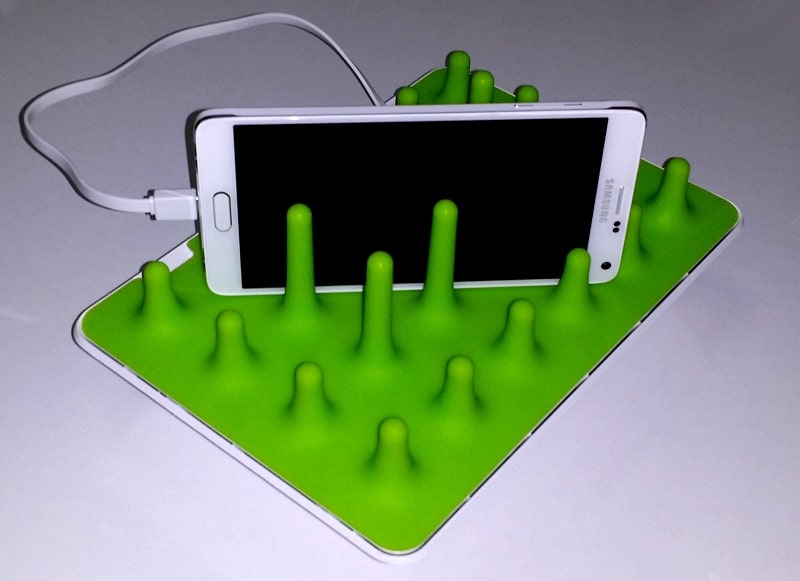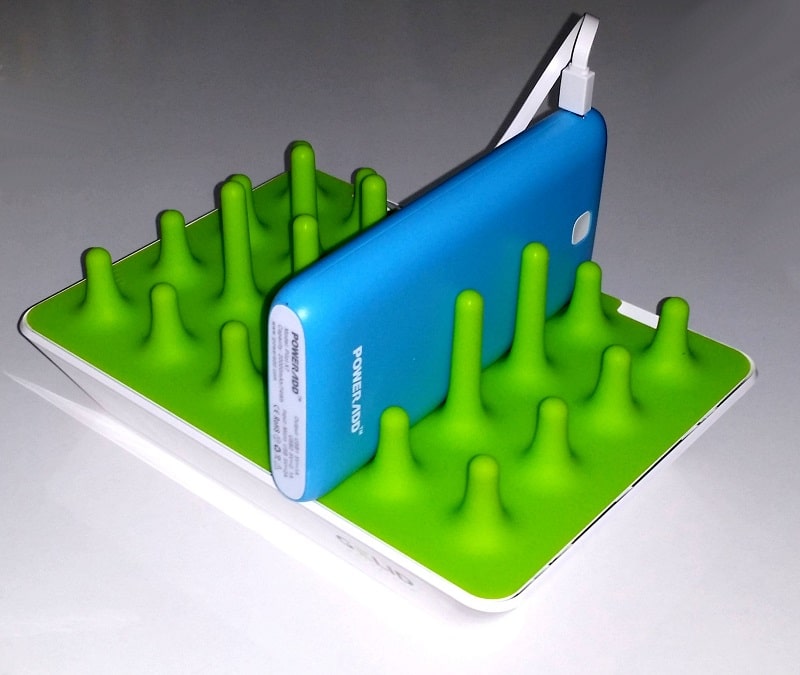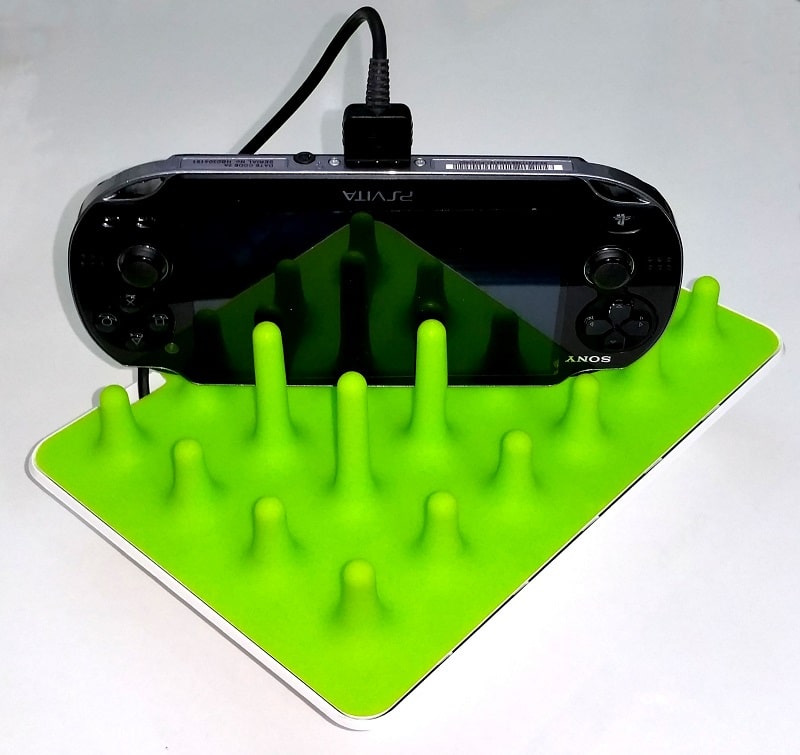 I was pleasantly surprised to find that each device – the Note 4, the Vita, and the Poweradd battery – all charged individually in same time they took as when plugged in together, which suggests that the 48W throughput is being intelligently distributed, regardless of which device is connected, or how many are charging at one time.
I was not aware, however, of the Zentree cutting power to a device once charged. In fact, the Poweradd's charging lights remained on, despite being fully charged.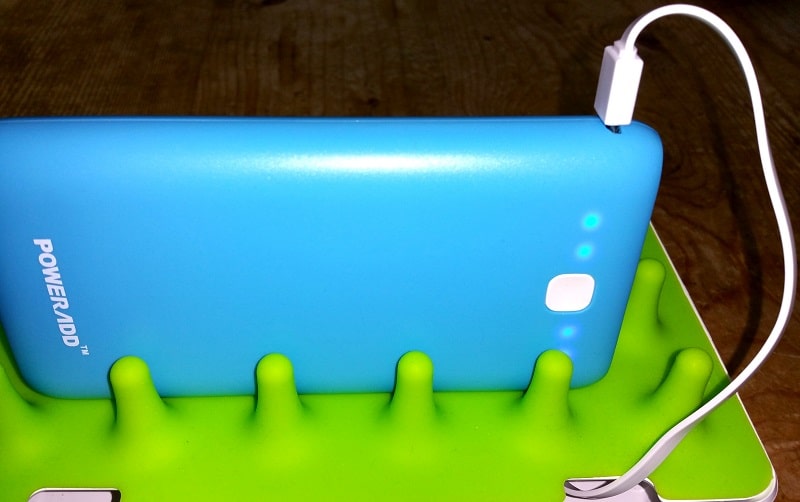 Another problem I encountered, after two weeks of use, was that the green silicone rubber that covers the 3D Tree Array – designed to stop any devices held within its spikes from slipping – had collected some fluff and hair. That is not a problem in itself, of course – my keyboard requires a weekly clean – but when I attempted to wipe the debris from between the Zentree's green tines using a duster, and then a lint-free, microfibre cloth, I couldn't displace it. I dampened the cloth and tried again, but most of the fluff and hair remained on the silicone's tactile surface. After some trial and error, I discovered that the best method of cleaning the array was by using a baby wipe. Why a damp cloth wasn't sufficient, I'm not sure, but the texture of the silicone adhering to detritus so firmly was a tad disappointing.
Despite a couple of nagging issues, I was happy to add the Zentree to my desk set-up – though, due to the 1-metre power cable, it was perched on the edge of said desk – and found the centralised nature of having a the USB charging station very beneficial.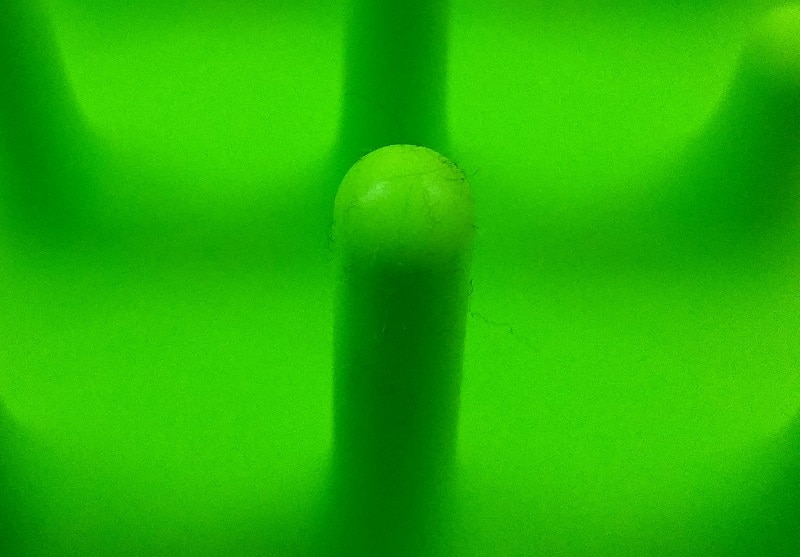 ———————–
Final Thoughts
---
Price
The Gelid Zentree – which is currently running an IndieGoGo campaign – is currently available for $30 as an early-bird special and will retail at $50 otherwise.
Overview
I was sceptical about the hefty, spiky hunk of plastic I encountered upon unboxing the Gelid Zentree, but found myself pleasantly surprised with the charging hub after a week of testing, and a further week of practical home use. It became a welcome addition to both my desk and my daily routine.
Having been forced to charge my devices via third-party plugs, or even USB-to-computer, in the past, I've become used to slow charging times when not using proprietary chargers. The Zentree, however, impressed me with its speed. While not always comparable to proprietary alternatives, the Zentree is the best third-party charger I've ever used, and in the case of the Poweradd battery pack, it was the most effective charging method I have found. Couple that with the ability to charge four devices at once without compromising speed, neatly stacked within its 3D Tree Array, and the Zentree ticks all the key boxes you'd want in a USB charging station.
While the inability to charge the Samsung Galaxy Tab 10.1, and the adhesive quality of the array's silicone rubber cover, were disappointing, I began to consider the Zentree as an important component of my desk arrangement.
Pros
Good build quality
Clutter-free charging solution
Can charge up to four devices at once with no cumulative drop-off in power distribution
Charges faster than many other third-party chargers
Competitive price
Cons
May not be compatible with devices that are locked to proprietary chargers
Difficult to clean
Neutral
Can only charge four devices at once
"The Gelid Zentree is a tidy and effective USB charging solution which, at its competitive price and impressive charging speeds, comes well recommended."
Thank you Gelid Solutions for providing us with this sample.