Gigabyte Aivia Neon Touch-Charge Air Mouse Review
---
---
---
Peter Donnell / 8 years ago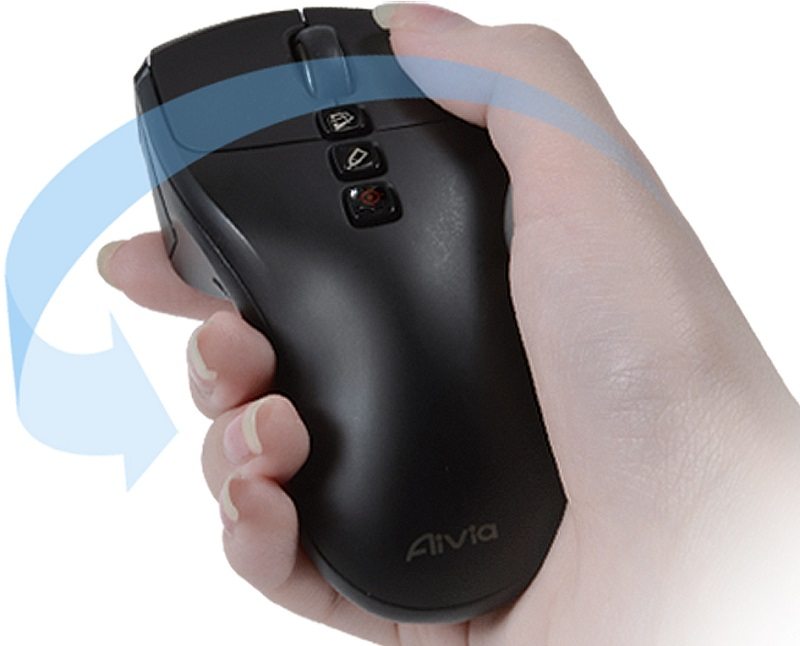 Gigabyte are one of the top manufacturers in the industry, famed for their motherboards especially, I myself use Gigabyte hardware in my system and there is a good chance that you do too, or have done in the past. Yet while many people think of Gigabyte for their internal hardware components, it is sometimes easy to forget that they have some fantastic peripherals too and their Aivia range is widely known to offer premium products, often with some pretty cool features.
The mouse we are looking at today is a little different from what we normally see from a high end mouse product, there is zero focus on this being gaming product, because it isn't one. This is a mouse for business and presentations, for those who need to be mobile while presenting information and with features such as an "air mouse" and laser pointer, as well as screen writing tools, the Gigabyte Aivia Neon could be the ultimate solution for presentations where you're using your computer via a projector, or on a large screen, allowing you to walk around and use your mouse without a desk, but how well does it work? That is the real important questions and there are clearly some challenges involved here, so lets get straight to it and see what the Neon has to offer.
The Neon comes in a funky presentation box, with a nice image of the mouse on the front as well as an award from Red Dot Design.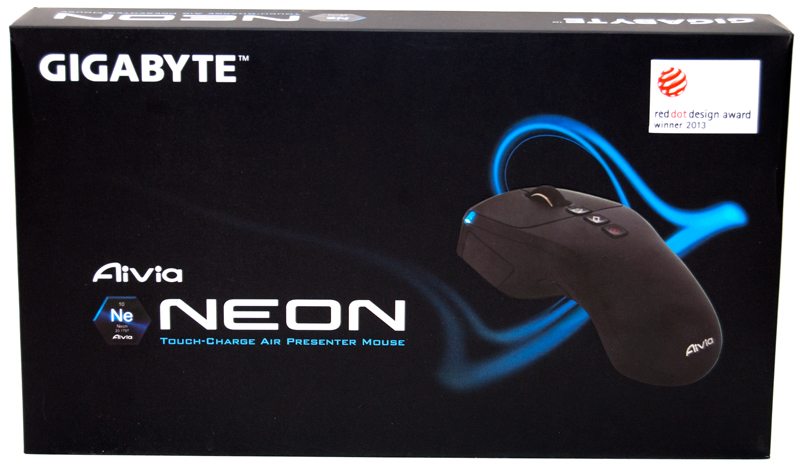 Around the back we have a breakdown the Neons major features; touch charge, air presenter, painter, laser tracking, free scrolling and a laser pointer, all of which we'll take a look at in a moment.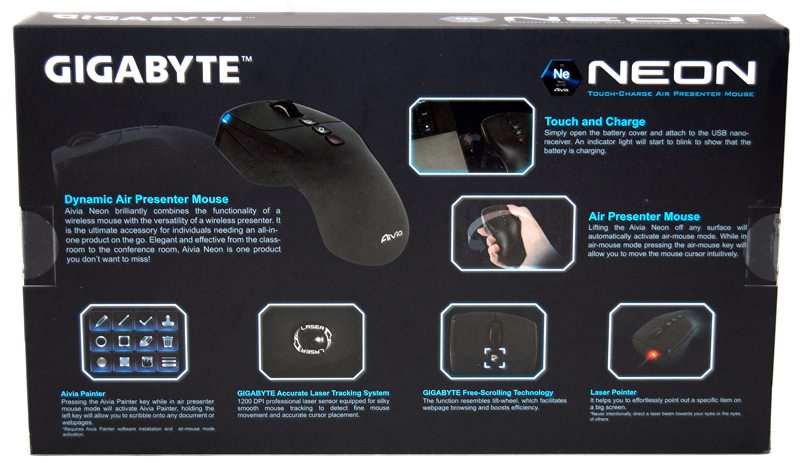 The box is actually a slip cover and inside we find a nicely laid out box with three compartments, one for the components box, another for the mouse its self and one for a handy protective pouch.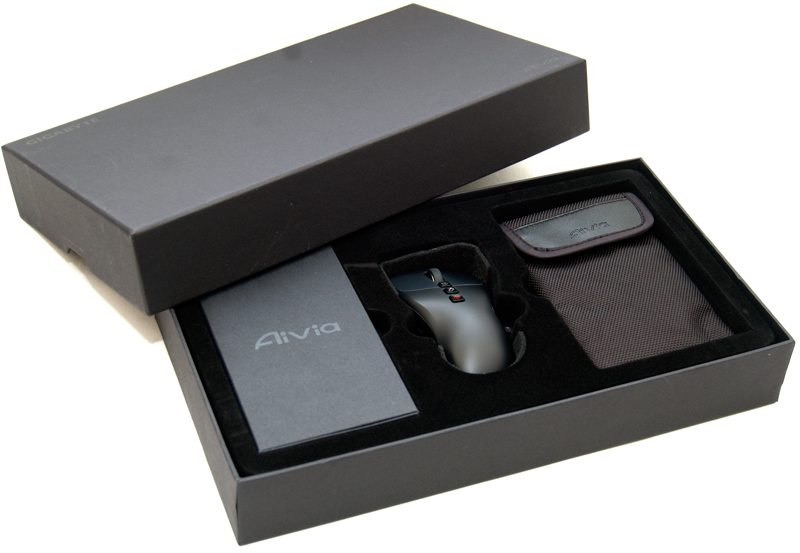 The protective pouch is nothing too fancy but it does look well made and its more than enough to store the mouse and charging accessories, much easier to chuck this in your bag that the whole box.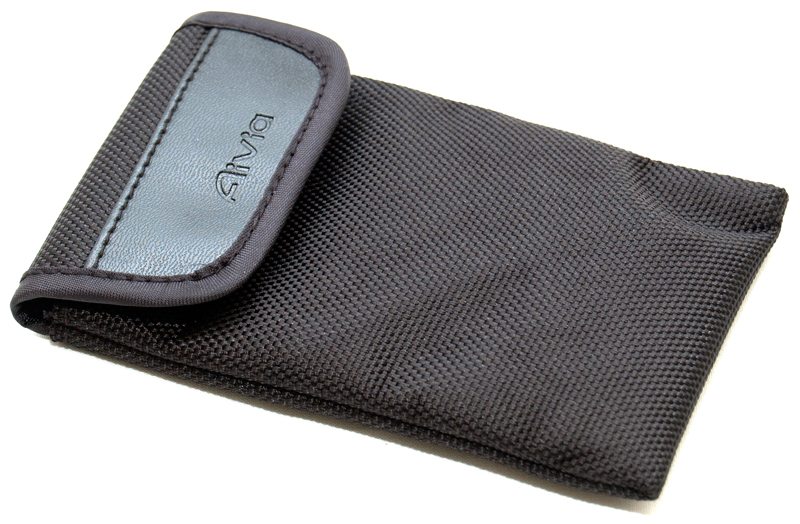 The component box is packed with stuff, a cleaning cloth, some documentation and a USB extension cable.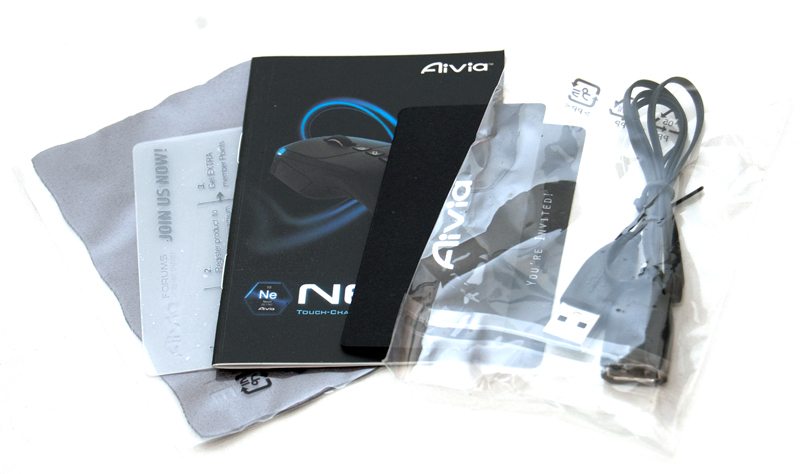 In that bundle was a little welcome card, overall the box contents and presentation are great and this already feels like a premium product experience, so lets move on and see what the mouse its self has to offer.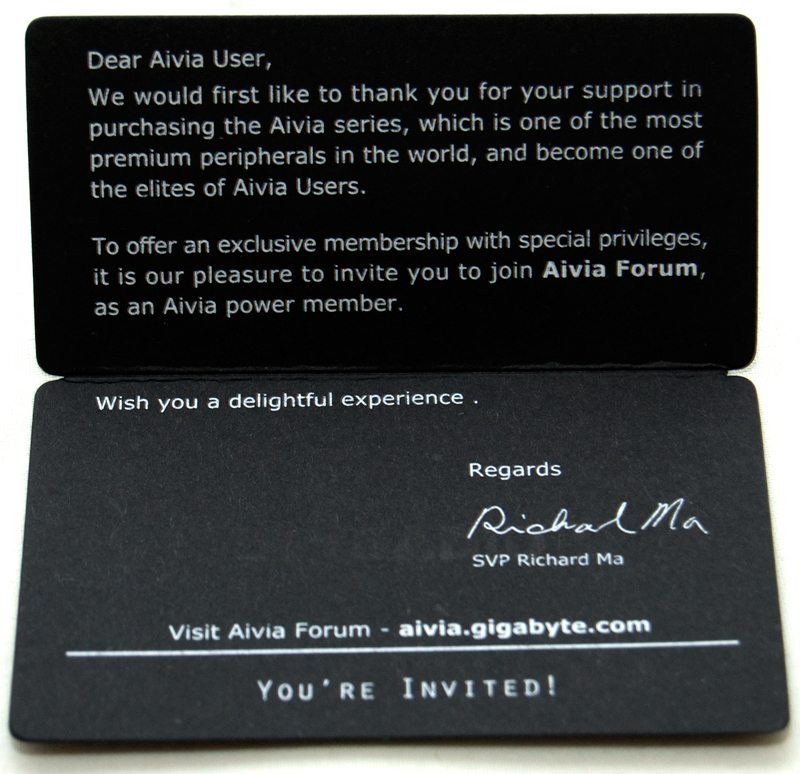 The front of the mouse is packed with features and naturally it has the left and right mouse buttons, but also a really nice quality, rubber gripped scroll wheel.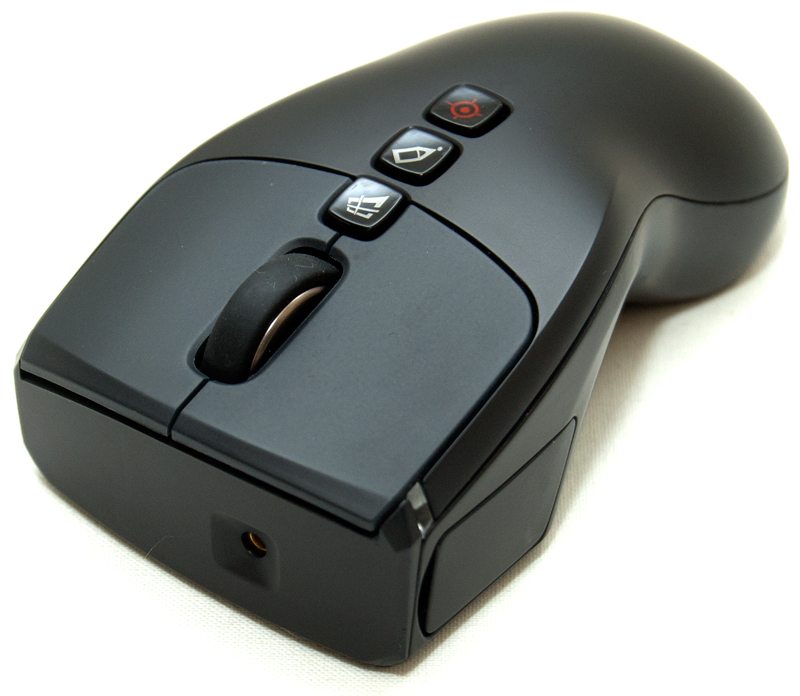 Along the top we have a button with a red cross-hair on it, this is for the laser pointer on the front of the mouse, in front of that we have a button with a pen, this is for the draw tool while the last button is for the scroll tool.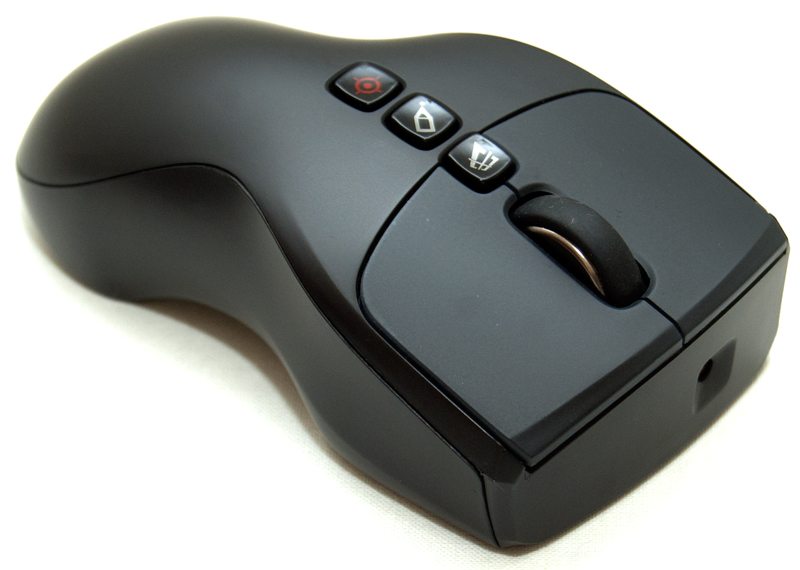 The back of the mouse features a curvy design, this makes it easy to hold and point the mouse like you would a TV remote or Wii Controler.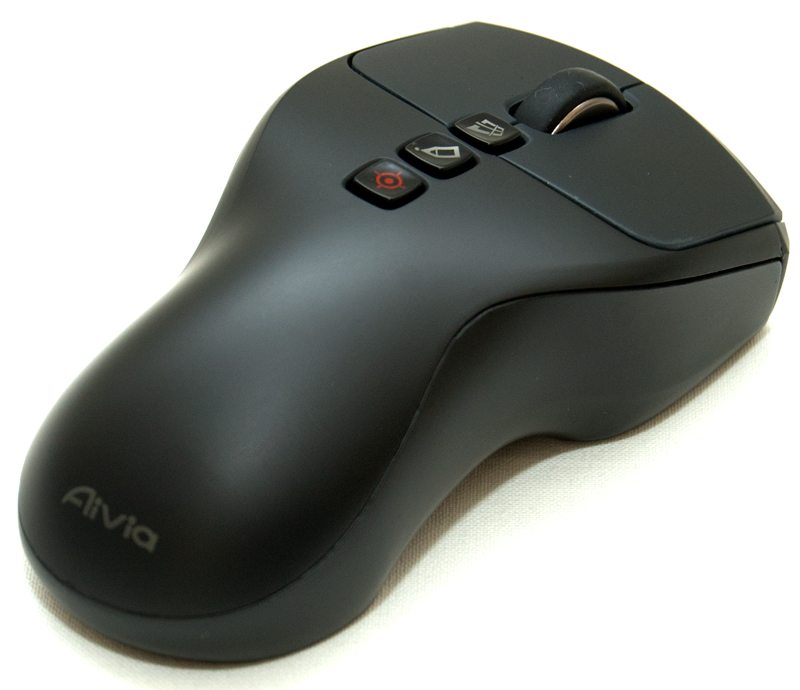 The left side of the mouse features a fold out panel, here you can connect the magnetic "touch charger".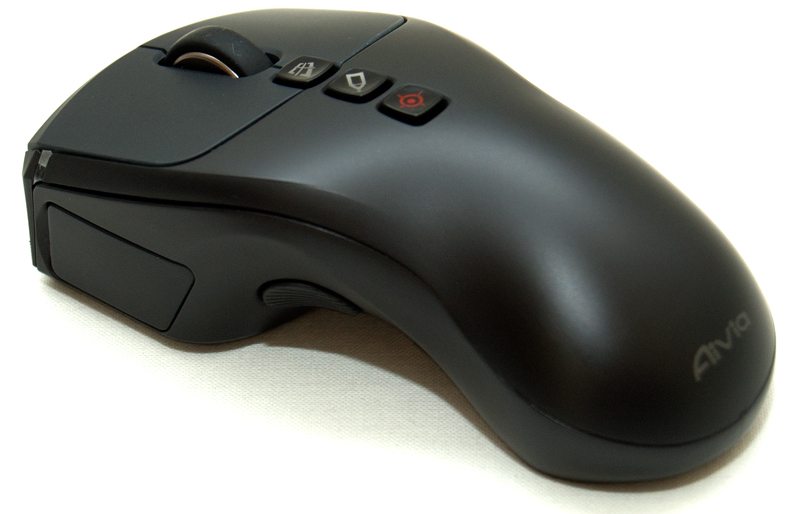 Further round on the left we see another switch, holding this puts the mouse in air presenter mode, or you can also double click to keep the mode on without holding the button, reverse the process to switch back to normal desktop mouse mode.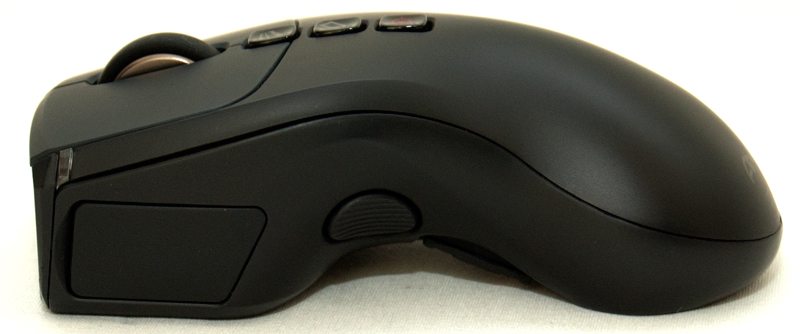 The right side of the mouse is clean and just features more ergonomic curves.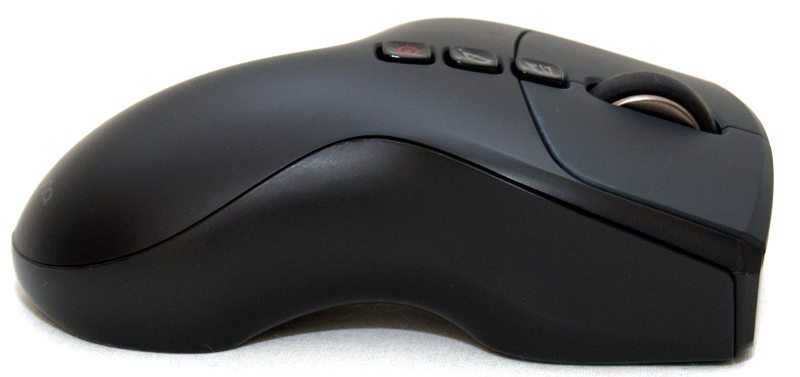 The front left of the mouse features a small blue LED that gives you feedback on power on/off and charging status.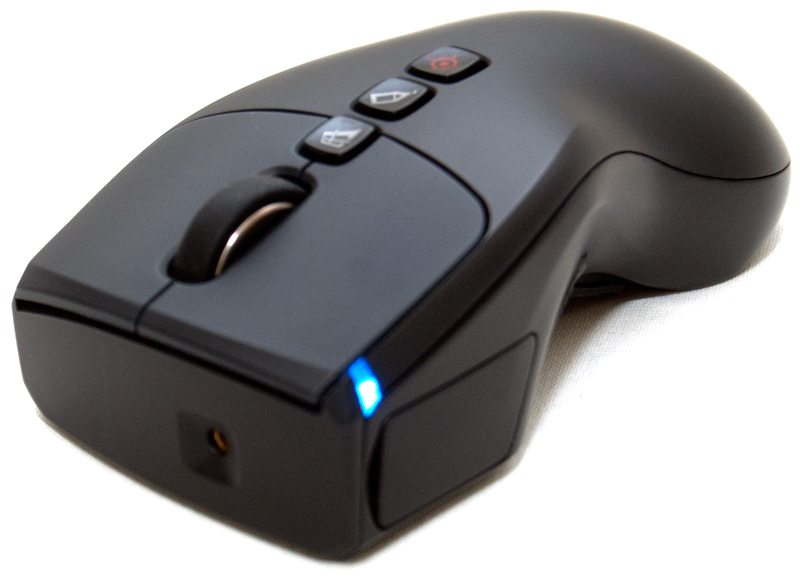 Here we see the laser pointer in action, this works independent of the mouse settings, doesn't require a computer, it's just a standalone bog-standard laser dot, perfect for pointing at white boards in presentations or more commonly used as something for a cat to chase around.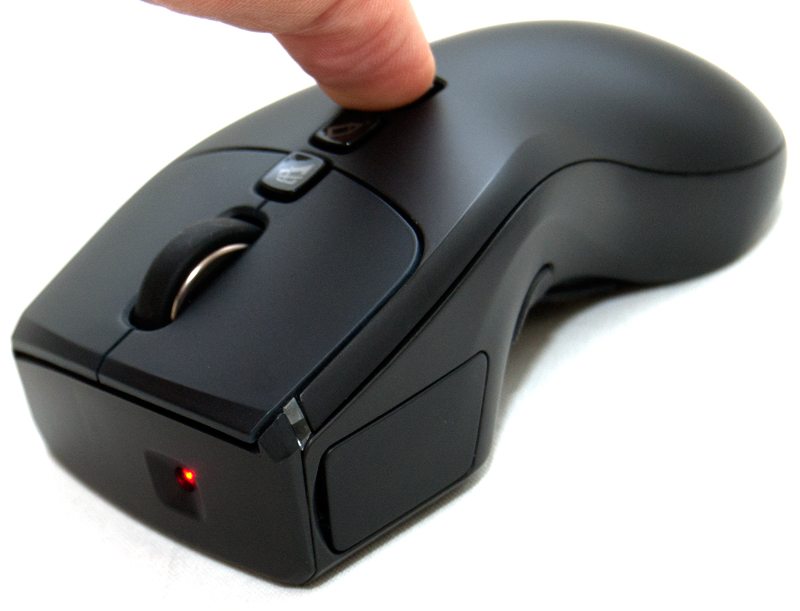 The underside of the mouse features a few small slip-mats, but given the compact size of the mouse and its light weight, this should be more that enough to provide good glide on most any surface type. Toward the front there is a small laser sensor, while the back has a on/off master power switch and a warning for the use of the laser pointer.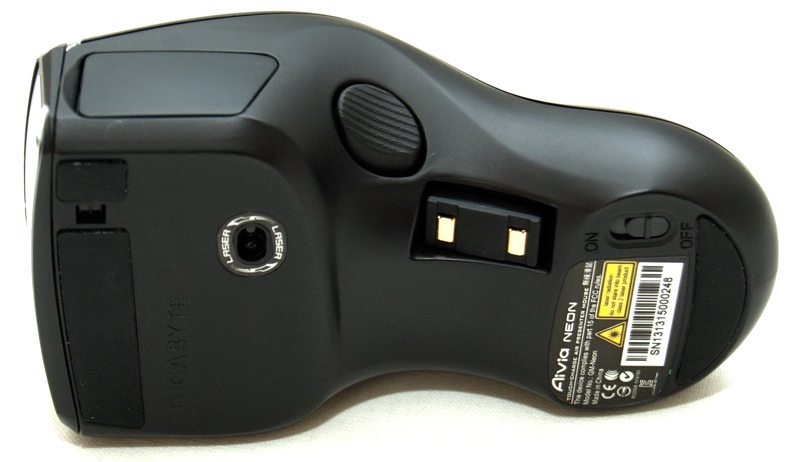 Tucked into the body of the mouse in a unique USB dongle, this provides wireless connection to your computer, but the two pins also provide you with a method of charging, if this is on the side of your laptop you just touch the left side of the mouse to the dongle to recharge. Of course this isn't possible on a desktop system which is why Gigabyte include a USB extension cable with the mouse.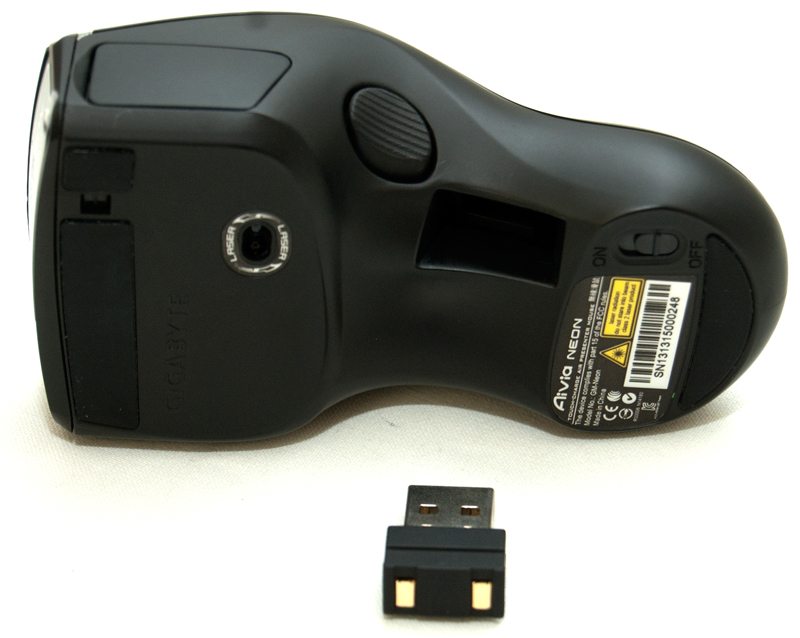 Setup and Installation
Connecting the mouse was easy, just hook up the small USB dongle and off you go. The software is super simple and while it lacks any kind of configuration I can't say I found a need to, everything just works right out of the box and the software its self was only a 5mb download, super easy to setup and setup easy to use. All the software actually does is give you a task bar icon, when you click the pen tool on the mouse this little pop-up appears near the top right of your desktop, you can then mouse to the tool you want and draw directly onto your computer screen with a real-time over lay. Click the pen tool on the mouse again and the screen clears.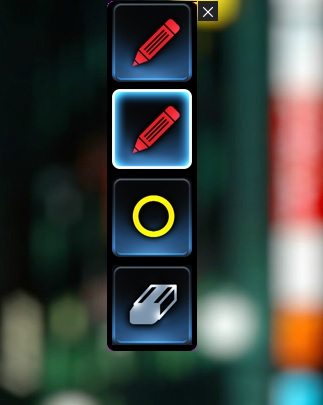 This isn't exactly a work of art, but I drew the circle and then wrote eTeknix inside it from 10ft away from my screen, without using the mouse on a surface. By simply pressing the air presenter button on the side you can move the mouse around like a wand and control the mouse pointed with remarkable accuracy and the gyroscopes in the mouse work perfectly.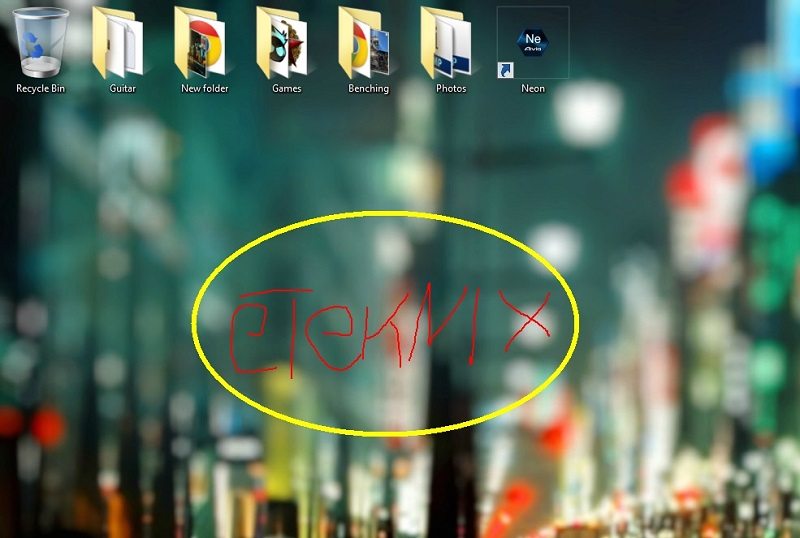 General performance
At this point I normally test all kinds of gaming focused features, but the Neon doesn't have them or really need them, but since I know some of you may care, the lift-off distance is around 1.5mm and the laser sensor shows no sign of acceleration, at least not in standard mouse mode, testing this wouldn't be possible or necessary in air presenter mode. The laser sensor works great on wood, hard and soft surfaces, but of course that really doesn't matter since you can use the mouse in thin air and still get great results.
The other two buttons on the top of the mouse come in handle too and the scroll button allows you to scroll through folders, web pages and documents without having to search for the side bar in your browser/window, it also allows more natural and constant flow scrolling than you can achieve with the mouse wheel, especially when using air presenter mode. The laser pointer does exactly as you would expect, it shines a bright red dot on your target at a range that I can only assume is beyond 50ft, since that's about as far as I could find something to shine it on and still see it without squinting too much.
Final Thoughts
In terms of performance there is little else to say about the Gigabyte Neon other than it does exactly what it says on the box, albeit it does what it says on the box perfectly and without falter. There are some incredibly complex features here that have been presented in a super simple, needs no tutorial way and it means that even users with no experience of its features can easily pick it up and start putting it to good use.
As a day to day mouse, it's not incredible, not as a desktop mouse at least as I personally find it a little too small. Yet it feels like a bridge mouse, not quite a tiny laptop mouse but not quite as big as most desktop mice, but this is idea given its main purpose is for presentations and it is highly likely that something like this will be taken with you to meetings along side your laptop and your endless power point presentations on sales targets etc, so it being more like a laptop mouse is no bad thing and in many respects its one of the best mobile mice out there. It's comfortable, portable and really well made, just what you want really.
Of course it's not just a portable laptop mouse, it's a lot more than that and the inclusion of air presenter mode, as well as the screen draw tools, really sets the Neon apart from the crowd and while I have no use of these features myself I can see the practical applications for office and business use.
For the home consumer or gamer this isn't really much use, but if you want a high quality mouse for the business world that looks good, that is well made and that performs perfectly, then you really need to try out the Aivia Neons unique and effective approach.
Pros
Air presenter mode works really well
Bonus laser pointer
Air paint tools are handy
Accurate Sensor
Well made
Cons
Not ideal for home computer usage
eTeknix says: "Gigabyte has another impressive product here and its unlike anything I've ever seen before in terms of features. The Aivia brand has always been associated with premium quality peripherals and that has just been reinforced by the Aivia Neon".
Thank you Gigabyte for providing us with this sample.