Gigabyte AORUS X299 Gaming 9 Motherboard Preview
---
---
---
Peter Donnell / 6 years ago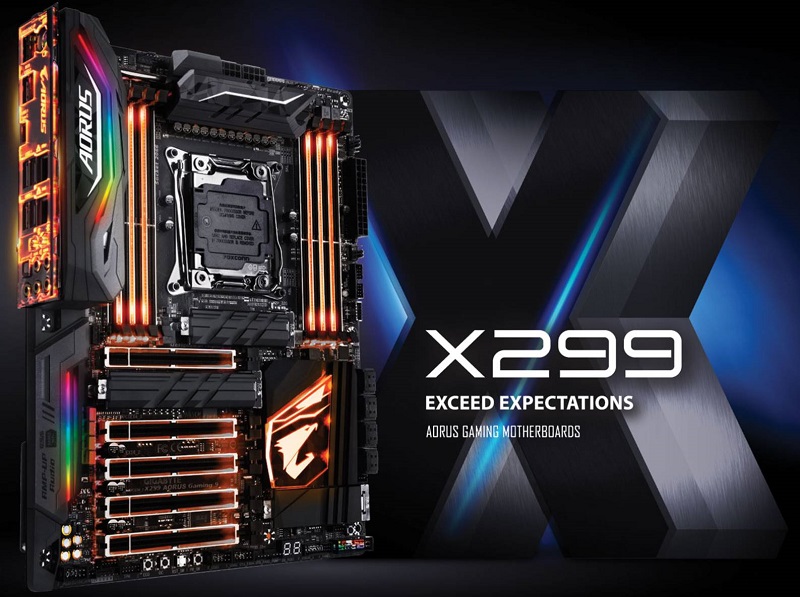 Gigabyte AORUS X299 Gaming 9
The latest motherboards are rolling into the eTeknix office, including the latest Gigabyte Aorus X299! That means we're eager to show you what they have to offer! We may not be able to discuss the performance just yet, but rest assured, that information is going to follow very soon too!
[irp]
So what have we got? First up is the latest Gigabyte AORUS X299 Gaming 9 Motherboard. This is their flagship gaming motherboard and comes packed with the kind of features you would expect from an enthusiast grade product.
Video Overview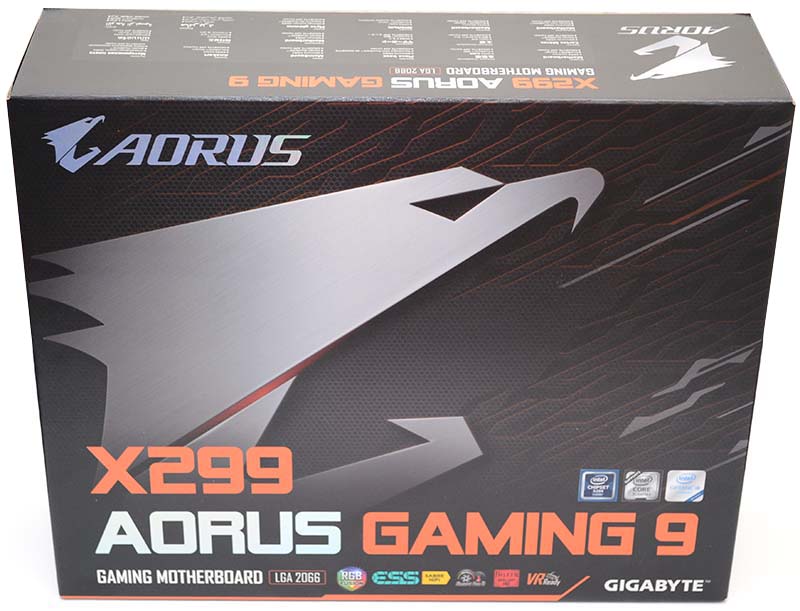 First up, let's grab the box, and take a quick look at the motherboard design and core features. Pictures only do so much for a motherboard like this, so enjoy the video!
Video Unboxing
Not only have we got the motherboard to cover, but there's also a lot of extra hardware included in the box. Now, let's take a look at what else is in the box!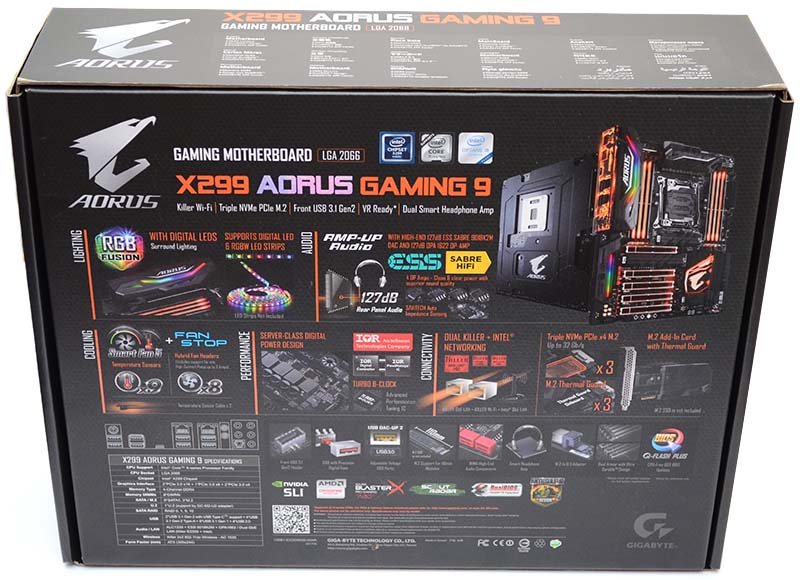 X299 and X-Series CPUs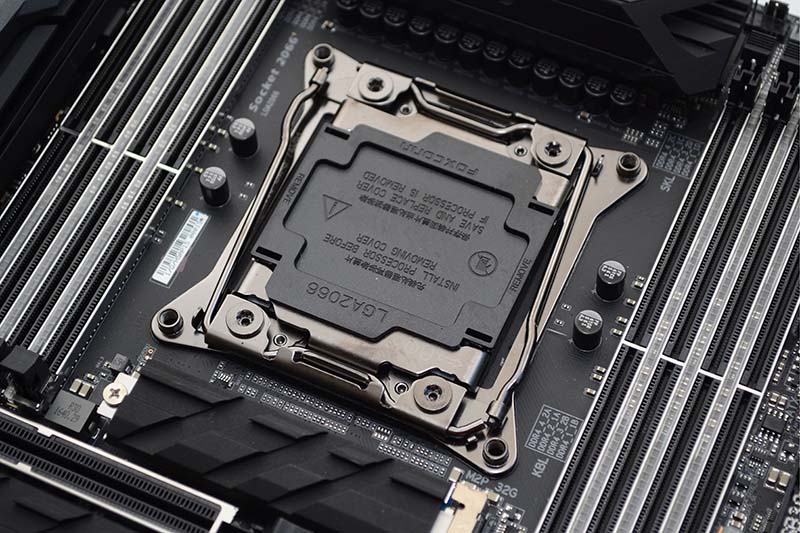 Obviously, the main feature of these new motherboards is the X299 chipset. This means we've got support for the latest Intel Core X-Series Processors. The new X-series of CPUs consists of i5, i7, and the new i9 variants. Prices are expected to range from around $250 up to around $2000, although they're not fully confirmed until the actual retail launch. We will, of course, keep you updated on those as they happen.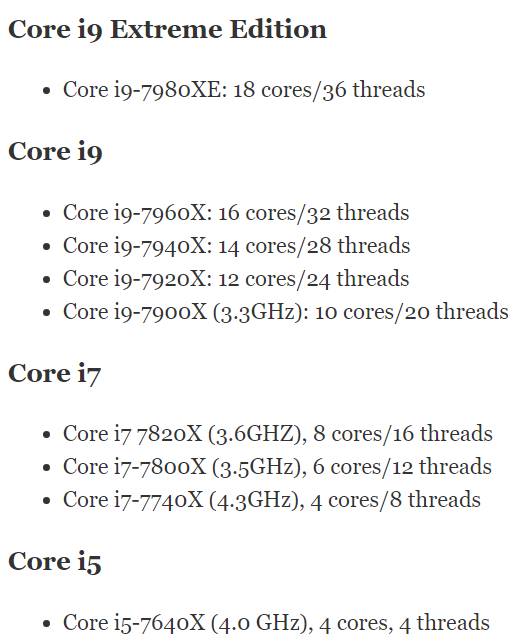 Motherboard Features and Specifications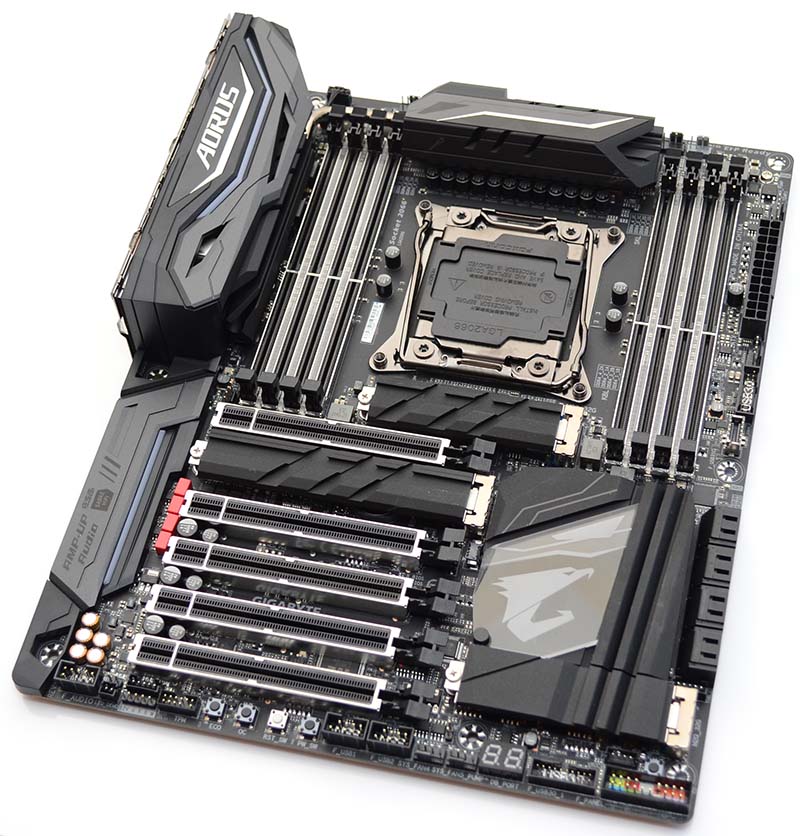 The Gaming 9 comes equipped with a lot of cool features. You'll find lots of RGB trickery thanks to the RGB Fusion hardware. There are a lot of storage options too, with triple M.2, USB 2.1 and Typc-C front and rear, 8 x SATA 6GB/s, and Optane Support. To take things a little further, there's also a PCIe Gen3 x4 M.2 Add-In Card included in the box!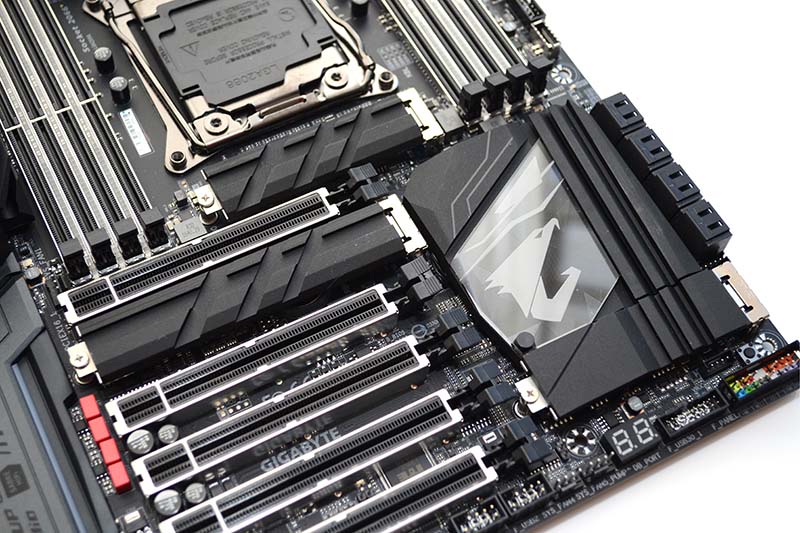 Supports Intel® Core™ X-series Processor Family
Quad Channel Non-ECC Unbuffered DDR4, 8 DIMMs, DDR4333+(OC)
Intel® Optane™ Memory Ready
ASMedia 3142 USB 3.1 Gen 2 with USB Type-C™ and Type-A
Front USB 3.1 Gen 2 Header
3-Way Graphics Support with Dual Armor and Ultra Durable™ Design
Ultra Durable™ Base Plate Armor and Integrated I/O Shield Armor Design
Server-Class Digital Power Design
127dB SNR AMP-UP Audio with High-End ESS SABRE 9018K2M DAC, LME 49720 and OPA1622 OP-AMP, WIMA audio capacitor
Sound BlasterX 720°, the top-of-the-line audio engine solution for 4K gaming and entertainment
Killer DoubleShot™ Pro and Intel® GbE LAN for the best gaming networking experience possible
Killer 2×2 802.11ac Wireless – AC 1535
RGB FUSION with Multi-Zone Digital LED Light Show design, support digital LED & RGB LED strips
Swappable Overlay for Accent LED
Smart Fan 5 features Multiple Temperature Sensors and Hybrid Fan Headers with FAN STOP
Triple Ultra-Fast M.2 with PCIe Gen3 x4 interface and Thermal Guard
PCIe Gen3 x4 M.2 Add-In Card with Thermal Guard
NVMe PCIe Gen3 x4 U.2 adaptor
USB DAC-UP 2 with Adjustable Voltage
Precise Digital USB Fuse Design for Stronger Protection
Anti-Sulfur Resistor Design
Ultra Durable™ 25KV ESD and 15KV Surge LAN Protection
Lightning-Fast Intel® Thunderbolt™ 3 support by option AIC
GIGABYTE UEFI DualBIOS™ with Q-Flash Plus USB port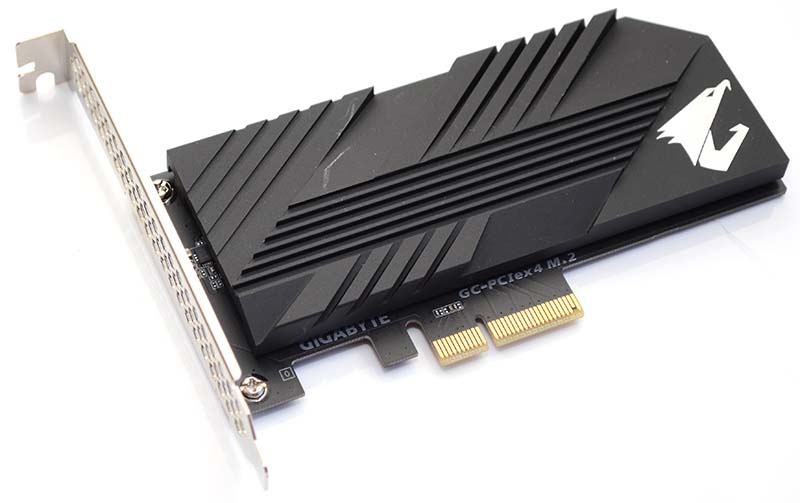 All the LED You Could Need… And Then A Lot More
"AORUS' X299 series motherboards boast the most advanced LED system in the market today. With more customizability than ever and a convenient and intuitive UI thanks to the RGB Fusion App, you'll have a blast making your AORUS your own. LED enthusiasts now have even more options with the ability to customize multiple zones independently. For a more functional use, the bright and vibrant LEDs can be configured to display the PC's temperature or load. For even more LED goodness RGBW strips are now supported for more true and vibrant whites." – AORUS
LED and RGB are not going to make your system faster, sorry. However, if you really care about extensive lighting customisation, then you'll  be happy to see this board in action. It's got anough connectors and controllers to power your entire RGB lighting setup for your system build. Actually, it may even have too much RGB, but you could always turn it off if you don't need it.
Why is This Motherboard so Heavy?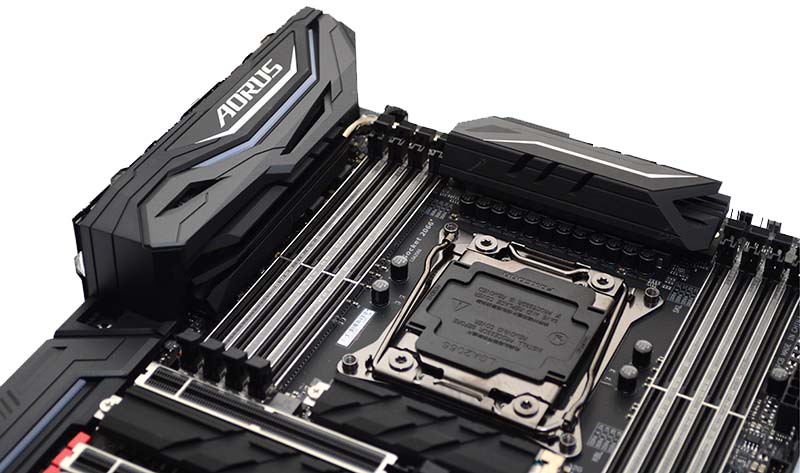 Aside from having a thick and incredibly durable PCB, the X299 Gaming 9 has more armour than Knight. All 8 of the DDR4 memory slots are reinforced, as are the PCIe slots. There's heat shroud on the M.2 drives that keeps the drives safe, but also adds passive cooling.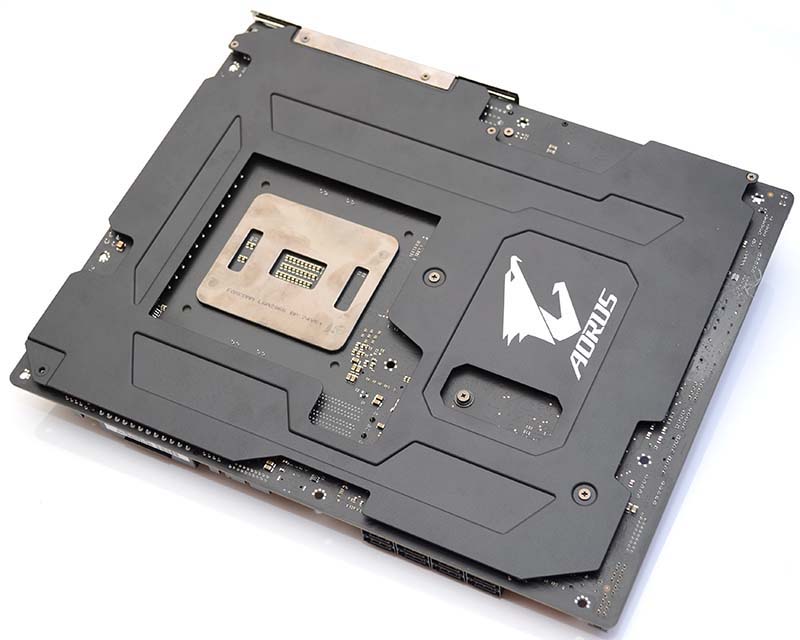 There is a thick backplate on the motherboard too, which should give some passive cooling support, but also gives the board added strength and saves your fingers from touching the solder while installing it. Overall, there's a lot of added metal, which does make the board considerably heavier than most.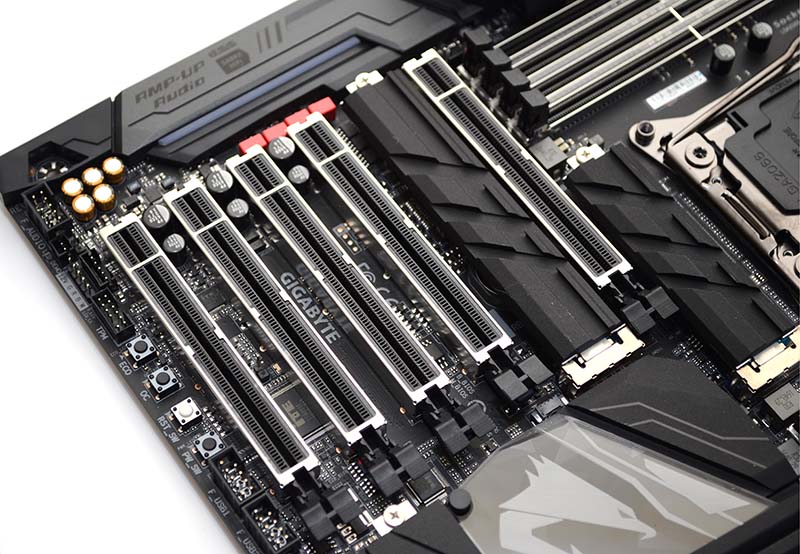 "AORUS X299 Gaming Motherboards are designed with an aggressive stance, but looks are just the beginning. The armor on the AORUS Gaming Series are created to offer best-in-class performance while still staying cool." – AORUS
High-End Audio for All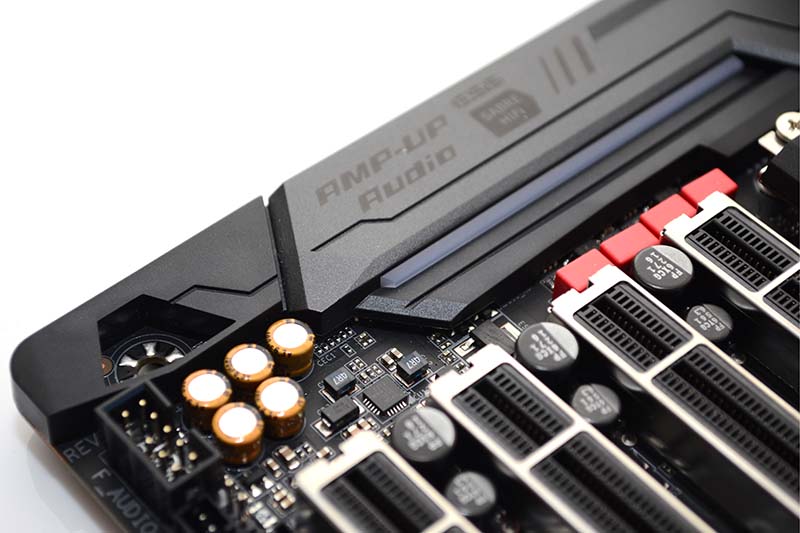 The motherboard really packs a punch for audio enthusiasts. With ESS Sabre HiFi, it uses a 4 OP Amp design, and Ti Burr-Brown chipsets. It'll auto switch impedance dependant on what is connected, ensuring you get the best amp and, of course, the best performance for your hardware; there's also Creative SoundBlaster 720 processing on top of that!
"AORUS AMP-UP Audio now offers ESS SABRE with a DAC that adopts the concept of a high-end audiophile sound system design into a micro system within the motherboard. It provides a pure yet powerful sound, resonating classical orchestra or blasts in your virtual warzone. – AORUS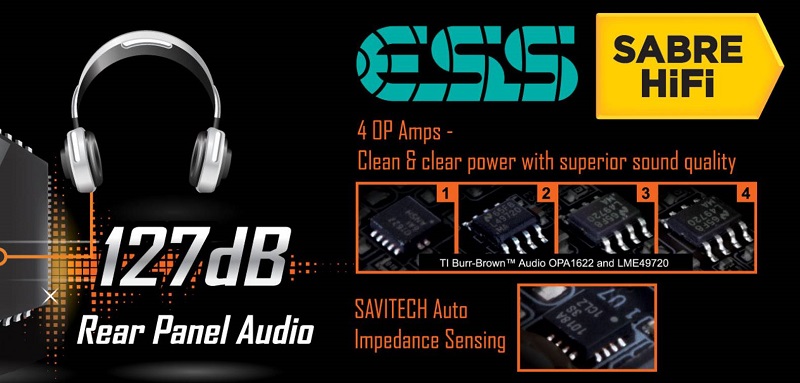 Overclocking and Cooling
Enthusiasts want the best performance from their hardware and this motherboard has everything you need to get it. With a "Server-Class Digital Power Design" the board can deliver clean and stable voltages to your hardware. Comprehensive cooling hardware and power delivery hardware means you can push higher overclocks for your new hardware.
Server Level Chokes
Server level reliability
High current capacity
New design reduces heat created by power loss and provides efficient power delivery to CPU VRM area
Latest Generation of IR Digital Power Controllers
Isense Technology for PowIRstage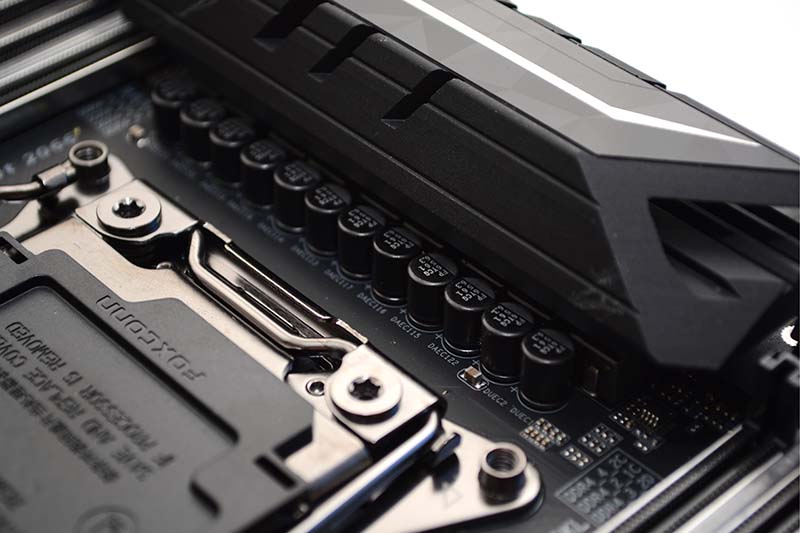 Turbo B-Clock – Built-in Advanced Performance Tuning IC
"Turbo B-Clock Tuning IC in the X299 series motherboards enable overclockers to have the ability to change their BCLK frequency to a desired value of their choice. With the new linear range adjustment option of the Tuning IC, ranges from 90MHz to 500MHz are now possible, so that overclockers are not limited to the 5% ranges of traditional straps." – AORUS
*Turbo B-Clock overclocking range may vary according to CPU capabilities.
With onboard power controls, you can speed up your overclocking workloads too, and the BIOS LED will let you know when you get it right or wrong. Of course, built-in fan headers and controllers, water flow headers, and pump headers all ensure you can hook up the best cooling hardware to help you get the performance you need.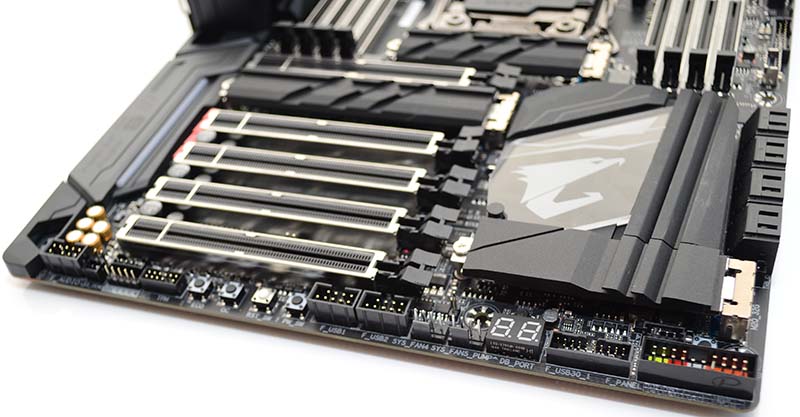 Price, Performance and Availability
Unfortunately, there's only so much we're allowed to say and show about these new motherboards before the launch. Don't worry though, we'll be sharing a lot more information very soon!