Gigabyte G1 Gaming GTX 980Ti 6GB Graphics Card Review
---
---
---
Rikki Wright / 7 years ago
Introduction
---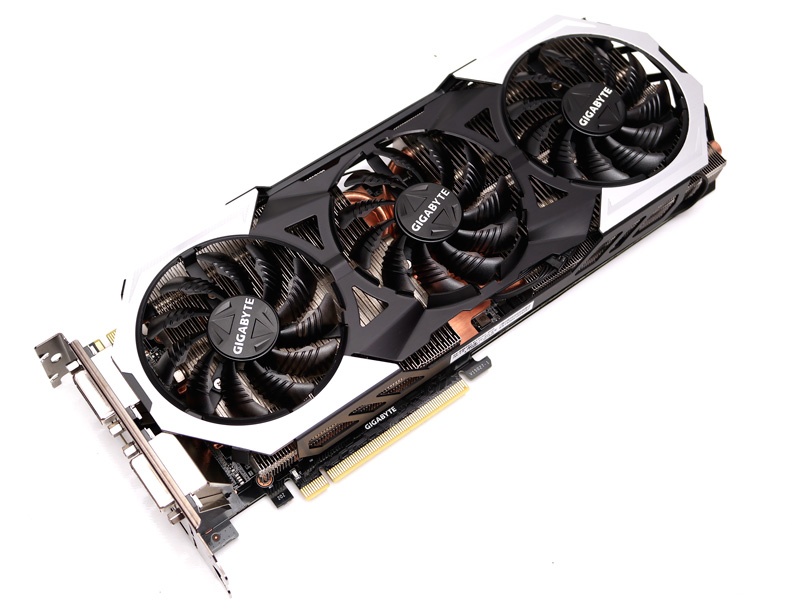 The GTX 980Ti has been around for a few months now and in that time, manufacturers have had the chance to not only design and create their own versions but also perfect the product. Gigabyte is one of the many manufacturers that have given the 980Ti the magic treatment with a revamped version of the G1 Gaming that we previously had a glimpse of at Computex 2015. It definitely looks the part, but we didn't know the specification apart from a memory clock of 7010MHz and that it would have a similar cooling capacity of previous G1 Gaming cards of 600W.
Well now I can finally and happily announce that we have the Gigabyte G1 Gaming GTX 980Ti in our test bench and it is BIG; you seem to forget how big this card is thanks to the insane Windforce x3 cooling design. Like with most of the gaming series of graphics cards being released lately, this card comes with multiple clock speed settings. These different settings are preset and only available through the use of Gigabyte's own OC Guru II software; the three settings are ECO mode of 1060MHz base and 1151MHz boost, Gaming mode of 1090MHz base and 1241MHz boost and OC mode of 1190MHz base and 1279MHz boost. I don't really understand why there are multiple settings as most users will obviously not only want the best possible performance out of the box but also to overclock the graphics card to the maximum potential.
The G1 Gaming cooling shroud has been given a new lick of paint and a small LED upgrade. Like before, the Silent and Fan Stop LED's illuminate when the fans have stopped.
The new feature is the customisation of the LED through the use of the bundled OC Guru II app.

Onto the specifications of this beast.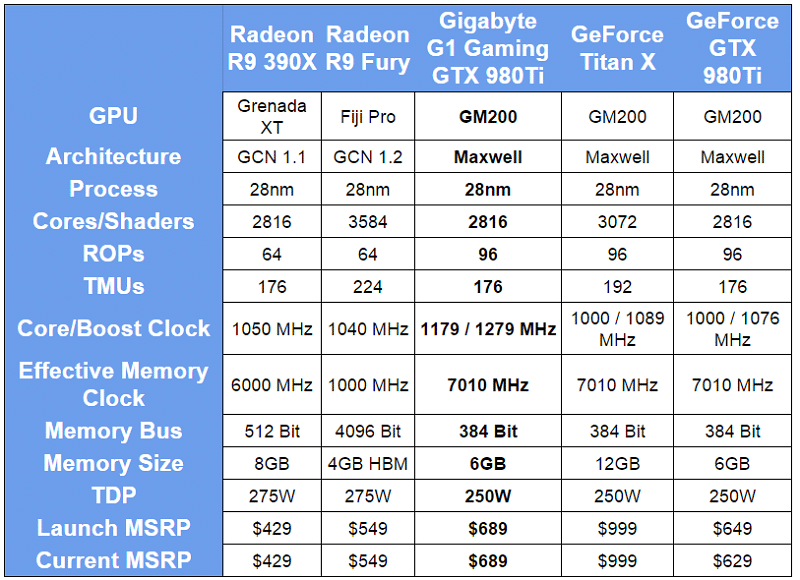 So with those specifications and price point, this is poised to be one of the best GTX 980Ti graphics cards on the market; so let's find out shall we?
Packaging and accessories
The outer box skin resembles that of the latest G1 Gaming designs, simple yet key features are detailed to catch the potential customers eye.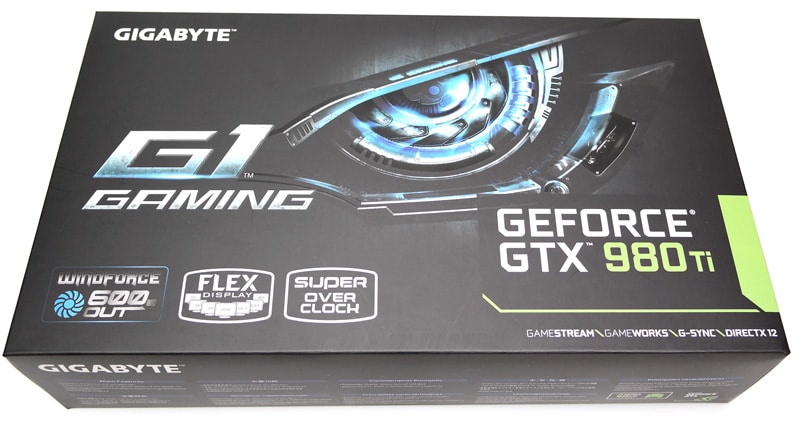 The back of the box shows a breakdown of the card and slightly more detailed information of what was shown on the front.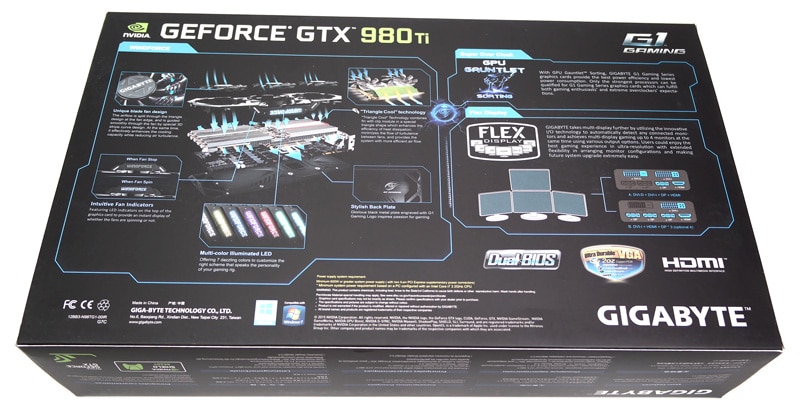 Gigabyte offers a 'no-frills' accessories package, simply offering just a quick installation guide, driver disk and PCIe power cable adapter.