Gigabyte G1 Sniper A88X (FM2+) Motherboard Review
---
---
---
Ryan Martin / 8 years ago
Introduction
---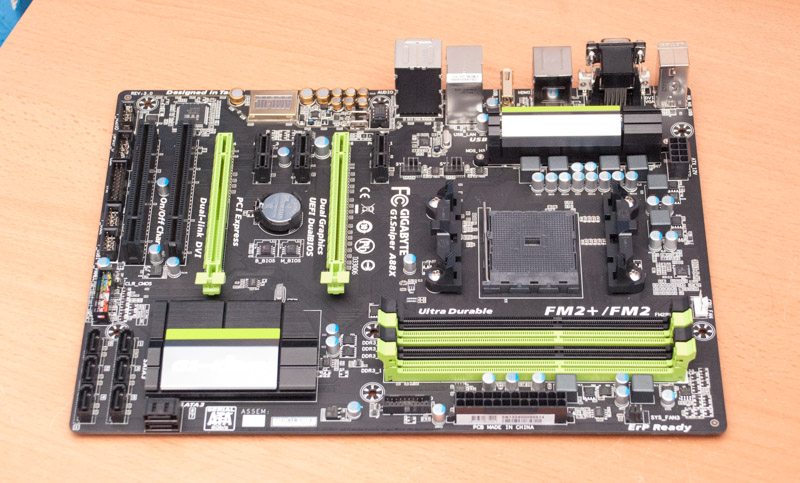 AMD are rumoured to be exiting the high end desktop market with the FX series of processors on the AM3+ socket expected to be AMD's last range of standalone CPU products. Of course the main reason for that decision by AMD, if it does turn out to be true, is that AMD simply cannot compete with Intel at the highest end market segment. However, when it comes to APUs AMD have a distinct advantage thanks to the advanced integrated graphical performance and so AMD's APU platform isn't going anywhere any time soon. AMD's current APU products for the desktop platform are codename "Richland" and they bear the AX-6XXX monikers. The predecessors to those were "Trinity" which were of the AX-5XXX naming system. Of course Trinity and Richland APUs are virtually identical – using the same graphics VLIW4 architecture and the same 32nm Piledriver CPU cores, the main difference between the two is higher clock speeds and improved power efficiency. They are physically identical, both supporting the FM2 and FM2+ sockets on the A55, A75, A85X and A88X chipsets.
What's coming after Richland is Kaveri, expected early next year Kaveri will run on the FM2+ socket with A88X and A85X motherboards. Today we have with us one of those newer Kaveri-Ready AMD desktop APU motherboards running off the A88X chipset. Of course the fact Kaveri isn't here yet means we are using AMD's best Richland APU, the A10 6800K, to test this motherboard as AMD Trinity and Richland APUs are compatible with all FM2+ motherboards.  Specifically we are reviewing Gigabyte's G1 Sniper A88X motherboard today, this motherboard is Gigabyte's best gaming offering for AMD's APU platform featuring support for Trinity, Richland and Kaveri APUs, up to 64GB of 2400MHz memory, high quality audio with interchangeable op-amps, CrossFire support and support for up to 8 SATA III 6Gbps devices. Gigabyte have certainly left no stone unturned as they have tried to cram every feature a gamer could want into an attractively priced package. Below you can see the full specifications of this motherboard: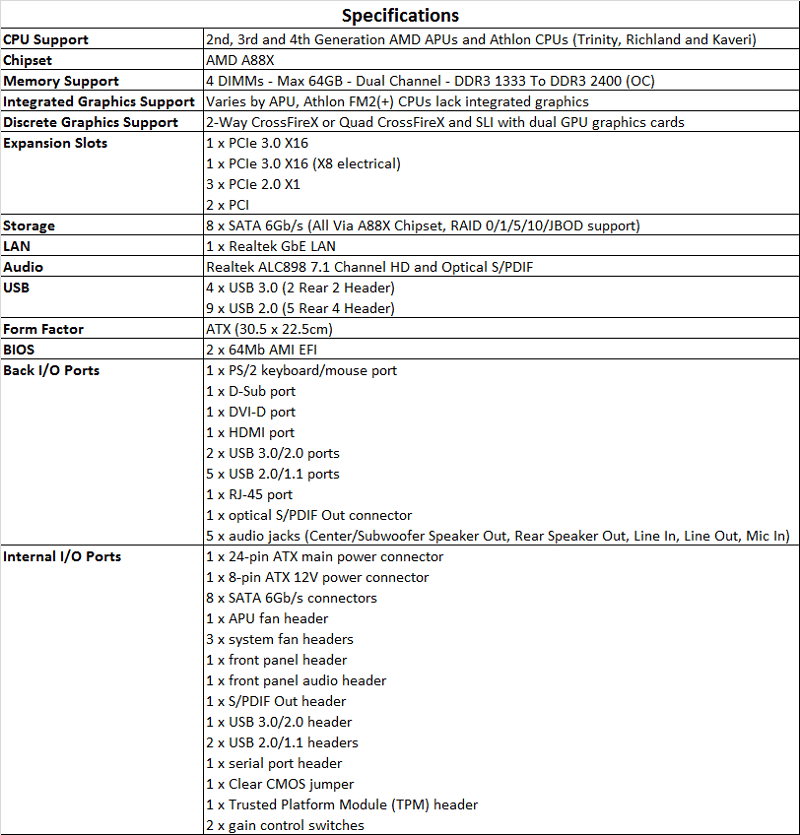 As always most motherboard vendors want to showcase unique or interesting features their motherboards have. In the case of Gigabyte, if we put the usual Ultra Durable 4 Plus component set aside, the main feature Gigabyte have developed and focused on is the audio implementation. Gigabyte's extensive modifications start off with a USB digital to analogue converter with an isolated power source maximising the quality of the audio output. Gigabyte have also added Gain Boost switches which can switch between 2.5X and 6X Gain Boost ratios depending on the headphones or speakers being used.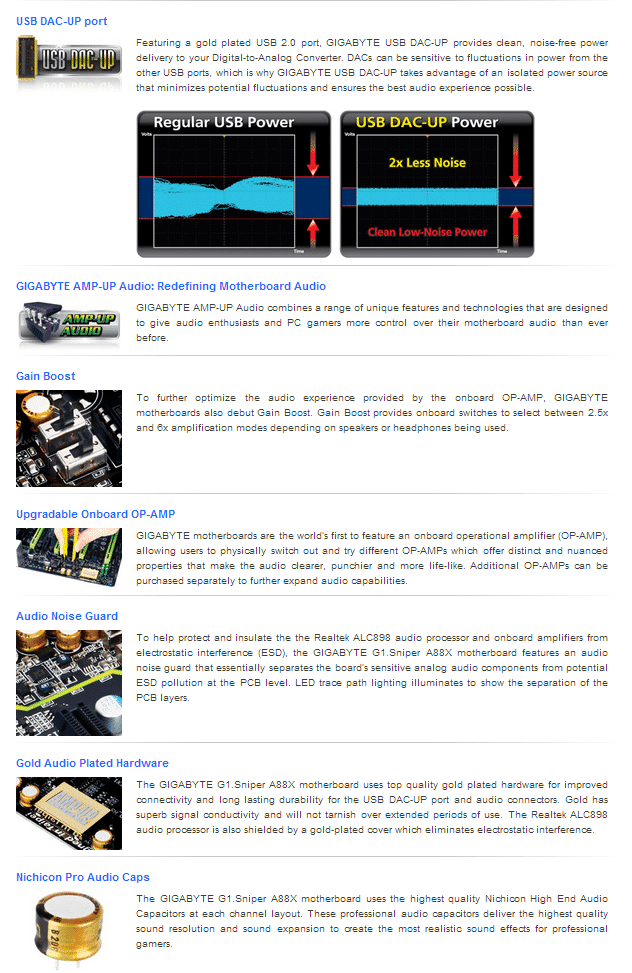 The star of the show, aside from the gold plated audio hardware, separated PCB and Nichicon Pro Audio caps, is the interchangeable Op-Amps. Gigabyte's Premium Upgrade Kit, which is sold separately, includes three additional Op-Amps:
OP-AMP A – Burr-Brown – OPA2111KP
OP-AMP B – Linear Technology – LT1358CN8
OP-AMP C – Analog Devices – AD827JNZ
The kit also comes with an IC extractor to help you remove the current Op-Amp to swap in a new one. Of course each Op-Amp gives you a different tonality, different warmth and bass levels and so on. These are really aimed at gamers who are using headphones or 2.1 speakers as only the "green" audio jack is amplified by it. However, it really is quite nice to have the option to customise your audio – it is something we rarely ever see.