Gigabyte GTX 780 WindForce OC Review
---
---
---
Ryan Martin / 9 years ago
Introduction
---
By reader request we have updated our graphs to include the GTX Titan and R9 290X. The rest of the review has not been modified.

Since Nvidia's GTX 780 hit the market we've only had the opportunity to take a look at the reference design card which we reviewed over 5 months ago, be sure to check that review out here, but today we've kindly been provided with a custom cooled partner design of the GTX 780 that we've been greatly looking forward to. What we have is the best Gigabyte has to offer in the form of the GTX 780 WindForce OC graphics card.
This enthusiast graphics card uses Gigabyte's premium WindForce 450 cooling solution that has a trio of 80mm fans, five copper heat pipes and a hefty chunk of aluminium heatsink fins to offer cooling capabilities up to 450 watts which more than exceeds the 250W TDP of the GTX 780 GPU. That said Gigabyte have fully exploited the cooling capabilities and cranked the GPU up to 954MHz/1006MHz from the stock 863MHz/900MHz while leaving the memory untouched at the stock 6GHz effective throughput speed.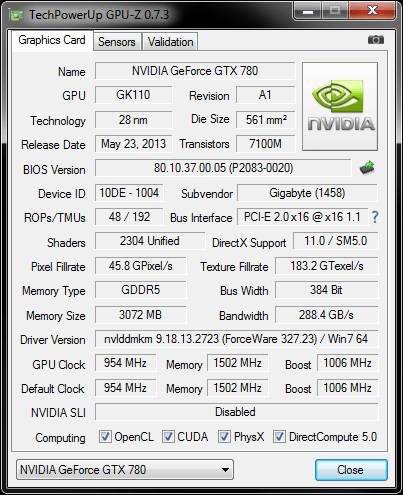 Our particular graphics card was provided as part of a press sample kit so came in a plain Gigabyte box with the graphics card only.