GIGABYTE MZ31-AR0 (SP3 EPYC) Server Motherboard Review
---
---
---
Bohs Hansen / 3 years ago
Introduction, Specifications, and Packaging
---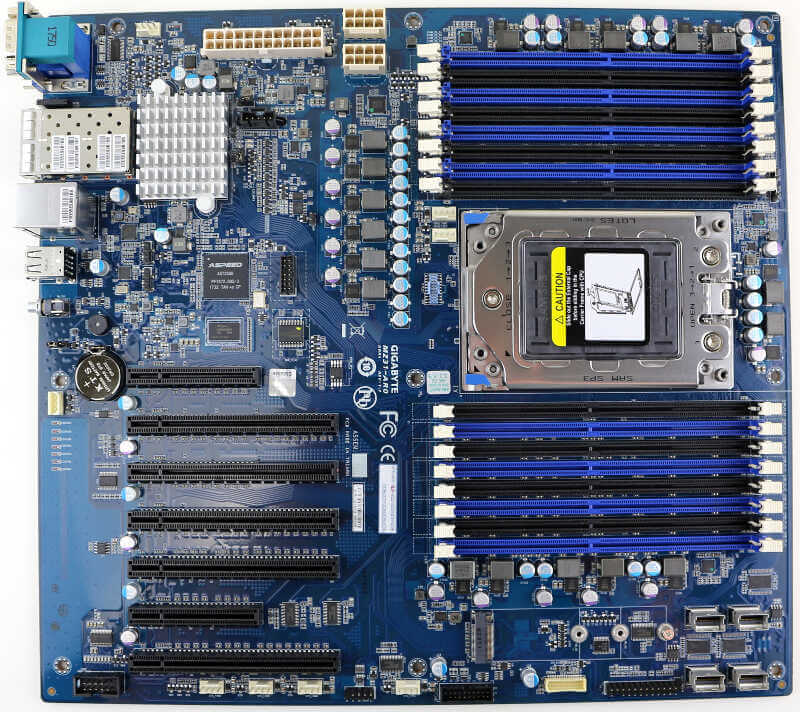 GIGABYTE MZ31-AR0 (SP3 EPYC) Server Motherboard
Today is a grand day as we have our first motherboard for AMD's EPYC processors on the test bench. Since we reviewed Intel's new server processors, users have been asking us to show what AMD's EPYC platform can do in comparison. You ask, we deliver! Today we're taking a closer look at GIGABYTE's MZ31-AR0 motherboard (product link) with an SP3 socket for EPYC CPUs.
AMD EPYC Processors
AMD has truly made a huge comeback with their Zen architecture chips. From the entry-level market APUs over mainstream Ryzen and enthusiast Threadripper to the enterprise-level EPYC processors we're using today. The value you got is uncomparable while compatibility is high thanks to the x86 architecture.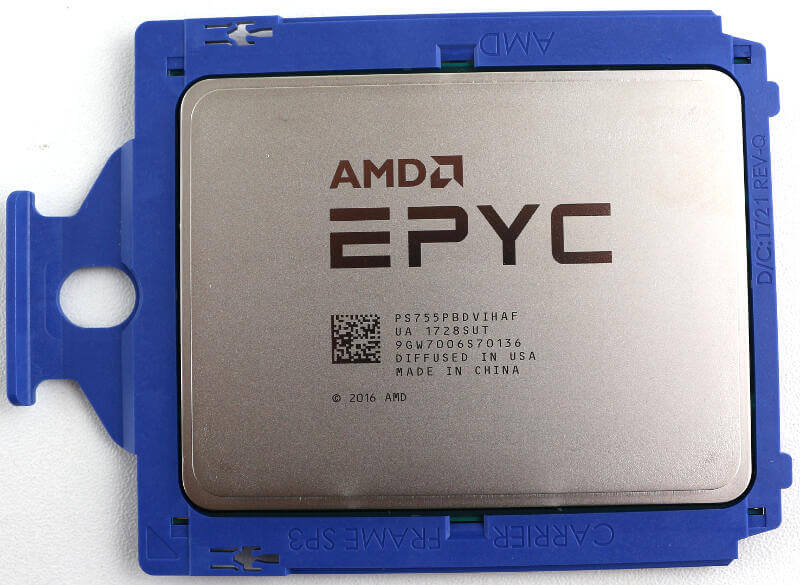 You can get processors with up to 32 cores and 64 threads, each supporting 128 PCIe lanes and 2TB 8-channel memory. The possibilities are almost endless with such options. Not only that, the power can be regulated per core and it comes with integrated custom security on the chip.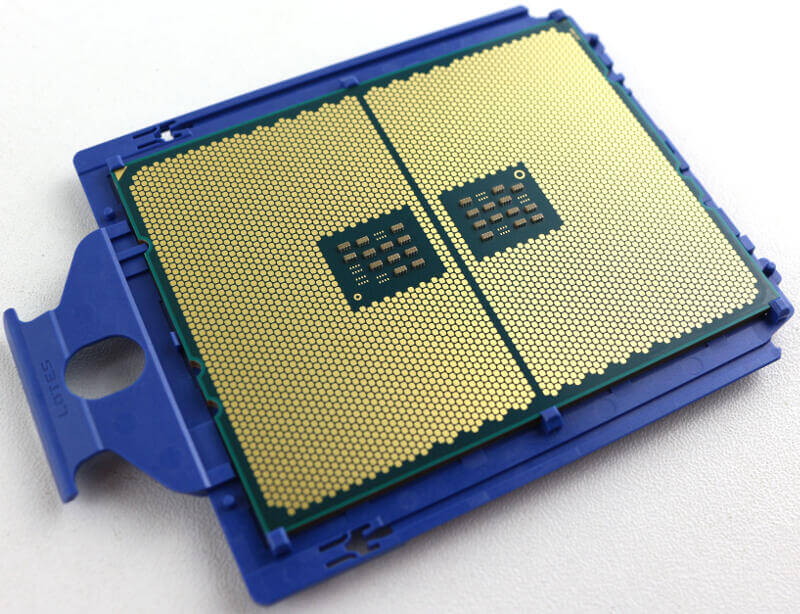 Close to No-Limit Expansion Options
There truly aren't many limitations with this platform's options. Both the single- and dual-socket CPUs come equipped with 128x PCIe lanes, providing extensive I/O options. That is a huge improvement in I/O vs. previous  x86 offerings. To put that into perspective, it equals 8 PCIe slots with x16 lanes at full speed.
Such an increased I/O allows for flexibility in extending every aspect of your system. From your storage, over networking, to computing power. You can take it all to a level previously unattainable with standard server motherboards. In addition, the integrated nature of the processor, which is designed as a system-on-chip (SoC), means that there is no need for a separate PCH. Thereby, less additional switches are needed for the expansion lanes.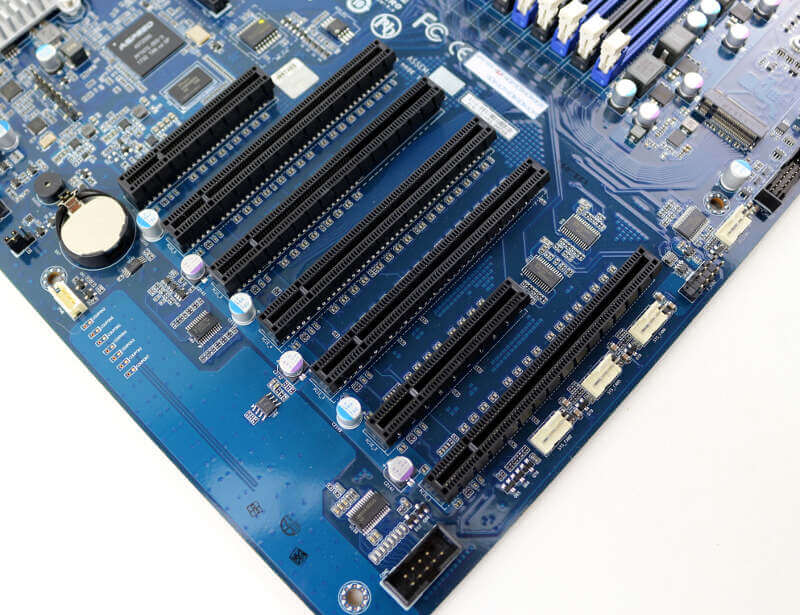 GIGABYTE MZ31-AR0 Information and Block Diagram
GIGABYTE's MZ31-AR0 is an E-ATX motherboard with a size of 305 by 330 mm. The official block diagram gives us a great view on how it's all connected, which is why there isn't a whole lot I can add here.
Processor and Memory Support
GIGABYTE's MZ31-AR0 support a single CPU of the AMD EPYC 7000 series processor family. Which you pick is completely up to you and your needs as it supports them all: Up to 32-cores and a TDP of up to 180W. So knock yourself out and build the best you can afford.
Besides CPU threads and PCIe lanes, memory support is a strong selling point for AMD's EPYC. This motherboard comes with 16 DDR4 DIMM slots and fully supports the 8-channel memory architecture. With support for 64GB modules, both RDIMM and LRDIMM, you can add up to 1TB memory on the MZ31-AR0 motherboard. Memory speeds of 2666 and 2400 MHz are supported, but it will run at 2133 MHz when both 1R and 2R memory modules are fully populated.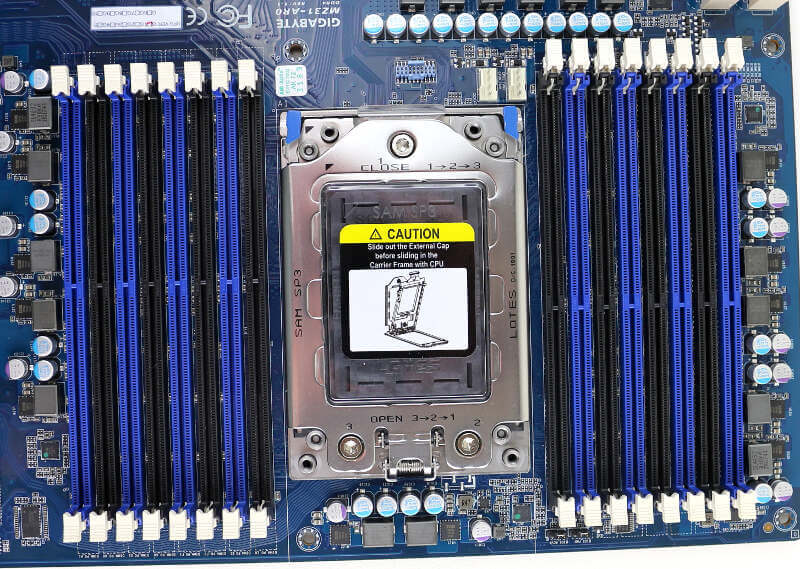 Networking Options
With such strong I/O capabilities, the onboard parts wouldn't need to be plenty nor good – you could easily add what you want. But they are both plenty and great when it comes to GIGABYTE's MZ31-AR0 motherboard. Gigabit is old-school which is why it comes with not one, but two SFP+ 10GbE LAN ports. Those are controlled by one of Broadcom's BCM 57810S.
But it doesn't stop here, there's another LAN port. There's a Gigabit-capable RJ45 port for the remote management interface. With this IPMI interface, you can use GIGABYTE's Server Management for easy control of your infrastructure.
Storage Options
The storage options are just as comprehensive and cleverly designed. The MZ31-AR0 has an onboard M.2 slot with a 32Gbps speed which is an optimal place to insert your OS drive. The M-key slot is PCIe 3.0 x4 and supports 2242, 2260, and 2280 modules. More PCIe-based drives can be installed in the available PCIe x8 and x16 slots.
There are plenty of connection options for SATA-based drives too. The motherboard supports up to 16 drives natively, but not via traditional SATA connectors. Instead, Gigabyte added four SlimSAS ports which each supports four drives. This doesn't just save on PCB real-estate, it's also clever for server setups. 16 SATA cables will take up a lot of space and can interfere with the airflow, that's one reason. The other is that most server setups will use a backplane which already delivers power and close-by connectors. Using SFS cables will make for a much cleaner setup.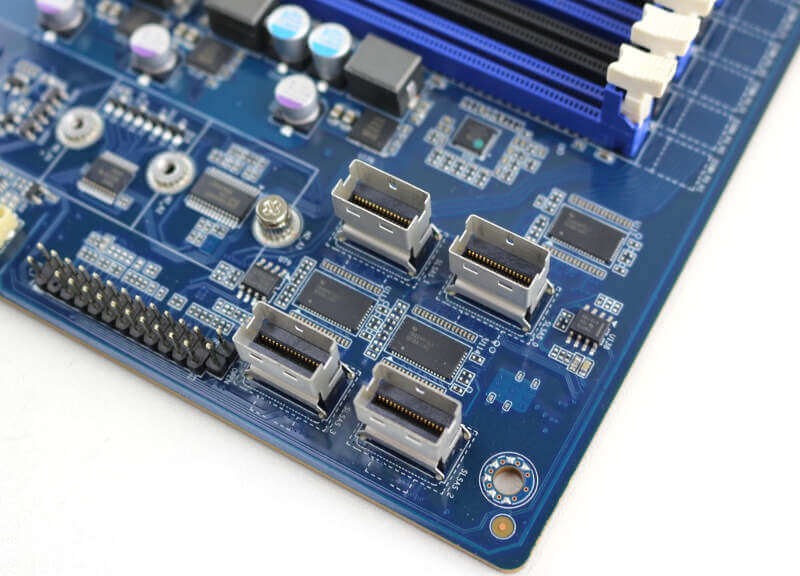 Other Connection Options
We've already covered the network options, so enough about that. But what else is there on connection options. Externally, you get two USB 3.0 and two USB 2.0 ports on the rear IO. There's also a VGA port controlled by the onboard Aspeed AST2500 chip. Other than that, you get a standard COM port and an ID button with LED.
Internally, you get two CPU fan headers and five system fan headers. There is an additional USB 3.0 and USB 2.0 header too for chassis-ports. You can also attach a second COM port to the motherboard.
Last but not certainly not least, there are a lot more headers. Two LAN activity LEDs can be attached, there's an HDD backplane header, TPM header, PMBus connector, and an IPMB connector too.
Motherboard Features
Server motherboards need to be of great quality as any system downtime can cost a lot in lost profits. GIGABYTE's MZ31-AR0 certainly qualifies in that area as all components have been carefully selected. They didn't go for the cheapest option, they got the best and best-suited parts. That in return guarantees a super stable operating environment where the processors and the memory can deliver their maximum performance. GIGABYTE's server motherboards are built with ultra long-lasting components for the highest reliability attainable. That's a fact that is shown by GIGABYTE having some of most durable servers in the industry.
GIGABYTE's EPYC server platform is fully compatible with AMD's new Radeon Instinct MI25, one of the world's fastest training accelerators. The MI25 can deliver up to 24.6 TFLOPS of FP16 and 12.3 TFLOPS of FP32 peak performance. It also features large BAR (Base Address Register) support for multi-GPU peer to peer communication. Combining AMD's CPU and GPU solutions together with its ROCm open software platform allows for enhanced synergy and optimization, delivering a powerful compute solution with lower latency to meet the challenges of machine intelligence and deep learning.
Motherboard Management
GIGABYTE has been in the server business for a long time and they know that the ability to manage all one's systems centrally is as important as the hardware itself. For that, you get GIGABYTE Server Management, or GSM for short.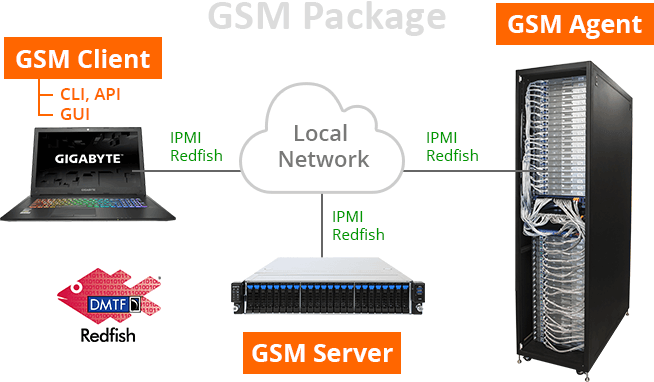 The exclusive GSM utility is designed to provide effortless datacentre and rack-level management. Whether you prefer a browser-based client or a command line interface is your choice. It enables administrators to remotely manage and monitor the GSM Server and GSM Agent modules. This reduces administrative burden further increasing ROI. Additionally, the API programmable client enables administrators to streamline and automate workflows with multiple concurrent sessions.
The Aspeed AST2500 management controller is what makes this possible in combination with the Avocent MergePoint IPMI 2.0 web interface. With it, you can manage and get access to Network settings, Network security settings, Hardware information, Users control, Services settings, IPMI settings, Sessions control, LDAP settings, Power control, Fan profiles, Voltages, fans and temperatures monitoring, System event log, Events management (platform events, trap settings, email settings), Serial Over LAN, and vKVM & vMedia (HTML5).
BIOS Upgrade Without Core Components
The GIGABYTE BMC Interface allows you to upgrade the BIOS without having installed any core components into the motherboard. GIGABYTE has developed an integrated function for this which doesn't require any additional software. With it, you can update the BIOS through the BMC controller.
That means, there is no need for a processor, memory, drives, or operating system. You don't even need to power the system on, but it needs to be connected to a power supply. Then you can update single or multiple boards via IPMI 2.0 or CLI.
Feature Highlights
AMD EPYC 7000 series processor family
8-Channel RDIMM/LRDIMM DDR4, 16 x DIMMs
2 x SFP+ 10Gb/s LAN ports (Broadcom BCM 57810S)
1 x dedicated management port
4 x SlimSAS (for 16 x SATA 6Gb/s) ports
Ultra-Fast M.2 with PCIe Gen3 x4 interface
Up to 4 x PCIe Gen3 x16 slots and 3 x PCIe Gen3 x8 slots
Aspeed AST2500 remote management controller
Package and Accessories
GIGABYTE's server motherboards all come in the same style of packaging. The only difference is the size of the box.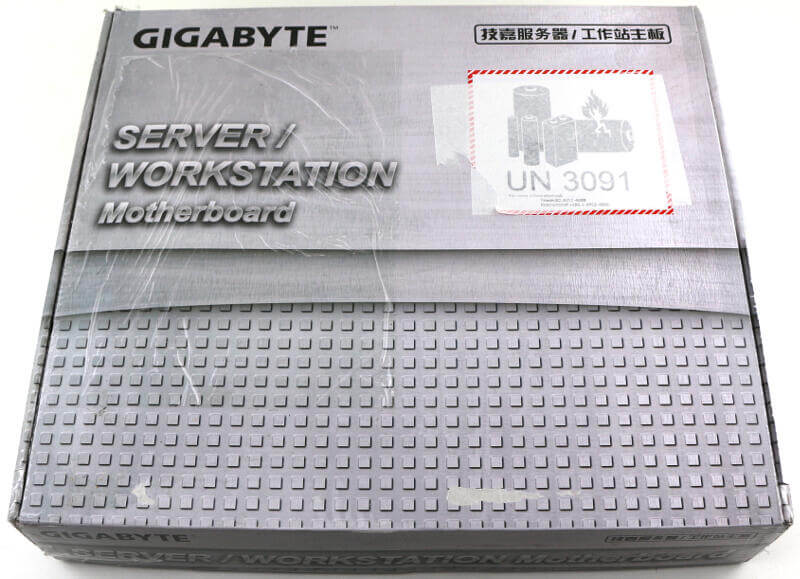 Well, there's also the label on the side which will identify what's inside.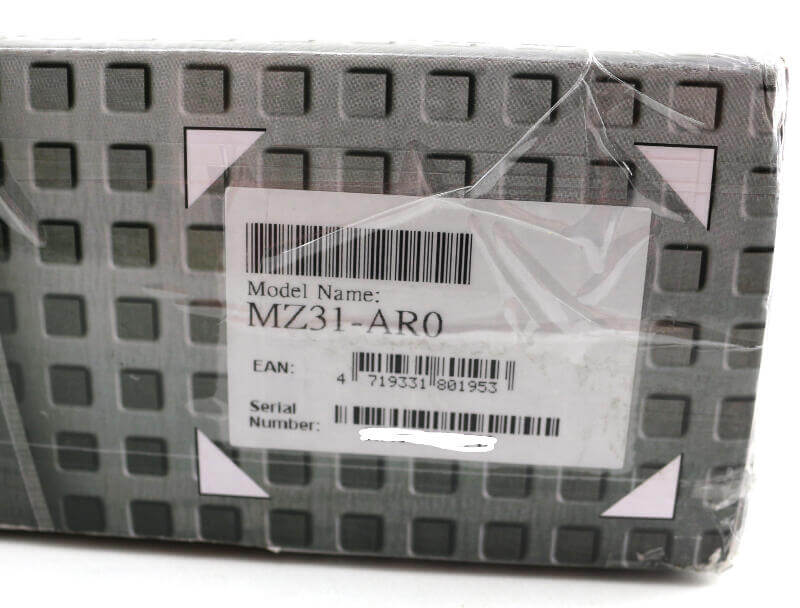 The MZ31-AR0 comes with a quick-reference guide, two SlimSAS cables, and an IO shield.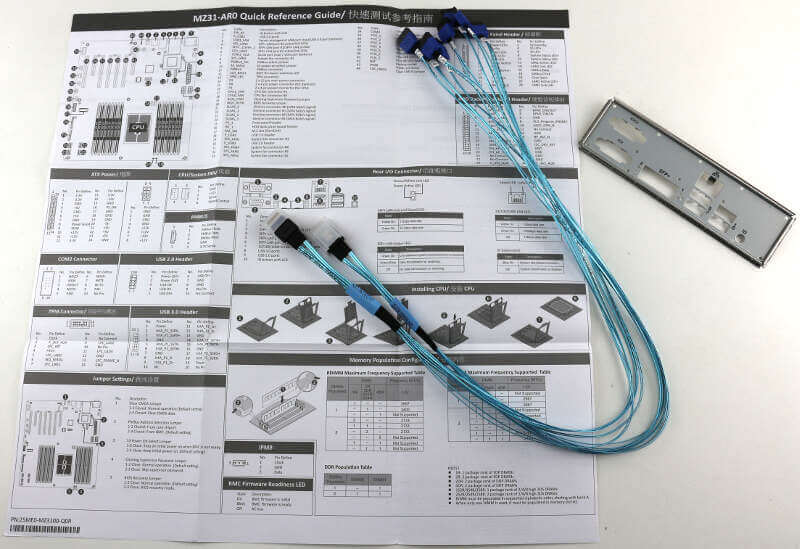 There is no padding or similar features on the IO shield, but everything is clearly labelled as it should be.

The included SATA cables are thin, which will make it easy to route them to your backplane – or even to the drives directly should that be your need.