GIGABYTE Offers Steam Vouchers with AORUS Gaming Motherboards
---
---
---
Bohs Hansen / 6 years ago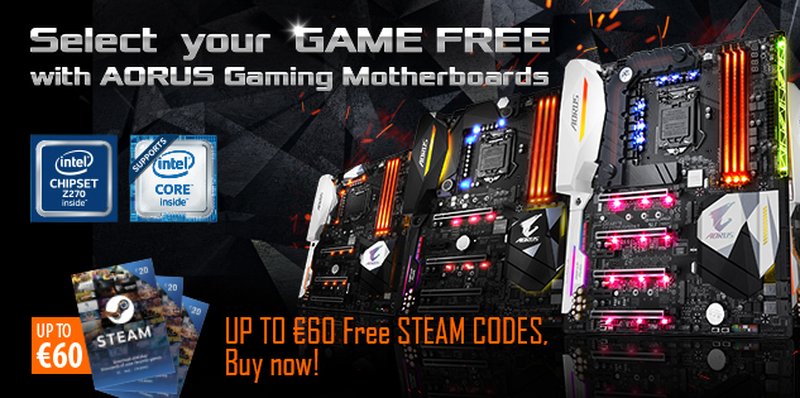 GIGABYTE has launched a new promotion event, offering steam wallet vouchers with the purchase of select AORUS motherboards. This is a great step up from the usually included game codes as it allows you to pick the games you want, and even better, it lets you get them during sales.
The new promotion event is valid for both Intel and AMD based AORUS motherboards and it started on April the 11th. The promotion will continue until June 30th, 2017, so you got plenty of time to take advantage of this offer. The included Steam Wallet Codes work the same way gift cards do and they will simply add the given amount to your Steam account. From there on, you can spend it any way you want. Get games, apps, or in-game content with it.

There are three tiers for Intel motherboards included in the promotion, each giving a different amount of Steam credit. The Z270X-Gaming 9 and the Z270X-Gaming 8 come with 60€, the Z270X-Gaming 7, Z270X-Gaming 5, Z270X-Gaming K5, and the Z270X-Gaming SOC come with 40€, and the Z270X-Ultra Gaming, Z270N-Gaming 5 each come with 20€ Steam credit.

AMD motherboards only come with a single tier of rewards and there are four motherboards eligible for it. The four are the AX370-Gaming K7, AX370-Gaming 5, AX370-Gaming K5, and the AB350-Gaming 3, each coming with a 20€ steam coupon.
These offers are only valid in Europe and you will have to register your purchased motherboard with GIGABYTE to get the code. GIGABYTE has set up two microsites for this, one for Intel and one for AMD.