Gigabyte RX 6700 XT Gaming OC Graphics Card Review
---
---
---
Ben Enos / 1 year ago

AMD RX 6700 XT Launch Day is still upon us and this time, we have the Gigabyte Gaming OC Variant. Gigabytes Gaming OC has become a staple in the mid-range GPU game offering both good performance and a decent price. Those who want something more than the reference models but don't want to spend quite as much as the top models cost will want to look here. Compare this with a solid 1440P card like the 6700 XT is turning out to be and you are on to a true winner. So, with that being said, let's get this thing kicked off and see just what we are looking to get with the Gigabyte RX 6700 XT Gaming OC Graphics Card.
Gigabyte RX 6700 XT Gaming OC
Being AMD's latest GPU release, it will be interesting to see just how many of the RX 6700 XT cards actually appear for sale. While we have heard rumours that the UK should have a half-decent amount, anything is possible these days. It will also be interesting to see how close to MSRP these cards actually go for on Launch Day! Aimed at 1440P gamers, AMD have a great card on their hands but does any of that really matter if you can't actually buy one? The 6700 XT is packed with 12GB VRAM and looks to be a good GPU for 1440P Gaming if and when you can finally get one. We have heard things should calm won a bit during Summer but it's still hard to believe at the moment.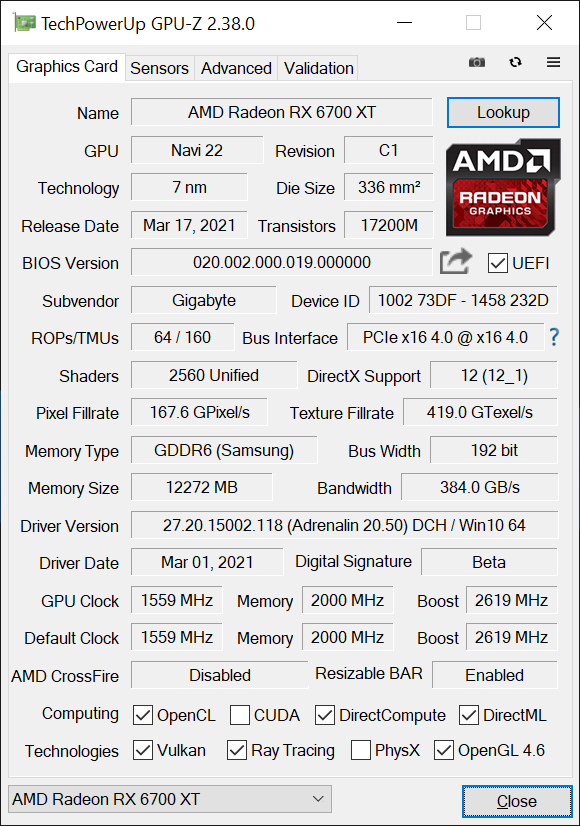 For in-depth features and specifications, please visit the official Gigabyte RX 6700 XT Gaming OC product page here.