Gigabyte Unveils its AORUS Waterforce X Series AIO Coolers
---
---
---
Mike Sanders / 3 years ago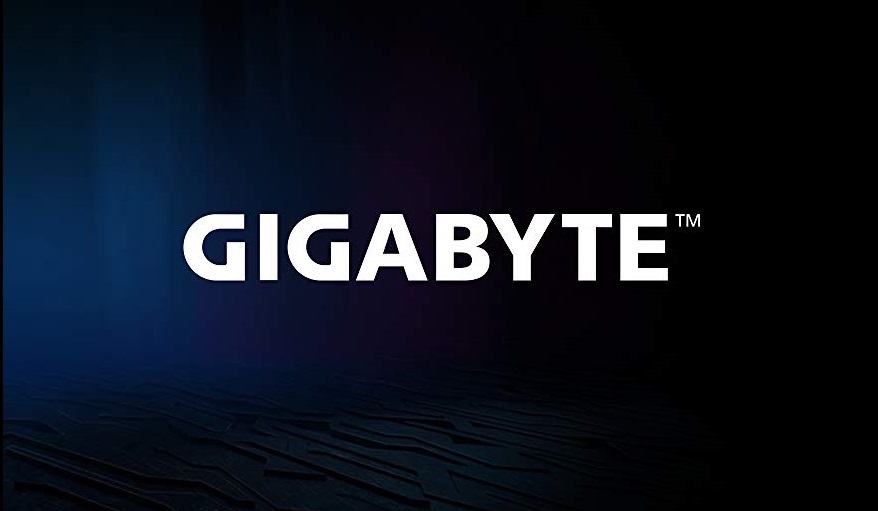 Gigabyte has today announced the new AIO liquid cooler AORUS WATERFORCE X SERIES. Following the AORUS LIQUID COOLER's success, the AORUS WATERFORCE X SERIES comes in 3 radiator sizes of 240/280/360mm, which cater to various needs from standard set-ups all the way up to high-performance multicore CPUs on Intel and AMD platforms.

Gigabyte AORUS WATERFORCE X SERIES AIO Liquid Coolers
The 7.8mm Tube Diameter utilized in this design has improved the liquid flow by 37%, and it is engineered with a ceramic axis pump to optimize durability and heat dissipation. The leading Graphene Nano lubricant fan structure also reduces the rate of wear on the bearing and the build-up of carbon deposits by its low coefficient of friction and high lubrication. This extends the expected performance lifespan by 2.1X.
The renowned LCD display design further integrates more innovative modes and customized settings, including the exclusive Chibi Time, and MP4/GIF/JPG format support. Users are free to load preferred materials for display through the newly integrated Micro SD port, and paired with multiple lighting modes of RGB FUSION, AORUS WATERFORCE X is a joy to behold!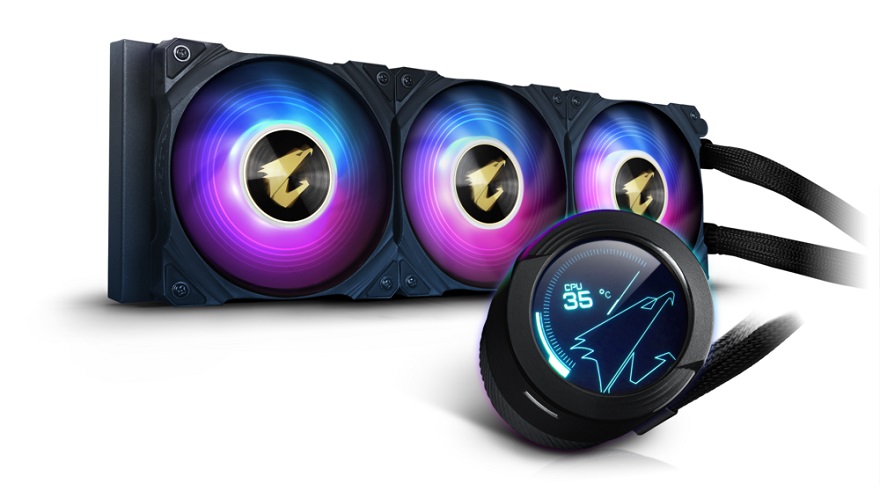 Features
A new high-performance pump efficiently dissipates heat from high-end CPUs.
Unique 60*60mm circular full-color LCD with dynamic AORUS logo display designs and custom picture and text available.
Adjustable screen orientation can be rotated 330 degrees.
High performance, low noise level, dual ball bearing ARGB fans.
Supports RGB FUSION 2.0 synchronization with other AORUS devices.
Universal design for fan & pump RPM control supports all MB brands.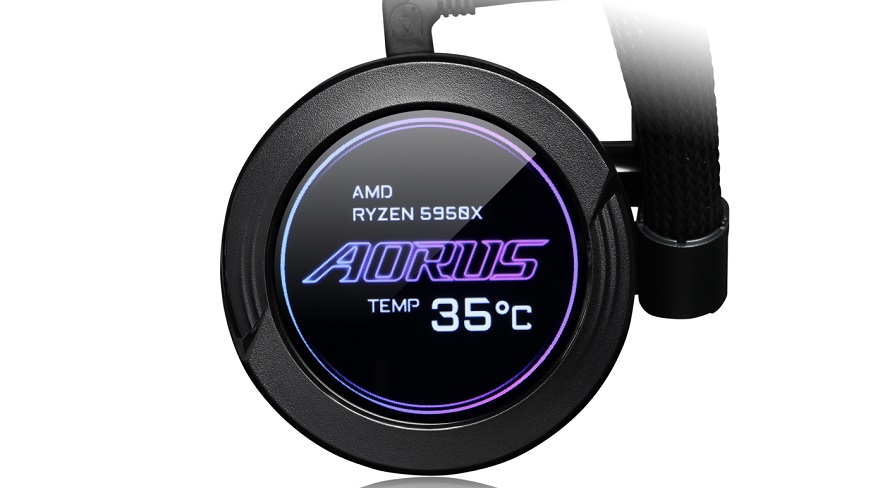 Multicore Performance
Multicore CPUs and higher core count CPUs are the norms for high-end builds, but faster clock speeds can generate excess heat which slows performance. Effective CPU Cooling becomes the key factor to the system performance, so the AORUS WATERFORCE X SERIES AIO liquid coolers are designed specifically to handle the heat generated by the latest generation CPUs.
To provide the most silent liquid cooling solution, the AORUS WATERFORCE X SERIES has phased in a new leading graphene Nano lubricant bearing with ultra-low friction to decrease noise levels by about 15% when compared with previous liquid coolers under the same stability and low fan speed.
In the Cinebench R23 heavy loading test, even the AMD Ryzen 9 5950X CPU can run all-cores at 4.6GHz on 16 cores pairing with the AORUS WATERFORCE X 240 easily handling the task. This demonstrates the premium performance of the AORUS WATERFORCE X SERIES from GIGABYTE.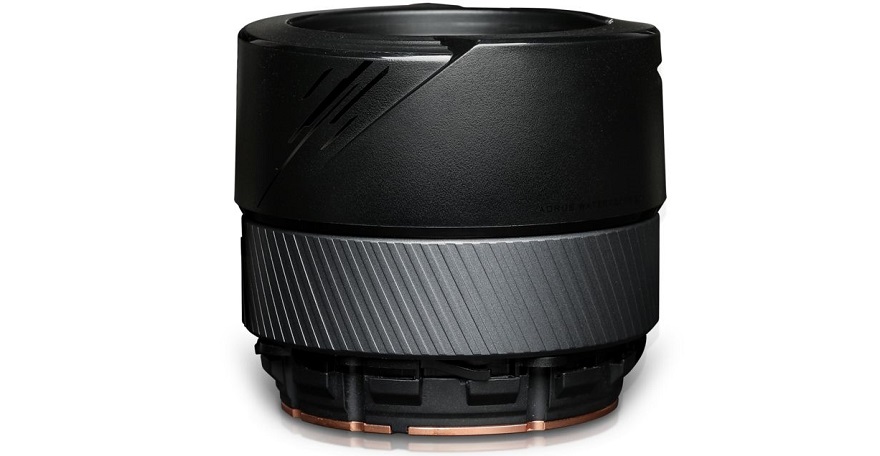 Custom Display
The AORUS WATERFORCE X SERIES continues to feature an impressive circular LCD display for improved aesthetics. Other than four default modes of the Enthusiast Mode, Function Mode, Text Custom Mode, and Image Custom Mode, several exciting new features have been added. The Image Custom Mode is improved for greater support of MP4/ GIF/ JPG, as well as the new exclusively "Chibi Time" mode, and the support of multilingual custom text input. The new unique Display Rotator is designed to be manually rotatable by 330 degrees. With this users are free to adjust displayed text and images with their preferred angle easier than before. A special highlight on AORUS WATERFORCE X SERIES is the innovative design of an integrated Micro SD port, this inclusion breaks the limitation of display features on liquid coolers caused by insufficient memory capacity. Users can now store all their favourite images or videos and then upload them to the LCD display via the RGB FUSION 2.0 application.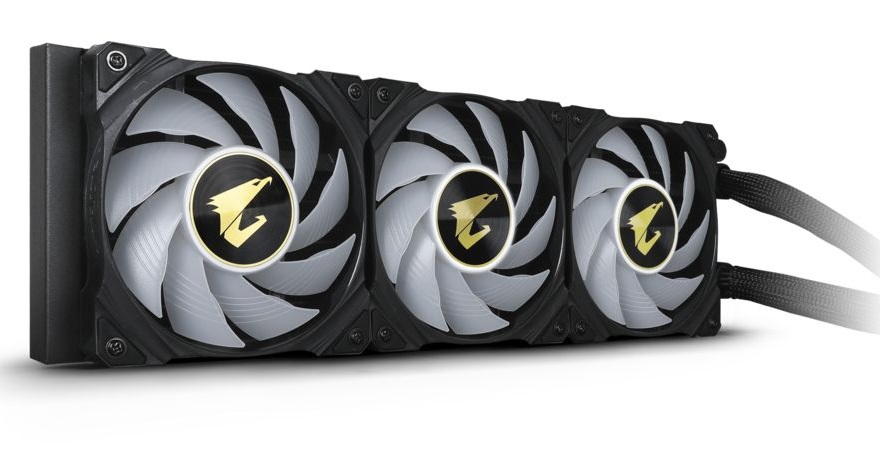 Where Can I Learn More?
The Gigabyte AORUS WATERFORCE X SERIES comes in 3 radiator sizes, 240/280/360mm. All of these have been tested and fitted with the proper fan blade sizes and fan speed settings to ensure the best match for high cooling efficiency and with perfect support for the extreme performance of multicore CPUs on the Intel and AMD platforms.
While no prices for these new AIO cooler models have yet been confirmed, for more information you can check out the official product websites via the link here!
What do you think? Do you utilize an AIO liquid cooler in your PC setup? Would this new model from Gigabyte tempt you into upgrading/making a change? – Let us know in the comments!