GOODRAM IRDM PRO 480GB SATA SSD Review
---
---
---
Bohs Hansen / 5 years ago
Introduction
---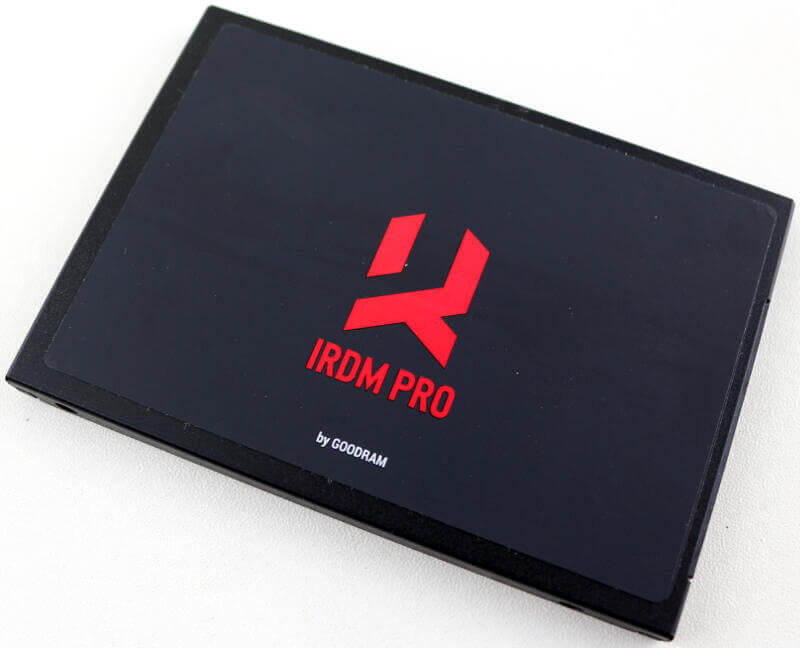 GOODRAM IRDM PRO 480GB SATA SSD Review
We welcome a new brand into our storage review categories today as I take a look at my first GOODRAM SSD, the IRDM PRO (product link). The GOODRAM IRDM PRO is a SATA3 drive which comes in the capacity options of 240, 480, and 960 GB.
Who is GOODRAM?
GOODRAM is a brand of Wilk Elektronik which was established in 1991. So, even if you haven't heard of them before, they aren't new to the field of memory products. They started out as a distributor of memory products and in 1996 they became the largest distributor of memory products in Poland. Then in 2003, the company launched their GOODRAM brand for memory products. The IRDM product lineup was launched in 2017 and it is one of them which I take a look at today.
A Classic Form Factor and a Simple Design
Let's start out small, with the drive design and form factor. The IRDM PRO is a classic 2.5-inch SSD with a height of 7 mm and a SATA connector. That combination makes it compatible with close to any system out there. The capacity options also offer something for everyone, from 240GB to 960GB.
The design is as simple as the form factor, but it looks great. The casing is black and it has a black sticker on the top. On it, is the logo, drive name, and company name. Simple, but beautiful with the black and red colour theme. There is another large white sticker on the rear with the important drive details such as firmware version and serial number.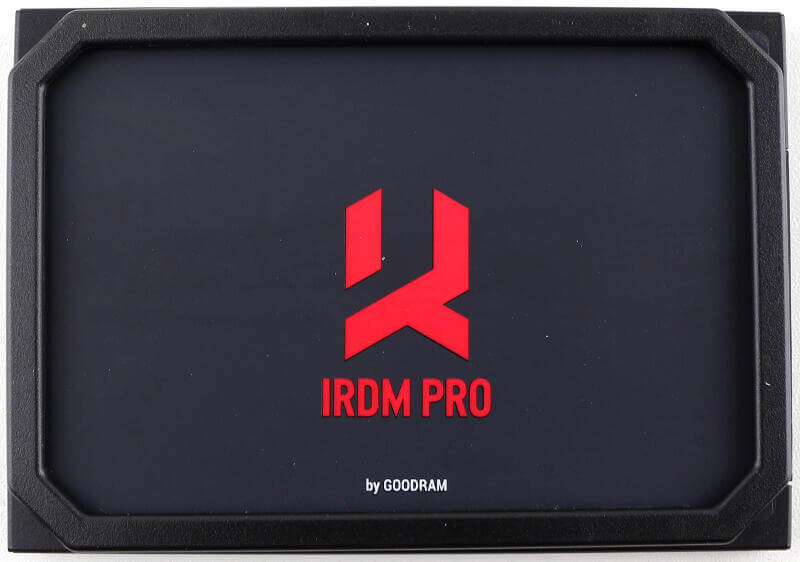 GOODRAM also includes a 9.5mm spacer for those who need it. Some slot-in drive bays and portable systems will require these to mount the drive properly and securely.
Hardware Components
Inside the IRDM PRO are quality components. At the heart of the drive is a quad-core Phison PS3110 S10 controller which is paired with Toshiba A19 MLC NAND.
It is rare to see MLC drives these days as most companies have transitioned to TLC. However, it is a pleasure for me whenever I do. MLC based drives, while a bit more expensive, deliver a better performance and endurance. The drive also comes with up to 1GB DDR3 cache to further boost the performance.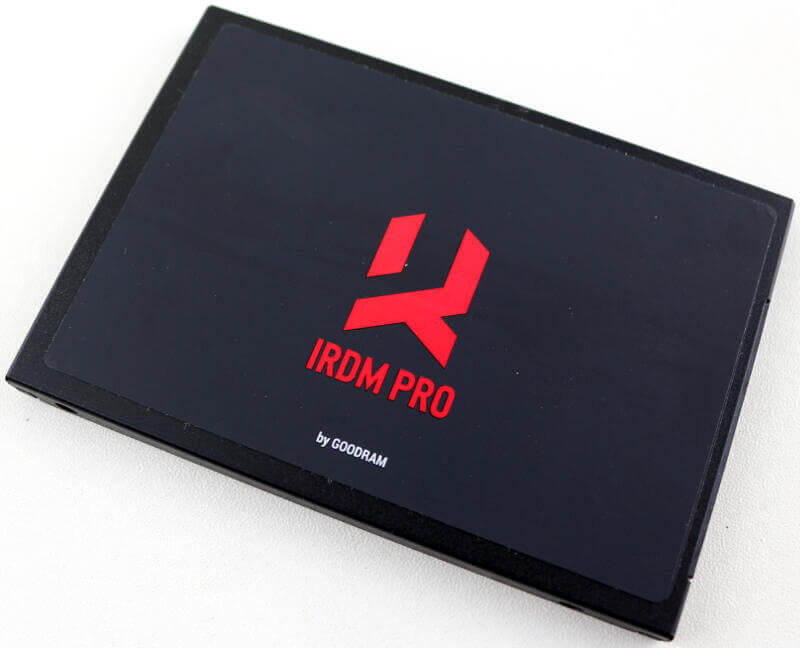 How Well Does the IRDM PRO Perform?
GOODRAM promises best-in-class performance and reliability which are some tough words to utter in such a competitive field. However, the base hardware does warrant such a statement.
I need to note here that GOODRAM has to be commended for their specification transparency. They don't hide any facts, neither slower performance tests nor the actual capacity. There are few who do this.
The three different drive capacities have almost the same performance rating. No doubt due to the MLC NAND and controller. All three read with 560MB/s and write with 530MB/s sequential. Write speeds for incompressible data drops to 520MB/s on the smallest and largest version of the IRDM PRO.
The random 4K performance is rated at 100K IOPS when reading and up to 90K IOPS when writing on the 960GB drive. The 480GB and 240GB write with up to 88K IOPS. Those are some great figures for a SATA drive!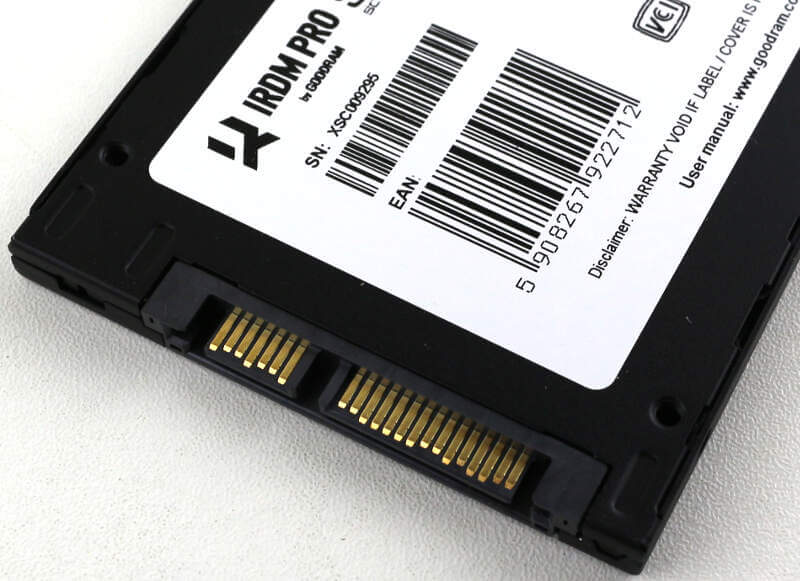 Then What About the Endurance?
Endurance is at least as important as performance. The IRDM PRO shines here too with a TBW rating of close to 1000TB. The 960GB version can handle a write load of up to 500GB a day for a 5-year period. We can divide that number by two to get the 480GB rating and again to get the 240GB drive rating.
With the above TBW being calculated with a 5-year period, you probably already guessed it. GOODRAM offers a 5-year warranty on the drive. The MTBF is rated for over 2 million hours.
Data Integrity and End-to-End Protection Features
GOODRAM packed the drive with the features you'll want to make sure that your data is safe in any situation. The ECC protection with up to 120 bits per 2KB keeps the data save while the SmartRefresh offers end-to-end data protection. GOODRAM also added power loss protection through the proprietary SmartFlush and GuaranteedFlush technologies. Even in the event of a sudden power loss, your data will be flushed to the NAND and kept safe.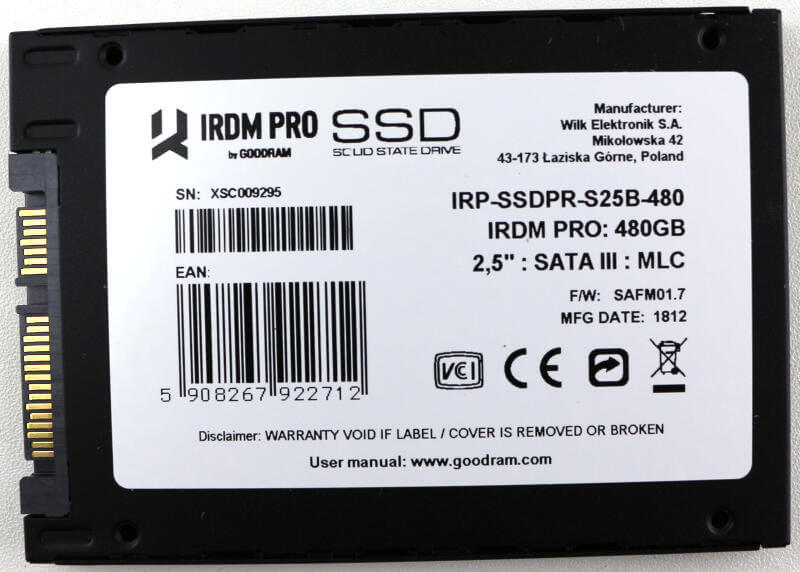 Feature Highlights
available capacity 240, 480 and 960 GB
Phison S10 quad-core controller
Toshiba A19 NAND flash MLC
proprietary technologies like SmartRefresh™, SmartFlush™ and GuaranteedFlush™.
5 years warranty with free technical support
Package and Accessories
Black and red have traditionally been a symbol for high-performing and gaming products. The GOODRAM IRDM PRO could be considered as such and therefore it's fitting. The front shows the performance ratings and warranty along with a representation of the drive.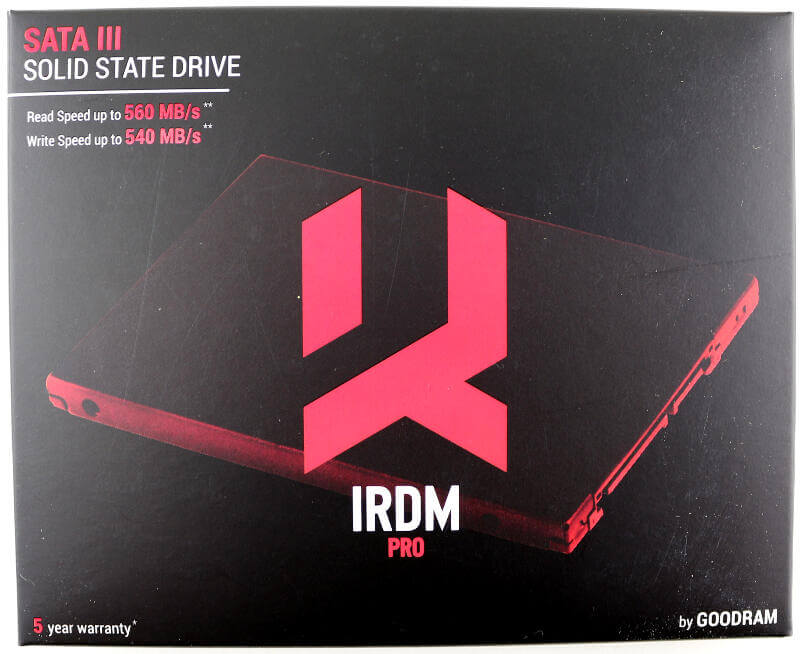 On the rear side is a see-through part where you can see which drive is included. The backside itself has more details in regards to the specifications and usage scenarios.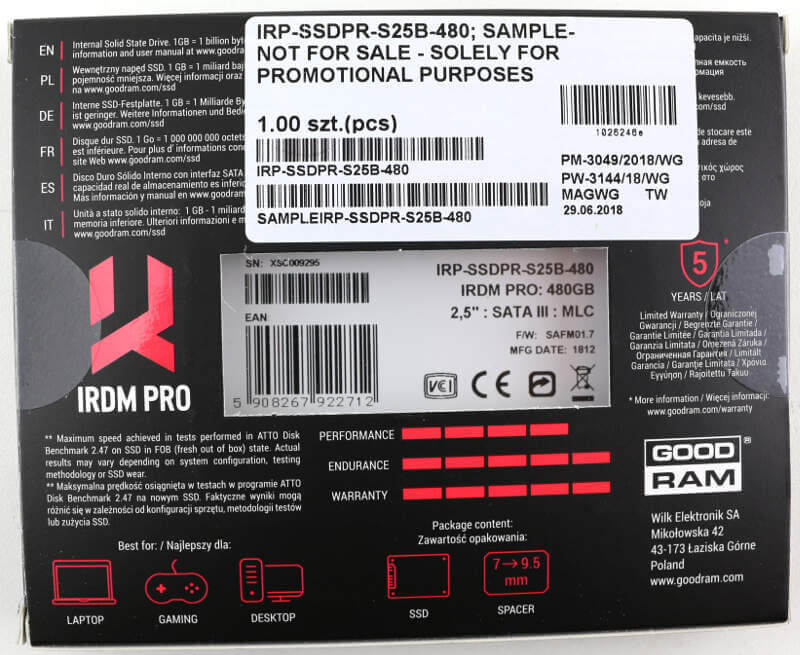 Inside is the drive itself as well as an adapter bracket for 9.5mm-sized drive trays.