Google's 3rd Gen Chromecast Adds Multi-Room Audio Support
---
---
---
Ron Perillo / 4 years ago

Minor Upgrade for 3rd Gen Chromecast
Google's New York event featured a plethora of announcements, including the humble Chromecast device. Now in its 3rd generation, the smartphone-controlled streaming unit only gets a minor upgrade. This comes in the form of a slight cosmetic change, including new glossy 'chalk' or 'charcoal' appearance. The logo is also much smaller at the center, now a small G, instead of the Chome icon. Moreover, it also includes the addition of multi-room audio support.
Other than that, it is exactly the same as the 2nd generation Chromecast. It still measures 51.8 x 13.8 with a 162mm length HDMI plug built-in. The device still connects using WiFi 802.11ac using both 2.4GHz and 5GHz frequencies and is powered with a micro-USB connector.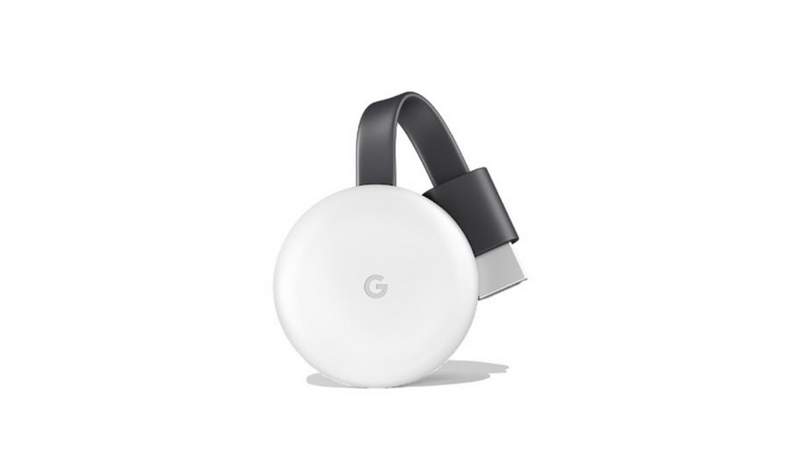 It still tops out at 1080p and lacks 4K UHD support. The latter requiring upgrading to the Chromecast Ultra. Although the inclusion of multi-room audio support means users do not need to get an extra Chromecast Audio ($35 USD) if they already have a 3rd gen Chromecast device on hand. There is also no addition of any Bluetooth support as rumoured earlier this year. Which is unfortunate for those who wish adding peripheral and remote control.
Although Google does have good news for those who want to stream videos faster. The 3rd gen device apparently is 15% faster than the 2nd gen Chromecast. Apparently since 60fps videos are more prevalent, and loading them needs to be faster according to the company.
How Much is the 3rd Gen Google Chromecast?
With Roku, Amazon and Chromecast vying for the home media stick domination, this should give Google's competitor's something to consider for their next refresh. After all, Chromecast cannot play Amazon's Prime videos while Roku and Amazon's Firestick can. So they already have an advantage in terms of having wider support. One big advantage that Google still retains however, is the price. The 3rd gen Chromecast still retains the same $35 price tag as the 2nd gen version.
Meanwhile, Amazon's Firestick with Alexa starts at $39 USD and is only available in the US. Those outside the US get a crappy, cheaper, and older version without Alexa and other features. Meanwhile, Roku is only available in limited markets and its most basic Streaming stick starts at $45 USD.