Half-Life 2: Episode 2 Voted 'Game That Deserves a Sequel' on Steam
---
---
---
Peter Donnell / 5 years ago
With the Steam Autumn Sale now well underway, people have been busily throwing their bank details at the Lord Gaben. Of course, that's not the only thing going on with Steam this month, as the sale also saw the launch of Steam Awards, and people have been voting like crazy.
Already the votes are showing some predictable and interesting results, but the final winners are set to be revealed next month. We've got strange categories such as the 'I'm Not Crying, There's Something In My Eye' Award, and 'Villain Most In Need Of A Hug' Award, because we really needed those.
For the "Game That Deserves a Sequel" Award, you can guess where the majority have been casting their vote. Half-Life 2: Episode 2 has been spammed to death using the category suggestion box and shot up to being the current leader for that category. At this point, it's clear that Valve has gotten the message, but that hasn't stopped us from hammering the details in regardless. With the game now having gone without a release in the series for many years, fans aren't letting up and while it's only a small hope, perhaps showing Valve that there's still a growing demand could give them the push to actually make the game.
To cast the same vote, simply select the last option and paste in "GAME THAT DESERVES A SEQUEL" and you're good to go!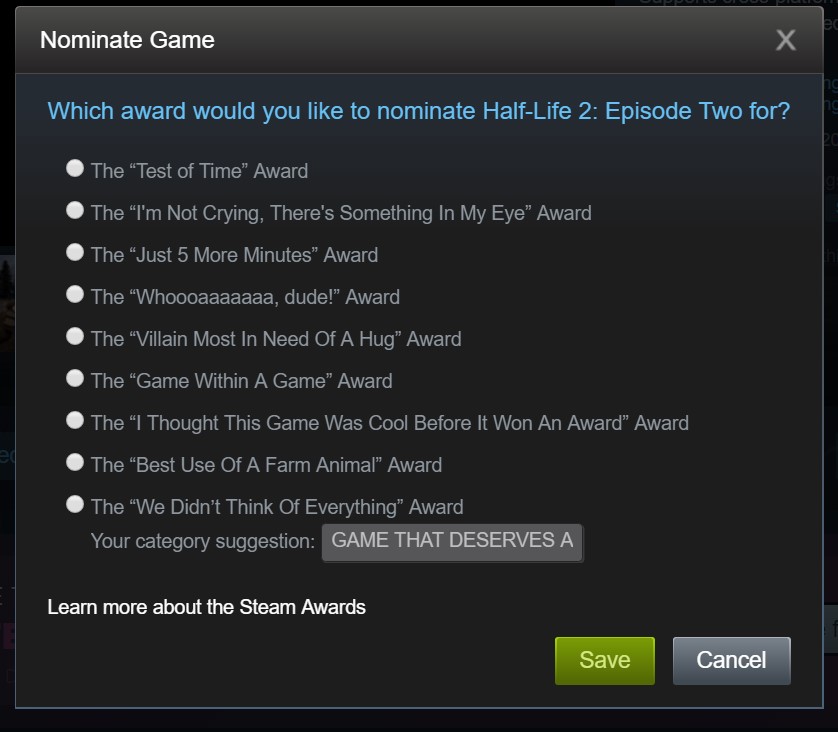 At least if they don't make it, we can still have fun voting for the 'I Thought This Game Was Cool Before It Won An Award' Award.