Hercules Wireless Audio Experience Speaker System
---
---
---
Peter Donnell / 9 years ago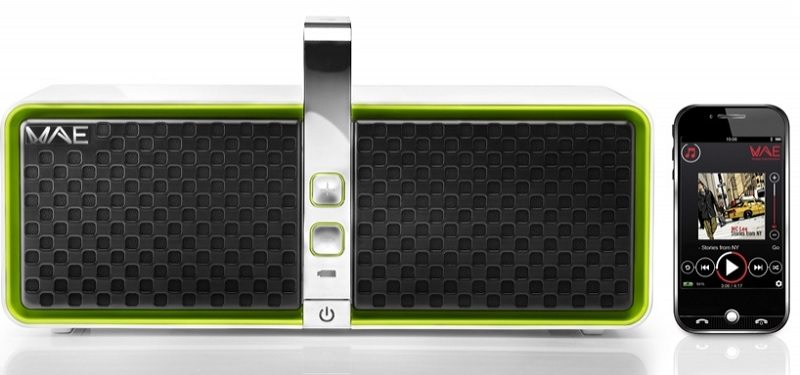 I've had something a little different to play around with this week and as much as I love sitting indoors and playing with new gadgets, it's always great when you get something that allow your to break away from your desk and get out into the sun.
I have with me the Hercules Wireless Audio Experience Bluetooth Speaker System, a fairly straight forward looking device, essentially just a wireless speaker with a big carry handle on the top, perfect for taking with you when you're looking to kick back out in the sun. While I would exactly condone carrying something like this on a walk, on the bus or some other play like that, it is designed for trips to the beach, picnics, hanging out in the garden, that sort of thing, the latter of those I planned to test extensively.
Wireless audio is nothing new, but it's certainly a trend that is gaining some popularity, given the increasing demand for digital music and the amount of people who play their music from their phone. Now we all know that music on a mobile phone speaker has almost always sucked pretty badly, even my phone which touts high quality speakers from "beats" and all that other marketing garbage still sounds god awful when I play music through it at any reasonable volume levels. So it's obvious that the only way around this is an external audio device.
So lets jump right in and see what the WAE speaker has to offer.
Bluetooth 3.0 A2DP
10 m range
Android dedicated application
Frequency response: 80 Hz – 20,000 Hz
Power: 15 W RMS
Battery life: 12 hours
Power supply: 12 V/1.6 A
RoHS, CE, FCC, Bluetooth® compliant
Speaker dimensions : 340 (D) x 140 (W) x 120 (H) mm
As you can see from the specification above, the WAE packs a decent, if somewhat limited feature set. It's got a decent wireless range (speaker to phone range) and its compatible with Bluetooth technology. Pictures can be deceiving though, and the speaker isn't as small as it might look, with measurements of 34 x 14 x 12cm it's not something you can just store easily in your average back pack, not least if your planning on having other items in there too.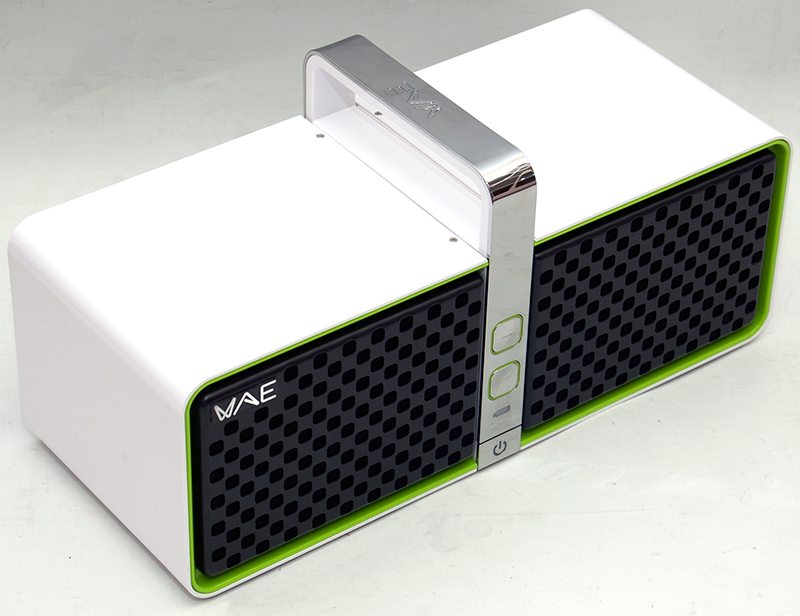 The whole device is finished is glossy plastics that do give it a nice shine, with a clean and well designed, if someone simplistic appearance. the front panel is a hard plastic mould and features small square cut-outs which are fabric backed, perfect for letting the hidden speakers work their magic.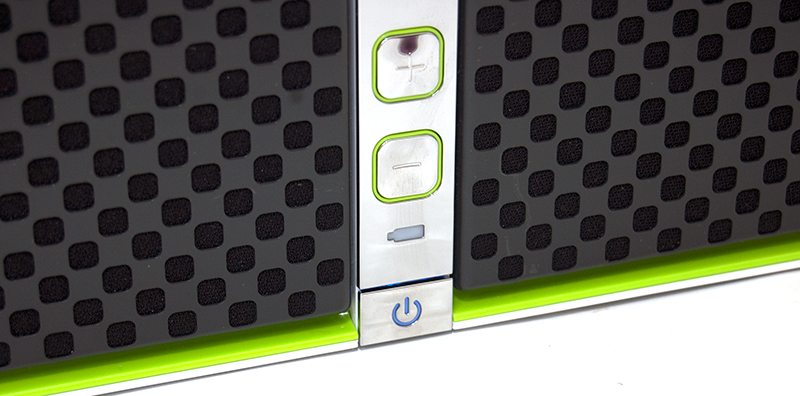 The front control panel is straight forward enough, you have volume up, volume down, a battery indicator and a power switch, They're all nicely designed, but it shouldn't take a genius to work out how to control the device and that is of course a good thing, simple but effective.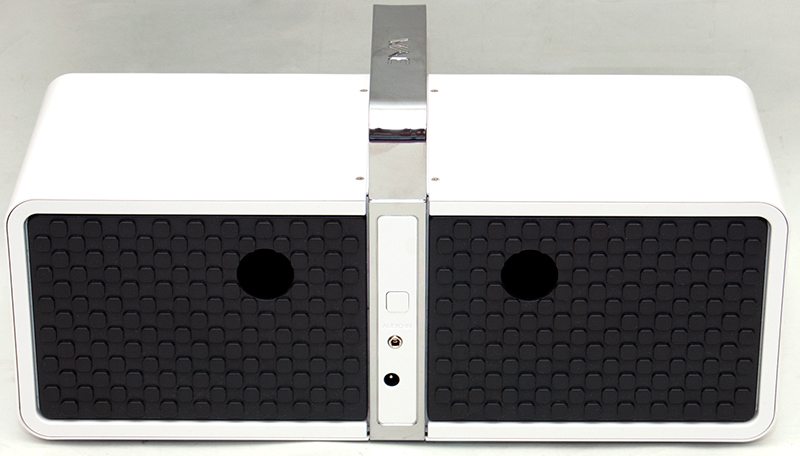 Around the back we have another hard plastic mould that is styled similarly to the front panel, but instead of smaller square cut-outs we have two larger bass ports, these should help add depth to the sound, unfortunately there is no way of sneaking a speak at the drivers or speaker cones, but if I'm honest, I doubt they're anything special.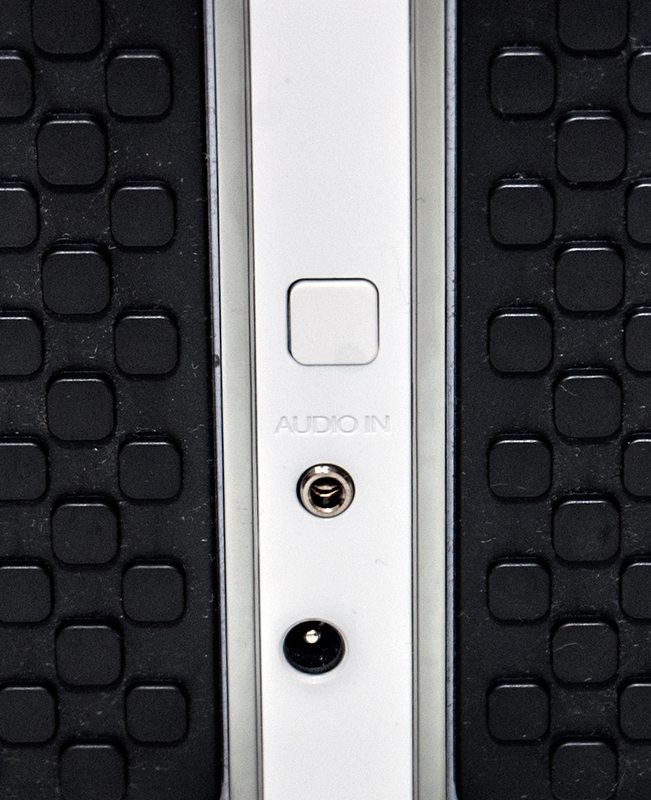 The back features a simple input panel with a control switch, audio line in for those who don't need to or want to use the Bluetooth features and a power line-in port for the included power cable. This cable can be used to power the device if you so wish, but any time the device is connected to the mains outlet it will also recharge the device, it is a portable speaker after all.
Setup & Installation
Setup was pretty straight forward, the speaker didn't have any charge when I took it out of the box, but I was able to complete the setup process with it connected to its mains charger. The first step to setup was to download the WAE controller app, which is available for both Android and iOS.
The app is super easy to use and it managed to find and pair up with the speaker on my first attempt. Once installed your presented with options to either stream music that is stored on your device, such as the audio from YouTube, MP3's or radio.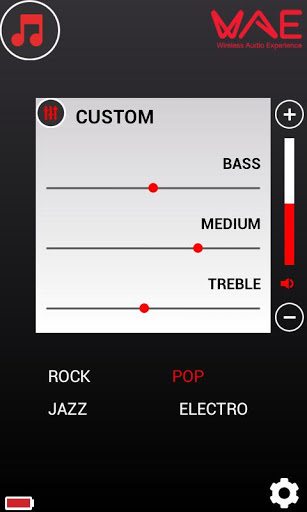 The speaker is fully controllable from the app, allowing you to adjust volume, equalizer and more to your liking.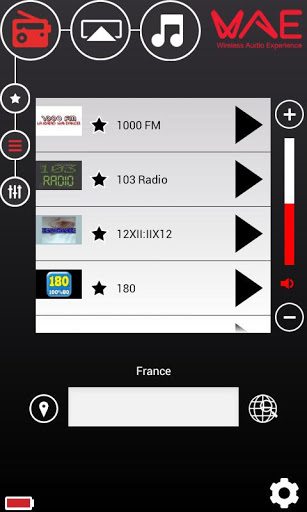 The app was able to use my 3G and Wi-Fi to browse from a huge selection of internet radio stations from around the world and it didn't take long to search through them for a few popular favourites such as Kerrang, Radio 1, XFM and countless others
Performance
This speaker is said to be able to run for 12 hours on mid volume, I was able to keep it in the garden and use it at a more than comfortable listening volume for about 6 hours, turning it up on occasion when something cool came on and overall I'm pretty impressed with the sound. Sure it's not going to touch my amp and custom speaker setup that I have in the house, but for something you can carry around with you it still packs a nicely balanced sound with a reasonable amount of bass. It's distortion free at high volume, but I expect that wouldn't do much favours for the battery life.
It's a great little product and it's size lends its self well for use at BBQ's, trips to the beach and anywhere else where you want to take your music with you, but don't want to listen to it on the pokey little speakers found in modern smartphones.
The only thing that concerns me is the construction, the device feels solid enough but the carry handle is moulded plastic and I'm not sure its all that strong. It's more than enough to carry it around a little, but I would exactly be running and jumping with it in my hand (not that you would need to of course). The chassis plastics are nice to look at, but they're not super strong and I fear it would smash if knocked over or bumped, not something I fancy testing, but something to be careful of.
That being said, I'm not expecting this to be an ultra durable, all terrain boom box, it's a stylish little number that is meant for relaxing and enjoy some music, which is something its highly capable of. The battery life is great, it's easy to recharge and it works not only with a wide selection of mobile devices but also anything with a 3.5mm jack plug, such as your iPod.
The RRP on this set is around £90 and that is far too high in my opinion, but it is on par with competitor products of similar spec, so maybe its just me that thinks that's expensive. However, this is a modern world we live in and a quick google can find you one from some popular online retailers for a little over £50 and as far as I'm concerned, that's pretty good value for money.
I don't have an award for the WAE speaker today, that's not to say it's bad in any way, because it's not, but it didn't blow me away either. If you can pick one up for around £50 and you need a fairly powerful, easy to use and portable music solution then you would be daft not to at least consider this stylish offering from Hercules.