HIS Radeon HD 6850 IceQ X Turbo
---
---
---
Andy Ruffell / 12 years ago

Overclocking
Some users are scared to overclock in the fear of ruining or breaking their components. Luckily, technology is on your side, which has led to graphics cards and similar components purely locking up or restarting if it's unhappy with the configuration.

To find the maximum overclock, we used MSI Afterburner to increase the clock speeds by 10MHz at a time, whilst relying on GPU-Z for clarification of the speeds and Furmark to test stability.

The results that we obtain can only be used as a guideline as to what this range of cards can do. Obviously every card has a different core among other vital parts, and therefore each card will give slightly varied results.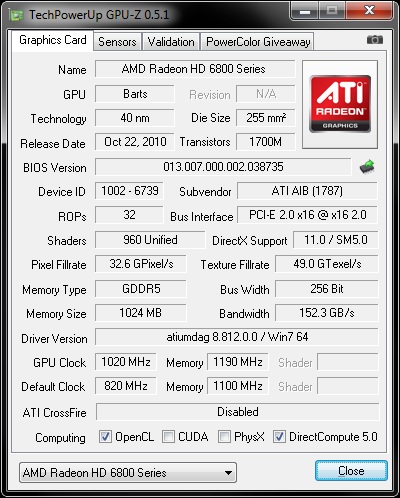 The overclocks that we were able to obtain at full stability were 1020MHz Core/GPU clock and 1190MHz Memory clock which from the pre-overclocked stock 820MHZ, the results were fantastic giving quite a big increase whilst maintaining stable results. Due to the added extra cooling on this card, temperatures remained low even when overclocked.