Hyper Light Drifter Collector's Edition Includes a SNES Cartridge
---
---
---
Alexander Neil / 7 years ago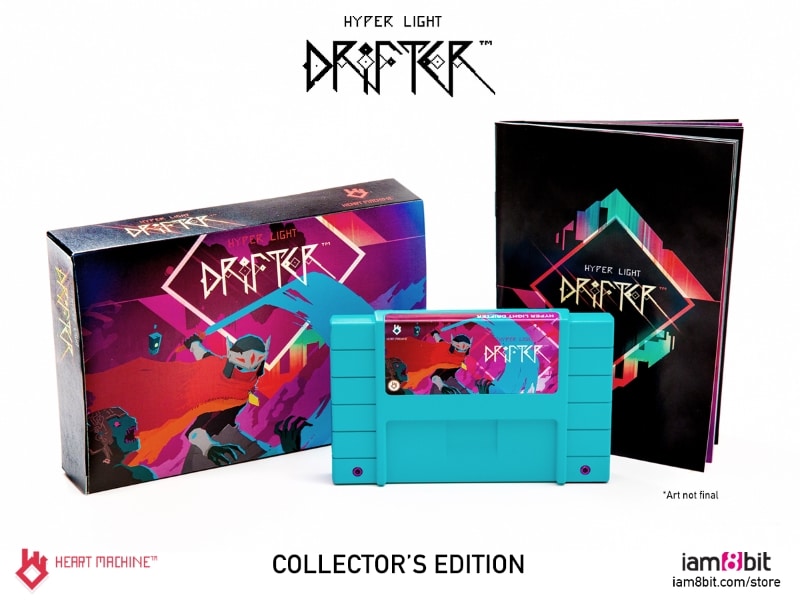 When it comes to indie games, far less of them get the fancy special editions that are becoming so popular amongst the publishers of triple-A titles. That said, Hyper Light Drifter's Collector's Edition looks to be pretty impressive and with less of the cheap branded tat that often fill such boxes. The most obvious feature of Hyper Light Drifter's foray into the realm of Collector's Editions is the cyan imitation SNES cartridge, which while not functional is certainly a charming accompaniment to the game's retro stylings. Also in the box is a 24-page printed manual, a 24-inch by 18-inch poster sporting the game's world map and of course, a code for the game that can be redeemed on your platform of choice.
The whole set seems to hark back to the yesteryear of gaming where gamers would eager pour over the manuals of their favourite games in order to glean just a little more information of what would face them in game, not to mention the scores of posters that filled the wall of many a gamer, both old and young. Unfortunately for gamers in Europe and Asia, the SNES cartridge is of the North American design, however, which may detract from the authenticity if placed with your collection.
Hyper Light Drifter itself has been out for some time now to very positive response, with gamers praising it's difficult but fair combat and beautifully fluid pixel artwork. Some have even described the game as the love child of SNES-era Zelda games and Dark Souls, although while you may die a lot, Hyper Light Drifter is very forgiving, with the player simply being returned to the start of the screen to try again.
If you want to get your hands on this neat collection, pre-orders open today, with a choice of PC, Playstation 4 and Xbox One versions available, with all versions priced at a reasonable $65. While the set may not be released until summer 2016, those who select the PC version will receive their download code right away, with PS4 and Xbox One players to receive theirs when the game releases on consoles. For those seeking even more Hyper Light Drifter goodies, iam8bit are also selling a vinyl soundtrack and art prints of the game.