ICY Dock Introduces EZ-FIT Trio Drive Bracket
---
---
---
Bohs Hansen / 6 years ago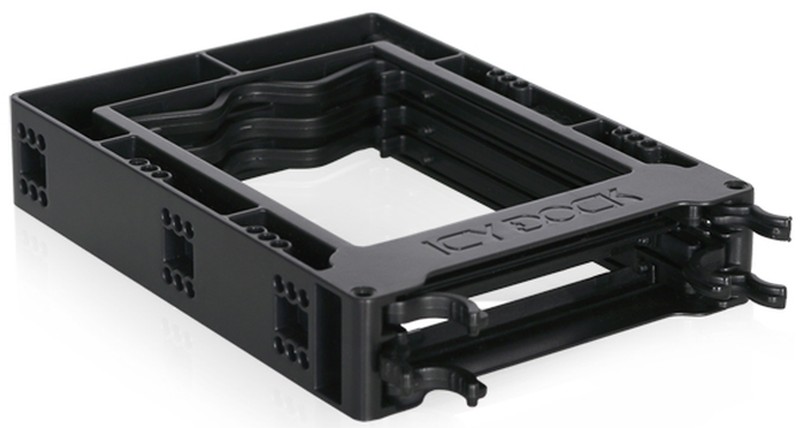 ICY Dock's newest product might seem very simple at first, and in a way it is, but it can be a genuinely useful one. We're talking about the EZ-Fit Trio (MB610SP) which in its simplicity is an internal mounting bracket that allows you to mount three 2.5-inch drives in a 3.5-inch slot. That's especially perfect for those mITX PC chassis' that only feature a single drive bay.
Most multi-drive bays are external and feature all sort of hot-swap and power features and sometimes even cooling fans. That drives the price up for those who don't need that, and it limits the usage to external drive bays. The EZ-Fit Trio goes another way and allows you to install a lot more drives through your chassis' internal 3.5-inch drive bays.

This is actually the first internal 3.5-inch bracket that will allow you to install up to three 2.5-inch drives, but they can't be higher than 7mm when you want to fit three in there at the same time. The bracket does also support larger 2.5-inch drives, but then you will be limited to two drives in one bracket. It supports both SSDs and HDDs, but personally, I wouldn't install HDDs in it. The produce more heat and such a tight setup might create issues down the road.

The three Slim-U drive trays feature tool-less drive installation and also comes with a flexible drive stabiliser at the back. This will make sure that the drive is seated properly at all time and that you won't get unnecessary vibrations from mechanical drives.
The one-piece construction of the main bracket makes it sturdy and durable. It is also highly flexible in regards to installation as it comes with a total of 60 different mounting holes (only four are needed). There are six sets on the side and three at both the top and bottom. This will make sure that you can installed and mount it in basically any chassis.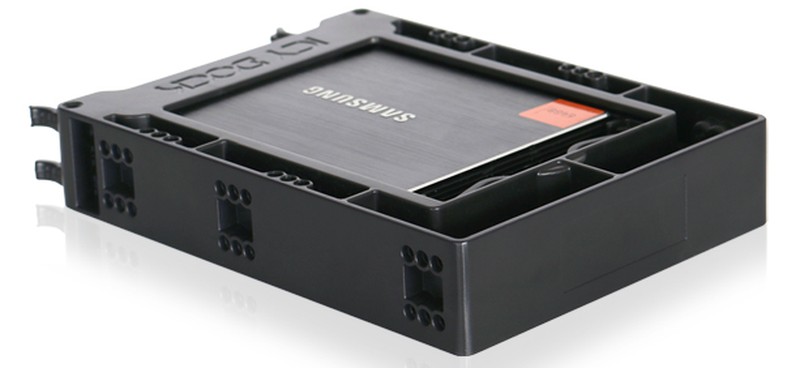 Feature Highlights
Durable one-piece design * Anti-Vibration design for improved reliability
Compatible with 2.5" SSD & HDD with 5mm to 15mm drive height
Fits 3 x 2.5" SATA SSD / HDD into a single internal 3.5" drive bay (for 5-7mm height drive)
Fits 2 x 2.5" SATA SSD / HDD into a single internal 3.5" drive bay (for 9.5-15mm height drive)
Quick release eject mechanism for hassle-free tool-less drive installation
Universally designed 3.5" HDD screw placement for maximum compatibility
60 screw holes provide maximum flexibility of installation