IMFT 3D QLC Yields Lower Than Expected
---
---
---
Samuel Wan / 4 years ago

Intel and Micron Struggling With 3D QLC Yields
With the rise of QLC in recent years, NAND is expected to grow cheaper than ever. Along with the developments in 3D NAND, SSD capacity should move along nicely. Unfortunately, every now and then, problems pop up. One such issue is popping up for IMFT 3D TLC. According to a new report, IMFT 3D QLC is suffering from lower than expected yields. This may hold back Intel and Micron SSD releases and supply.
The new report suggests that IMFT is facing issues with their 3D QLC yield. In fact, the yields are so bad that they are currently below 50%. They are hovering about 42% which is nearly half of what you would want. That is quite troubling as it severely restricts the supply of NAND chips. Given that IMFT is the joint venture between Micron and Intel, both will likely face issues using 3D QLC. The only consolation is that the data density of 3D QLC may help compensate. Because of its improved density relative to 3D TLC, IMFT does not need as many 3D QLC dies to have the same usable capacity.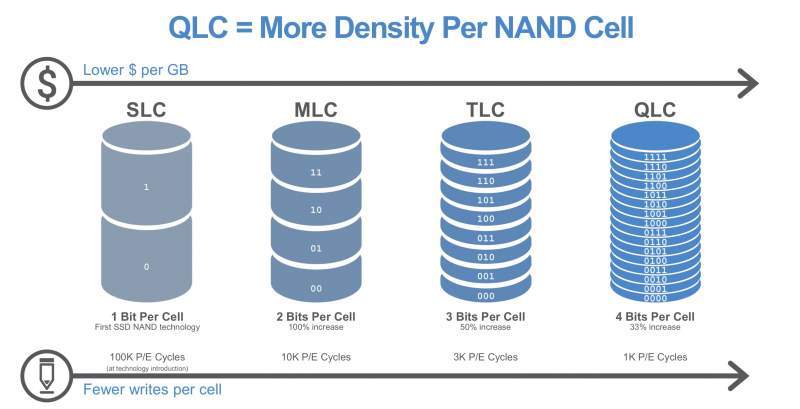 IMFT Constrained Supply May Lead to Higher SSD Prices
However, the report goes on to note that the $/GB may be worse with the new QLC. Due to poor yields, TLC is simply more cost effective right now. Unless yields improve, 3D QLC won't make financial sense. This may limit to a few niche product lines and restrict consumer availability. It will also mean that SSD prices won't drop as fast as expected. In fact, it may even cause higher prices. This may happen since fab capacity dedicated to 3D QLC isn't producing wafers. Combined with the reduction in TLC production due to the transition, the low supply can drive prices up.
For now, it's too early to say if prices will go up for sure. While SSD demand has been growing, the demand for QLC isn't quite there yet for traditional SSD use. Samsung, SK Hynix and Toshiba/SanDisk all have their own fabs and no issues have popped up yet. Depending on how much supply and demand there is, it is unclear what the market implications are right now. At the very least though, it looks like 3D QLC still has to mature a bit until it is ready.