AMD Aren't Drawing Level With Intel In Market Share!
---
---
---
Peter Donnell / 1 year ago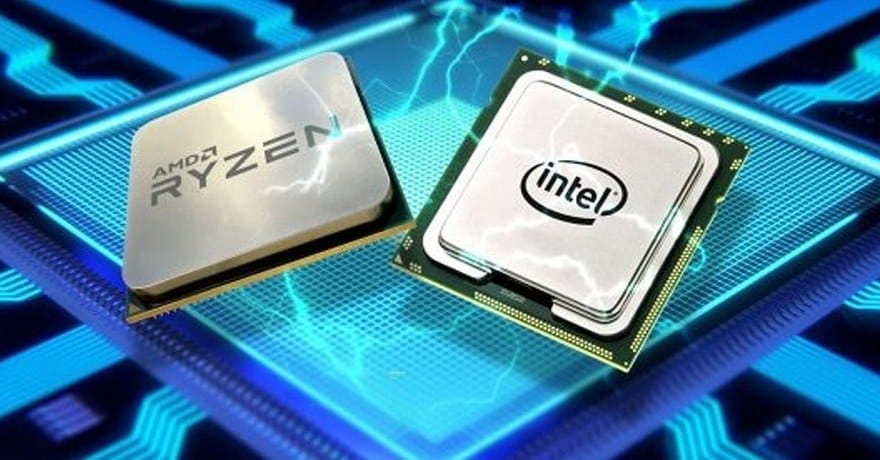 There are a lot of stories around the internet discussing the market share of both Intel and AMD. Of course, a lot of this focuses on AMD's gains in the market, and they certainly have by all means. However, independent reports suggest it may not be as big of a market share gain as first thought. That's not to say their overall sales haven't gone up significantly, as they certainly have, but a few weeks ago we reported that AMD are drawing level with Intel in terms of desktop CPU market share… that's really not the case though when you look at the new data that's just come in.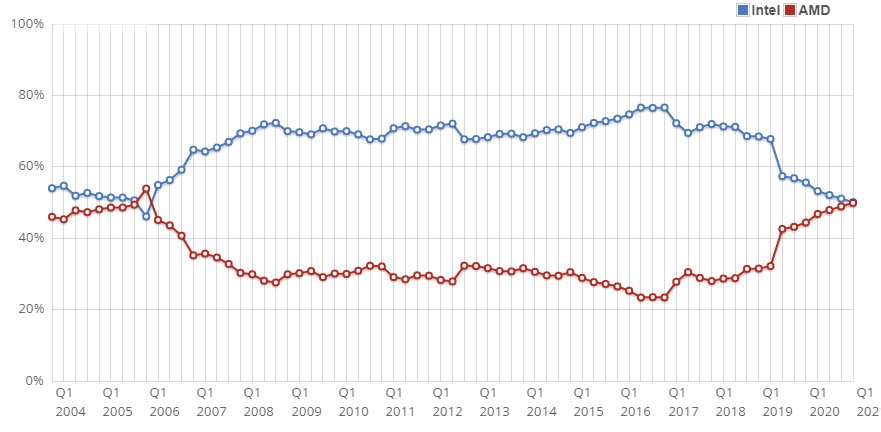 Intel Market Share
Well respected independent body Mercury Research have published their Q4'2020 CPU share report this week. As outgoing current Intel CEO Bob Swan stated during the last earnings call, "We believe we gained market share as PC CPU units grew an impressive 33% in the quarter." Mercury Research today issued independent numbers confirming that Intel is regaining share QoQ in both Mobile and Desktop markets.
As you can see, their Desktop CPU share is up 0.8 points, however, that's excluding IoT. Furthermore, they're pushing another 1.2% on mobile PC CPU share platforms too. That may not sound like much, but that's on top of their existing lead and we're talking about millions of units here.
Desktop CPU Share (excluding IoT): +0.8 points, QoQ
Mobile PC CPU Share (excluding IoT and Tablet): +1.2% QoQ
Intel Maintains 90%+ Share in Server, with less than a point of decline for Intel. So no evidence of claims on double-digit MSS gain by other companies just yet.
As you can see, Intel is still holding around an 80% share in the Mobile PC CPU market, excluding IoT and Tablet.

That statistic is still broadly the same for the desktop market.

And they're still dominating in the Sever market too.

Of course, in an ever-changing landscape and with new CPUs on the way from Intel and AMD, everything can change from one launch to the other. While many gaming PC users are switching to AMD, Intel is still a popular choice and with Z590 upon us and new Rocket Lake processors due to launch soon, this could again further push Intel forward in gaining even more market share. You also have to remember that the broader PC market is still very much dominated by Intel too, as sadly it's not all just about gamers and enthusiasts! Intel has a huge foothold in the OEM market and B2B market. Furthermore, Intel vPro still has that huge market to itself and is a big hit with enterprise markets as well.
So where is the truth? There's likely plenty of truth to the near 50/50 market share report from a few weeks ago. However, it's likely that results from Passmark represent the enthusiast and gaming sectors only and not the bigger picture of the complete desktop CPU market.
So when all is said and done and it comes to the desktop CPU market, where is your allegiance? Do you fall under team blue or team red or like me, are you simply after the very best you can get for your money at that particular moment in time? Because to me, that's the most important factor when buying new hardware, and of course if you can get stock, which generally hasn't been an issue for intel. Let us know in the comment section below where you sit in the market, even if it just gives us a better picture of the enthusiast and gaming section of the market, it's always good to see what our readers think.