eTeknix Go Inside The Red Bull Gaming Sphere
---
---
---
Mike Sanders / 5 years ago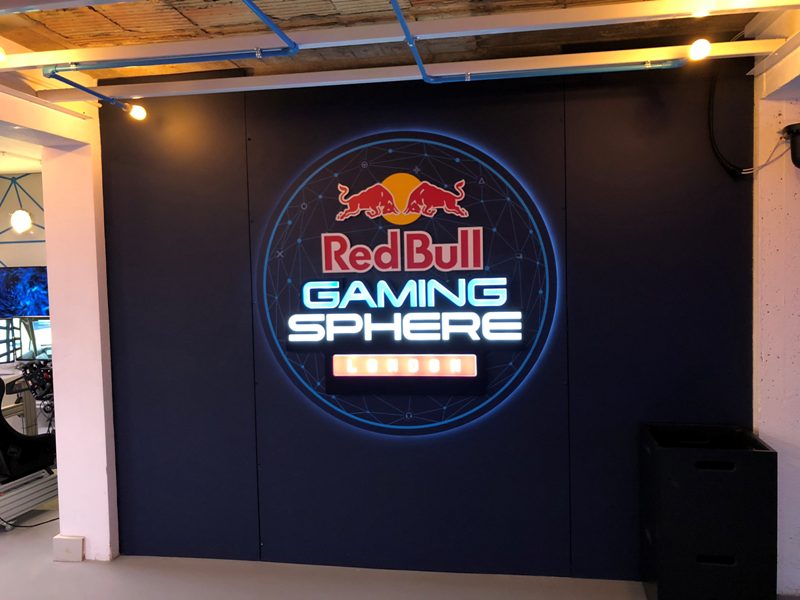 Inside the Red Bull Gaming Sphere
Earlier this year, Red Bull announced the opening of the Gaming Sphere in London. The UK's largest and arguably only center devoted specifically to the growing world of eSports and gaming. Located just a short distance from the center of London, the Red Bull Gaming sphere was designed to be the UK's home of gaming. Something which we feel they have achieved with some distinction.
At this point, you might be wondering if you have to be a professional gamer to use or visit the Gaming Sphere. Nothing could be further from the truth though. The Red Bull Gaming Sphere was designed to cater to everyone who has an interest in gaming. You don't have to be a competitive gamer to get in, let alone to have a look around.
The Red Bull Gaming Sphere runs off a very simple philosophy. If you have an interest in gaming, you're welcome to visit us to have a look around. They even let us in at eTeknix! Well, after all, we did build a system to be used in the Sphere.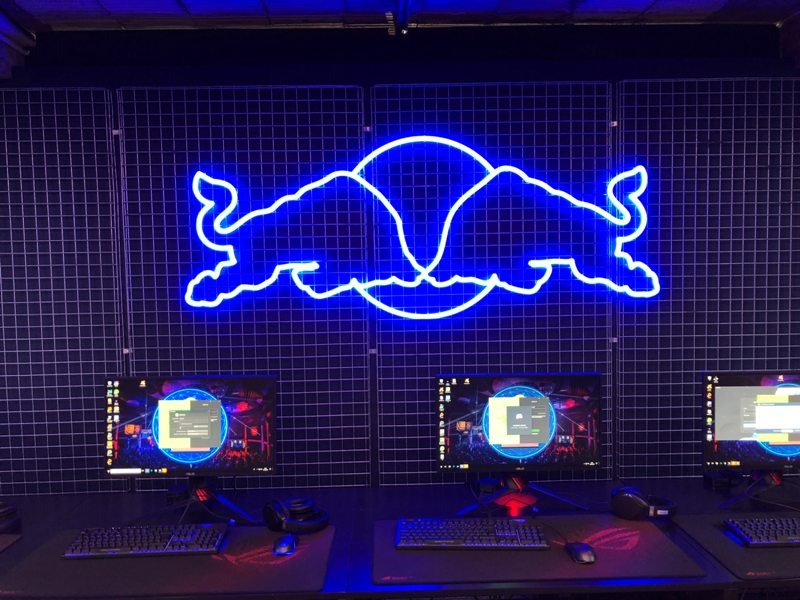 Our involvement in the Red Bull Gaming Sphere
A little over a month ago Red Bull in partnership with ASUS, Thermaltake, and ADATA sent us all the parts necessary to construct our very own system for the Gaming Sphere. You may recall at the time that we were highly impressed with the components and even released a time-lapse video of the build. We don't, of course, expect you to remember that since we provide you with so much awesome video content, but as a reminder, we have included the video below.
For fans of our video content, it even includes Andy wielding his machete box cutter to which we currently operate a betting pool for when he eventually cuts himself with it.
Inside the Gaming Sphere
So what exactly is inside the Red Bull Gaming Sphere? In a nutshell, it is the perfect place for any enthusiast for gaming or even just PC builds and components. With some of the best brands on display here, even the most ardent gamers can't fail to notice the quality products on display here. Such brands include ASUS, Thermaltake, ADATA, Noble Chairs, Intel, Nvidia, New Egg, ASUS ROG and many, many more!
Oh yeah, and there's a little bit of Red Bull stuff here there and everywhere. Well, it is their Gaming Sphere after all.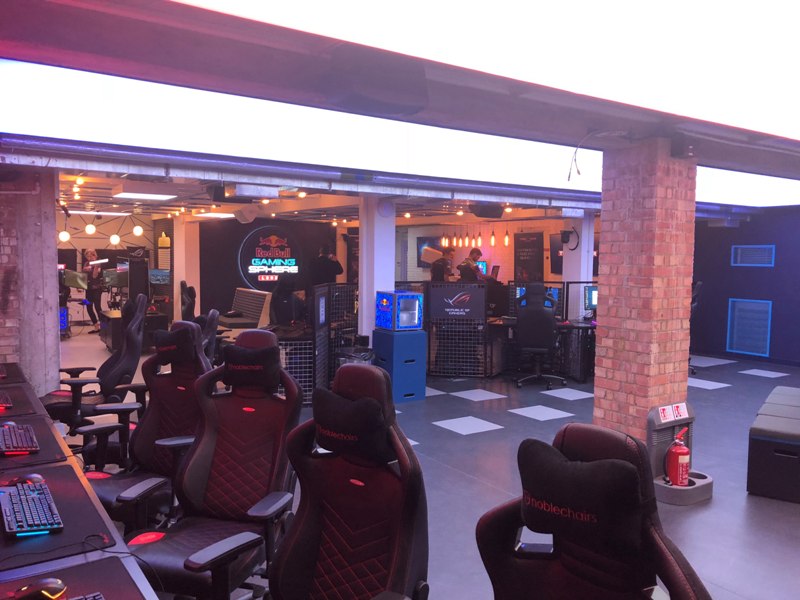 Within the Gaming Sphere, there are literally banks of computers. These are all available for you to not only check out but to try yourself. Each of these has their own seats and individual keyboards with headsets to make sure you can fully immerse yourself in the experience. As you can expect every PC build at the Gaming Sphere is of exceptional quality and performance to ensure you the best gaming experience possible.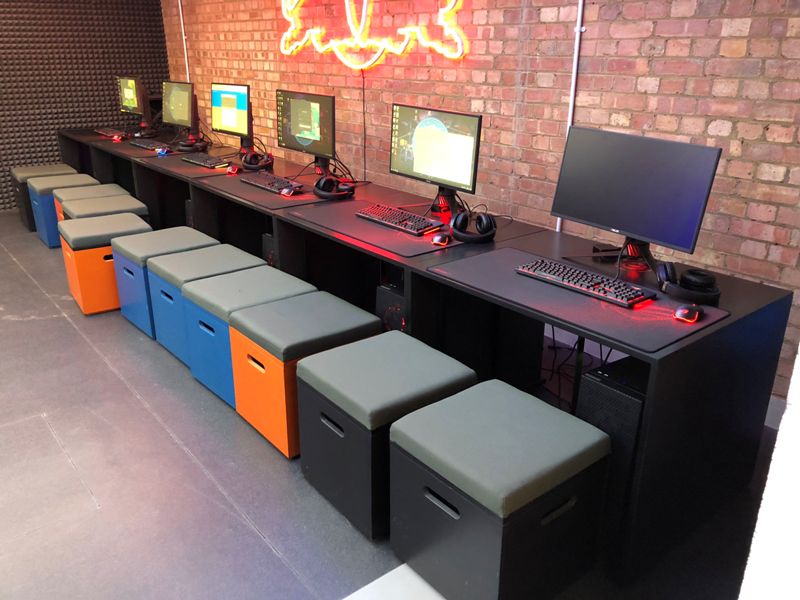 With so many powerful systems on display, you're probably going to want to have a look at them. It's, therefore, a smart decision that the vast majority of systems used have transparent side panels to allow you to see exactly whats inside them. Better still you get to see all that glorious RGB lighting in its full flow.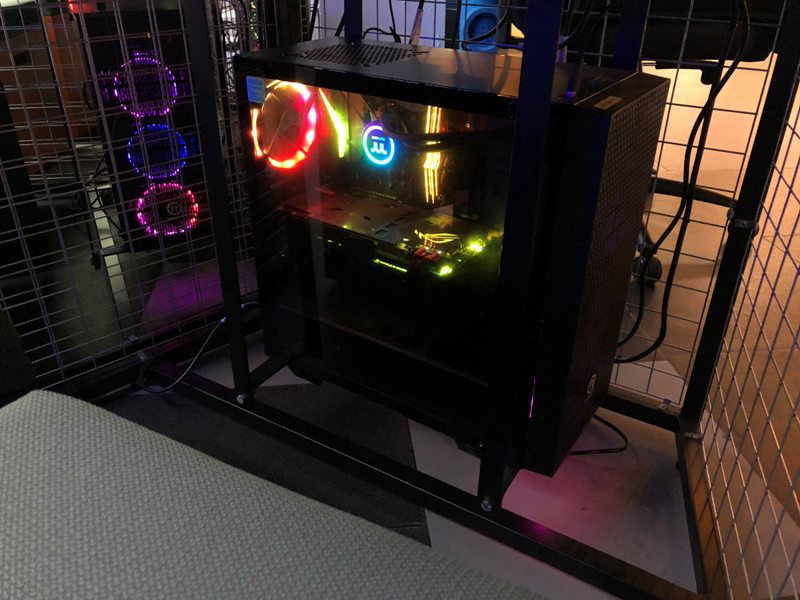 Video Footage from inside the Gaming Sphere
While looking around the Red Bull Gaming Sphere, we couldn't help but take some video footage to show off whats on display. If a picture speaks 100 words then a video must surely speak a 1000. Check it out below if you want to get a better idea of how the Red Bull Gaming Sphere is laid out and what you can find.
Racing Fans Get To Try Immersive Gaming
Hardcore fans of racing simulators will no doubt be highly impressed with the immersive gaming systems the Red Bull Gaming Sphere has. The set-ups have been provided to give a truly realistic experience. In addition, there is even a leaderboard where the best times achieved can be submitted.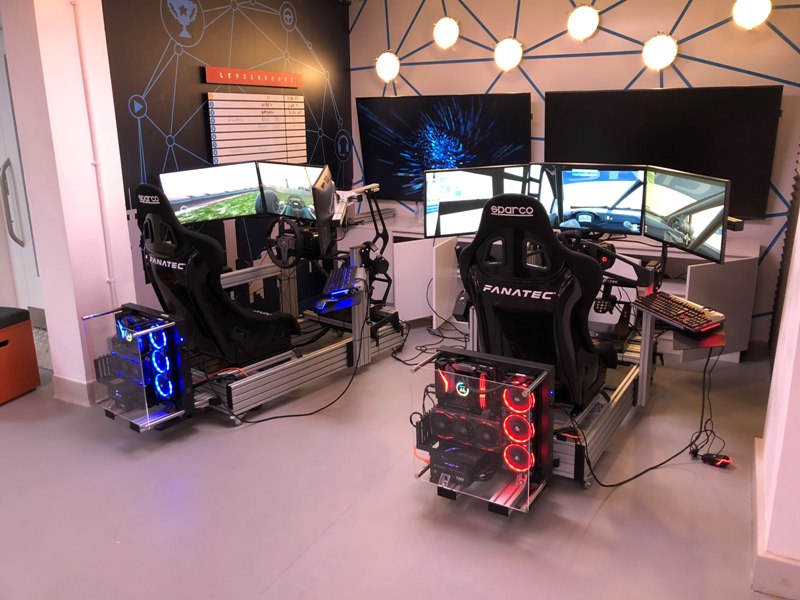 As you can expect, such realistic gaming requires quite a powerful system to run it. If you can manage to draw yourself away from trying to sit in the driving seat, the set-up also has the PC system clearly on display for you to admire. As you can see in the picture, these are some incredibly powerful systems used.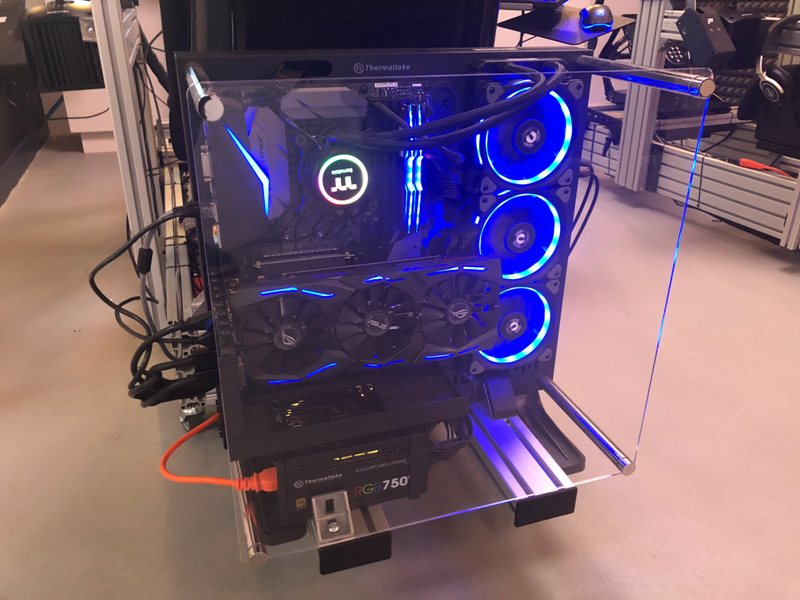 The driving simulators include everything a fan of racing could possibly want. Not only do you have a triple monitor set up to give you a fully immersive experience, but you also have a manual gear selector, handbrake, steering wheel, peddles and, of course, a racing seat to operate it all from.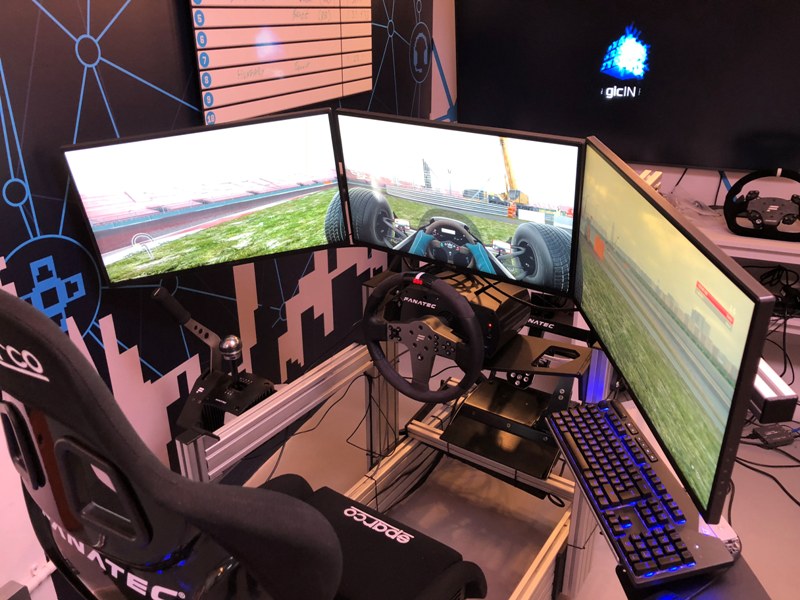 ROG Feature This Week At the Red Bull Gaming Sphere
We make little secret of the fact that we are big fans of ROG (Republic of Gamers) products. As such, we timed our visit to check them out. Particularly since they will be featuring some of their products over the coming weeks.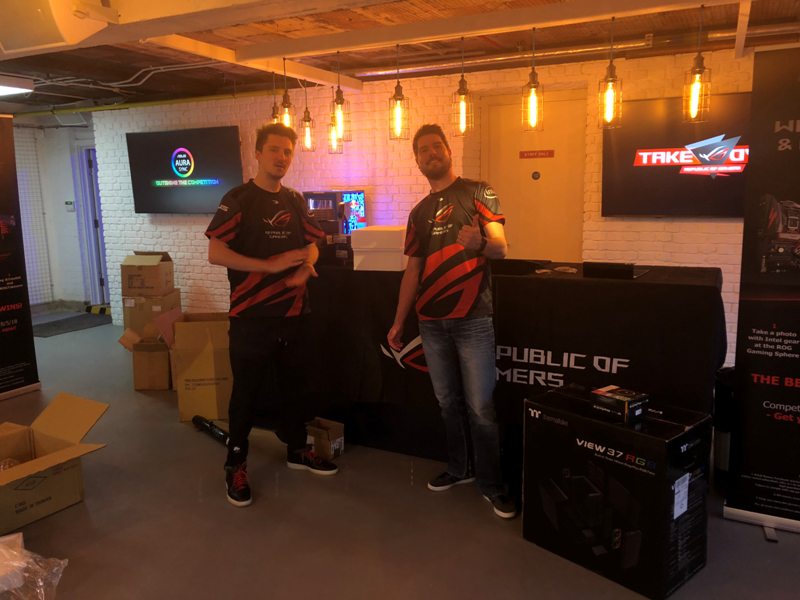 If you are therefore more of a fan of the technical side rather than the gaming, it is still well worth a visit. The Red Bull Gaming Sphere is very open to manufacturers. It allows them the opportunity of putting their wares on display. As such you can have a good up-close look at some of their latest or upcoming releases. Even better, you are also able to talk directly with members of their staff to ensure you get any help or advice you need.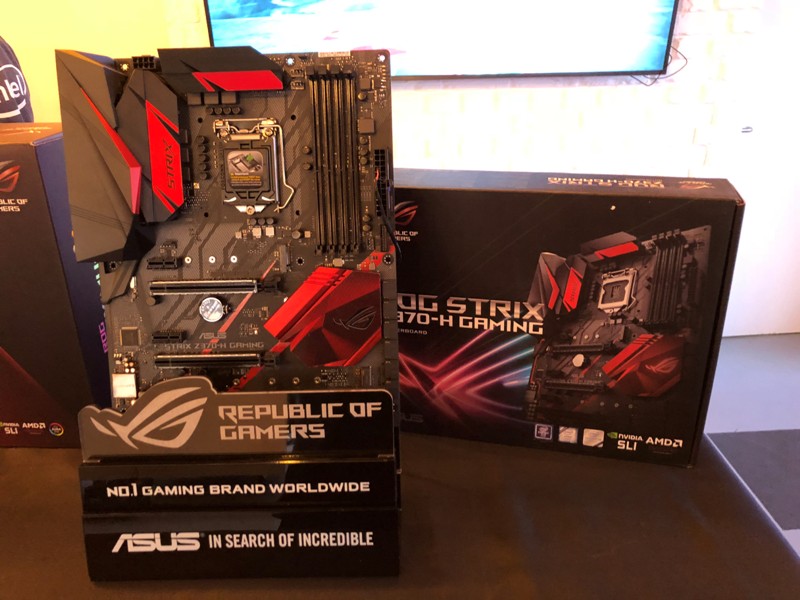 Is it worth visiting?
We at eTeknix cannot recommend the Red Bull Gaming Sphere enough. If there is such a thing as a spiritual home of gaming in the UK, this is definitely it. There is plenty to see and do and all in a friendly environment. As such, this should appeal to fans of everything to do with PCs or gaming. The Sphere itself is a great size and has plenty of products on display.

As above though, this isn't all about gaming. A such, even fans of technology should find themselves in very comfortable surroundings. That being said though, even the most ardent tech fan is going to struggle to resist the temptation of all the gaming components on display. There is honestly something for everyone here.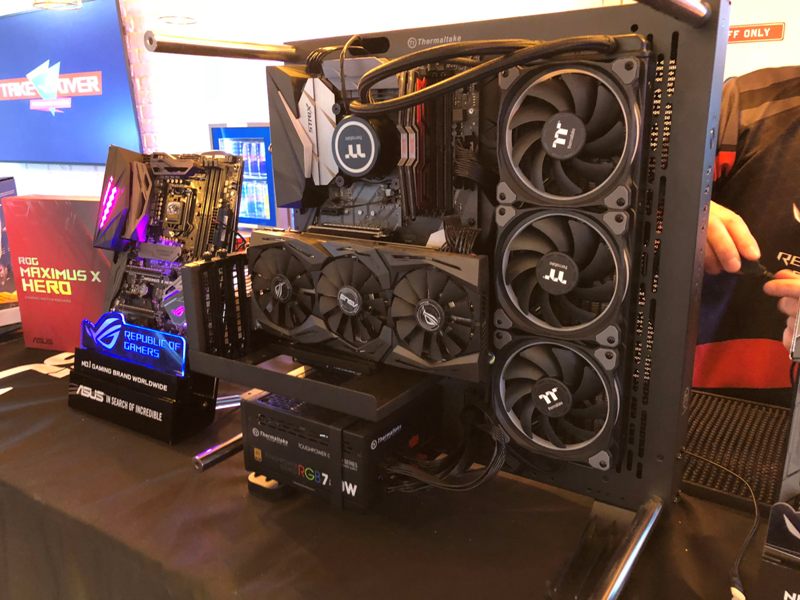 Can I visit it too?
As above, the Red Bull Gaming Sphere is open to all. If you just happen to be in London, it is located right in the center and isn't hard to find. We would recommend, if you are making a special trip, checking out the official website first. Particularly for any special events it may be hosting. Trust us, it hosts plenty of those, but it is also open for general visits.
You can visit the official Red Bull Gaming Sphere Website in the link here.
What do you think? Are you impressed with the Gaming Sphere? Do you plan to take a trip yourself? Have you already been and if so, what did you think? – Let us know in the comments!