Tesla Crash Test Fire Criticised for Being "Faked" (Or Misleading At Best!)
---
---
---
Mike Sanders / 5 months ago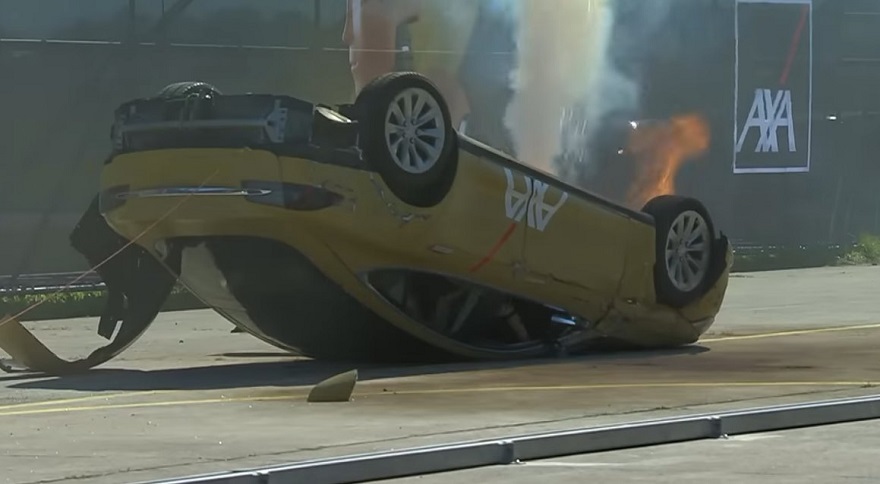 One of the biggest concerns when it comes to electric cars is the rather catastrophic effect a damaged lithium battery unit can have. There are, after all, plenty of videos showcasing such things (predominantly with Tesla's) on the internet. – Following a report via NPR, however, a major insurance firm is currently under merely metaphorical fire for conducting a Tesla crash test in which the car subsequently burst into flames.
Shocking stuff right? Well, not really! – Why? Well, in a nutshell, while the crash itself was real, the fire was not!
Insurance Firm Stages Tesla Fire
In the video above, insurance firm AXA wanted to demonstrate a Tesla crash and specifically the rather problematic issue of a subsequent battery fire. It seems, however, that for reasons either deliberate or by accident, the event has predominantly been misunderstood and/or misinterpreted by its viewers – You see, the Tesla in this video doesn't actually have its batteries in place. They were (rather sensibly) removed prior to the crash test.
If that was done though, then what was the point of it in the first place? Well, the fire is a fabrication to act as a simulation. – The problem though is that AXA (again by accident or not) didn't make this distinction particularly clear which, through a casual viewing of the video, clearly seems to indicate that electric cars (and Tesla's in this particular scenario) will almost automatically burst into flame following a collision.
This is even despite the fact that most research indicates that while lithium fires are, of course, quite spectacular, the likelihood of a crash leading to a fire is, more or less, about the same between an electric vehicle or a combustion-engined one. The key difference is that the explosive nature of electric car figures just typically leads to better internet food!
While AXA has subsequently apologised for the misleading nature of the video, however, it will be interesting to see if or how Tesla may choose to respond.
What do you think? – Let us know in the comments!