Intel Arc A730M Laptop Benchmarked! – Falls Flat Against the Nvidia 3060M
---
---
---
Mike Sanders / 2 years ago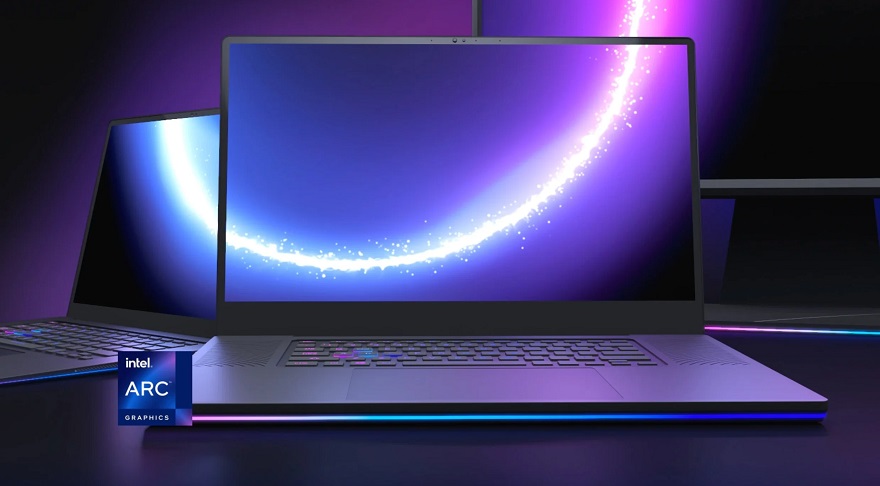 Although we are still yet to see any sign of them on Western shores, the first Intel Arc graphics-powered laptops have officially been released in China. – It has, of course, been known for some time now that this was the region that would see their debut, and, by proxy, it was hardly surprising that this would be one of the first sources of reviews/benchmarks to finally give us an answer as to how good, or bad, they might be!
So, with the Intel Arc A730M tested, what's the verdict? Well, based on what we can see here, it's not very good! – In fact, it barely even trades blows with the Nvidia GeForce RTX 3050M!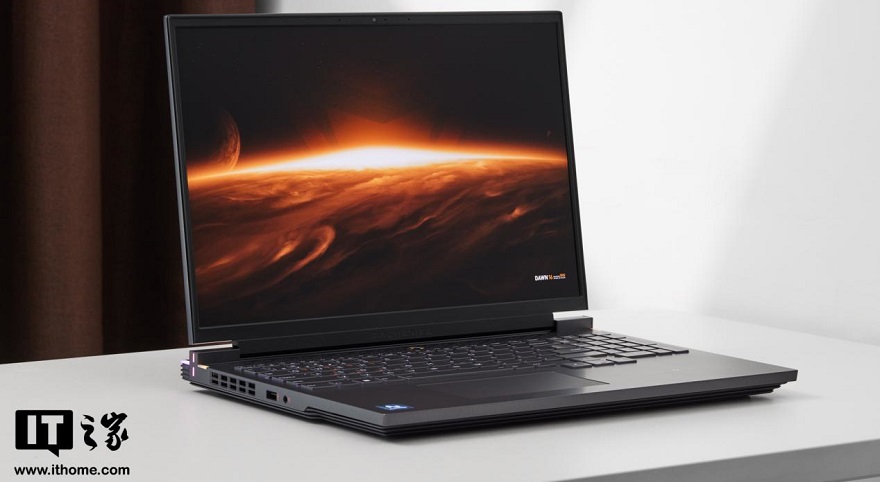 Intel Arc A730M Laptop Benchmarked!
With the Intel Arc A730M's release, it's hardly surprising that multiple sources in China have been checking it out, and following a report via Videocardz, the overall verdict on it isn't good! – There is, of course, the caveat that it's very likely that these benchmarks have not utilised the latest driver, but even then, the general consensus seems to agree that despite lacking it (with subsequent testing) the difference offered was either negligible or non-existent. – In other words, what we have here does look pretty accurate!
So, what do we have here? – Well, in terms of outright 'grunt' in synthetic benchmarks (more technical workload orientated), the A730M doesn't do too badly. In fact, in a number of tests, it actually beats the Nvidia 3060M by a pretty notable margin.
When it comes to gaming though, boy does it get rough for Intel!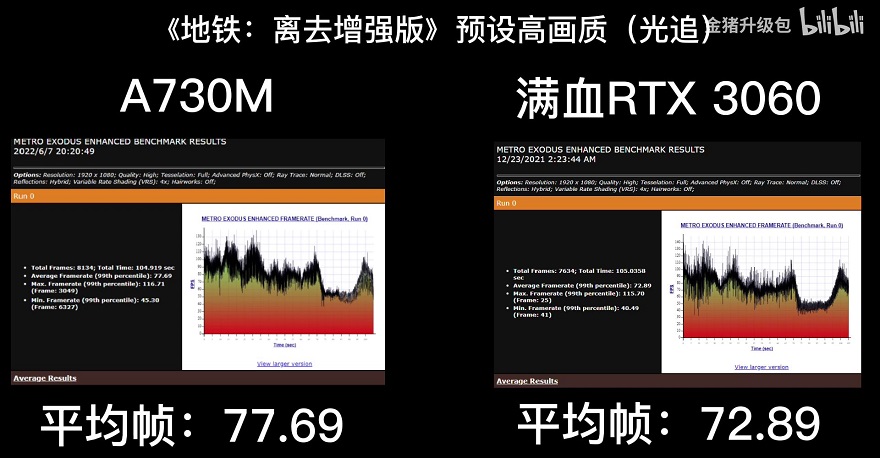 Gaming Benchmarks
Things get off to a pretty poor start with several of the review sources claiming that upon attempting to even boot up games, they would be instantly met with a crash. Information that again adds to the growing (and worrying) mountain of rumours that Intel has been having huge problems when it comes to their drivers and overall compatibility. – A key theory as to why Arc (both in laptops and desktop graphics cards) have been so delayed!
For those games that did allow testing, however, the results show that the Intel A730M fell around 25-30% below the comparative performance offered in the Nvidia 3050M with other tests providing even more worrying results!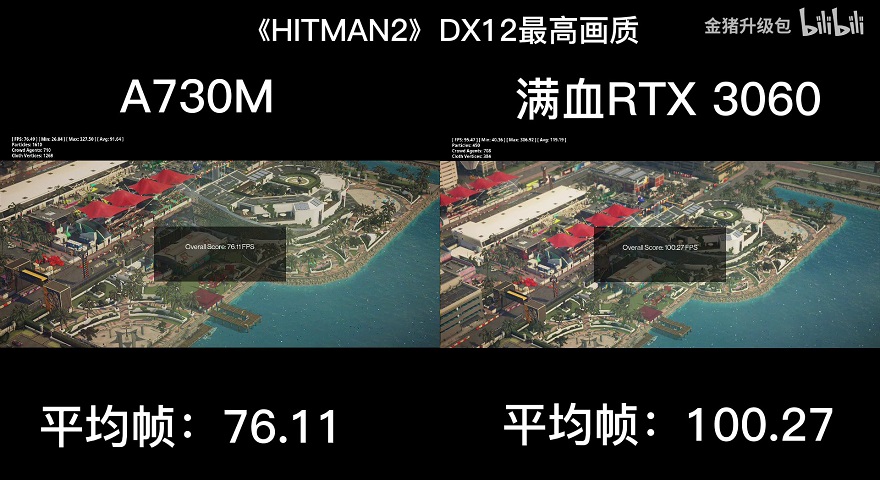 One source decided to directly compare the A730M against the 3050M and, as you can see for yourself below, Intel's graphics in many instances barely warrant comparison at all. – Just to give you one example, in CS:GO (hardly a demanding title) the A730M was outperformed by the Nvidia 3050M by a margin of circa 200%.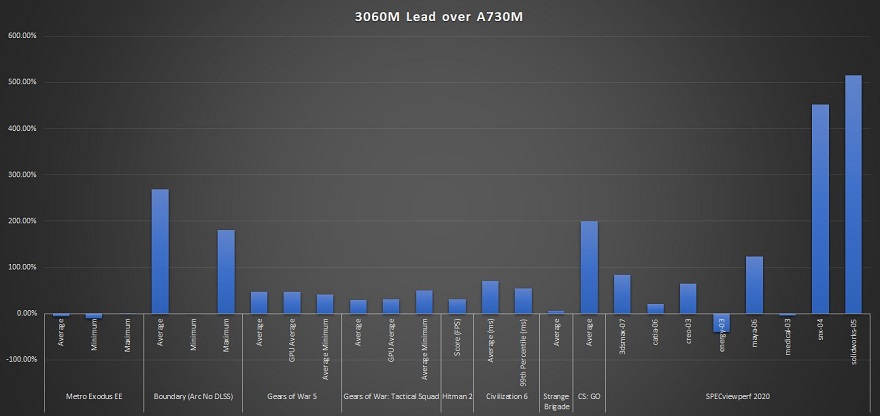 What Level IS This Graphics Card Performing At?
Based upon the results provided in 3DMark Fire Strike and Time Spy, although this is clearly just my own opinion taking other confirmed results off seemingly similarly specced laptops, it would appear that the Intel Arc A730M performs roughly on par with something like the 2060M or 2070M.
No, in the grand scheme of things, this isn't outright awful. For a brand new graphics card in a brand new laptop though?… With it looking exceptionally unlikely that these models from Intel are going to be cheap, it's looking very difficult to make a case for why you should buy a laptop with this.
And I'm afraid in terms of its likely desktop counterpart, it may get worse!

This Could Be Even More Worrying!
We'll freely concede that with new drivers and a bit more time, the performance of the A730M might be better than what's being indicated here. – If it's not, however, then we have to start worrying quite a lot about its desktop counterpart.
The A730M is speculated to be based upon one of the top-tier models from their upcoming dedicated desktop series. As such, if this is anything to go by, the best Intel has to offer here may only just about compare with the worst of Nvidia's 3000 and AMD's 6000 series. – And why is this a problem? Well, lest we forget that both AMD and Nvidia are set to launch their new graphics cards within (give or take) 4 months' time!
Put simply, by the time Intel's desktop graphics cards do arrive, they might not just be a generation behind in performance, but very shortly after, they might be two generations behind! – That leaves them with a much greater gap than, I think, anyone was expecting. And overall, it's worrying stuff!
What do you think though? – Let us know in the comments!