Intel Announces Cascade Lake-AP Xeon with up to 48-Cores
---
---
---
Ron Perillo / 5 years ago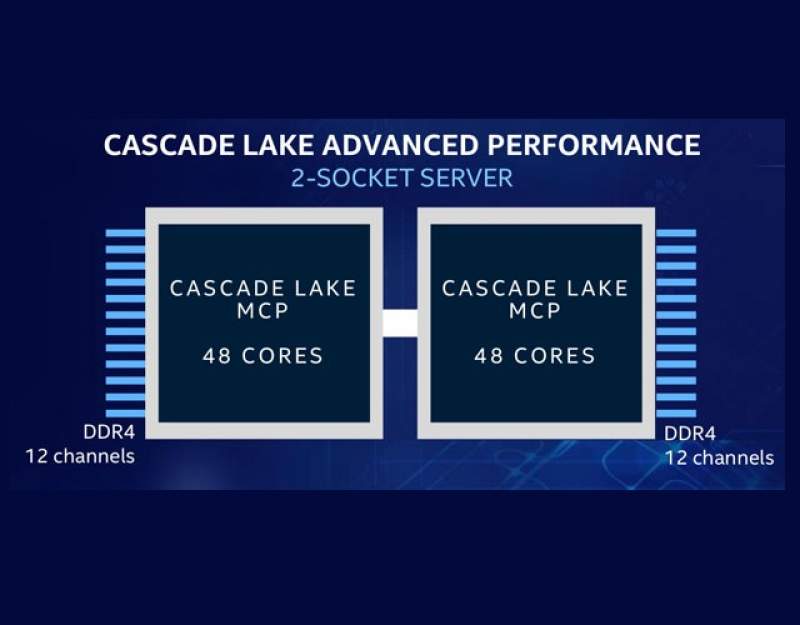 Intel's Answer to AMD's EPYC
Intel is announcing the upcoming launch of their new Cascade Lake-AP Xeon processor line. These are set to up the ante against AMD EPYC's 32-cores, bringing the core-count battle back to Intel's side. While Intel is launching their Cascade Lake-SP line soon with processors up to 28-cores, the new Cascade Lake-AP is going to push that to 48-cores.
AP in this case of course, stands for "Advanced Performance". According to Intel, expect up to 3.4x Linpack performance and up to 1.3x in Stream Triad versus AMD's EPYC 7601 CPUs.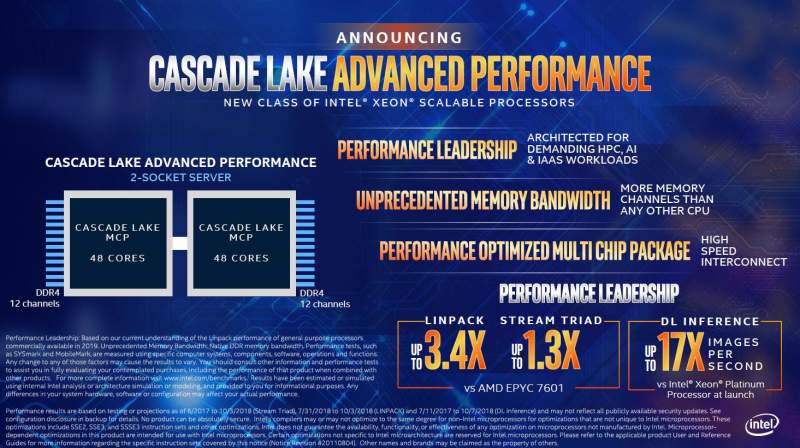 These Cascade Lake-AP processors support up to 12 DDR4 channels per CPU. So on a dual-socket server, it could be up to 96-cores and up to 24 DDR4 channels in total.
Glued Together Intel Cascade Lake-SP?
The funny thing about this processor is that it is using a multi-chip package (MCP). Something which Intel used to make fun at AMD for doing. In fact, they called their EPYC CPUs "glued together" and claims that it has inconsistent performance.
So in order to reach the 48-core count, Intel appears to basically glue together two of their Cascade Lake-SP 24-core CPUs. The company has also been somewhat quiet about the details of these new Cascade Lake-APs. Obviously, in an effort to downplay this part.
The lack of details also makes the 12 DDR4 channels intriguing. Right now, AMD's EPYC offers 8-channels of DDR4. Meanwhile, the Xeon Scalable and Xeon Cascade Lake-SP offer 6-channel DDR4. With the additional core count, this will undoubtedly run hot as well. Plus, Intel will need to be competitive with the PCIe lane count vs EPYC as well. So this suggests, that it will most likely not use the same socket and not share the LGA3647 with Cascade Lake-SP.
We would just have to wait and see.