Intel Core i5-7600K Kaby Lake Processor Review
---
---
---
John Williamson / 6 years ago
Introduction
---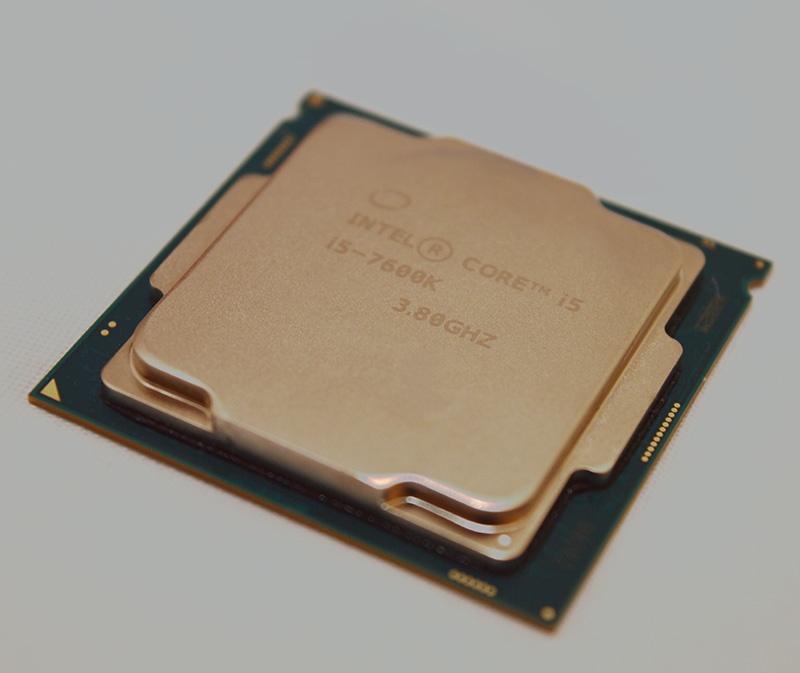 Intel's Core i5 processors have been widely used by PC gamers because engines didn't really take advantage of the additional threads. Therefore, it seemed appropriate to select the significantly cheaper CPU and put the extra money towards a more powerful graphics card. In recent years, game engines have begun to use more than four cores in a proficient manner, but it's still not widespread. Unless you're interested in streaming, video transcoding or other tasks, the i5 variant is always a solid investment. The Skylake-based i5-6600K is a superb CPU for gaming and employs a 3.5GHz base frequency and 3.9GHz Turbo. Sadly, the product's value proposition wasn't the same as the Haswell i5 and often hovered around the £190-220 mark. Whether or not this price is warranted remains to be seen, especially since the i7-4790K could be procured for £249.99.
As you might expect. Intel has decided to introduce a new range of processors which replace the existing Skylake models. The i5-7600K isn't a huge departure from the i5-6600K and has the same TDP, level 3 cache, 4-core/4-thread configuration and relies on the LGA1151 socket. This time, the base frequency has gone up by 100MHz while the Turbo boosts to 4.2GHz. Additionally, the official memory support is DDR4-2400 although this isn't really noteworthy because memory kits tend to utilise higher XMP profiles. The i5-7600K incorporates Intel's HD Graphics 630 and I'm interested to see how it compares to the HD Graphics 530. Judging by the similar specification, I doubt the performance increase will be enough to make those with a current i5 model upgrade in a hurry.
Specification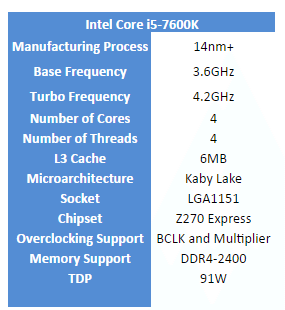 What's New?
The Kaby Lake microarchitecture is based on a 14nm+ manufacturing process and employs a few tweaks to achieve higher frequencies compared to Skylake. In particular, the improved fin profile, transistor channel strain and integrated design contribute towards the enhanced stability. Unfortunately, Intel hasn't continued with their Tick-Tock policy for the time being which means there's no IPC changes or die shrink.
Also, Kaby Lake is the first processor series to natively support Intel's Optane technology which is a revolutionary form of non-volatile, affordable, high-density memory with speeds up to 1000 times faster than traditional NAND. Additionally, the company's 3D XPoint offers a staggering 10 times the capacity of DRAM with the same surface area while exhibiting much lower latency. Even more impressive, the non-volatile memory can recover lost data during power outages and protects your sensitive data. The Optane technology design is based on submicroscopic layers of materials which are sliced into columns and contain memory cells. These layers attach via a cross point structure of perpendicular wires.
Intel decided to vastly improve Kaby Lake's video capabilities and make the range more suitable for 4K content. The 7th generation processors support HDCP 2.2, Microsoft PlayReady 3.0, VP decoding and 4K HEVC 10-bit decode/encode. Of course, the 1080p HEVC decode/encode carries forward from Skylake. While this is a welcome bonus, it's not something that's going to cause major excitement in the desktop market.
DISCLAIMER: This is a retail CPU that was not provided or supplied by Intel Corporation. Therefore, as we have no NDA with Intel, we are available to publish any content we see fitting.