Intel Core i5 9600K Spotted On GeekBench
---
---
---
Samuel Wan / 3 years ago

Intel Core i5 9600K Benchmarked On GeekBench
Last month, we got our first glimpse of what the new Whiskey Lake chips from Intel will look like. After a strong showing from AMD with Ryzen and Zen, Intel is getting their counter strike ready. From the new lineup, we've already seen a lot of the Core i7 9700K. We also have the new Core i5 9600K to view as well. Ahead of the launch, the chip has popped up online. Someone has gotten ahold of the i5 9600K and run it through GeekBench.
First up, the Core i5 9600K is meant to succeed the older Coffee Lake Core i5 8600K. Due to a lack of architectural and process updates, the biggest differences are in the stock clock speeds. The newer chips clocks in at 3.7 GHz base and 4.6 GHz boost. Coffee Lake is a bit slower at 3.6 GHz base and 4.3 GHz boost. Furthermore, both are six core, six thread processors with 9MB of L3 cache. Finally, the new chip does boast some hardware mitigations against Spectre and Meltdown.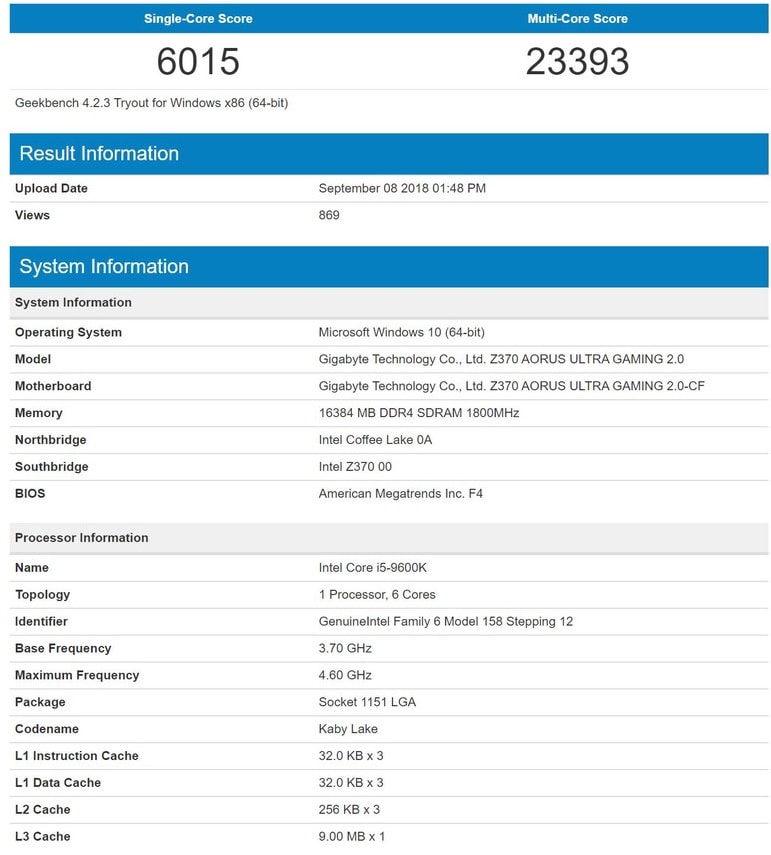 Whiskey Lake A Performance Bump Over Coffee Lake
For performance numbers, we have a nice GeekBench run. For multithreaded operations, it scored 23,393 and single threaded, it got 6,015. That is just about 2% and 4% improvement over Coffee Lake and well within what you can expect out of overclocking. As expected, it is nothing really exciting to come out from Intel. It looks like the real difference will reside in pricing, with the newer chips likely to cost a bit less. At the very least though, it will further cement the single thread IPC lead Intel retains, however diminished, over AMD.
Overall, Intel is making do with Skylake microarchitecture and 14nm. As it stands, the 9600K will have to compete against the stellar Ryzen 5 2600(X) largely just on price. The only saving grace is with a new Core i9 9900K at the top, mid-range prices may go down a bit and make things more interesting. After the excitement last year with the new hexacore Ryzen 5 1600(X) and Core i5 8600K, the midrange is appearing to settle down at a new normal.