Intel i5-13600K Raptor Lake Engineering Sample Found in China Performance Tested
---
---
---
Edgard Poitou / 10 months ago
A Chinese reviewer Enthusiastic Citizen has managed to get their hands on an early pre-production sample of one of the upcoming Intel Raptor Lake processors. This particular version is reported to be labelled EarlySample3 (ES3) which stands for one of the very last processor samples before hitting the shelves, right before the QualificationSample step. We can expect such a later stage pre-production sample to achieve CPU clocks very close to the retail samples, within a small percentage. The reviewer has not shared any picture of the processor in itself, but if their allegations are verified, this gives a good idea of the final product.
The CPU in question features 6 performance cores and 8 performance cores, for a total of 14 cores and 20 threads, a substantial upgrade over its AlderLake predecessor, at 10 Cores and 16 Threads. As a small reminder, the BigLittle configuration patented by Intel states that each Performance (P) core has 2 threads and runs higher clocks compared to the Efficient (E) core's single thread and running lower clocks, but having a way higher power efficiency. It also features a total of 800KB of L1 cache, 20MB of L2, and 24MB of shared L3.
The reviewer (ESCM) announced the 13600K EngineeringSample3 ran frequencies of 4.9GHz on the P cores and 3.9GHz on the E cores, and expected the final retail version to have higher clocks, of 5.1GHz on the P cores and 4.0GHz on the E cores. As such, they slightly overclocked their sample to test the performance to better reflect the retail specifications.
In terms of performance, their sample managed to score a great score on CPU-Z, with 830 points in single core, and over 10,000 points in multi-core. For comparison, the last generation model (12600K) scores respectively 768 and 5,600 points. This corresponds to a +8% performance improvement in single core, and +80% in multi-core.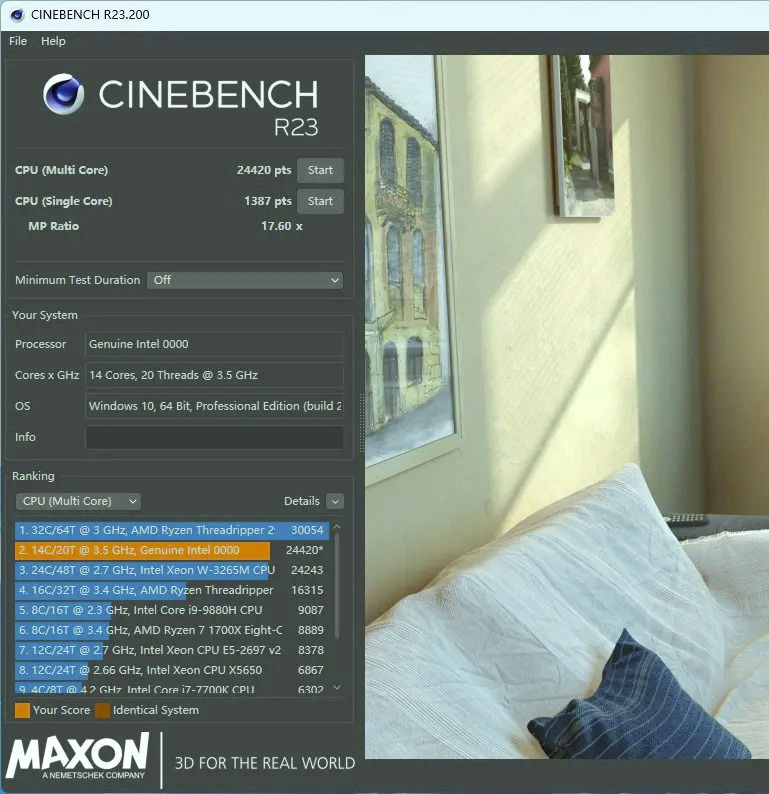 On Cinebench R23, the i5-13600K ES3 got 1,400 points in single-core, and over 24,400 points in multi-core, corresponding in a 40% improvement in multi-core and a decrease of 26% in single core.
The difference between the two benchmarks is hard to explain but we can safely assume the Windows drivers have not yet been perfected, nor the motherboard BIOS has. Also, these are Industry-Standard benchmarks and Intel has been very recently meddled in an affair about cheating in benchmarks and using benchmark specific improvements, with their ARC graphics cards. (link) This 80% performance improvement in multi-core on CPU-Z only is suspicious to say the least. We can question the legitimacy of it, and this is the reason why we test many different applications and test scenarios to benchmarks our CPUs.
In any case, we can probably expect a very respectable IPC improvement of 7 to 10%, which would result in a 40% performance increase in multi-core considering the increase in core count over the last generation.
ECSM reported a package power consumption of 170W under their overclock, and they expect the final product to reach 160W at most at the default clock speeds. This is slightly above the 150W of the 12600K but this is still within reason. Intel also allegedly bumped the power boost limit up to 225W. This is very high and even if this limit is only hit rarely and during a very short time, we will need to upgrade our CPU coolers, even the best aircoolers will struggle on such a high package power.
Regardless, this is a huge blow dealt under the belt to the AMD Ryzen 7000 "Raphael" coming later this year, and this high level competition means only one thing for us consumers: prices go down, performance skyrockets. The CPU market has not been this active in decades. A 10% increase over a single generation is simply monumental.