Intel i9-7980XE Overclocked Beyond 6GHz
---
---
---
Ashley Allen / 5 years ago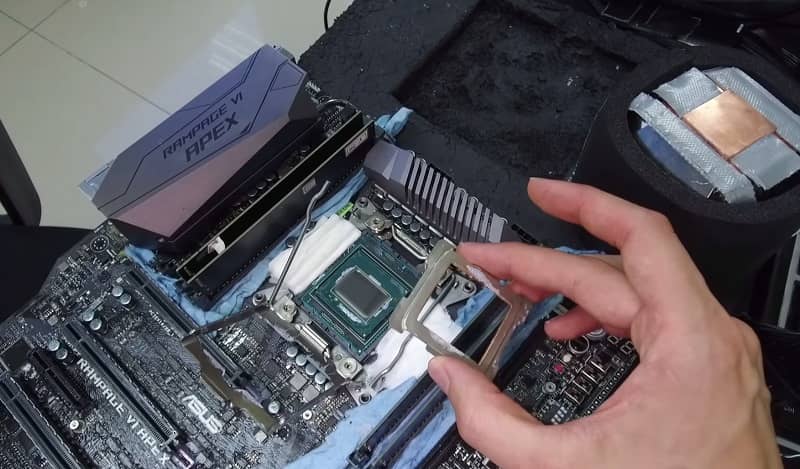 Intel's i9-7980XE 18-core monster processor is here and it's already breaking records. Legendary overclocker der8auer pushed the beastly HCC HEDT CPU beyond 6GHz. In fact, he managed to squeeze out 6.1GHz on all 18 cores. To do so, though, the i9-7980XE consumed up to 1000W. If you want to see just how impressive Intel's i9-7980XE is, check out our review here.
Intel i9-7980XE Overclocked
How did der8auer achieve this feat? First, he delidded the processor. Then, he broke out the thermal paste and plenty of it. He slathered it everywhere: both on the die and the PCB itself. The idea is to let the paste draw the heat away from the die and around the PCB. The larger the paste's surface area, the greater the heat dissipation. Finally, out comes the liquid nitrogen. He ran the i9-7980XE with an NVIDIA Titan Xp graphics card on an Asus ROG Rampage VI Apex motherboard.
The most stable overclock hit 5.6GHz on all cores, achieving 5635 on Cinebench R15. The overclocking maxed out at 6.1GHz on all cores.
Intel i9-7980XE Specifications
Cores: 18
Threads: 36
Base Clock: 2.6 GHz
Max Turbo: 4.2 GHz
Cache: 24.75 MB
Intel TB Max 3.0: 4.4 GHz
Max Memory Size: 128 GB
Memory Types: DDR4 2666
PCIe Lanes: 44
TDP: 165W