Intel Will No Longer Disclose Multi-Core Turbo Boost Frequencies
---
---
---
Samuel Wan / 6 years ago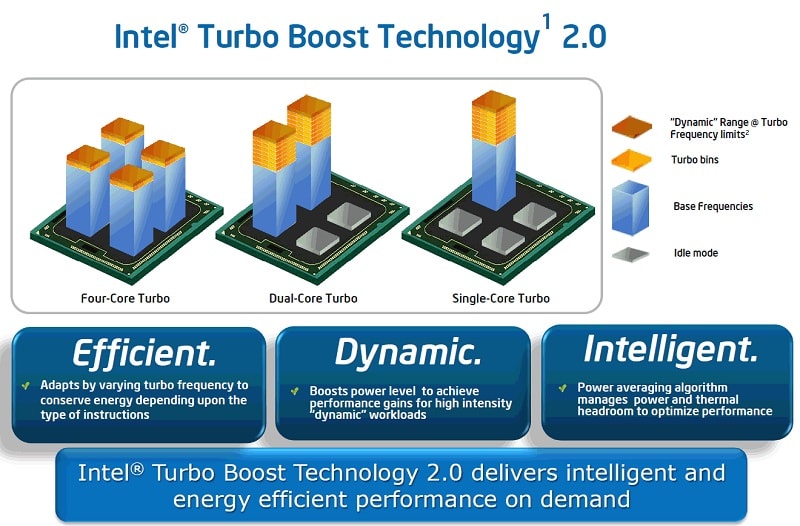 One of the great strategies to boost performance is clock boosting. Intel was the first to bring it to the masses with their Turbo Boost. Over time, we've seen many other chips adopt similar methods to help boost performance. Generally, Intel reveals the turbo bins for the different core workloads. In a surprise twist, Intel will no longer be making public some crucial Turbo Boost clock speed information.
Starting with the current crop of processors, Intel will only detail the base and single-core Turbo speeds.  This means we lose out on the Turbo clock speed information for any other multi-core workload. This changes a long-term practice since Turbo Boost was first debuted by Intel. Due to this change, we are losing a lot of info from Intel useful for overclocking.
 "[W]e're no longer disclosing this level of detail as its proprietary to Intel. Intel only specifies processor frequencies for base and single-core Turbo in our processor marketing and technical collateral, such as ARK, and not the multi-core Turbo frequencies. We're aligning communications to be consistent. All Turbo frequencies are opportunistic given their dependency on system configuration and workloads."
There are several reasons that Intel may be making this change. Firstly, it could be due to legal issues. By no longer publicizing Turbo speeds, the user will have no guaranteed Turbo clocks. It also makes it a lot harder to compare CPUs as some chips may have a multi-core Turbo closer to either the stock or boost clock than others. Another could be binning less than perfect chips. By having a shifting multi-core Turbo, Intel just needs to make sure one core hits peak Turbo and the rest the stock clock. Depending on the chip, the multi-core boost could be set at any speed. This brings a whole new dimension to the silicon lottery.
The change could also be due to increased competition. Releasing the Turbo clocks could give AMD a better picture of Intel CPU's performance profile. It also gives away information on yields and the process node. This move mirrors the one Intel has done in revealing less architectural details. Since Zen and Ryzen debuted, Intel has been a lot more careful in making details of their chips public.
Intel's Turbo Boost Move Hurts Users and Overclockers
A new major problem is how motherboards implement Turbo Boost. As we've seen, some boards are more or less aggressive for Turbo. It makes it less clear what the theoretical performance is compared to real-world results. It also makes review work harder as due to motherboard variances, it is harder to tell if the CPU clocks are hitting the Intel set limit or some other limit.
The fact that users can still view clock speeds makes it more absurd. By comparing various samples, the community can still determine the Turbo Boost speeds. AMD can also do the same as part of their opposition research. All Intel is doing is making things harder for users. It simply throws another hurdle for users trying to properly configure their systems.
At this point, it is unclear what Intel's motives are. This could well be a simple marketing PR blunder.  It makes life tough for everyone with little benefit to Intel. Hopefully, Intel will reconsider this policy in time for Cannon Lake and later releases. I for one hope Intel will backtrack and release this information going forward.