Intel Officially Reveals Coffee Lake Specs and Pricing
---
---
---
Cernescu Andrei / 5 years ago

Intel Coffee Lake pricing revealed.
Not too long ago, we reported on the official press deck and specs for Intel's Coffee Lake. Now, it looks like the company has revealed the pricing for Intel's much-anticipated 8th generation. The products in question are the i7-8700K, i7-8700, i5-8600K, i5-8400, i3-8350K, and i3-8100. Starting off with the most expensive offering, the i7-8700K will cost about $360. This is mildly surprising, especially considering the $400+ rumors that were going around. Since we're talking about an i7, though, the pricing doesn't seem that unreasonable. As for the i5-8600K, it looks like it will be priced at $257. This chip is clocked at 3.6/4.3GHz, while the i5-8400 comes in at 2.8/4.0GHz. On the other hand, the 8400 costs $182.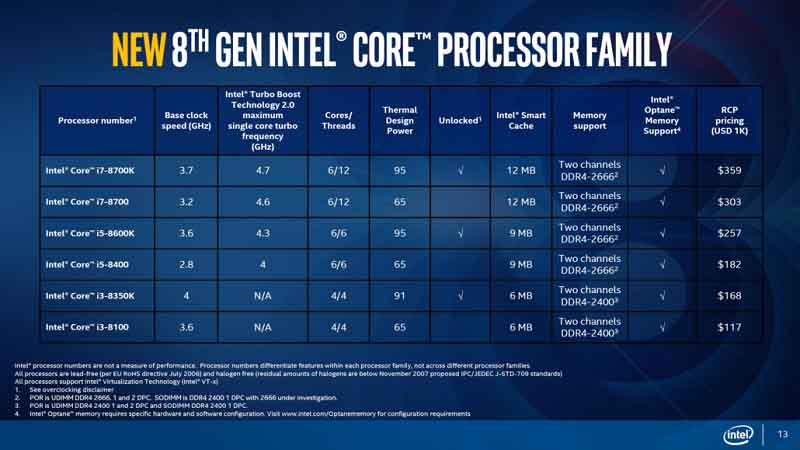 What about the i3?
The most powerful i3 in the Coffee Lake lineup is the 4.0 GHz i3-8350K unlocked SKU. This product will cost $168. However, if you'd rather go for a classic, unlocked version, the i3-8100 at $117 might be better suited for your needs. TDP-wise, the unlocked i3 sits at 91W, while the i3-8100 comes in at 65W. When compared to the previous generation, i3 pricing seems to be on point.
As far as overclocking goes, Intel claims that Coffee Lake chips are best suited for it. Below you will find a list including the new overclocking features for this new generation.
Per Core Overclocking.
Max Memory Ratio Up To 8400 MT/s.
Real-Time Memory Latency Control.
Extended PLL Trim Controls.
Enhanced Package Power Delivery.
We'll just have to wait for official reviews in order to determine whether the new chips are truly worth an upgrade. Speaking of reviews, you can expect to see a full batch after October 5th.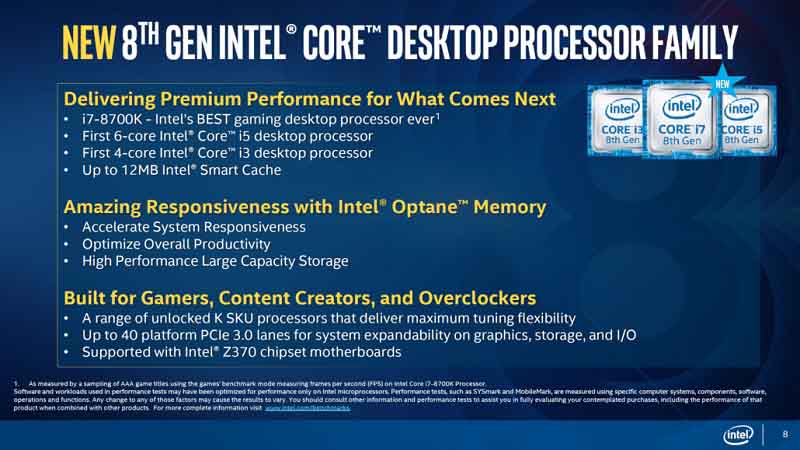 Will you be moving on to the new 8th generation?