Intel Reveals Haswell-E Engineering Sample With 8 Cores and 3 GHz Clock Speed
---
---
---
Gabriel Roşu / 10 years ago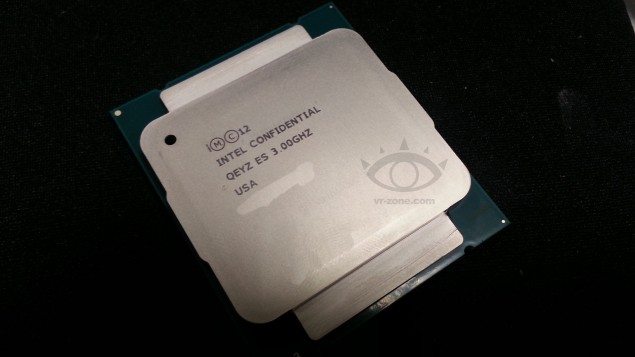 According to a post from chinese portal VR-Zone, a picture of the first Haswell-E engineering sample which will feature 8 cores and a clock speed of 3 GHz has been revealed. Based on the 22nm Haswell architecture, Intel's Haswell-E processor stacked in the X or Extreme series would be the chip giant's first chip to feature 8 native core with 16 threads which will put them in the same line with AMD's 8 Core processors which have been available since the arrival of Bulldozer in 2011.
Intel would be shipping two unlocked processors at launch which will include an X series Extreme edition and K Series Unlocked edition chips. Intel should integrate the Haswell-E processors as the Core i7-5xxx series in which case the X series would be known as Core i7-5960X and K series part would be called the Core i7-5930K. These aren't confirmed names, but Intel has kept this style of series branding for a while and we suspect they will continue the trend with their Haswell-E and Broadwell generation of processors up until 2015.

The detailed from Intel reveal a 6-8 cores for their Haswell-E processors that would be equipped with a massive 20 MB of L3 smart cache and just like Haswell. It would feature an integrated voltage regulator and the flashgrip part would ship with TDPs around 140W which is impressive since that's 10W under what we get on the Core i7-3970X which has 6 cores compared to the Haswell-E beast that would feature 8 cores and 20 MB of L3 cache. Intel is aiming for an 55% IPC improvement over quad cores with their flagship Haswell-E processors.
Haswell-E would also keep the great overclocking features that would ship with the "K" series and "Extreme Edition" processors. Both the memory and processor can be overclocked beyond limits with unlocked turbo limits, unlocked core ratios in 80/100 increments, programmable iVR voltage, support for XMP mode, unlocked memory controller and voltage limits, native support for memory up to 2667 MHz, Unlocked PCH and PLL voltage controls and more.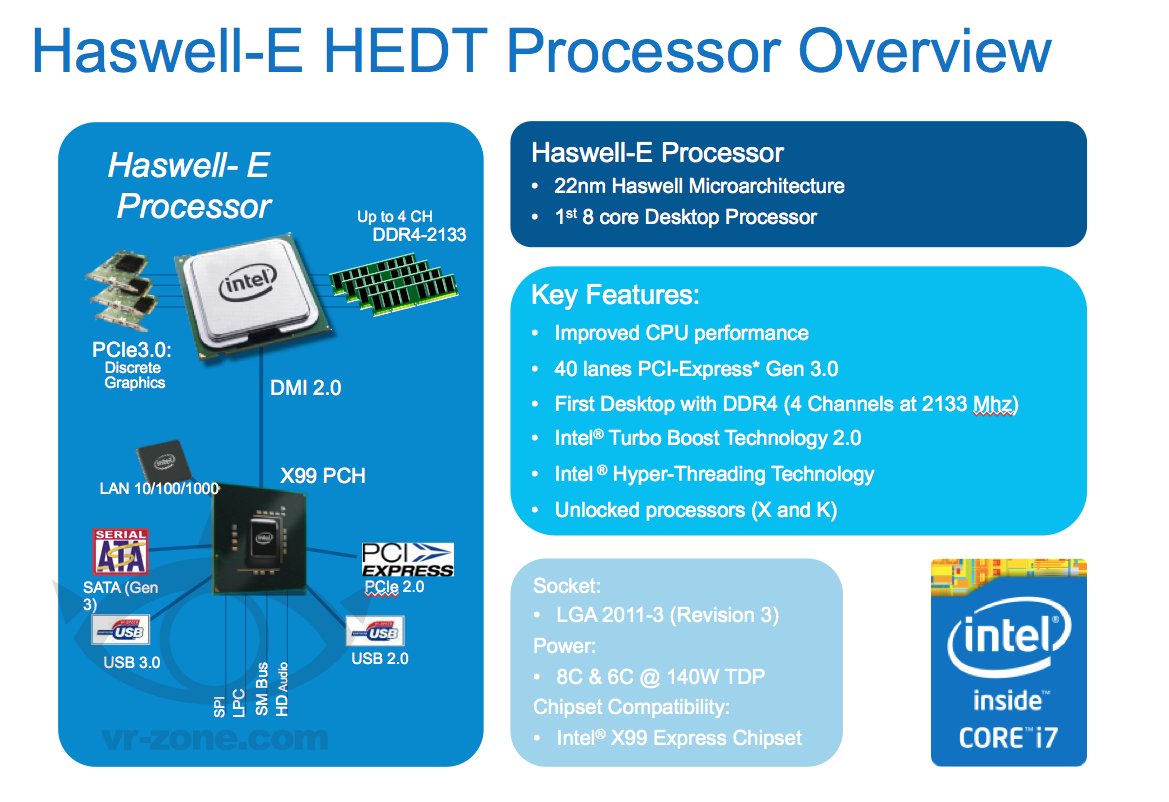 One Haswell-E processor is said to support two x16 and three x8 PCIe v3.x with 40 lanes and would be directly connected to the DDR4 memory controller and the Wellsburg X99 chipset. The feature set would remain the with technologies such as SSE4, AVX, VT, AESNI under its belt. Unlike the Haswell processor which come with 4th gen HD graphics core, the Haswell-E platform wouldn't feature built-in graphics but someone buying such a costly processors will definitely go for a discrete GPU for graphics.
Intel's Haswell-E is officially the first HEDT platform to feature support for DDR4 memory which is great news for enthusiasts who want to upgrade from the DDR3 memories which have reached their max overclock speeds. The new DDR4 memory modules consume only 1.2 V of power compared to 1.65/1.5V standard with DDR3. The can feature upto 16 banks of memory and require a 288-Pin DIMM connectors which would be available on the new X99 chipset motherboards. The DDR4 memory controller offers Quad channel memory support.
Haswell-E is expected be released in Q4 2014, however it could very well be pushed to early 2015.
Thank you WCCF for providing us with this information
Images courtesy of WCCF