Intel Z270 Chipset Block Diagram Leaked
---
---
---
Samuel Wan / 6 years ago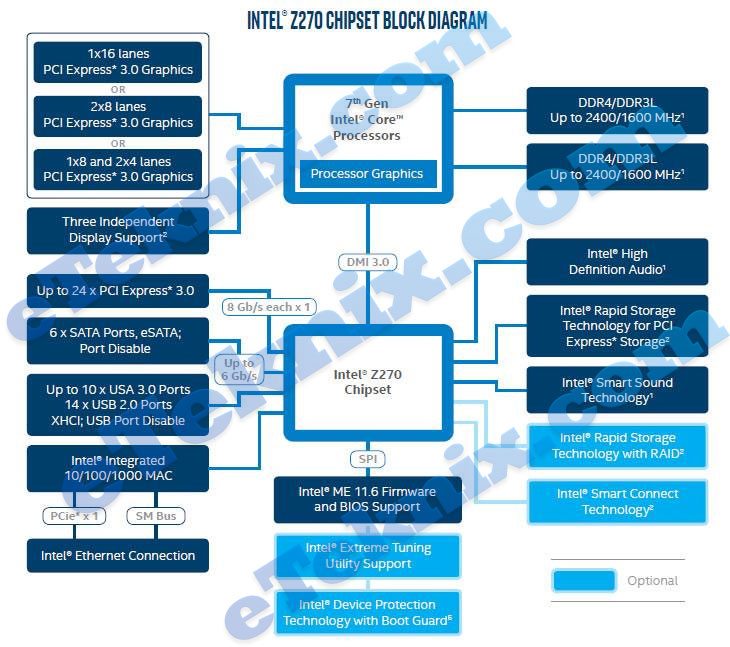 With the Intel Kaby Lake i7 7700K and i5 7600K CPU reviews out, we've been able to see the performance improvements it offers over Skylake isn't all that great. However, the new chips will likely best the top performers for their price at least until Zen launches. Furthermore, Kaby Lake also brings with it the new Z270 chipset. We now have a detailed block diagram that shows off the new chipset for Intel's LGA 1151 platform.
Due to sharing the same socket, Z270 motherboards will be compatible with Skylake. This means the all main comparison will be with Z170, especially for upgrades. Starting from the CPU, the first change we see is DDR4 support going up to 2400 MHz from 2133 Mhz officially. Hopefully, this will mean peak memory overclocks also see an improvement. The rest of the connections remains the same with 16x 3.0 PCIe lanes in various configurations and a DMI 3.0 connection to the chipset.
The new chipset appears to be largely the same with only 1 major difference. The PCIe lane count gets bumped up by 4 more lanes to 24 PCIe 3.0 lanes in total. For everything else, it is much the same with the same number of 10 USB 3.0 and 14 2.0 ports with 6 SATA ports for storage. Given the backwards compatibility with Skylake CPUs, I guess Intel couldn't go too crazy with the changes. One caveat for parts like the Ethernet connection, while the name might be the same, Intel could have changed the features up and added improvements on a low level.
With AMD offering competitive CPUs again with Zen, Intel may be forced to innovate on the chipset sector soon as well. Since we don't know the full details for AM4and X370 yet, we can't come to any conclusion, However, I strongly suspect the next Z series chipset will be a much bigger jump than Z270 was.