Internet Explorer Remains World's Number One Browser
---
---
---
Ryan Martin / 10 years ago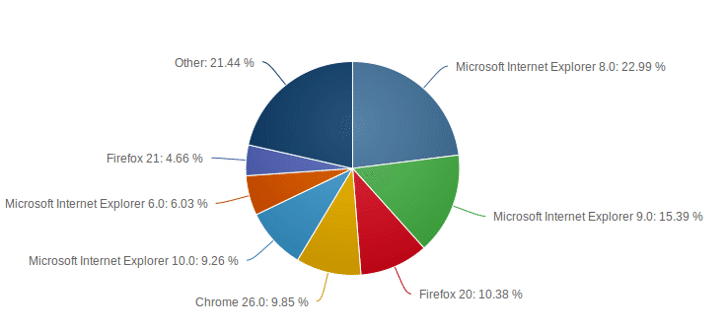 Internet explorer isn't exactly loved by our readers. When you tend to become a bit of a PC enthusiast or tech geek you will almost religiously avoid Internet Explorer at all costs, opting for Mozilla Firefox or Google Chrome. Yet according to the latest usage statistics by Net Applications Internet Explorer is still largely dominant in the browser market.
Internet explorer 8 is leading the pack with an impressive 22.99% while other Internet Explorer versions such as 9, 6 and 10 all still hold significant market shares. The above graph can be slightly misleading because smaller versions of browsers have been aggregated into the "other" category. The overall figures are as follows:
Internet Explorer – 55.99%

Mozilla Firefox – 20.63%
Google Chrome – 15.74%
Safari – 5.46%
Opera – 1.77%
Other – 0.41%
What is interesting is that if you look at the trends for the past 9 months on Net Applications then you can see that Internet Explorer has been gaining a fair bit of ground (about 2%), Firefox has also gained some ground (0.5%) and so too has Safari (around 0.5%) while Google's Chrome browser has taken a big hit losing nearly 3% of market share. With a new version of Internet Explorer expected to arrive with Windows 8.1, expect Microsoft's IE popularity to increase further as it comes pre-installed on the Windows 8.1 OS.
What are your thoughts on these figures? Which browser do you use?
Image courtesy of Net Applications