Japan Release Images From Asteroid Landers
---
---
---
Mike Sanders / 4 years ago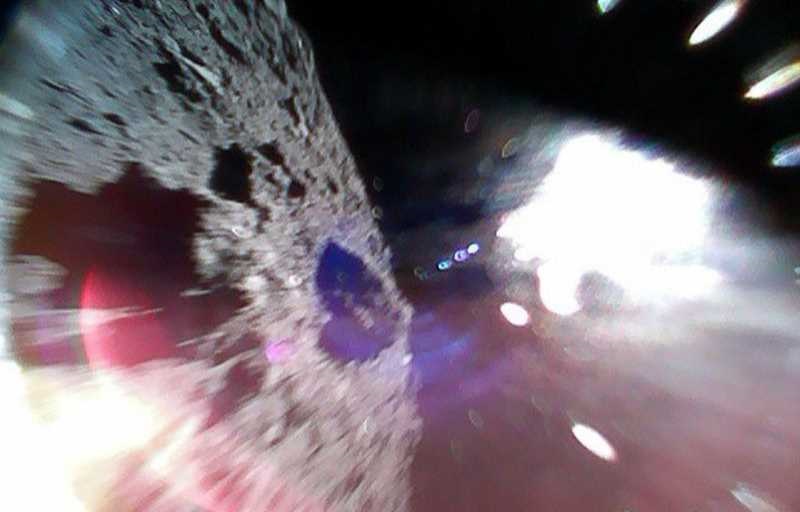 Japan Release Images From Asteroid Landers
After spending a couple days nervously tracking an asteroid, the Japanese Space Agency launched two rovers on Friday. The success of the landing was, however, very unclear. Put simply, they had to wait to see if any data starting coming back to earth. Well, following signals received back on Sunday, the agency is delighted to report that both probes have successfully landed and are sending pictures back to Earth as they begin their scientific mission.
Difficulties!
As you can imagine, landing a craft on an asteroid isn't easy. For starters, it's a moving target, one that just happens to be moving at a remarkably fast speed. In addition, the surface is very unpredictable with nice smooth areas and deep craters. It is, therefore, something quite remarkable that they have been able to successfully land both rovers on the surface.
Photo taken by Rover-1B on Sept 21 at ~13:07 JST. It was captured just after separation from the spacecraft. Ryugu's surface is in the lower right. The misty top left region is due to the reflection of sunlight. 1B seems to rotate slowly after separation, minimising image blur. pic.twitter.com/P71gsC9VNI

— HAYABUSA2@JAXA (@haya2e_jaxa) September 22, 2018
Not There Just To Take Pictures!
It should be noted that while the images are incredibly impressive, they're not there just to take snapshots. Each Rover will be taking samples of the surface of the asteroid which they plan to return to Earth. In the meantime though, each vehicle will be travelling on the surface. They have been specifically designed to 'hop' across the surface rather than move like a vehicle which should allow for far greater exploration.
In terms of the samples returning though, the first of the rovers is not set to leave the asteroid until December 2019. Even then, it will take at least a year before it managed to get back to Earth. The data collected will be of massive interest to scientists. Particularly so we can learn and understand what elements make them up. Maybe we'll even discover some new ones!
What do you think? Impressed with the photographs? – Let us know in the comments!
This dynamic photo was captured by Rover-1A on September 22 at around 11:44 JST. It was taken on Ryugu's surface during a hop. The left-half is the surface of Ryugu, while the white region on the right is due to sunlight. (Hayabusa2 Project) pic.twitter.com/IQLsFd4gJu

— HAYABUSA2@JAXA (@haya2e_jaxa) September 22, 2018