John McAfee Says He's In Hiding From the US Government
---
---
---
Mike Sanders / 5 years ago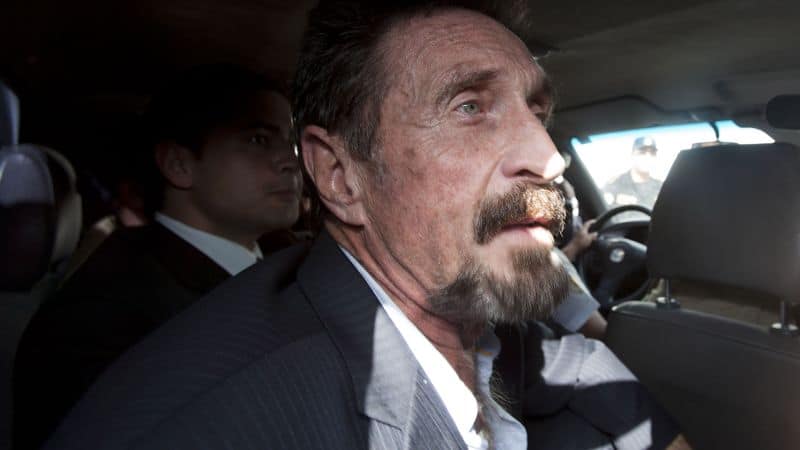 John McAfee claims to be on the run from the US Government
When it comes to internet drama, John McAfee is one of the gifts that keeps on giving. He is regularly in the news and often for the most bizarre of reasons. This latest one is certainly no exception.
You may or may not be aware, but John McAfee has recently been at loggerheads with the SEC (Securities and Exchange Commission) in America. I won't go into the details as in truth I'm not aware of all aspects of the case and wouldn't want to misrepresent it. As far as I understand though, John McAfee believes that the organization has far too much power and wields it with an iron fist in regulating businesses. John McAfee, of course, is no stranger to business being the founder of the anti-virus software that carries his name.
In a very strange video posted on Twitter though, John McAfee has claimed that is currently on the run and in hiding from the organization. All delivered from his armored motorcade no less!
.
Mr. McAfee's first video message from his armored motorcade:https://t.co/1LaXdqm5Uf

— John McAfee (@officialmcafee) May 15, 2018
Coming live from the John McAfee Armored Motorcade
Firstly, let's address this point. Yes, apparently John McAfee possesses an armored motorcade. Presumably bought using either the millions he made from the sale of his company or through his 'pay to advertise' cryptocurrency Twitter feed which has been incredibly popular. Not to say, also a little controversial.
In the video, John McAfee says: "The SEC was never intended to have this power. Please God America, wake up and see what has happened. The SEC is in charge of our entire industry, our companies, our manufacturing, our distribution, our creativity, our entrepreneurship. When it was created, in the wisdom of the creators, it had only civil powers. If it got p***ed off at you, it could sue you, end of story. Now, with the cooperation of the justice department, the SEC can get involved, or bring people in who can punish you beyond a civil suit. The SEC owns America, please God, wake up people. And if you think that an agency of the US government would not stoop to assassination, kidnapping, threats, then what are you smoking?"
At this point, I'm struggling to tell if this is him at his best or worst. If nothing else though it adds another chapter to his incredible adventures. What will he do next?
What do you think? Is he legitimately in hiding? Is the US Government after him? – Let us know in the comments!