Kingston DCP1000 1.6TB PCIe NVMe SSD Review
---
---
---
Bohs Hansen / 4 years ago
Introduction
---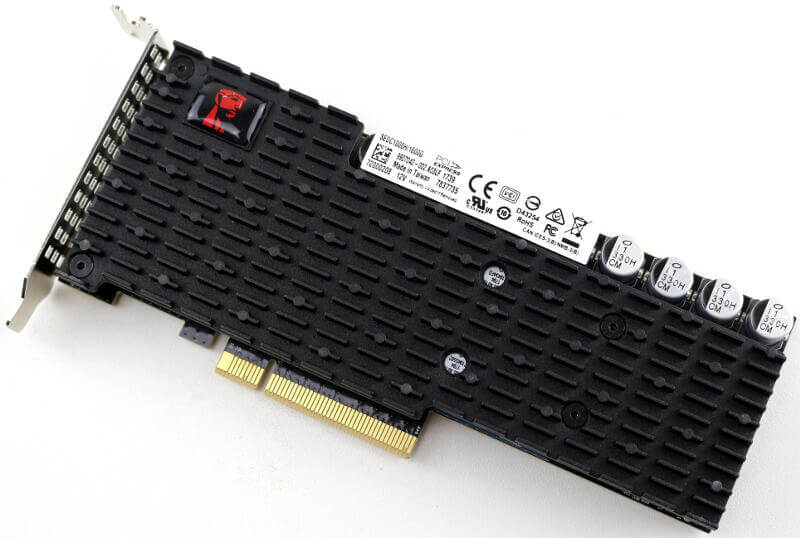 Kingston DCP1000 PCIe NVMe SSD Review
Kingston's DCP1000 (product link) isn't a new SSD anymore, but it's still a pleasure to review. Not only does it come with impressive performance ratings, it has the capacity to back it up. Today I'm having a closer look at the DCP1000 HHHL add-in card with a capacity of 1.6GB. Other capacity choices include a 3.2TB and 800GB model.
If you're thinking of this drive for a personal use, then you better to rethink your plans. It is a "you may look, but don't touch" drive. That is, of course, unless you have a serious amount of disposable income. The drive is aimed at data centres and enterprise setups where every bit of performance and real-estate optimisation counts.
Drive Design
On the outside, Kingston's DCP1000 is a standard HHHL PCIe add-in card. It comes pre-fixed with a low-profile bracket, but a full-sized bracket is included. The SFF-compatibility is great and it allows the card to wield its powers in almost any system. The DCP1000 is equipped with a huge heatsink and visible capacitors which offer a better power delivery and data safety. Those are the things we can see with the bare eyes. But there's more to this drive.
Under the hood, the DCP1000 is composed out of four M.2 PCIe NVMe drives. The individual drives have a quarter of the capacity that the DCP1000 version you pick up. Combining multiple drives into something faster isn't new, but the DCP1000 does things a little differently. There is no onboard hardware RAID which you'll have to pay extra for. Instead, the drives are presented to the system as independent entities. The M.2 drives are connected to the system by a Liqid-Technology PLX switch, which should offer the best connection.
Software versus Hardware RAID
The DCP1000 presents itself to the system with four individual drives, allowing you to use them in a more versatile manner. If the card itself doesn't limit, you can expand your drive pools across multiple devices. Yes, you're right. These drives aren't really meant to be run alone. Instead, they're meant to run in combination, creating a storage pool with incredible performance and low latencies.
Software RAID does have a disadvantage in regard to performance. Or at least, it can have. The strength of your drive pool will depend on how well the software is implemented. Windows 7,8, and 10 has limited software RAID functionality. Linux and Windows Server users have a lot more options and better support.

Hardware Features
We've seen the large heatsink which should prevent any form of thermal throttling from happening, even in high-density rack setups. Underneath the large cooler is a smaller one for the controller itself. After all, it does the work for the four connected M.2 drives.
The power capacitors are also visible next to the heatsink. There are nine of them in total and they provide the DCP1000 with hardware-based data-loss protection. In the event of a power failure, the drive has enough juice left to flush cached data to the right places.
The four installed M.2 drives are connected by the PLX PEX8725 24-lane, 10-port PCIe 3.0 switch. That switch is then connected to the cards PCIe 3.0 x8 connector. The individual drives are powered by a Phison PS5007-11 eight-channel quad-core controller. Besides the controller, each of the four drives comes with Toshiba 15nm MLC NAND flash memory and Kingston branded RAM.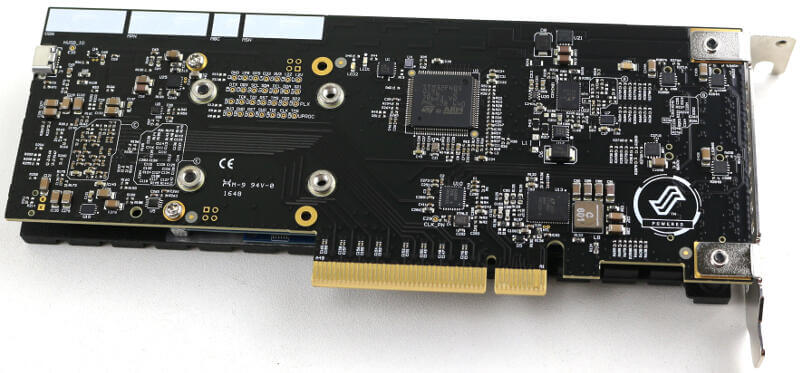 How Fast and How Big Is the DCP1000?
We've reached the point you all have been waiting for: The performance and the capacity options. Let's start with the latter. There are three capacity options to choose from, 800GB, 1600GB, and 3200GB. All three come with the same sequential read performance of up to 6800MB/s. That's seriously fast! The sequential write performance is rated at 5000MB/s for the smallest version and 6000MB/s for the two larger ones.
The random performance where things get juicy. The larger 3.2TB and 1.6TB versions deliver up to 1,000,000 and 1,100,000 IOPS respectively when reading 4K data. The smaller version has a still impressive 900K IOPS rating. When it comes to writing randomly, they come with a 145K, 200K and 180K, counting from smallest to largest option.
The typical read and write latency is rated at 100us and 30us for all three options.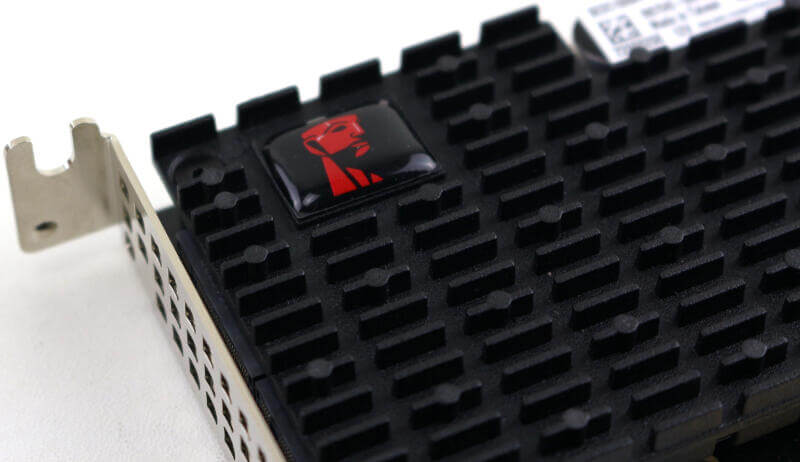 Will It Last or Will the Endurance Run out of It?
There is no doubt that the DCP1000 can stand up to a beating. The 800GB, 1.6TB, and 3.2TB DCP1000 are rated for 884TB, 1820TB, and 3332TB total bytes written. That equals about 666.5TB a year, or 1.826TB a day for the full warranty period. That is, of course, the largest version. The MLC NAND is a lot more durable than the newer TLC NAND, and it shows.
Speaking of the warranty period, the drive is backed by Kingston's 5-year warranty and service. It might also be worth mentioning the 2 million hours mean time before failure (MTBF).
The individual pre-installed drives are also rated for endurance by Kingston. The 200GB, 400GB, and 800GB drives, which are installed in the three different versions, have a TBW rating of 187TB, 375TB, and 697TB individually.
The drive also comes with enterprise SMART tools for reliability tracking, usage statistics, life remaining, wear levelling, and temperature.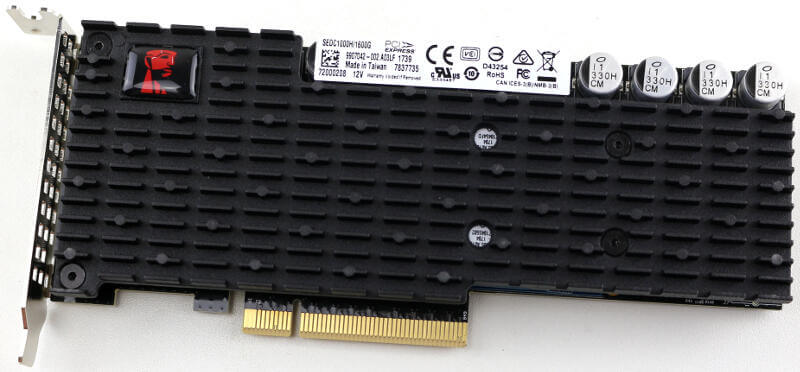 Perfect for High-Performance Computing Systems
Kingston's DCP1000 is not a drive for the gamer. Sure, you can use it, but you won't notice the performance and spend a lot of money in the wrong place. Servers and workstations with high computing needs are where the drive shines and what it is designed to do.
If you need high-density storage on a minimal footprint with the flexibility of software raid, then this is the drive for you. Whether it's for your AI, database servers, photo & video editing, or other high-performance needs.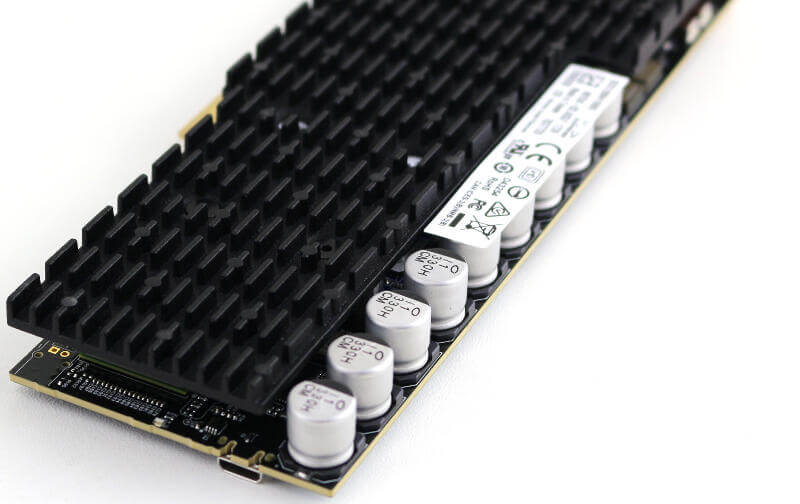 What Did Kingston Have to Say About It?
Kingston's DCP1000 solid-state drive delivers up to 1.25 million IOPs from a single device, with ultra-low transactional latency and high throughput, making it ideal for data centres requiring extreme performance. It features ultra-fast NVMe PCIe Gen 3.0 x8, speeds up to 7GB/s and hardware-based pFail. DCP1000 has flexible drive topology and supports flexible software RAID capability to save on redundant hardware costs. It supports 800GB to 3.2TB from a single HHHL card.
"We are proud to introduce the next generation of PCIe storage and performance for data centres with our new DCP1000 PCIe NVMe SSD," said Ariel Perez, SSD business manager, Kingston. "This drive is a game changer among data centre technology solutions. DCP1000 SSD enables IT professionals to quickly and economically scale and improve performance without replacing an entire storage system or server infrastructure."

"Working with the world-class engineering team at Kingston has been an honour, and we are very pleased to be able to introduce the lightning fast, Liqid-powered DCP1000 SSD to the market," said Sumit Puri, VP, Marketing, Liqid. "As data demand continues to increase year over year, DCP1000 SSD gives enterprise organizations the ability to better manage resources and scale quickly at the speed of business."
Official Product Video
Feature Highlights
Extreme performance for data centres
Flexible drive topology
Fast and economical to deploy
Enterprise-class SSD features
Specifications
The specifications are valid at the time of review. If there are future revisions of the product, they may be changed partially or fully.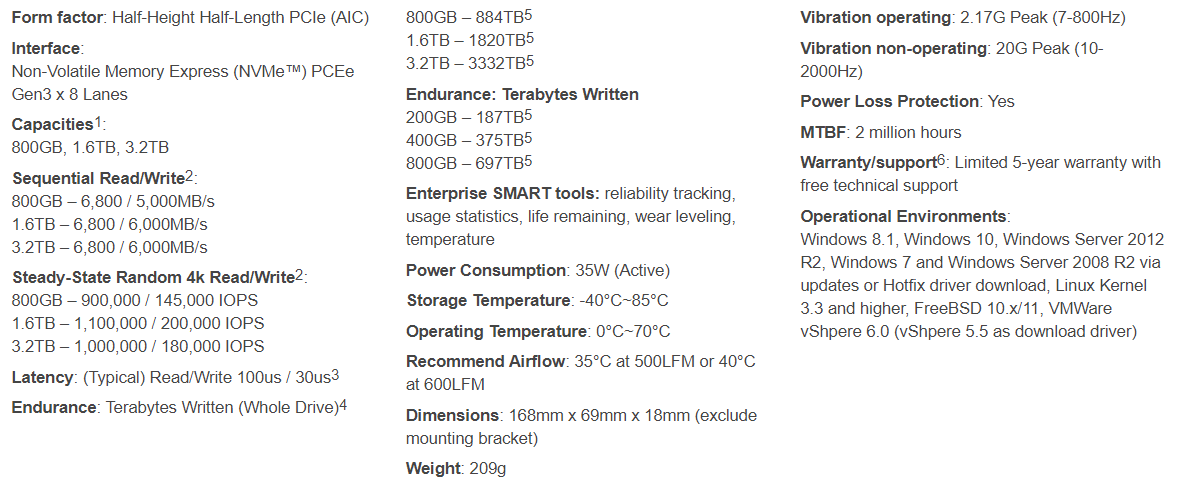 Package and Accessories
Enterprise-grade products come in simple packaging. After all, they aren't meant to draw your attention while on a shelve somewhere. The top has the Kingston and DCP1000 logos and there's a sticker on the side with the included drive's details.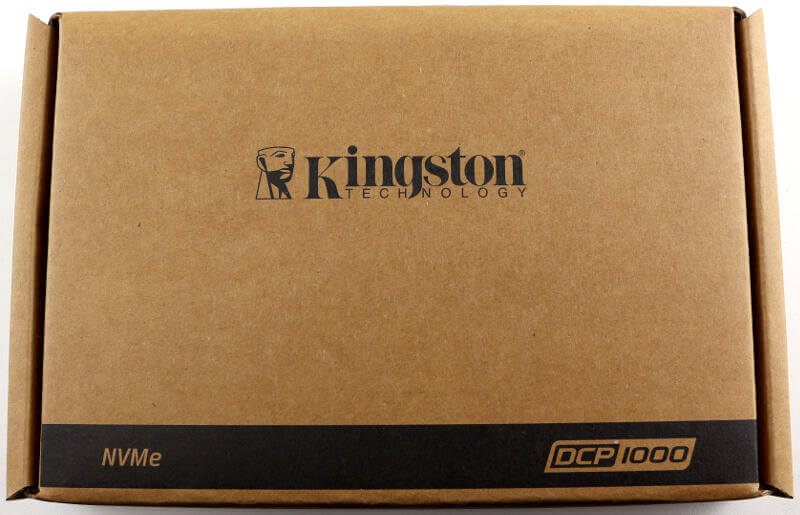 The rear side has all the legal fine print.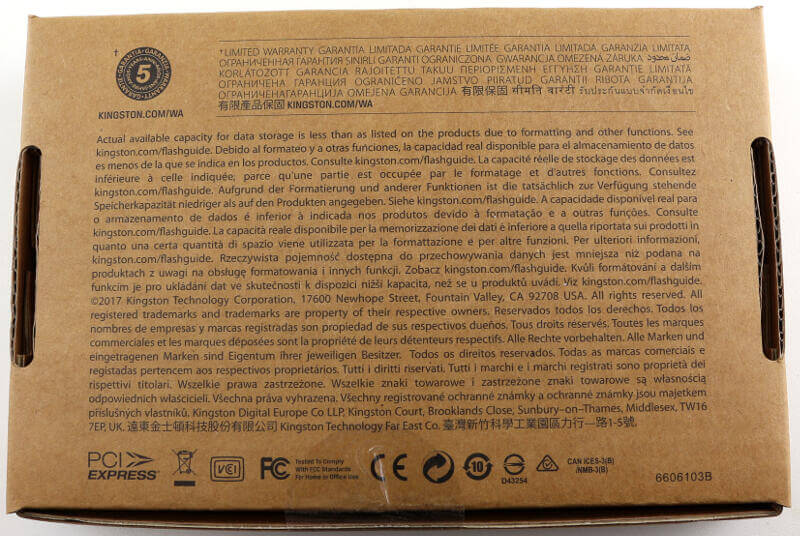 Opening up the box, we see the drive securely placed in foam. The extra drive bracket for full-height installation is also visible here.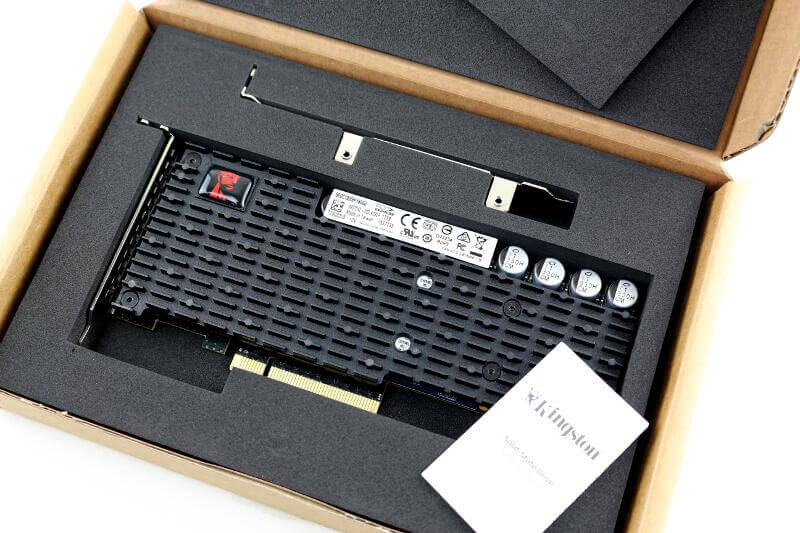 The only two things included, besides the drive itself, are the full-height bracket and a "Getting Started" manual.