Kingston KC1000 480GB NVMe M.2 HHHL PCIe SSD Review
---
---
---
Bohs Hansen / 6 years ago
Introduction
---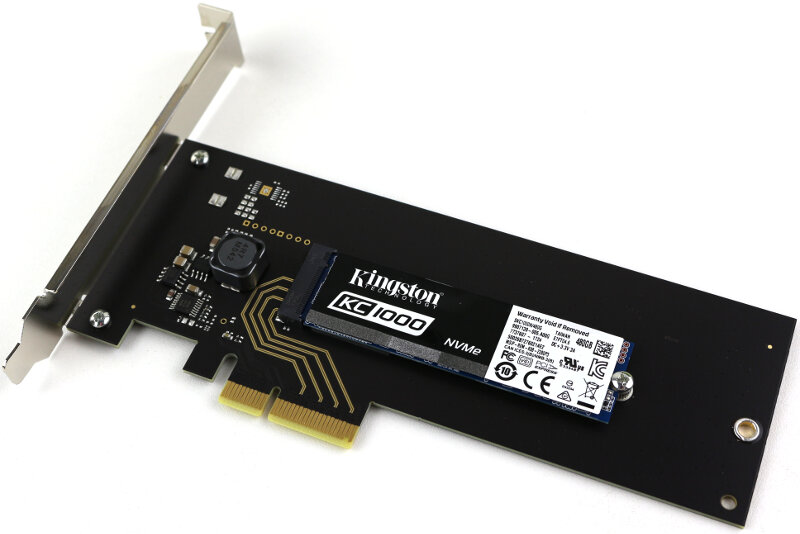 We have seen some amazing Kingston storage products in the past, but one thing has been missing. Up until now, Kingston didn't have an NVMe drive in their line-up. While they have the impressive HyperX Predator PCIe drive, it isn't NVMe-powered. That has changed with new Kingston KC1000 SSD which is a PCIe NVMe M.2 SSD. You can get the new KC1000 with and without a half-height half-length add-in adapter and with up to 960GB capacity.
Feature Highlights
Up to 2700MB/s read and 1600MB/s write performance
240GB, 480GB, and 960GB capacity options
M.2 2280 form factor with HHHL PCIe option
MLC NAND and Phison PS5007-E7 NVMe controller
5-Year Limited Warranty

Controller and NAND
Let us dive right into the heart of the new KC1000 SSD. The drive is built with Phison's PS5007-E7 controller and MLC NAND. Phison had a lot of success with their PS5007 line of controller series, as we've seen from previous reviews. The controller comes with the features we want and Kingston pushed the performance to its limits as you'll see further down.
The choice of MLC NAND over TLC NAND will offer us a better write performance as well as a better endurance. Both are important aspects of a drive and I'm sure our readers and future owners of the KC1000 will love this.

NVMe Over SATA
SATA is a great system as-is, it just isn't built for the technology we're using today. SATA was developed out of IDE and both are built for mechanical drives. Modern NAND drives operate differently and as such, they need a different connection to your system. That is where NVMe comes into play as it is built specifically for use with NAND technology.
Your advantages of using NVMe are quite simple. You get a drive that can handle a lot more commands at once and at the same time it requires a lot less CPU performance. Win-win in my book. Faster access times, higher throughput, and less general system resources in use are great bonuses.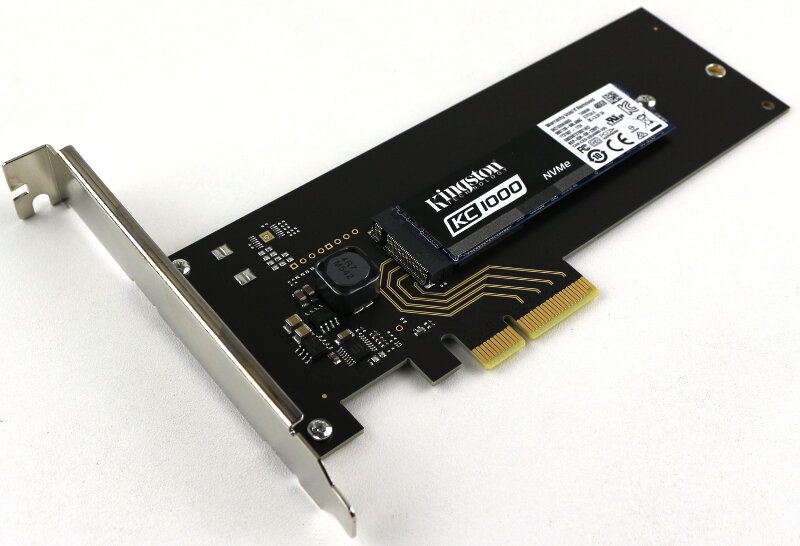 Form Factor Choices
The new Kingston KC1000 is a drive that comes in a single form factor, M.2 2280 (22mm wide, 80mm long). The common sized form factor allows the module to be installed in most systems without any trouble. But you aren't limited to M.2 slots. Perhaps you already used the ones your motherboard has natively or maybe it doesn't have any at all. For scenarios like this, Kingston created a version which comes with a half-height half-length (HHHL) PCIe add-in card. With this option, compatibility is almost guaranteed.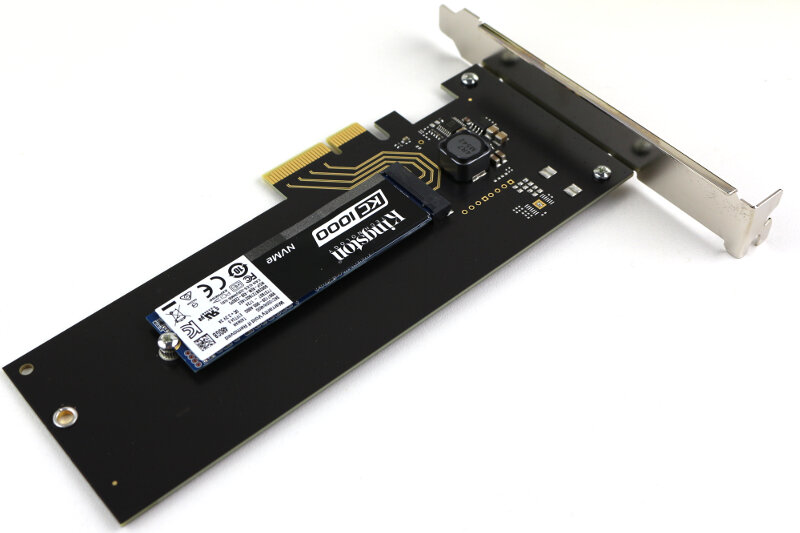 Capacity Options
Should you decide to pick up a Kingston KC1000 NVMe SSD, then you have three capacity choices. There is the smallest model with 240GB for those who only want their OS and a few vital applications and games on the drive. Then there is the medium 480GB model that I'm testing today. It has enough capacity for your OS and plenty of files and games. However, should you be one of those who need more capacity and you don't want to compromise when it comes to speed, then you'll want to opt for the 960GB version. All the capacity you want in a very compact and high-performing drive.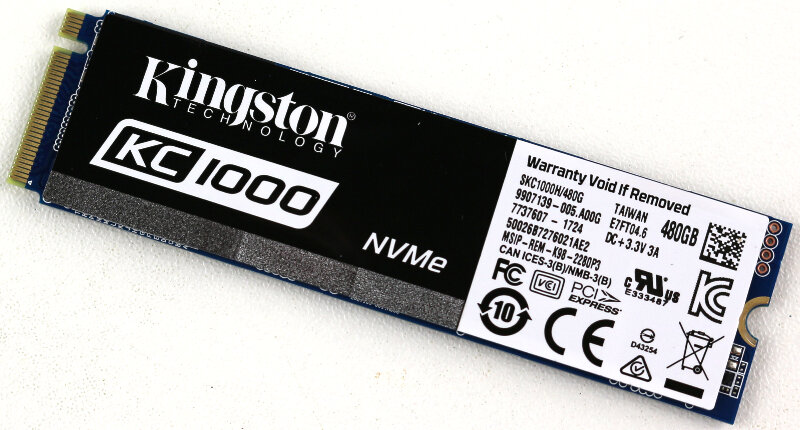 Performance and Endurance
We've already seen a lot of NVMe drives here at eTeknix, but most of them were using TLC NAND in order to keep the final price on a more budget level. The Kingston KC1000 NVMe SSD uses MLC NAND which costs a bit more, but it also performs better. Especially when writing data.
The KC1000 is rated for a sequential performance of up to 2700 MB/s when reading and up to 1600 MB/s when writing. That's impressive. The random drive performance is another area where MLC shines and it allows the KC1000 to deliver up to 290K IOPS reading and 190K IOPS writing. That's very close to the controllers limit of 300K/200K which shows that Kingston truly pulled everything possible out of the card.
Endurance is another factor where MLC shines over TLC. Writing data is what puts a strain on your SSD. MLC NAND is simply better at this than TLC is. Kingston rates the KC1000 240GB, 480GB, and 960GB drives at 300TB, 550TB, and 1PB Total Bytes Written, respectively. That equals about 0.70, 0.64 and 0.58 DWPD (Drive Writes Per Day). The mean time before failure (MTBF) is rated at 2 million hours.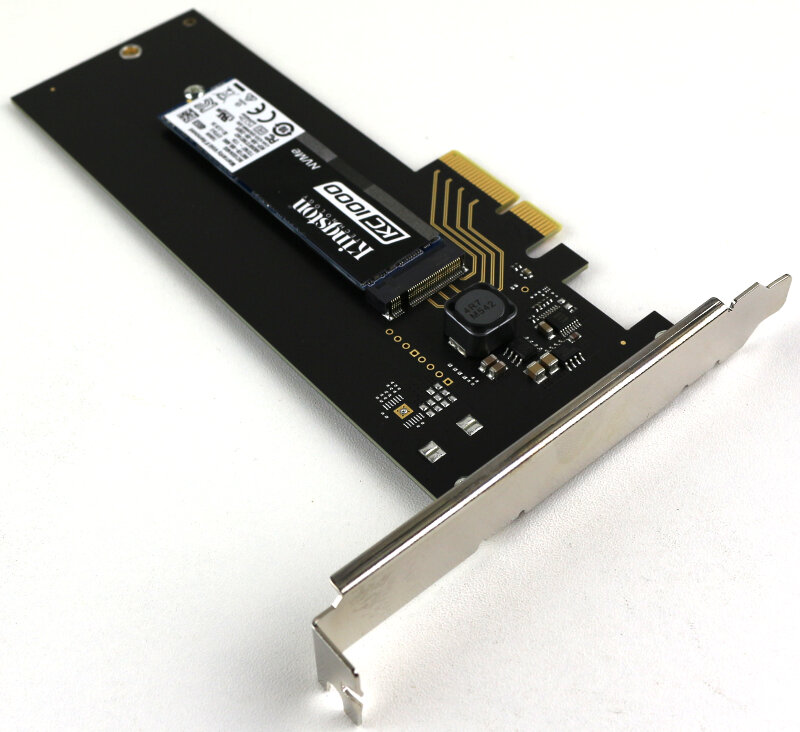 Power Consumption
Having an SSD over an HDD brings a lot of power improvements, and that's no different in this scenario. The Kingston KC1000 only requires 0.11W when idle and 0.99W on average operations. The maximum power consumption tops at 4.95W when reading and 7.4W when writing.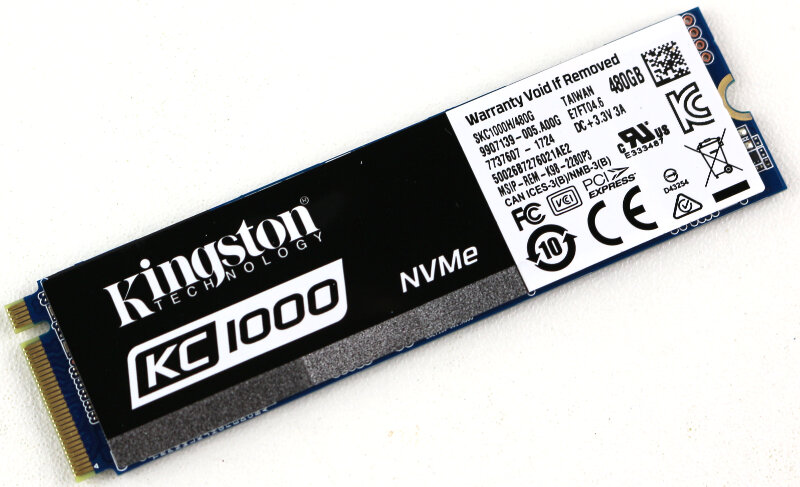 Specifications
The specifications are valid and taken directly from the manufacturer's website at the time of review. These might change in possible future revisions and updates.