Kingston UV500 240GB M.2 SATA SSD Review
---
---
---
Bohs Hansen / 3 years ago
Introduction
---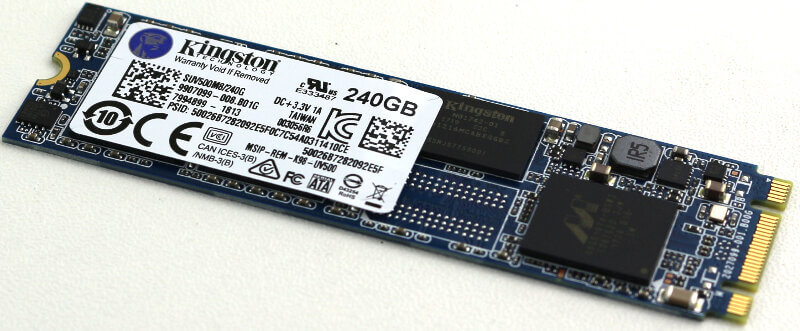 Kingston UV500 240GB M.2 SATA SSD Review
There is still a huge market for SATA-based drives, whether they're in the classic 2.5-inch form factor or the newer M.2. Today I'm taking a closer look at Kingston's latest SATA SSD, the UV500 (product link). I'm testing the M.2 version, but it is also available in 2.5-inch and a mSATA version. The UV500 is a budget-oriented mainstream drive.
Kingston UV500 Drive Series
Before we get to the model I'm testing today, let's talk a bit about the series in general. With 2.5-inch, mSATA, and M.2 form factors, there aren't many systems which won't be able to run this drive. The mSATA and M.2 version are the first to hit the market with the 2.5-inch following shortly.
The 2.5-inch version, which is scheduled to launch at the end of April, comes in four initial capacity options. 120GB, 240GB, 480GB, and 960GB. A future 1920GB version is also planned. The M.2 version starts with a 120GB drive, the 240GB which I'm testing today, and a 480GB version. Later, a 960GB version will launch in this form factor. mSATA is available with all its options from the beginning: 120GB, 240GB, and 480GB.

UV500 will be Kingston's first 3D NAND-enabled SSD with full-disk encryption. UV500 is powered by the Marvell 88SS1074 controller and combined with 3D NAND Flash. The drive protects sensitive data with 256-bit AES hardware-based encryption and supports TCG Opal 2.0.
Hardware Features
Kingston's UV500 series is powered by a Marvell 88SS1074 controller which is paired with 3D TLC NAND. It deploys Marvell's third generation error-correcting, low-density parity check (LDPC) technology, reliability enhancement, and endurance boost.
The four-channel controller is SATA 3.2 compliant and quite efficient. It has a low power consumption than previous controllers and supports Device Sleep (DEVSLP). On top of that, it comes with the 256-bit AES encryption option mentioned above.
How Fast is the Kingston UV500?
Speed depends on capacity, that's nothing new, and it's no different for the UV500. The read performance is the same, but the write performance varies. All drives in the series can read with up to 520MB/s sequential and up to 79K IOPS random 4K.
The highest capacity has the best performance. The 960GB versions can write with up to 500MB/s sequential and 45K IOPS randomly. The 480GB version also writes with 500MB/s sequential but drops the random performance to 35K IOPS. Getting to the 240GB version I'm testing, we get a 500MB/s sequential and 25K IOPS random performance. The smallest 120GB model writes with 320MB/s sequential and 18K IOPS randomly.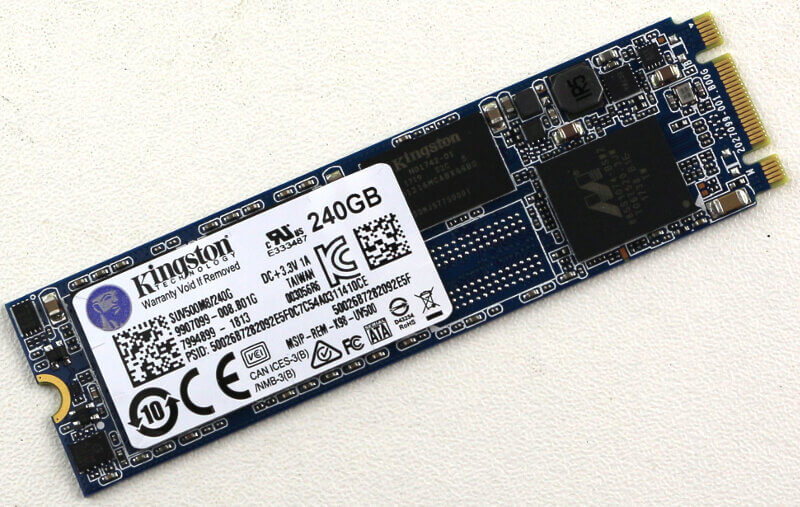 Will It Last or Will the Endurance Run out of It?
Kingston offers a great 5-year warranty and free technical support for most of their products, if not all.
The total bytes written (TBW) ratings depend on the capacity, just as the performance does. The official ratings for the 120GB, 240GB, 480GB, and 960GB are 60TB, 100TB, 200TB, and 480TB. That's the amount of data the drive is rated to handle through its warranty period. That would make it 12TB, 20TB, 40TB, and 96TB a year, or 33GB, 55GB, 110GB, and 263GB per day, respectively.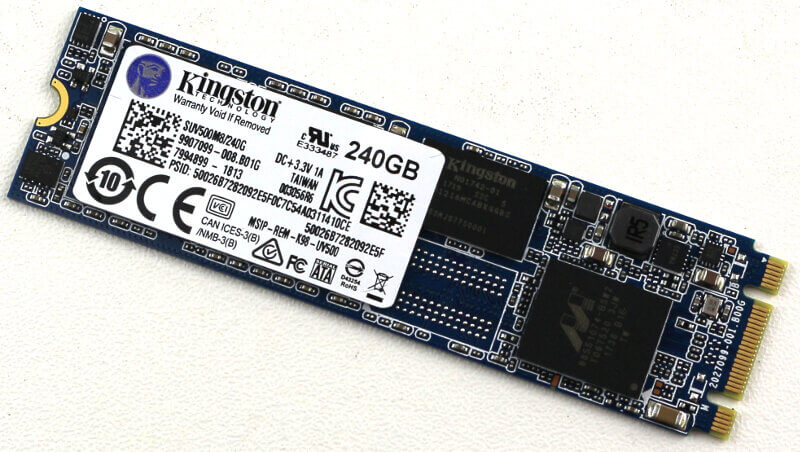 Is This the Drive for Your System?
Quite probably; At least if you're looking for a drive in this category. The UV500 is compatible with close to any system thanks to its form factor variety. It comes with a low power rating of just 0.195W when idle and 0.5W on average. The maximum power consumption is rated at 1.17W when reading and 2.32W when writing.
It is a drive best suited for read-oriented systems with few writes. While it can handle them well, it isn't the fastest at it. That still leaves most systems as an option as very few write a whole lot on a day-to-day basis. The read performance is what you'll notice when booting the system as well as loading and launching data and apps.

What Did Kingston Have to Say About It?
Kingston's UV500 SSD dramatically improves your system's responsiveness with incredible boot, loading, and transfer times compared to mechanical hard drives. It uses a Marvell Dean controller and 3D NAND Flash to power through daily tasks and improve productivity. UV500 also provides end-to-end data protection using 256-bit AES Hardware-based encryption and support for TCG Opal 2.0 security management solutions. The UV500's available in multiple capacities from 120GB–960GB1 giving you options to meet your system's needs.
"We are proud to bring the UV500 family of SSDs featuring self-encryption to market," said Ariel Perez, SSD business manager, Kingston. "The combination of a powerful controller, 3D NAND and data encryption in multiple form factors makes UV500 perfect for both consumers and enterprise users looking for a performance boost on existing systems."
Feature Highlights
A lot faster than 7200RPM hard drive, and silent
AES 256-bit Hardware Encryption Self-Encrypting Drive (SED) and TCG Opal 2.0
Available in multiple form factors: 2.5-inch, M.2, and mSATA
Multiple capacities up to 960GB
Package and Accessories
The Kingston UV500 M.2 drive comes in a simple plastic packaging. That is very much like the ones we know from memory modules.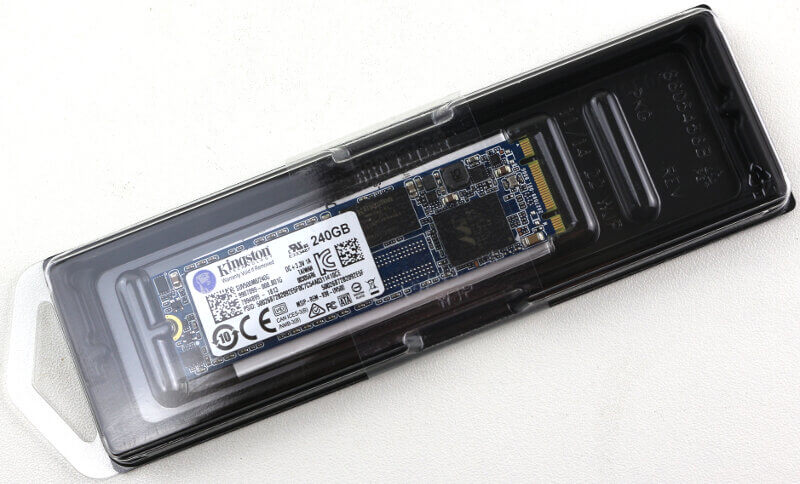 The drive itself is visible through the box and seated in its own little compartment inside.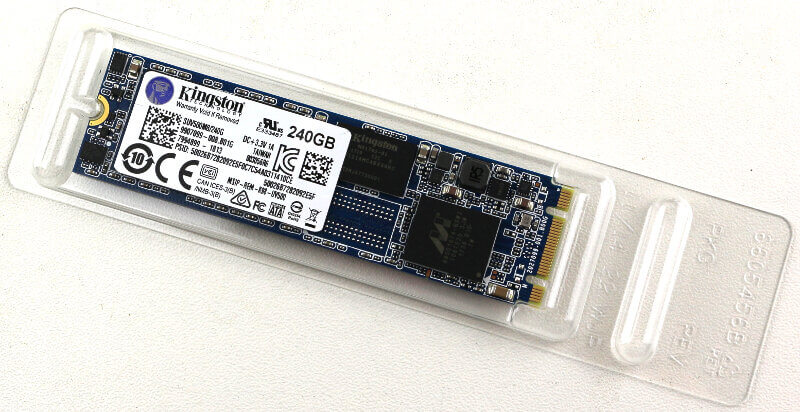 Along with the drive, you also get a "Getting Started" manual.